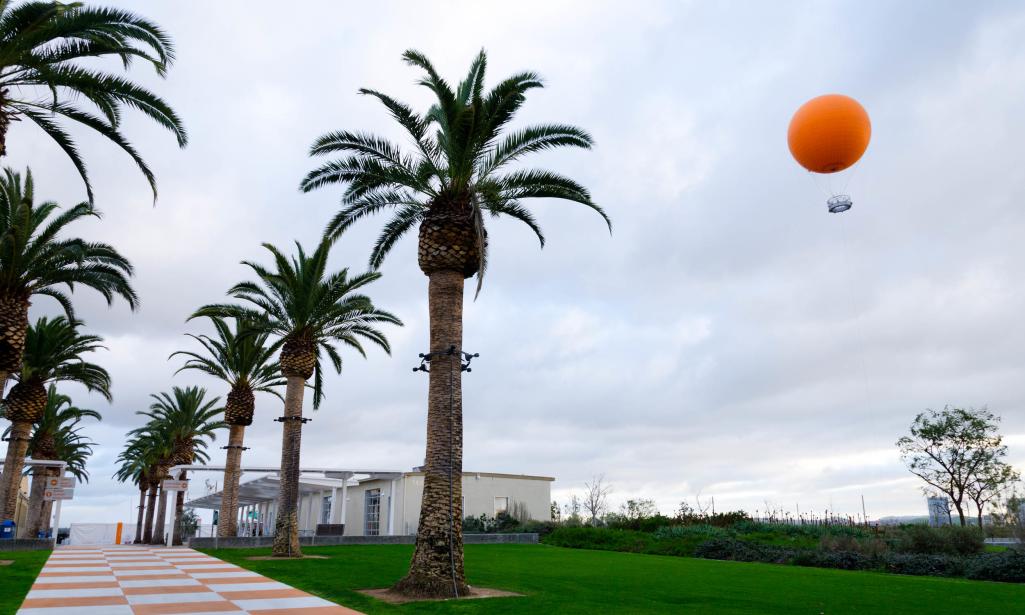 by Jayme Kennedy, MommyNearest
Orange County is arguably one of the best places for kid-friendly fun in California. Sure, it's home to the one and only Disneyland Resort, but there's also plenty of top-notch entertainment, shopping, and food for the whole family in each of its 37 amazing cities and towns. The sprawling city of Irvine is one of our favorites to visit—there's Pretend City Children's Museum, Tanaka Farms and Irvine Park Railroad (not to mention the Great Park Balloon!). Read on for 30 fun things to do in Irvine, CA with kids. 
1. We all have a favorite play space or children's museum, but you'd be hard-pressed to find a better one than Pretend City Children's Museum in Irvine. Let your kids spend the day exploring the café, mini-mall, imagination playground and special exhibits.
2. Tanaka Farms is one of Irvine's most popular visitor destinations, and it's easy to see why. The huge farm has a produce stand, a restaurant on-site, and puts on some pretty spectacular special events like an annual pumpkin patch and visits from Hello Kitty and Friends.
3. While we don't get much of a fall in Southern California, we do get a pretty awesome second summer—which means we bike ride through the park on a gorgeous sunny day or take a paddleboat ride. Wheel Fun Rentals operates out of Irvine Regional Park and can set your family up with all the wheels you need to make it happen.
4. All-aboard the Irvine Park Railroad! This one-third scale train takes you all around Irvine Regional Park on a leisurely (and beautiful) journey. Plan your visit around one of their seasonal events, like the pumpkin patch or holiday lights.
5. After your train ride, make a stop at the Orange County Zoo, conveniently located inside Irvine Regional Park. Admission is just $2, and kids under two get in for free.
6. Take in some amazing artwork at The Irvine Museum, which features rotating exhibits of American Impressionist art inspired by the California landscape.
7. Sometimes you just need to be surrounded by greenery so your kids can become one with nature—for that, there's no better place than the University of California Irvine Arboretum. This 12.5-acre botanical garden and research facility is brimming with the best flora and fauna California has to offer.
8. You don't need to live where the temps dip below freezing to enjoy a day of skating. Instead, glide on top of one of three full-sized sport court surfaces during the public skate at The Rinks Irvine Inline.
9. After spending the day exploring Irvine, your kids are going to need a sweet treat, so make sure to stop in at Scoops N' Scoops Creamery for some of their out-of-this-world ice cream. We highly recommend the nitrogen ice cream for an exciting twist on a classic.
10. Given how tech-driven our kids are these days, it's a sure bet they'll love exploring how art, society, and culture have been shaped by technology at The Beall Center for Art + Technology. The center features rotating exhibits that focus on STEAM, artificial intelligence and how technology influences our culture.
11. Irvine may be considered a city, but you can definitely find pockets of pristine nature. The San Joaquin Wildlife Sanctuary is free and open to the public and features 11 miles of nature trails to explore.
12. Museums and nature preserves are great, but if your kid needs more than just a hike or a quiet walk looking at art, Boomers Irvine is a great place to let loose. Speed around the track on a go-cart, try for a hole-in-one during mini-golf and then spend some time in the arcade.
13. Take advantage of Irvine's mild fall weather with a docent-guided hike through the Irvine Open Space Preserve and learn all about protecting and conversing our natural communities.
14. You could spend an entire day exploring the Orange County Great Park in Irvine and still not see everything it has to offer. There are playgrounds, athletic fields and even a carousel. Pack a picnic and spend a day at Great Park!
15. Irvine is a big city, so if you want to see it all, an electric bike is the way to go! Rent an electric bike from Pedego Irvine and motor along the miles of bike trails that wind through the city.
16. It'll be hard to visit the Irvine Spectrum without noticing the main attraction—the Giant Wheel! This massive Ferris wheel is adorned with 52,000 LED lights, and you can see all of Orange County from the top of the wheel.
17. You may have noticed that Irvine has tons of amazing city parks to choose from, and Turtle Rock Community Park is one of the best! This gorgeous green space has an amphitheater, open play area, athletic courts and kids' play areas, and is a great place to play away a weekend day.
18. The Irvine Fine Arts Center offers classes, studio programs and exhibitions for all ages, and it's a great place for your creative kiddos to spend some time.
19. They may not be old enough to drive a real car, but your kids can still peel rubber around a go-cart track at K1 Speed Indoor Karting. There's also a virtual reality gaming center to visit after their drive!
20. Sometimes you and your kids are just in the mood for a movie—so make it a good one at Edwards Irvine Spectrum 21 IMAX. They'll be thrilled to watch the newest flick in 3D while snuggling into super comfy seats.
21. Of course, there's no point in going to the Irvine Spectrum Center without doing a little shopping (window or real!). This outdoor mall features over 100 different retailers, with plenty of one-of-a-kind stores you won't find anywhere else.
22. After you've worked up an appetite carrying around all those bags, take your kids to the Hello Kitty Café for a fun and interesting dining experience. Or plan ahead and make reservations for tea in their Bow Room—you won't regret it!
23. A library might seem an odd choice for a fun day out with your kids, but the Irvine University Park Library keeps things fresh with community events like pajama storytime and crafting for tweens and teens.
24. A tea house where you can sit and enjoy a hot cuppa while your kids play? Perfection! The Playland Café in Irvine is a genius idea—an indoor playground and tea café where kids can safely play and adults can sit and watch and relax with delicious tea and snacks.
25. Take the family out for a stroll at the Farmers Market, held at the Great Park in Irvine every Sunday from 10am to 2 pm. In addition to vendors selling locally grown fruit and veggies, you can find handmade artisan goods and a plethora of local food trucks.
26. Learn about how farm-to-table works by taking a class at Farm + Food Lab, an interactive outdoor classroom for all ages. You can learn all about worm composting, vertical gardening and starting your very own home garden.
27. Have you ever wanted to soar through the sky in a hot air balloon? The Great Park Balloon is the next best thing. This big orange balloon is one of the largest tethered helium balloons in the world, and the first of its kind in the U.S. It can hold up to 30 passengers and flies as high as 400 feet in the air.
28. For all your budding X-Gamers, the Harvard Skate Park is the place to be in Irvine! This skate park features more than 10,000-square-feet of skating surface, plus a bowl, a spine and lights for nighttime skating.
29. Every future author has to start somewhere, and the Storymakery in Irvine is a great place to get those creative juices flowing. Your little ones can create and publish their very own book during their visit. 
30. Okay, so technically this place is just down the road from Irvine, in Tustin. But it's bubbles! Lots and lots of bubbles! BubblePOP is basically an interactive playground with several different bubble stations. Your kids will have a blast and get an unexpected science lesson at the same time.