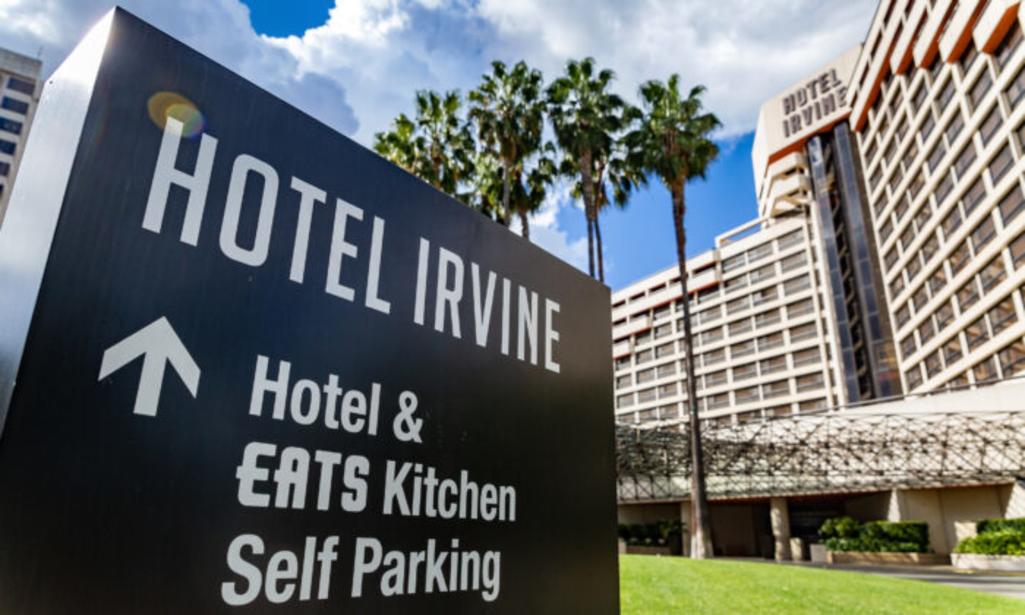 BY JAMIE JOSEPH The Epoch Times

Hotel owners and tourist associations throughout California are urging Gov. Gavin Newsom to release guidelines for conventions and meetings before organizations opt to relocate events planned for later this year due to the state's restrictions.
Wendy Haase, vice president of Destination Irvine, told The Epoch Times the biggest challenge currently facing the hospitality industry is California's strict restrictions compared to other states.
"What's happening is meeting planners who have meetings scheduled for our hotels … are pulling those meetings to go to our competing states, because they're afraid that without guidelines they could be canceled," Haase said.
"They don't know what their meeting's going to look like. They can't plan without those guidelines in place."
As California prepares for an April 1 soft reopening of theme parks, more than 120 hotel owners and tourist associations sent a letter to Newsom on March 3, pleading for the governor to issue guidelines before it's too late and more business events are lost.
"This sector of the economy has been devastated by the pandemic. We write to you today, however, not about present economic impacts, but to sound an alarm about our ability to win this business back in the coming years," the letter states.
Newsom's "Blueprint for a Safer Economy" doesn't mention that specific sector of the tourism industry, and no guidelines for safe future reopening have been issued or even discussed by the administration, according to the letter. On average, conventions are booked three to 15 years in advance; many that would normally take place in California have moved to states with fewer restrictions, including Texas and Florida.
"This silence sends a misleading signal that California is closed indefinitely. We can't imagine this is your intent," the letter states. "Other states are exploiting this perception to poach corporate meetings and events that would otherwise take place in California in 2022 and well into the future."
According to the letter, "Every other state released protocols and has been safely holding meetings during the pandemic, but California has prohibited meetings of any size since the state's stay-at-home order went into effect on March 19, 2020."
California is losing an average of $4.1 billion in spending and economic output (business sales) every month meetings and events remain closed, along with another $130 million in state and local taxes, according to an Oxford Economics study published last October. In 2020, California lost nearly $24 billion in direct spending and gross domestic product (GDP) from the absence of conventions and trade shows, the study states.
Destination Irvine and Visit Anaheim are among the tourist associations that signed the group letter to Newsom.
Jay Burress, CEO and president of Visit Anaheim, told The Epoch Times the city has already canceled over 310 conventions that were set to take place in its 75 to 80 hotels, resulting in significant losses for the second and third quarters of the current fiscal year ending June 30.
"We've been able to rebook about 70 of those to new dates," Burress said. The others either canceled altogether or decided to change locations.
Burress said he spoke to a client earlier in the week who is moving an event to Texas, Georgia, or Florida, "because they can have their convention there, and we don't even have guidelines here."
"We've got to get that back," he said, adding that the city's economic success depends on catering to all potential sectors—the business traveler, the convention attendee, the smaller meetings attendee, the sports event attendee, and the leisure traveler.
"That all has to work together," he said.
Currently across all of Anaheim's hotels, the occupancy rate ranges from 15 percent to 20 percent, he said—down 75 percent from January 2020.
"In some of those hotels, it's about zero, because they've closed. There's 29 hotels and resorts that are still closed," said Burress. He added that several hotels that have closed indefinitely will likely open up again to coincide with the mid-April reopening of Disneyland.
The reopenings will be welcome news for hotel employees as well. Orange County's largest hotel, the Hilton Anaheim, has more than 1,200 employees. Burress said "all but a handful" have been laid off or furloughed.
"But we're still hanging in there. We're still trying to rebook and reschedule, and find new business to go in our convention center [and] in our hotels, and everybody's ready to get back to business," he said.
In Irvine, 34 different groups canceled overnight business gatherings at city hotels between last April and February, citing COVID-19 restrictions or the lack of guidelines for future meetings—an estimated $13.1 million loss in economic impact for the local community.
But the city lost other income as well due to the lack of guidelines, according to Haase. "In addition to the 34 cancelations, Irvine has lost group business estimated to be worth nearly $9 million in economic impact to states allowing meetings and/or having guidelines in place for future meetings," she said.
Haase said nearly 1,500 employees were laid off or furloughed across Irvine's hospitality industry, and eight of the city's 22 hotels closed temporarily. The last to reopen, the Hilton, was shuttered from March to August last year. Hotel Irvine remains closed indefinitely, with no reopening date set.
Haase said the city's select-service properties helped support occupancy rates in Irvine during the pandemic. Select-service hotels, including the Sonesta Irvine, Hyatt, and Hampton Inn, were used to shelter local fire evacuees and displaced COVID-19 patients.
Both Haase and Burress said hotel occupancy rates in their cities have seen a slight positive uptick since February. The trend is in line with the latest U.S. Bureau of Labor Statistics, showing 355,000 jobs were added to the nationwide hospitality and leisure industry last month.
Hotels likely won't rebound to pre-pandemic levels until 2024, according to the American Hotel & Lodging Association's State of the Industry report from January. Still, Anaheim's Burress remains confident that the industry will rebound throughout 2021.
"We know the demand is out there, we just have to target the right travelers and get them to come to visit," he said. "Disneyland has got such a reputation, such a following really around the world, I think that people are just dying to get back out there."