Beloved Asian eats at Diamond Jamboree, the city's gathering place, draw international crowds
By Crystal Shi, The Epoch Times 
"You'll feel like you're in Asia," a petite Japanese woman tells me, giggling.
Where I'm really headed is the Diamond Jamboree Shopping Center in Irvine, California, a humble suburban paradise situated an ocean away. But as I scan the area, I see what she means.
Billed as "Orange County's international dining destination," in a city whose population is 41 percent Asian, the center is a multicultural gathering place.
H Mart, a popular Korean supermarket chain, anchors the outdoor plaza, while two levels of stores offer Asian food like fresh dumplings and Japanese curry, Korean fried chicken and steaming bowls of pho, bubble tea and Taiwanese shaved ice crowned with taro balls and wobbly grass jelly.
Food dominates the roster, but services and retail shops like Korean cosmetics store Palace Beauty; a plastic surgery center; and a karaoke lounge and escape room, both founded by graduates of nearby UC Irvine, join their ranks. About a third of the businesses are local mom-and-pop shops. All of them are Asian-owned.
Since it opened in 2008, Diamond Jamboree has burgeoned in popularity, said marketing manager Suzie Won.
During peak hours, "people will be circling around for parking," she said. "When we talked to Uber, there are at least 100 rides a day to Diamond Jamboree. We haven't even asked Lyft yet."
During lunch hours, when I visit, sharply dressed workers wander in from the surrounding business complex for quick bites. In the evening, hordes of young Asian students and tourists swarm the plaza to wait in snaking lines for Chinese hot pot, Taiwanese noodle soup, or fish-shaped taiyaki cones swirled with matcha soft serve. They'll chatter in their native languages and siphon tapioca pearls from the bottom of plastic cups. For them, it could be a taste of home.
A Multicultural City
At first glance, Diamond Jamboree takes on the appearance of any suburban shopping plaza—mostly beige, sprinkled with palm trees and clusters of tables shaded by umbrellas—but its façade hides diverse and colorful offerings.
The same might be said for the city itself.
Irvine is a shining example of a planned city, one carved out of underdeveloped land from scratch and deliberately molded into a desired product. Carefully mapped out communities, public buildings and facilities, and designated open green space—five acres for every thousand residents—shaped Irvine into an immaculate suburbia.
Such planning has its benefits. It eliminates high-risk factors, minimizing crime and helping Irvine secure its claim to fame as one of the safest big cities in America. Other surveys have ranked it high on lists of the country's happiest and least stressed cities.
Irvine's population boomed—most recently jumping 25 percent between 2010 and 2016, according to American Community Survey estimates—drawn by thriving businesses, excellent schools, and the appeal of its safe and affluent neighborhoods. But the Asian population has grown the fastest. Influxes of Asian immigrants brought their numbers to nearly 30 percent of the population by 2000, and now to over 40, according to census data.
And so the city has become home to a colorful, multicultural community; its residents speak over 70 languages.
That brought a boom in ethnic restaurants, like those in Diamond Jamboree, and the addition of a smattering of multicultural festivals on the city calendar, including the largest in Orange County, the Irvine Global Village Festival in September, representing over 50 cultures.
These changes pave the way for more. They're part of the reason why Diamond Jamboree has a reputation as a popular international landing spot for chain concepts from Asia, Won said.
Beloved businesses like Taiwanese bakery 85C Bakery Cafe; Japanese fast-casual concept Pepper Lunch, which has over 350 locations worldwide; and conveyor belt sushi spot Kura Revolving Sushi Bar have all set up their flagship U.S. locations at Diamond Jamboree. (Next up: the first West Coast location and second U.S. location, following New York City, of Hong Kong's famed dim sum purveyor Tim Ho Wan. The original restaurant boasts a Michelin star.)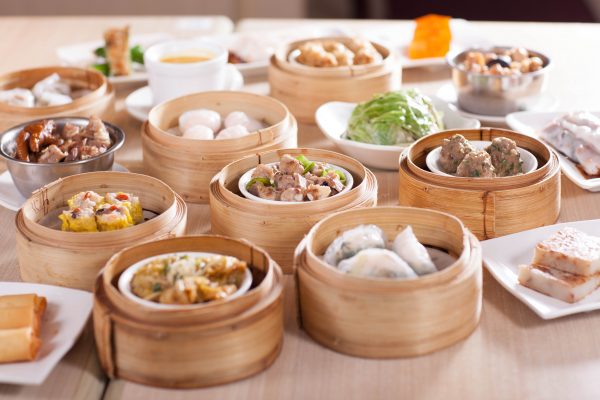 Hong Kong's Michelin-starred dim sum restaurant, Tim Ho Wan, is set to join the Diamond Jamboree family this winter. (Courtesy of Tim Ho Wan)
In fact, when Diamond Jamboree first opened, you'd hear mostly Asian languages spoken, locals say. Strings of Chinese, Korean, Japanese words saturated the air. International patrons familiar with the established Asian brand names within the center flocked to it, and spread the word back home.
The plaza's demographic has since broadened and includes newcomers to these cuisines, whether locals or travelers. Indeed, a quick scan of a lunchtime crowd finds more non-Asian faces than Asian; from her own experience, Won estimates about a 50-50 split.
She attributes the change partly to word of mouth and the power of Yelp and social media, in combination with the widespread shift of food into something "more than just eating." Consumers are broadening their palates and exploring new cultures—and Irvine offers plenty of options.
Won also identifies a unique quality to the city.
"There are other Asian pockets in California," she said, listing Little Saigon in Westminster and Garden Grove as examples, but they tend to be enclaves where ethnic languages dominate. Some of the best Asian food can be found there, but "it's a little intimidating for non-native speakers."
In Irvine, on the other hand, "we make sure that everyone can read the menu and partake, participate," Won explained. "Our businesses tend to be very welcoming to everyone, and that's what we look for as well. We make sure of that."
Where to Eat at Diamond Jamboree
There's no shortage of great food throughout Irvine, but Diamond Jamboree, with an impressive concentration of 22 restaurants, cafes, and dessert shops, is a great place to start. Here's a selection.
Always a reliable option, this Korean chain offers a variety of comforting, silky smooth tofu stews to be enjoyed with a spread of banchan. BCDTofu.com
The meat is high-quality, the broths are flavorful (beware of the hot and numbing spicy option, unless you're a real Sichuan enthusiast), and the service is attentive. An apron, hair tie, and glasses wipes even welcome you at your table. (At their larger locations in East Asia, amenities can include mani-pedis and massages in the waiting room.) For a tableside show, order the dancing noodles. HaiDiLao.us
This fast-casual Japanese chain has over 350 locations in 15 countries around the world; its Diamond Jamboree location was its first outpost in the U.S. Here, dishes like the signature pepper rice, curry, and ribeye steaks arrive sizzling on a hot plate, and guests have a hand in searing the meats or pouring the curry sauce to finish their dishes. http://PepperLunch.us/
A conveyor belt carries a constant stream of sushi and other small plates—covered with plastic caps—around the restaurant and past each table, while electronic screens also allow guests to order as they wish. The sushi is decent, and locals flock for happy hour handrolls. KuraUSA.com
Taiwanese desserts such as refreshing shaved ice topped with herbal jelly and spongy taro balls make this chain an always-crowded favorite. It's an especially popular nighttime hangout for students. MeetFresh.us
Named for the ideal temperature serve coffee, this international, Taiwan-based bakery chain has earned a cult following for its fresh breads, pastries, and drinks. Grab a marble taro bun, a Hokkaido cheese tart, and whatever else suits your fancy, and wash it all down with a sea salt coffee. 85cBakeryCafe.com
The unique ice cream flavors here, like jasmine milk tea or bright blue, cookie- and fudge-studded Cookie Monster, taste best stuffed into still-warm, pillowy-soft doughnuts. That's why you're here—get the Milky Bun. AftersIceCream.com