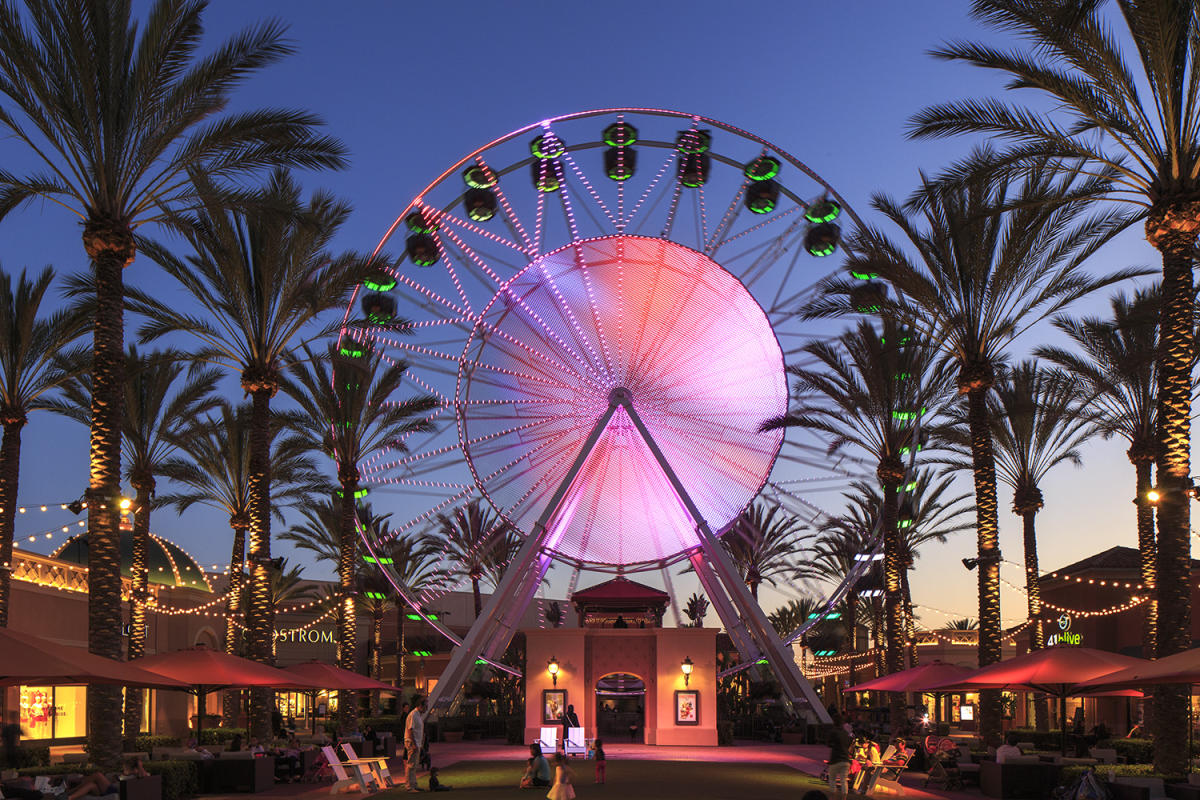 Whether you're in Irvine for business or pleasure, it would behoove you to get some shopping time in while you're here. From smaller stores to the bigger offerings, Irvine offers amazing shopping experiences to suit your needs and tastes. Make your visit to one of Orange County's fastest growing cities a fun one by splurging a little at any of these great shopping hubs.
 


Irvine Spectrum
670 Spectrum Center Drive
Irvine, CA 92618
(949) 753-5180
website
When it comes to shopping in Irvine, visitors (and locals for that matter) don't have to look too far to find what they need. With the Irvine Spectrum, consumers have a wealth of shopping options at their fingertips. Guests can select from the likes of The Body Shop, Kay Jewelers, Nordstrom, Old Navy, Target, The Yankee Candle Company and much more.
 
When you need to give those feet a rest and get some food or drink, the selections are numerous, too. Enjoy great food and an amazing selection of beers Yard House, nosh on a delicious burger at Umami Burger, take in the vintage ambiance of Ruby's Diner, have some game-playing fun at Dave & Buster's, or treat yourself to some ice cream at Cold Stone Creamery. Check out the complete dining guide here.
 
If you're shopped out or just want to come for some entertainment, there are regular events to entertain young and old alike. you'll find things like workouts hosted by Lululemon and Oakley, fundraising events, and Memorial Day celebrations. Lastly, for those moviegoers out there, the Edwards Irvine Spectrum 21 IMAX & RPX is sure to give your hours of entertainment.
 
 

 


The Market Place
2961 El Camino Real
Tustin, CA 92782
(714) 730-4124
http://www.shopthemarketplace.com/
Located where Irvine and Tustin intersect, The Market Place is another treasure trove of shopping options for consumers In business for nearly 30 years, The Market Place offers a variety of stores and eateries to fill several hours of your day. Amongst the shopping selections are Arizona Leather, Bed Bath & Beyond, Famous Footwear, Jared: The Galleria of Jewelry, Lane Bryant, Payless ShoeSource, Pier 1 Imports and Stein Mart. For those in need of some food and drink, choices include Wasa Sushi, TAPS Fish House & Brewery, IHOP, The Flame Broiler, California Pizza Kitchen and Chick-fil-A. If you just want to come to the area and catch a film, Edwards Market Place Stadium 10 has you covered. Lastly, look for yearly events at The Market Place to keep both children and adults entertained.
 


South Coast Plaza
3333 Bristol St.
Costa Mesa, Ca. 92626
(714) 435-2000
http://www.southcoastplaza.com/
 With more than 200 boutiques to choose from, not to mention countless amenities to please just about everyone, South Coast Plaza is the place to be. Among the shopping options to select from are Abercrombie & Fitch, Sears, Macy's, Nordstrom, Bloomingdale's, Saks Fifth Avenue, Ben Bridge Jeweler, Giorgio Armani and many more. There are also newer stores that have opened their doors, giving shoppers plenty to choose from.
 
Remembering President Nixon's historic trip to China back in the early 1970s, South Coast Plaza will be the host for an exhibition showcasing the positive fallout from that visit. The event runs from late June thru Mid-August.
 
At South Coast Plaza, shoppers also have a myriad of dining options to choose from, with more than two dozens eateries to attract one's tastebuds.


District at Tustin
2437 Park Ave.
Tustin, CA 92782
(714) 259-9090
http://thedistricttl.com/
Plenty of shopping fun and decisions await those visitors to the District at Tustin, a site that offers some 1 million square feet of choices as to where to go first. The District Promenade is the jewel of the location, where visitors can do some shopping, enjoy some great food and drinks, and just kick back and relax if they love doing some people watching. Retail stores in The District Promenade open at 11 a.m. seven days a week. Closing times are 9 p.m. Monday - Thursday, 10 p.m. on Fridays and Saturdays, and 6 p.m. on Sundays. Be sure to check with the various restaurants located in the Promenade for their respective times of operation. Among the samplings at the District include Lowe's, Target, T.J. Maxx, PetSmart, Costco and many more. If all the shopping gives you hunger pains, you can choose eateries and shops such as Chick-fil-A, Panera Bread, Red Robin, Whole Foods Market and more. If you're in the Tustin area, the District certainly is worth your time.
 

Fashion Island
401 Newport Center Drive
Newport Beach, CA 92660
(855) 658-8527
http://www.shopfashionisland.com/
Located in one of the more scenic cities in all of Southern California, Fashion Island in Newport Beach likely has what you are looking for. Fashion Island offers a plethora of shopping selections, among which include: Bath & Body Works, Barnes & Noble, Bloomingdale's, Dick's Sporting Goods, Macy's, Nordstrom, See's Candies, Tommy Bahama and much more. When all that shopping makes your tastebuds water, the food choices are numerous too. You can find Panda Express, P.F. Chang's, Hana Grill, Five Guys Burgers and Fries, Yard House and others.
 
If you're into live music, the place to be on weekends are the courtyards at Bloomingdale's and Nordstrom, respectively. Lastly, with summertime right around the corner, check out a number of the stores at Fashion Island for special summer savings offers. If shopping, good food, and entertainment are on your to-do list, get out and see all of what Irvine and the surrounding areas have to await you and yours.

 

Dave Thomas has been covering the sports world since his first job as a sports editor for a weekly newspaper in Pennsylvania back in 1989. He has covered a Super Bowl, college bowl games, MLB, NBA and more. His work can be found on Examiner.com.