By Michelle McCoy Trekaroo original article
It's beginning to look a lot like Christmas here in Southern California! There may not be snow on the ground, and the shining sun may make it feel like the perfect 75 degrees, but decorations are popping up at every corner and special holiday events are being held almost daily. There are so many special activities to enjoy with your family that we've tried to pare down the list to just 10. If you live or vacation in Southern California this December, we hope you enjoy one of these events! If you call another part of the country "home", check out this list of activities in the Los Angeles, Orange County, and San Diego areas. Enjoy the season, and Merry Christmas!
Bring the whole family and stay at these family-friendly hotels in Los Angeles, Orange County, and San Diego.
Boat Parades
Millions of twinkling lights covering cleverly decorated boats float through harbors and canals up and down the Pacific Coast of Southern California. Families who don't mind bundling up their kids in the cool marine air will enjoy sitting and watching this quintessential SoCal event. Check out the harbor city near you for specific dates and times. Be sure to find out where the parade starts so that you know the approximate time of when it will float by your location.
Choose from the San Diego Bay Parade of Lights, Huntington Harbor Boat Parade, Dana Point Boat Parade of Lights, Newport Beach Christmas Boat Parade, Long Beach's Parade of 1000 Lights, Channel Island's Harbor Parade of Lights in Oxnard, Ventura Harbor Parade of Lights and Winter Wonderland,  Marina Del Rey Holiday Boat Parade, Naples Long Beach Boat Parade, and the Oceanside Harbor Parade of Lights.
Find a great place to stay in San Diego at one of these Family-Friendly Hotels.
Holiday Shows and The Nutcracker for Kids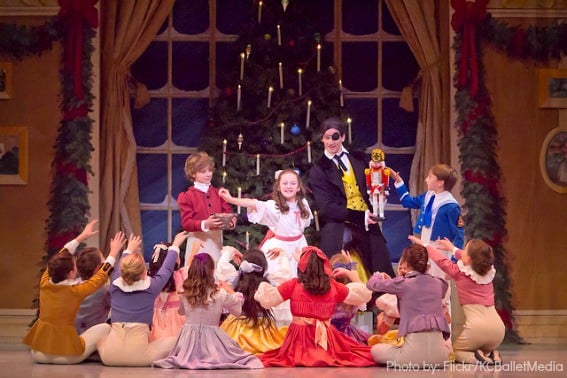 You'll laugh, you'll cry, you'll sing - and then you'll boo and hiss the evil queen! Sounds like a strange way to enjoy a holiday play but our friends in Great Britain have enjoyed the tradition of Panto for many years, and now thanks to the Lythgoe family, we can enjoy this family-friendly introduction to the theatre here in SoCal. Panto is basically an interactive musical theatre production using classic fairy tale stories with modern scripts and twisting in pop songs, dancing, and interaction with the audience, and then tying it up with a big red Christmas bow. Enjoy performances of "Sleeping Beauty and her Winter Knight" at the Laguna Playhouse, "A Cinderella Christmas" at the Pasadena Playhouse, or "A Snow White Christmas" at the Lyceum Theatre in San Diego.
Dancing Sugar Plum Fairies and sword battles with monkey kings will delight many children, but really only those who can sit still for long periods of time. If you have young boys like me who like to blurt out loud, "those tight pants look funny" in a quiet theater, you may enjoy one of these special Nutcracker performances for kids. The 45-minute narrated ballet with an audience of young children is a great way to enjoy this delightful holiday tradition. Many of these companies also preform full-length versions of Tchaikovsky's Christmas ballet.
In 2016, The Segerstrom Center for the Arts in Costa Mesa will be performing the Nutcracker for kids on Dec 3. The Festival Ballet Theatre will host abridged performances for schools and groups on Thursday, Dec 8 at the Irvine Barclay Theatre. The San Diego Civic Youth Ballet presents a kid-friendly performance of Nutcracker excerpts at the historic Casa Del Prado Theatre in Balboa Park on Dec 2 & 3. All ages will be enchanted by the children performers of the Red Chair Children's Production of the Nutcracker at the Alex Theatre in Glendale on Dec 10 & 11. Also at the Alex Theatre, the Los Angeles Ballet is presenting a 2-hour performance of The Nutcracker, suitable for all ages on Dec 3 & 4.
Please check websites for ticket and show times.
Special Teas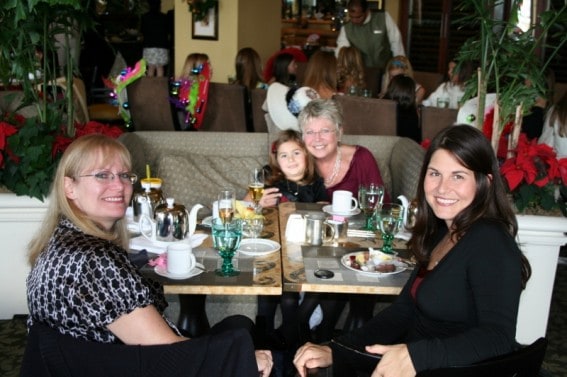 A good friend of mine loves taking her daughters with their grandma to a special Christmas tea every year. My active little 3-year-old girl may perhaps be ready in a couple of years to sit pretty with me at one of these special events. In 2016, Santa will be joining guests for tea at the Pelican Hill Resort of Newport Beach on Fridays, Saturdays and Sundays from November 25 - December 25. The Langham Huntington, Pasadena will hold their annual Teddy Bear Tea on Nov 26, 27 & Dec 3, 4, 10, 11, 17-23 for a story time, photos with Santa, and a marionette puppet show. At the Ritz Carlton, Laguna Niguel enjoy a relaxing afternoon with Holiday Tea and view the impressive gingerbread display. At the brand new Great Wolf Lodge in Garden Grove, guests of the hotel and anyone with a reservation can eat a private meal inside of a gingerbread house. All proceeds from the reservation go to support Ronald McDonald House Charities.
All tea events require reservations. Please see details on resort websites for ticket prices and reservations.
Amusement Park Fun
Southern California is known for it's many amusement parks. Each one celebrates the holidays in grand style with extensive decorations and special events. Visiting these parks during the Christmas season can be twice as fun, extra special, and provide decorative backgrounds for really great photos of your kids! Knott's Berry Farm celebrates with the holiday spectacular, "Merry Christmas, Snoopy" ice show, plus parades, carolers and a special Christmas shopping village. The Disneyland Resort makes memories magical during the holidays including the addition of the cast of Frozen into the popular show "World of Color." Trekaroo has even created a list just for Disneyland to help you find all the great holiday events. SeaWorld San Diego, the San Diego Zoo, LEGOLAND, and Universal Studios Hollywood all celebrate the holidays with special events, decorations, parades, and are tons of fun.
Outdoor Ice Skating
Gliding over the ice, or rather, inching along with your clinging son at your side, can be a great event that creates memories through laughter and exercise. Skating outside is twice as fun with sparkling holiday lights and music. If you are in the Los Angeles area, don't miss skating by the beach at Ice at Santa Monica or the extravagant winter wonderland of CHILL, presented by the Queen Mary. This epic experience will take guests through the story of Alice in Wonderland using an immersive experience with RFID technology. And as before, there is ice-skating, ice tubing, a holiday village, and visits with Santa. Check out the life-size Mrs. Claus' Gingerbread Kitchen and then skate outside under the lights of L.A. LIVE. For families in San Diego, what could be a more beautiful picture of winter in California than ice-skating next to the beach at the picturesque Hotel Del Coronado with its red peaked roofs and white sandy beach. Ice skating under the Giant Wheel at the Irvine Spectrum Center in Orange County combines the fun of ice skating outdoors with beautiful light displays - and even Dickens carolers who will entertain guests on weekends. Don't forget to wear gloves even if it is 70 degrees outside!
Check websites for details on times and ticket prices for the following outdoor ice rinks in Los Angeles, Orange County, the Inland Empire, and San Diego: Pershing Square in downtown Los Angeles, Woodland Hills Ice, Ice Skating on the Square in Temecula, and Fantasy on Ice at Liberty Station in San Diego.
Explore more places to ice skate in Southern California.
Special Light Displays
All during December I hear my little 3- and 5-year-olds shouting in the back seat of the car, "Christmas Lights!!!" at the top of their lungs, just to make sure I see any and all of the twinkling lights that delight them. We often enjoy driving around neighborhoods with hot chocolate or walking the streets with sticky candy canes to enjoy the lights of the season. Here are some extra special places to visit this year.
The Festival of Lights is held at the Mission Inn Hotel and Spa in Riverside and is open to the public nightly between Nov 25 & Jan 7 to enjoy thousands of lights and decorations, visits to Santa, carolers, horse-drawn carriage rides and live reindeer. The San Diego Botanic Gardens host the Garden of Lights from December 3 - 23, 26 - 30 and invite people to enjoy a stroll through the wonderland of lights in the garden, live music, horse-drawn wagon rides, Santa, and hot beverages. Celebrate the 50th anniversary at the LA Zoo with a "ZooLAbration of lights, visits with Santa, and live reindeer viewing. Book a ticket on the Santa Barbara Trolley and ride down State Street to see the holiday light displays on this 90 minute tour that sells out every year. A towering LED-lit Christmas tree outside the Edwards Theatre of the Irvine Spectrum in Orange County will come alive with a choreographed light and music show every 30 minutes, from 5 pm until 11 pm starting November 25 through December 24.
Explore this list of Where to Enjoy Holiday Lights in Los Angeles.
Art and Culture
We drive by the Sawdust Art Festival every summer on our way to the sands of Laguna Beach and I always think, "I want to take my kids there!" I've heard of the fun crafts, art demonstrations, and beautiful displays that kids and parents enjoy. I was surprised to find that there is a Sawdust Art Festival Winter Fantasy that would be equally delightful this season, taking place 5 weekends from Nov 19 - Dec 18, 2016 from 10 am - 6pm. Last December we attended and were delighted to see amazing art, but what we enjoyed the most was getting to throw clay on a pottery wheel and watch the glass blowing demonstrations. The entrance price was much lower than we thought and we look forward to visiting Sawdust on an annual basis! Other cultural and artistic events are taking place all over the southland to celebrate the holidays. Las Posadas, a nightly tradition of acting out the journey of Mary and Joseph through the streets of Nazareth takes place at Olvera Street in downtown Los Angeles nightly at 5:30pm from Dec 16-24. Pinatas and live entertainment make for a special cultural holiday event.
History
Celebrate Christmas at historical sites in SoCal and let an old-fashioned Christmas come alive for your family. Christmas at the Mission will take place Saturday, Dec 3 from 5:30pm-8pm at the San Juan Capistrano Mission as the beautiful historic Mission is festively lit up for this special after-hours event with local performances, food vendors, and a "Santa's Workshop" for kids. Christmas comes to Heritage Hill Historical Park in Lake Forest with a Victorian Christmas (final year!) on Dec 3 and a Candlelight Tour on Dec 10 and 11. Children will learn history through butter churning, candle dipping, and decorating cookies with Mrs. Claus. Storytelling in the old one-room schoolhouse will delight children and parents. The La Mesa Village transforms into an old fashioned Christmas in the village with Victorian decorations and special events on Dec 9 and 10. The 6th annual Christmas Concert held at Mission San Luis Rey in Oceanside is a majestic way to celebrate the season.
Train Rides to Visit Santa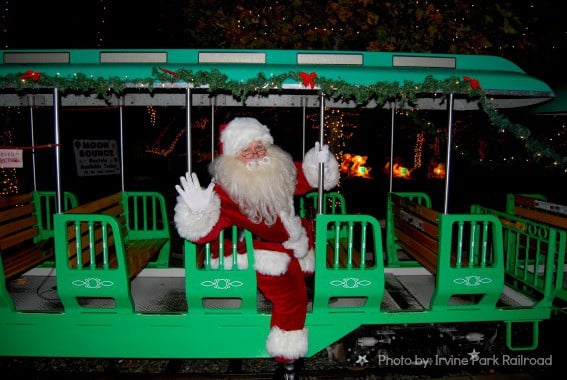 Visiting Santa is often at the top of most family's checklist for the season. How much more fun to visit him on a farm or at the end of a train ride! Bates Nut Farm in Valley Center, north of San Diego, is hosting Christmas in the Valley on Dec 2 & 3. Take a Polar Express Hay Ride to visit Santa and then enjoy live entertainment, crafts, a living nativity, and more. Hop aboard the Christmas Train on the Irvine Park Railroad to visit Santa during December; kids will be delighted to find  Santa at the North Pole after their nighttime ride on the train through the park. Don't forget to pick out your fresh tree at the Christmas Tree Ranch at Irvine Park. Near Santa Clarita, take the North Pole Express to Santa's Village on the Fillmore & Western Railway Co or the Christmas Tree Holiday Train to pick out your perfect tree. Get onboard with Santa and enjoy a special dinner on a Fillmore & Western Train. Down south in Campo, reserve a ticket on the Santa Train North Pole Limited and bring kids dressed in jammies for a trip to see Santa at the Pacific Southwest Railway Museum.
Rose Parade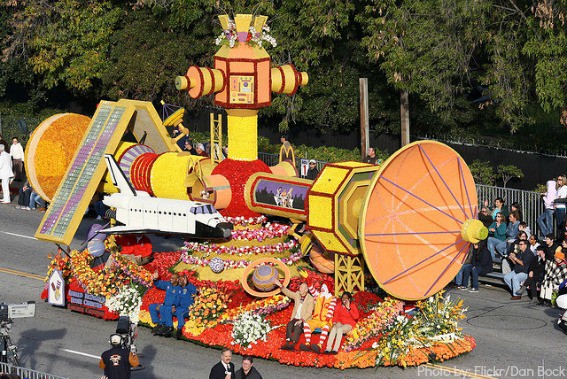 A list of holiday events in Southern California would be grossly inadequate without the famous Tournament of Roses Parade held every January 1 in Pasadena. Every year that I watch the parade and see the sun shining down on the beautiful floats covered with flowers, I am reminded of the blessing of living in sunny SoCal. Our family hasn't been able to make the commitment of spending the night on the street, nor buying a ticket for the grandstands, but we did drive down Colorado Blvd. two days before New Years and our kids were fascinated with the preparations for the grand parade. I can't wait to take them to the Showcase of Floats at the end of the parade to see the amazing structures up close.
Pin this to bookmark all the holiday fun; we update it yearly:
Find holiday activities and events in your neck of the woods.  We've got the inside scoop on cities across North America.