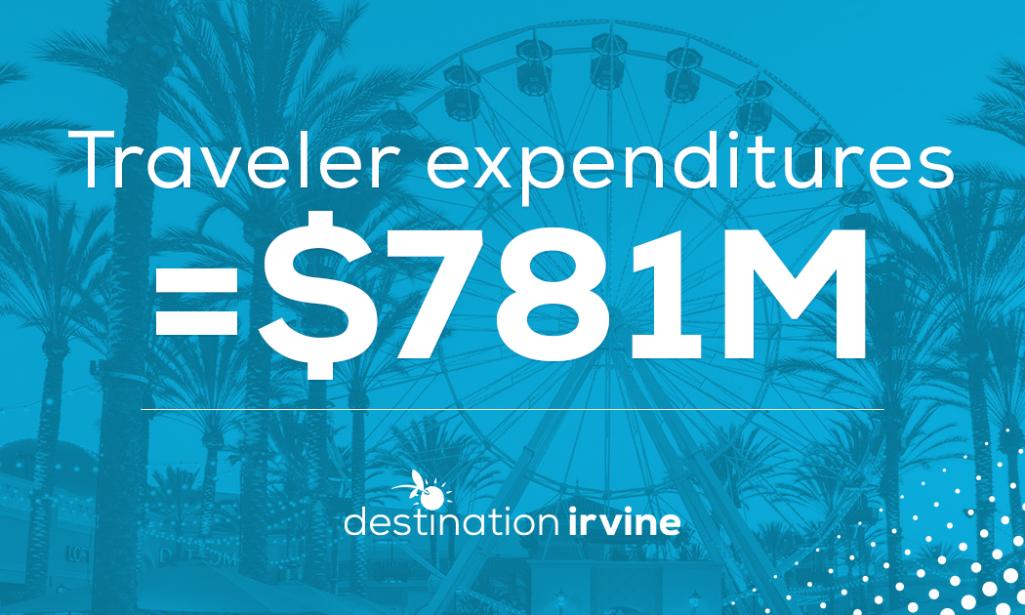 In 2019, traveler expenditures for Irvine came to an estimated $781 million, an increase of 3.9 percent over 2018, according to the 2019 Visitor Impact report conducted specifically for Irvine by Dean Runyan Associates, on behalf of Destination Irvine.  
The Irvine travel industry contributed $49.6 million in local and state taxes.
Without visitor spending, it is estimated, that resident households in Irvine would each pay $560 more a year in state and local taxes.
"Transient Occupancy Taxes (TOT) pay for local services, said Bryan Starr, President/CEO, Greater Irvine Chamber. "In Irvine the eight percent TOT, which is paid by hotel guests, accounts for a large percentage of the local government and public safety spending, without it, Irvine would not have the accredited educational system and amenities the citizens value and enjoy."

Irvine's travel industry supported 5,860 Irvine jobs and was responsible for adding $267 million in wages to the local economy.
"These numbers illustrate the economic power of tourism to the Irvine economy," said Starr. "Funded by the self-assessed Hotel Improvement District, Destination Irvine's marketing and sales initiatives play a strategic role in generating travel expenditures by bringing millions of visitors, whether conference attendees, leisure travelers or those attending a sporting event, to Irvine."
Irvine's major visitor spending categories are as follows:
 

Spending Categories

Percent of Total Spending

Spending in Irvine

($ Millions)

Accommodations 

29%

 $      228

Food & Beverage Services

24%

 $      185

Arts, Entertainment & Recreation

22%

 $      175

Retail

11%

 $      88

Transportation & Gasoline

14%

 $      107

Total Spending in 2019

100%

 $      781
Ten years of growth had become the California norm
Overall, Orange County visitors spent $14.5 billion in 2019, a 4 percent increase over 2018. Statewide, travelers spent a record $144.9 billion in 2019, a 3 percent increase over the year prior.
"Ten years of growth had become the California norm. Visitor spending, employment and tax revenue were all up in 2019. Tourism-related tax revenue from visitors amounted to $920 in savings for each California household." said Visit California President & CEO Caroline Beteta. "The coronavirus pandemic devastating economies around the globe must not blunt the spirit of California tourism. This industry still has great stories to tell, not only about fulfilling travel dreams, but about employing Californians, growing businesses and helping state and local governments provide vital services. Travel and tourism will help lead the economic recovery once businesses start re-opening."