Visitor Spending Increases a Record 21% Year over Year
Destination Irvine released statistics from the 2018 Visitor Impact report conducted specifically for Irvine by Dean Runyan Associates. In 2018, traveler expenditures for Irvine came to an estimated $720 million, an increase of 20.8 percent over 2017, far exceeding the rate of growth in preceding years due to increased visitation. The travel industry contributed $47.8 million in local and state taxes.
"Destination Irvine's marketing and sales initiatives play a strategic role in bringing more than one million visitors, whether conference attendees, leisure travelers or those attending a sporting event, to Irvine," said Bryan Starr, President/CEO, Greater Irvine Chamber of Commerce. "Through these efforts and the partnership of Irvine's 21 hotels, tourism spending is further enhanced, resulting in an increase in economic impact to the community."
The travel industry supported 5,870 Irvine jobs and was responsible for adding $274 million in wages to the local economy.
It is estimated that without visitor spending, resident households in Irvine would each pay $543 more a year in state and local taxes.
Irvine's major visitor spending categories are as follows: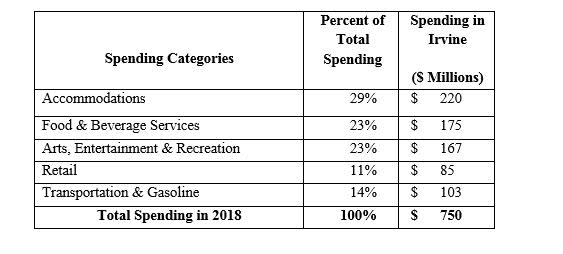 Irvine Far Exceeds Increase in Tourism Spending Compared to County and State
Overall, Orange County visitors spent $14.2 billion in 2018, a 2.4 percent increase over 2017. Statewide, travelers spent a record $140.6 billion in 2018, a 5.4 percent increase over the year prior.
"With nine consecutive years of record visitation spending, tourism is a foundational part of this state's economy benefitting all Californians," said Visit California President & CEO Caroline Beteta. "In cities and counties across the state, tourism employs thousands of Californians and pumps millions of tax dollars into local government coffers to pay police officers and firefighters, fix roads and operate other important community programs."
###