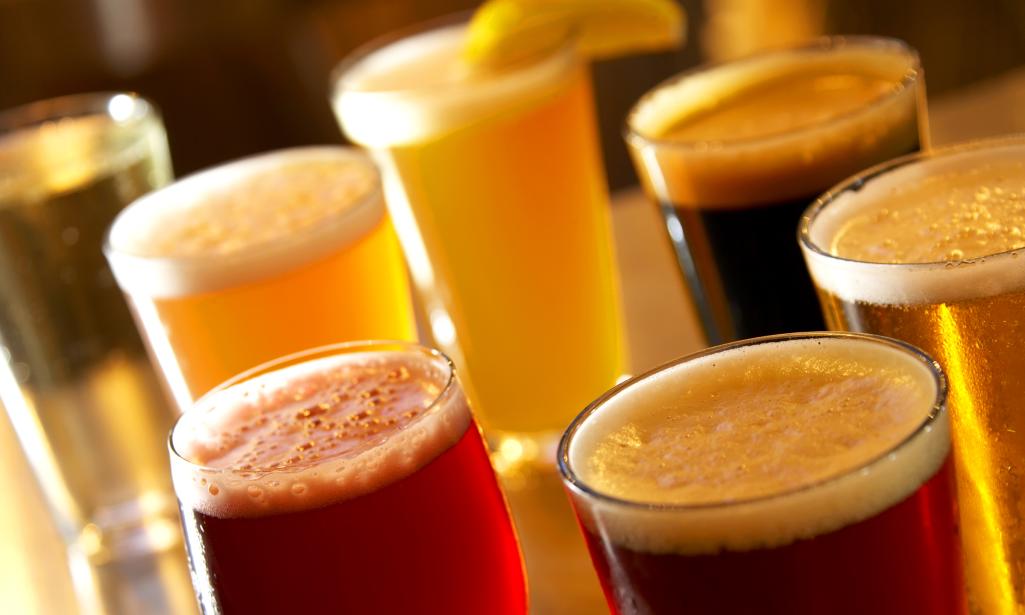 Due to current COVID-19 regulations, please check with each location before visiting as hours, capacity, and access may have changed. 
You know the feeling—driving home on a Friday evening trying to shake off that mind-numbing 4 o'clock meeting. You're ready to embrace the weekend, and like most of us, without breaking the bank. To fuel some fun, here are a few of my favorite Irvine go-to's to kick-start the weekend.
1.    Yard House at the Irvine Spectrum Center
This happy hour hits the spot with the best drink specials in the entertainment hub of Irvine. Indulge in $3 beers and half-price apps surrounded by TVs and a fun crowd. Sprawling with twenty-somethings looking for a nice finale of the workweek, you're bound to make a pal or two.
Monday – Friday: 3 p.m. – 6 p.m.
Late Night Happy Hour:
Sunday – Wednesday: 10 p.m. – close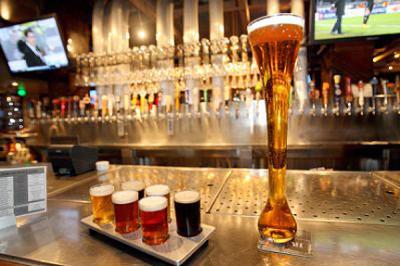 2.  Eureka!
This spot is located right by the UCI campus with an awesome outdoor patio and even more awesome drink specials during their "Hoppy Hour". Personally, I think this is the most well rounded happy hour. It's different every day; live music, brunch specials, and what's more, they give you stuff! Every Wednesday, beer enthusiasts can "steal the glass" by ordering the featured beer and later "stealing" the glass souvenir for the ride home.
Daily "Hoppy Hour": 2 p.m. – 6 p.m. & 9 p.m. – 12 a.m.
Festivities on top of Hoppy Hour:
Tuesday: Half-Price Wine
Wednesday: Steal the Glass
Thursday: Live Music
Saturday & Sunday: $5 Bloodys and Mimosas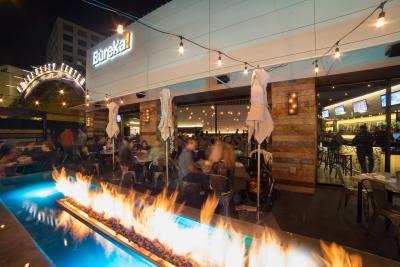 3.    Puesto at Los Olivos
Puesto not only offers happy hour Monday through Friday, it also hosts #TacoTuesday! Every Tuesday from 3 p.m. to close, tacos are only $2.50 and Modelo cans are $3.50. I suggest sitting at the patio bar, but if you prefer a nice, air-conditioned experience, there's an equally fun bar for you in the main dining room. 
Happy Hour: Monday through Friday 3 p.m. – 5 p.m.
Taco Tuesday: Every Tuesday 3 p.m. – close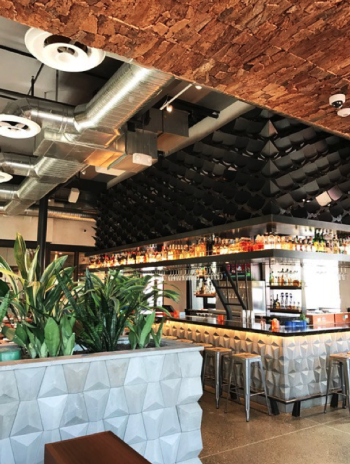 4.    Red Bar & Lounge
You'll find this hotspot in the lobby of Hotel Irvine. Red Bar & Lounge's daily happy hour includes cocktails made for the occasion. You can find half-price plates including Ahi Poke, Avocado Fries, Beef Sliders and more. At $6, you can order a specialty cocktail like a Honey Mule or an Icy Hot.
Daily: 3 p.m. – 7 p.m.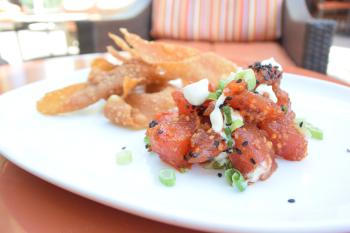 5. Center Hub at Trade Food Hall
This spot is brand spanking new. Located near one of Irvine's larger business parks and John Wayne Airport, this is a great after-work or post-flight destination. Within the Trade Food Hall, you'll find various gourmet food vendors to settle the belly after you indulge in Center Hub's happy hour.
Monday – Friday: 3 p.m. – 6 p.m.
Saturday & Sunday: 10 a.m. – 2 p.m.