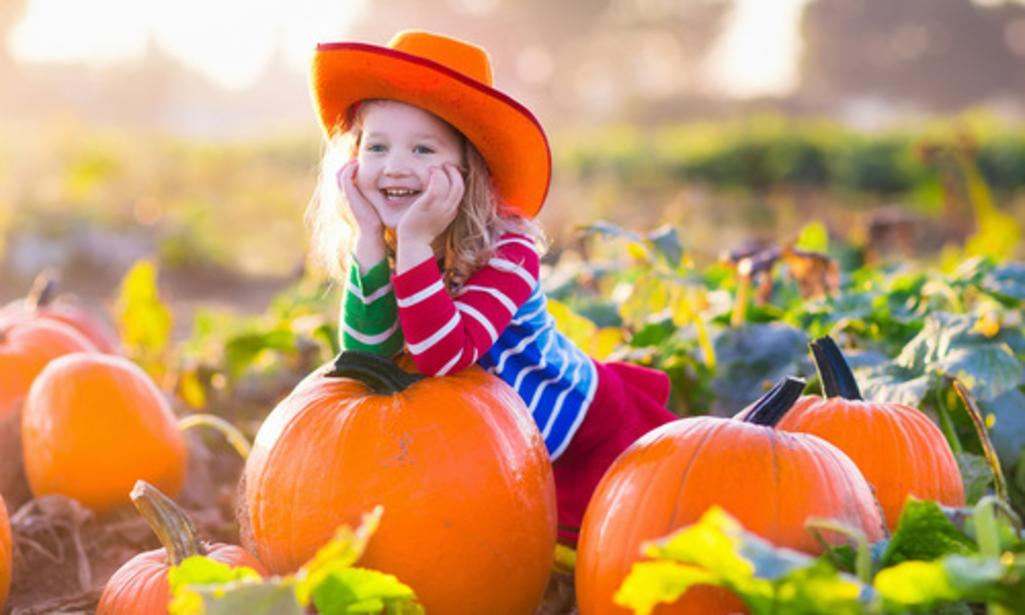 Fall in Irvine is a wonderful time of year. Though we might not be experiencing sweater weather just yet, we still celebrate the season.  From picking pumpkins to frightful nights, here is your limited 2020 guide to Irvine Pumpkin Patch and Halloween fun.
1. Irvine Regional Park 2020
Now through October 31st Irvine Regional Park is filled with Halloween fun. Highlights, limited due to COVID-19 guidelines, include a pumpkin patch, hayrides, game booths, photo opportunities, and the popular Irvine Park Railroad train. While admission to the pumpkin patch is free, most activities do require tickets. Free activities include a not-too-scary haunted house, hay maze, and picture stands. 
While at Irvine Regional Park, be sure to take advantage of all the fun the park has to offer families. There are pony rides, surrey bike rentals, paddle boats, several playgrounds, and even a zoo. 
Currently not scheduled for this year 
OC Zoo will have a  2019 Halloween Animal Art Preschool program at 10:15 on October 4, 9, 15, 17, 19, and 30. The educational program will feature crafts and up-close encounters with zoo animals. On October 5 there will be a special Up Close with Bugs and Spiders program for children ages 5-10 at 11am. There will be hands-on activities and close-up animal encounters. 
Additionally, the zoo will be hosting its annual Halloween Zoo-tacular on October 26, 2019 from 10 am-4 pm.  This fun event will include a scavenger hunt, games, crafts, and trick-or-treating. Zoo animals will receive their own treat-filled pumpkins. It is always entertaining to watch them enjoy their treats. The first 100 children dressed in costume will receive a free gift.
2. Tanaka Farms 2020
Pumpkin patch season has begun at Tanaka Farms on September 29 and continues through Halloween. This family-owned farm is the perfect place to pick your own pumpkin. Families love the wagon ride around the farm. This year, due to COVID-19 Guidelines, there will be a Drive-Thru Pumpkin Farm Experience and a U-Pick Pumpkin with Wagon Ride. 

MUST PRE-REGISTER! CLICK HERE FOR MORE INFORMATION.

3. Pretend City
No Events Scheduled for 2020
The Halloween spirit is in the air at Pretend City, Irvine's children's museum centered around learning through play. 
October 25, 2020 will be Frankenstein Friday at the museum from 10-4 pm. There will be plenty of monstrously fun activities including Mad Science and a Monster Mash. 
The museum will be visited by the OC Ghostbusters on October 26, 2020 from 11-1 pm. The Ghostbuster car will be available for photo ops. Activities include a Ghost Hunt, Ghostbusters Science, and Slime Making. 
Costume Days takes place October 27-30, 2020 and children are encouraged to dress up in their favorite disguises. Those who dress up will be rewarded with 25% off their 2nd admission.
On October 31, 2019 Pretend City will host a Trick-or-Treat Through the City. In addition to the trick-or-treat stations, kids will enjoy dancing with Disco Dracula and experiencing the Halloween pARTy in the Art Studio. 
4. Orange County Great Park
No Events Scheduled for 2020
Spooktacular Fun Days have been replaced by an expanded Irvine Global Village Festival which will take place on October 12-13, 2019 from 10-5 pm. The festival is celebrating its 18th year with music, entertainment, food and beverage, an artisan marketplace, and demonstrations. 
The Kids Village is sure to keep children happy with crafts, activities, seek-a-treat, frisbee dogs, and inflatable obstacle course, face painting, and a petting zoo. Cultural activities include karate demonstrations, learning to write names in different languages, and a henna tattoo station.
5. Boot Hill
Closed for the 2020 Season
2019 marks the 20th year that 16 Goldenrod in Irvine is transformed into Boot Hill, a haunted Old West town. The legend of Bridgewood and Jedediah Smith lives October 11, 12, 14, 18-20, and 25-27 from 7-10 pm. This spooky experience is free but donations are accepted and proceeds with be given to CHOC, Children's Hospital of Orange County.
Photo courtesy of Bigstock/famveldman.