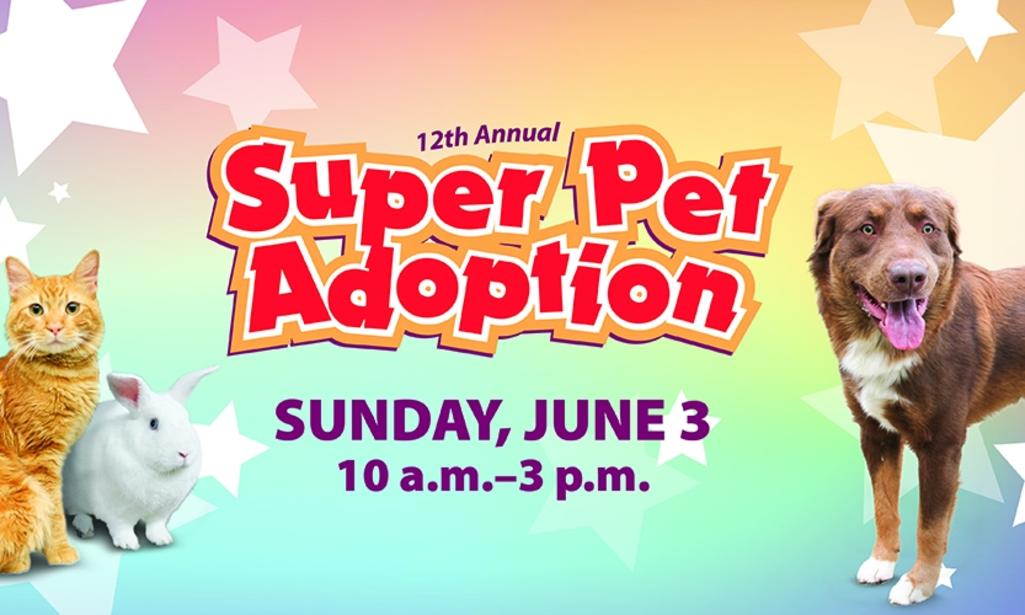 The City of Irvine's 12th Annual Super Pet Adoption is tomorrow, Sunday, June 3rd! The Irvine Animal Shelter will host more than 30 animal rescue groups and shelters, which will collectively bring together over 600 adoptable dogs, cats, rabbits and other small animals. Don't miss out on one of Irvine's biggest animal adoption events of the year which will also feature dozens of pet-related vendors, gourmet food trucks, a silent auction, low-cost microchipping and an opportunity drawing. Each animal available for adoption is spayed or neutered, microchipped and evaluated by a veterinarian. Cats and dogs are vaccinated appropriate to age. 
Suggested donation for the event is $2 per person or $5 per family, and parking is free. As published in the Orange County Register, "More than 5,000 people are expected to show up, said Mike Cribbin, manager of the Irvine Animal Care Center. Proceeds from the admission fees help to fund the Irvine Animal Care Center's Third Chance Adoption Program that rescues dogs and cats listed to be killed at overcrowded shelters in surrounding counties. Last year's event raised $30,000, Cribbin said.
The 2017 adoption event helped 276 animals find forever homes. In 2016, 379 animals were adopted out during the event. 'We view it as a way to help out the rescue community,' Cribbin said. 
Animals selected for adoption from the Irvine Animal Care Center require an application. The adopter must be at least 18 years old, complete a pre-adoption questionnaire and have a counseling session. Each member of the family must meet the pet.
If you rent your home, the shelter will require a copy of the rental agreement. If you have another dog at home, you will be required to bring the dog to the shelter to meet the new potential pet.
Adoption fees run between $25 for a rabbit to $200-plus for a puppy."
And hey, if you're not ready to adopt, come out with family and friends to support such an amazing part of our animal community! If you're going to attend:
Super Pet Adoption Event
When: Sunday, June 3
Time: 10 a.m.-3 p.m.
Where: Irvine Animal Care Center, 6443 Oak Canyon in Irvine
Information: 949-724-7740 or www.cityofirvine.org