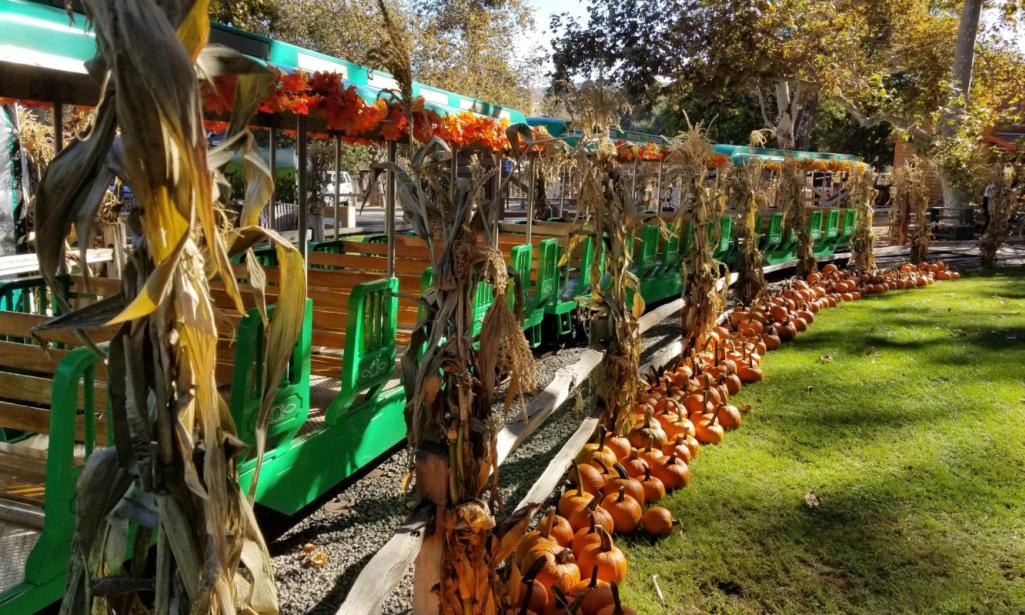 The days may be getting shorter but there is still plenty of fun to be had in Irvine this autumn. From pumpkin patches to special events we've got you covered. Here are a few of our favorite fall happenings.  
1. Urban Legends Haunt at the OC Fairgrounds
Urban Legends is a new drive-thru Halloween haunt taking place in Costa Mesa at the Orange County Fairgrounds. Event organizers say that it will have unique immersive scenes, coordinated lighting and sound effects, daring live performances, and dazzling special effects work together to give guests a terrifyingly fun, entertaining Halloween experience.  I have been assured it will be scary, but not too scary for kids.
It will run 4 nights a week, on Wednesday through Sunday evenings, from October 1 through November 1.Tickets are available now at UrbanLegendsHaunt.com, starting at $49.99 per vehicle.
2.  Fabulous Outdoor Dining Options
The weather is wonderful in Irvine during the fall, so take advantage of the temperate climate and enjoy a great meal outside. From Oreo pancakes at Breakfast Republic to curated cocktails at Hive & Honey Rooftop bar, there are plenty of tasty options waiting for outdoor diners. Here are 10 of the Best Restaurants for Outdoor Dining in Irvine.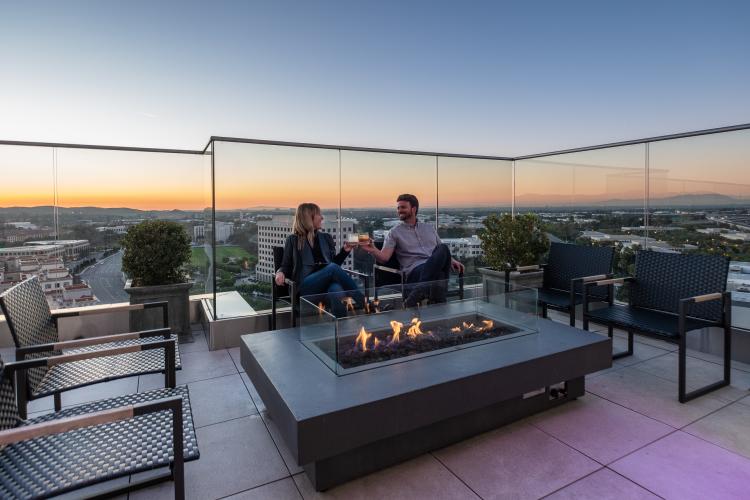 3. Autumn Fun at Tanaka Farms
Tanaka Farms is a great reminder of Irvine's agricultural roots.This 30-acre organic farm in the heart of Irvine gives visitors the opportunity to experience farm fun no matter the season but fall is a favorite for many.
This year, there will be two different pumpkin patch options. On weekends  there will be a drive-thru pumpkin patch which begins at 9am and ends with the last cars entering at 5pm. The experience includes a 1.5 mile-drive around the farm as well as samples, a barnyard educational exhibit with farm animals, lots of fun stuff to look at, a scarecrow contest, sunflowers, and a pumpkin of course!
Monday through Friday, the farm is offering the more traditional u-pick pumpkin patch experience, updated to allow for social distancing. Guests will take a wagon ride (which will have reduced capacity to allow for social distancing) through the farm, led by a friendly tour guide. Highlights include watching the pumpkin cannon launch, a ride through the barnyard educational exhibit with farm animals,  and lots of other fun stuff to look at. Then guests will exit the wagon to pick vegetables and their own pumpkin. 
Don't leave without a stop at the drive-thru farm stand for some fresh produce and delicious baked goods. The experiences begin September 19 and runs through October 31, 2020. Reservations are required. tanakafarms.com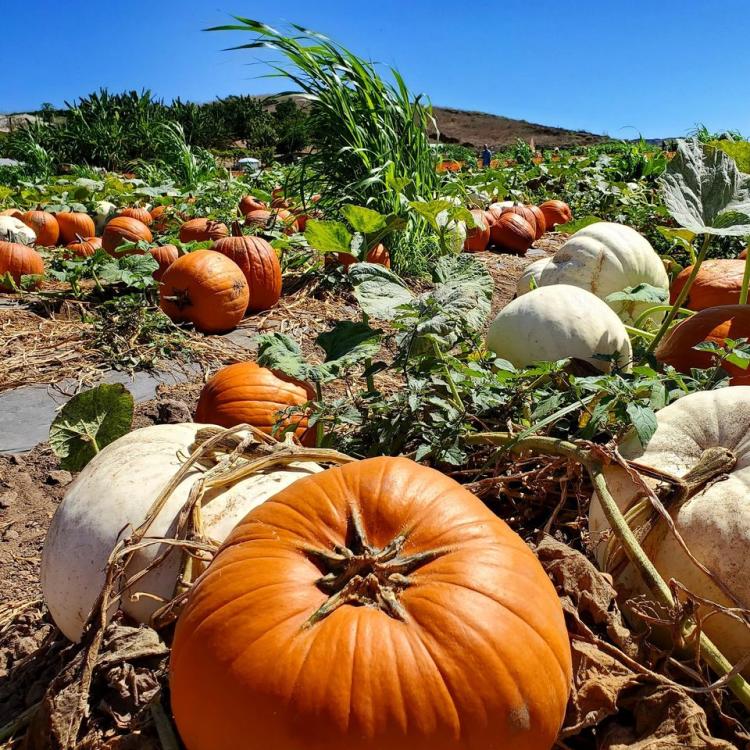 4. Taste of Fall-O-Ween at Knott's Berry Farm
Theme parks have not yet been given the go-ahead to reopen their rides, but Knott's Berry Farm isn't letting that slow them down from providing a great fall experience. 
Guests of all ages are encouraged to come dressed up in costumes and experience this food tasting and Halloween-celebrating event. It will take place Fridays through Sundays, September 25 through November 1, 2020.
There are adult tasting cards which give guests the opportunity to choose to taste 5 different themed food and treats. Kids 3-11 can purchase a junior tasting card which allows kids to enjoy 3 tasting options as well as the Camp Snoopy Trick-or-Treat Trail. There will also be specialty items from local crafters, an all-new "Into the Fog" art show, and more. You can read more and purchase tickets here. 
5. Irvine Park Railroad Pumpkin Patch
A visit to the Irvine Park Railroad Pumpkin Patch in Irvine Regional Park has become an annual pilgrimage for thousands of families around Southern California.
This year the park is offering a scaled-down version of the event to allow for social distancing.In addition to the classic train and hay wagon ride, there will be a couple game booths that will be sanitized after every use and a few photo opportunity areas. Pumpkins will be available for purchase.
Make sure you leave time to visit the Orange County Zoo which is also in the park, and rent either a surrey bike or paddle boat. October 1- October 31, 2020. 
6. Tarantulas and Trails
During the autumn months, especially during October, tarantulas can often be spotted crawling around on Irvine Ranch Natural Landmark lands. These harmless yet fascinating spiders tend to be easiest to spot during the fall because they are out looking for mates. There are several guided hikes occurring almost daily at various locations throughout the landmark. Reservations are required.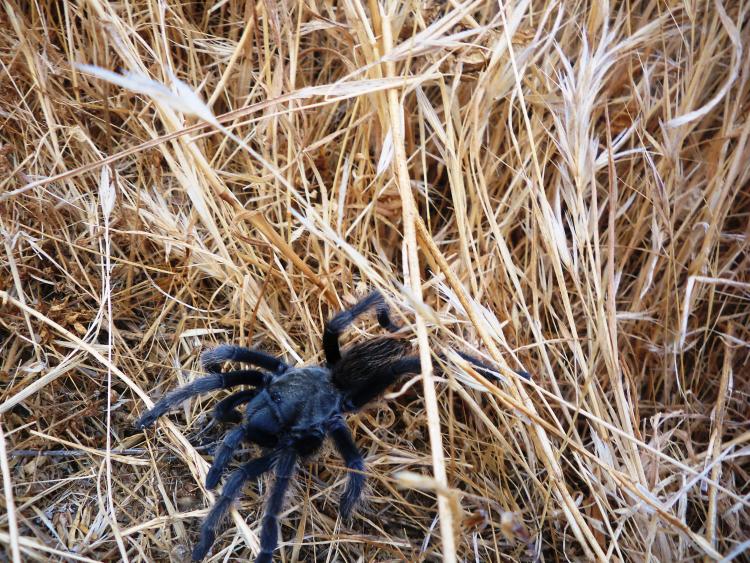 7. Crowd-free Beach Days
Want to know a secret? Fall is absolutely the best time to enjoy Orange County's beautiful beaches. The summer crowds are long gone, the days are typically sunny, and the water is still warm. So plop down a beach chair on your own little stretch of OC paradise. Here are some of our favorite surfing beaches in Orange County. 
8. Take a Hike!
Orange County is home to one of the best county parks systems in the country. There are several great wilderness parks, regional parks, and beaches under OC Parks jurisdiction. Some of the best trails in Orange County can be found in and around Irvine at these special places. 
Some of our favorite trails include the Red Rock Trail in Whiting Ranch Wilderness Park, Laurel Canyon Trail in Laguna Coast Wilderness Park, and the trail hugging the Back bay in Upper Newport Bay Nature Preserve.