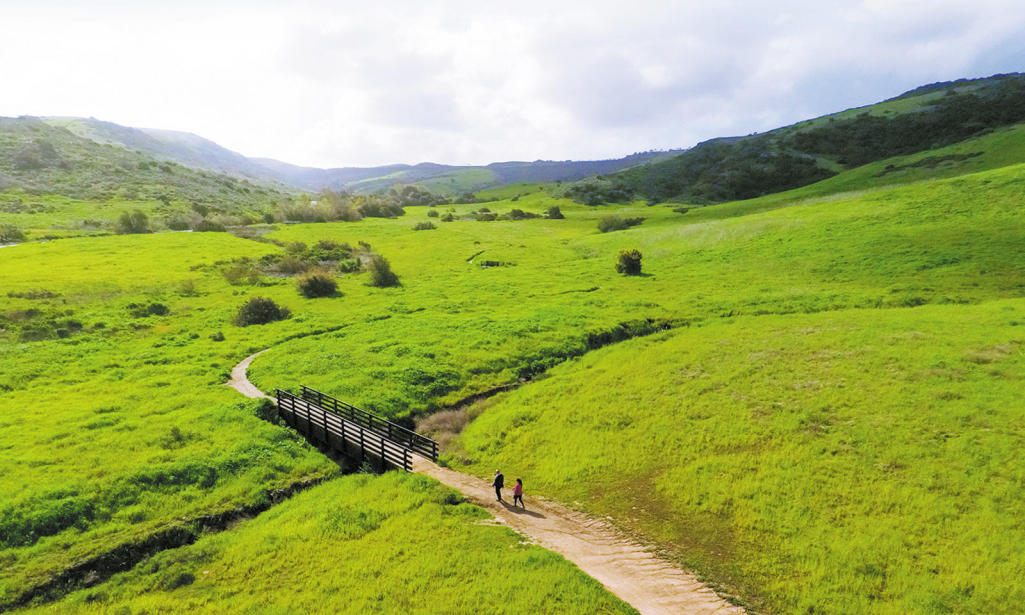 Updated 5/21/20
Irvine offers 16,500 acres of open space, and boasts the most open space in all of Orange County dedicated to those who want to get outside and experience nature. Featuring 60+ miles of hiking and biking trails and picturesque vistas to enjoy year round, here are the best ways to explore it:
Trails
Mountains to the Sea Trail:  A 22-mile journey from the Cleveland National Forest to the Pacific Ocean! Begin in rugged, oak-filled Weir Canyon and walk, hike, or bike south toward the coast while enjoying an amazing variety of scenery and topography. 
Growing up on the Mountains to the sea trail.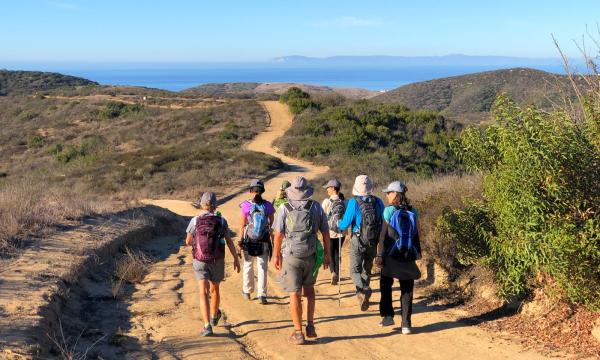 Mountains to the sea trail; Photo credit : Irvine Standard
Quail Hill Loop Trail: This easy 1.8-mile trail circles the native grassland of Quail Hill with sweeping views of the city at Vista Point. Its modest incline makes it easy for children, joggers and dog owners (dogs are allowed, on leash) and makes it a fun lunchtime hike.
Quail Hill Loop Trail; Photo Credit: IG @micktographer
Shady Canyon Trail: This easy 2.8-miles trail skirts the Strawberry Farms Golf Course, crossing two pedestrian bridges and leading to the Bommer Canyon trailhead. From there, you also can hike to the ocean.
Quail Trail: Named Orange County's best hiking trail by Vacation Idea magazine in 2019 and is more strenuous. It gains 1,700 in elevation and connects with dozens of trails that traverse the San Joaquin Hills, home to one of the rarest ecosystems in the world. These trails offer commanding views of the Saddleback Valley, and lead to both Laguna Coast Wilderness Park and Crystal Cove State Park.
Bommer Canyon Trail: A 4.6 mile heavily trafficked loop trail located that features beautiful wild flowers and is rated as moderate. The trail offers mountain biking.
Bommer Meadow; Photo Credit IG @mrs_kavaja
Jeffrey Open Space Trail is a special place where history and nature converge. The 3.5-mile linear park wanders through meadows, woodsy groves and public art displays. Along the way, historical markers trace 500 years of local history — from 1510 when Spanish explorers first sailed to the California coast, to 1864 when James Irvine purchased The Irvine Ranch, to modern times with the creation of the Irvine Master Plan and cityhood. The trail is divided into three parts — each with historical displays depicting a new era.
Jeffrey Open Space Trail is an example of why Irvine parks and open space are ranked tops in California and No. 6 in America.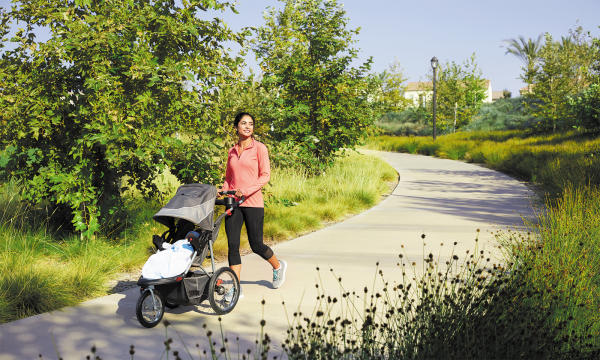 Jeffrey trail; Photo Credit: Irvine Standard
Be a Wildflower expert on your next hike
Sports
Golf: 
Strawberry Farms Golf Course combines the rural beauty and tranquility of the surrounding area with the challenge of true championship golf. Nestled in the canyons of Irvine, a unique and beautiful location, the par-71, 6,700 yard course is set amid canyons and wetlands. The 18-hole course offers picturesque vistas across the 35-acre reservoir and rolling greens surrounded by natural wildlife. Their restaurant is open for takeout and seating at their open-air patio. Inside seating not available.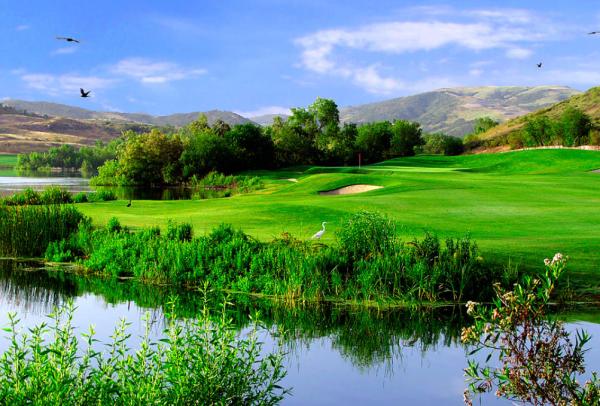 Photo Credit: Strawberry Farms
Tennis & Pickleball:
As of May 15, City of Irvine tennis and pickleball courts have been reopened for singles play and city-led-one-on-one instruction during regular operating hours. The city has 94 tennis courts; see a map here. Pickleball courts are located at San Carlo, Knollcrest Neighborhood Parks, and Portola Springs Community Park. For more information, call 949-724-6400 or email tennis@cityofirvine.org.
Parks
Aldrich Park: 19-acre area offers winding paths cut through the park's lawns and groves of eucalyptus trees, while the campus buildings stand along its fringes. Cyclists and pedestrians share Ring Road, the path that encircles the park. Insider tip: May is a jacaranda season.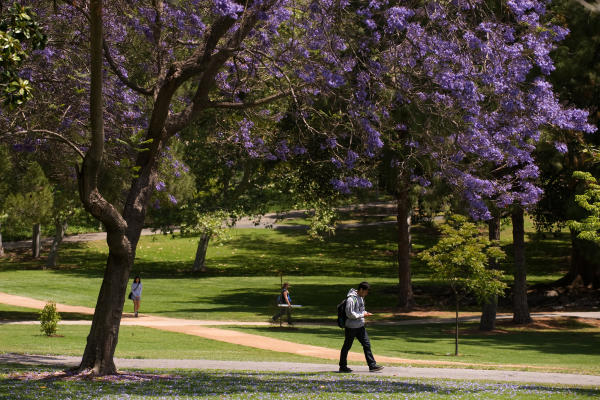 Aldrich Park
Orange County Great Park: The incredible reincarnation of what was once the Marine Corps Air Station El Toro. Encompassing a total of 1,300 acres, more than 200 are currently developed and 688 acres are in planning and design. The outdoor park spaces remain open for passive use, indoor facilities, as well as athletic fields, basketball courts, and stadiums are closed until further notice, this includes the Great Park Balloon, Carousel, Visitors Center, Great Park Gallery, Artist Studios, and Sports Complex.
Irvine Regional Park: The rolling foothills surrounding the park are filled with a variety of wildlife. Trees and shaded turf areas provide a serene setting. Parking lots and restrooms have reopened. The OC Zoo remains closed. Park offices, nature centers and other amenities remain closed. 
Irvine Park Railroad and Wheel Fun Rentals® at Irvine Park bike and paddle boat rentals are open as of May 21, during the following hours:
Train Rides
Weekdays: 10:00 am - 4:00 pm
Weekends: 10:00 am - 6:00 pm

Wheel Fun Rentals at Irvine Park Bike and Paddle Boat Rentals
Weekdays: 10:00 am - 5:00 pm
Weekends: 10:00 am - 7:00 pm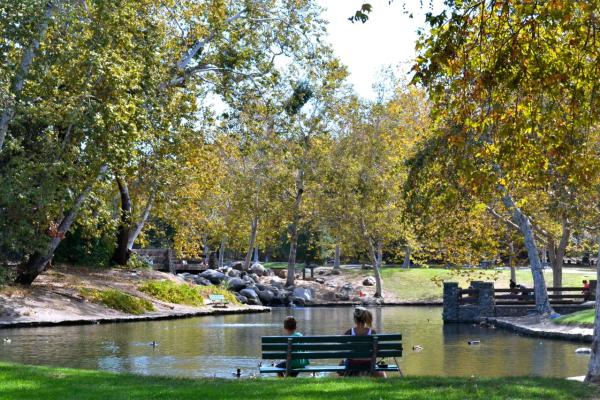 Photo credit: Irvine Regional Park
San Joaquin Marsh & Wildlife Sanctuary: a 300-plus acre coastal freshwater wetland with 12 miles of trails for walking and running. It's also a bird paradise with hundreds of species. Download the San Joaquin Marsh & Wildlife Sanctuary Bird Checklist.