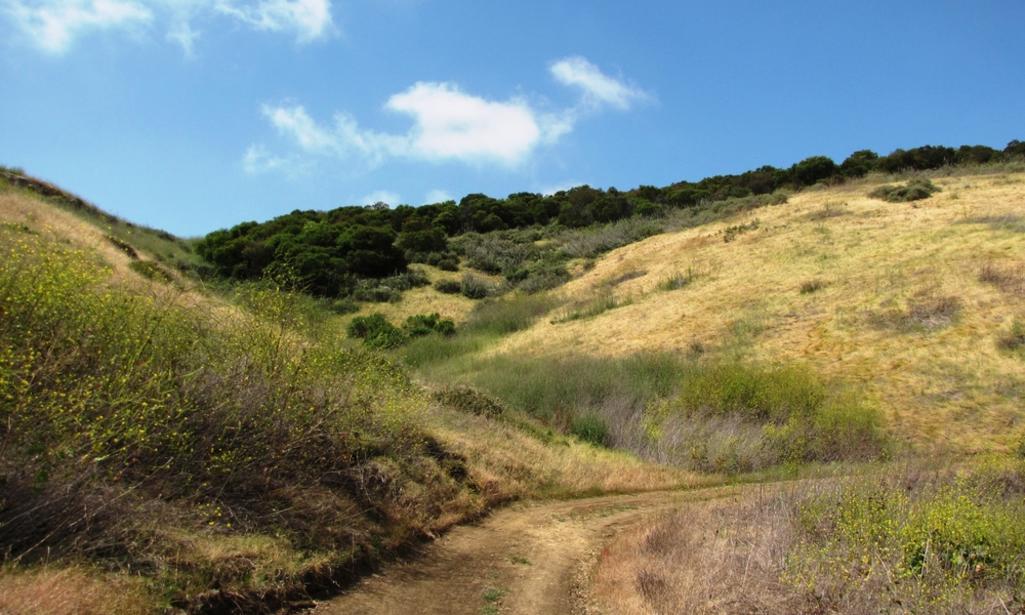 Caption: Fire road and hills, Quail Trail, Irvine, California
Credit: L.A. Nature Graphics
Source: Shutterstock.com
By Joe Laing 

The call to come visit Orange County, California might seem simple - the stunning coastline, the
sparkling cities, the glorious weather - but the draw for hikers is especially strong from the city of Irvine, a place where nature and history have shaped outdoor spaces like no other. 
One such extraordinary collection of spaces, where trails lead to mountain forests, rugged seas and rocky canyons, is known as The Irvine Ranch Natural Landmarks. Nearly 300 miles of trails stretch across this 50,000-acre preserve, inviting hikers to learn about the area's ranching history, the singular beauty of coastal bluffs and the places where wildlife shelters among giant boulders. 
Here's the real beauty ... that's just the beginning of the adventure open to hikers who come to Irvine. Thanks to an amazing variety of regional and wilderness parks surrounding the city,
hiking enthusiasts can find a different trail, a different terrain and a different view from the top for as long as they'd like to stretch their legs.
To make getting started on Irvine's iconic trails easier, here's a guide to some favorites, based on your hiking personality:
Hiking to Find Spectacular Views: So many trails in and around Irvine fit this bill, but why not try the Sinks Trail at Limestone Canyon Regional Park, trails along coastal canyons and rocky beaches at Crystal Cove State Park or the paths that loop through Laguna Coast Wilderness Park, especially the one through Little Sycamore Canyon?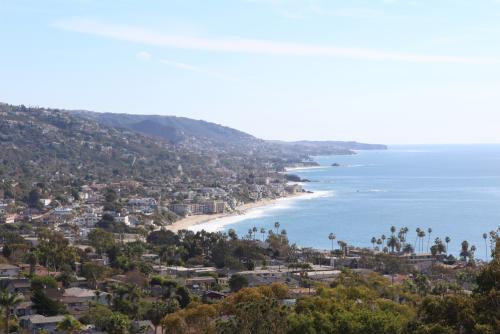 Caption: Laguna Coast Wilderness Park, main beach view
Credit: LangunaticPhoto
Source: LagunaticPhoto / Shutterstock.com

 
Hiking in the Heart of the City: Orange County, the Irvine Ranch Conservancy and the City of Irvine have spared no effort to create trails within easy reach of civilization. One epic example is the 22-mile Mountains to Sea Trail which combines hikes through rugged canyons and brushes with five OC cities, with the ultimate reward of Upper Newport Bay at its southern terminus. 
Hiking with Kids: A particular favorite with families is the 3-mile Woodbridge Trail in the heart of Irvine. Young nature lovers will also enjoy a loop through Irvine Regional Park (the park's scheduled night hikes are a special treat). Speaking of scheduled hikes, the docent-led treks into wilderness areas at many of the Irvine Ranch preserves are excellent, so be
sure to check their schedules while in the Irvine area.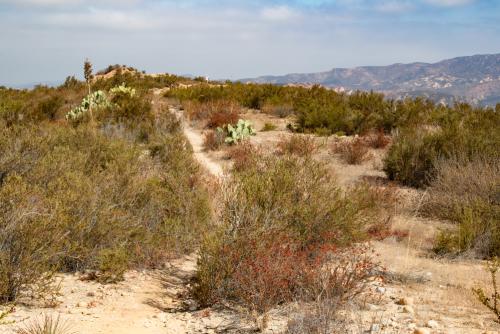 Caption: Limestone Ridge Trail in Limestone Canyon on Irvine Ranch
Credit: jdpphoto
Source: Shutterstock.com

Hiking in Search of Wildlife: Created as a 4,500-acre wildlife sanctuary, Aliso and Wood Canyons Wilderness Park features an 11-mile loop trail with plenty of time to see eagles, hawks and falcons above and glimpses of several protected species along the trail to the top of the ridge. One more spot favored by wildlife-loving hikers is Bommer Canyon, especially on wilderness access days.
Hiking Multiple Trails to Test Your Limits: If you're one of those hikers who loves a good challenge, make your way to the Quail Hill Trailhead in South Irvine. It's a premier access point to multiple trails, so planning a long day's loop will be easy. Depending on your preferred
terrain, the Shady Canyon Trail gives access to the Turtle Rock Trail, the University Trail and the Bonita Canyon Trail, all the way to Newport Beach. You can use the same trailhead to start your trip up Juanita Moe Trail around Quail Hill Preserve, or to take the Quail Hill Loop.
Has this guide convinced you that there's a place to hike near Irvine that appeals to every style of hiker? If you're ready to test your muscles, capture new vacation photos and experience Orange County outdoors at its best, here are some links to more information on Irvine's exemplary trail system:
City

of Irvine Hiking and Biking Guide
Joe Laing is the Marketing Director for El Monte RV, a nationwide RV rental company. Joe has been on the road working within the travel industry for over 20 years, and greatly enjoys exploring the outdoors. Joe has been camping across the United States, from coast-to-coast, and makes a point to stop at national landmarks along the way. He is also actively involved in numerous campground associations, including RVIA's Go RV-ing committee, as well as travel industry associations.