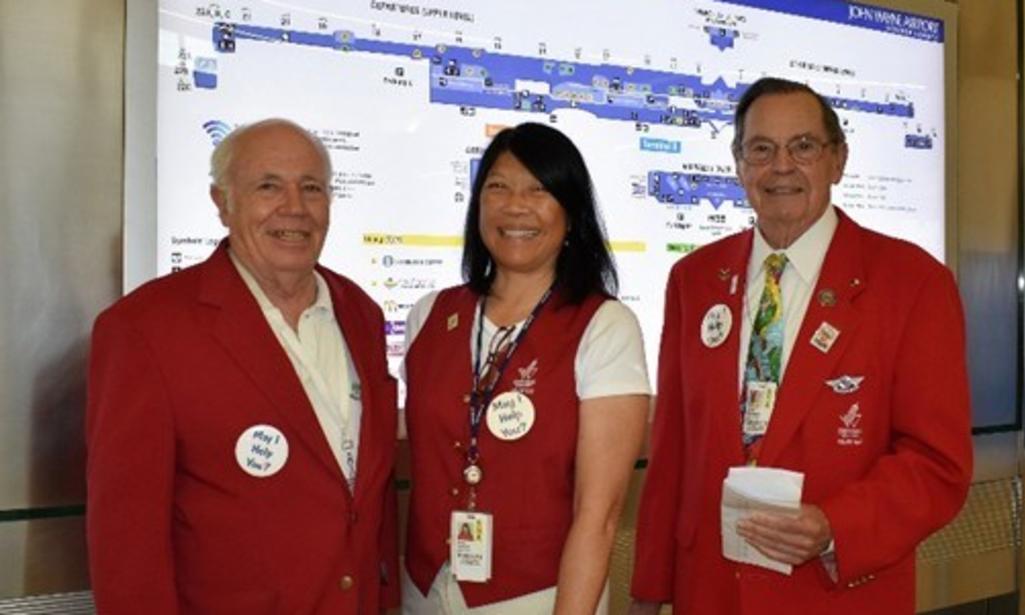 This year, thousands of travelers will pass through John Wayne Airport on their way to holiday celebrations across the country. Friends and relatives will arrive seeking sunshine and locals, dressed in coats and boots, will depart for colder climates. It's the one time of year when Orange County's beloved, local airport becomes a bustling crossroads for travelers ready to celebrate the holidays. 
This holiday season, John Wayne Airport is ready to handle the increased flow of travelers.  And while timely departures and prompt baggage service will be a high priority, sometimes the most important gift anxious travelers can receive this season is a friendly smile. 
Enter the Airport Ambassadors. You may have seen these friendly folks dressed in red jackets and khaki pants with a button pinned to their lapel that says "May I Help You?" Since 1998, these local volunteers have been on hand to assist the more than 10 million passengers that pass through the airport each year.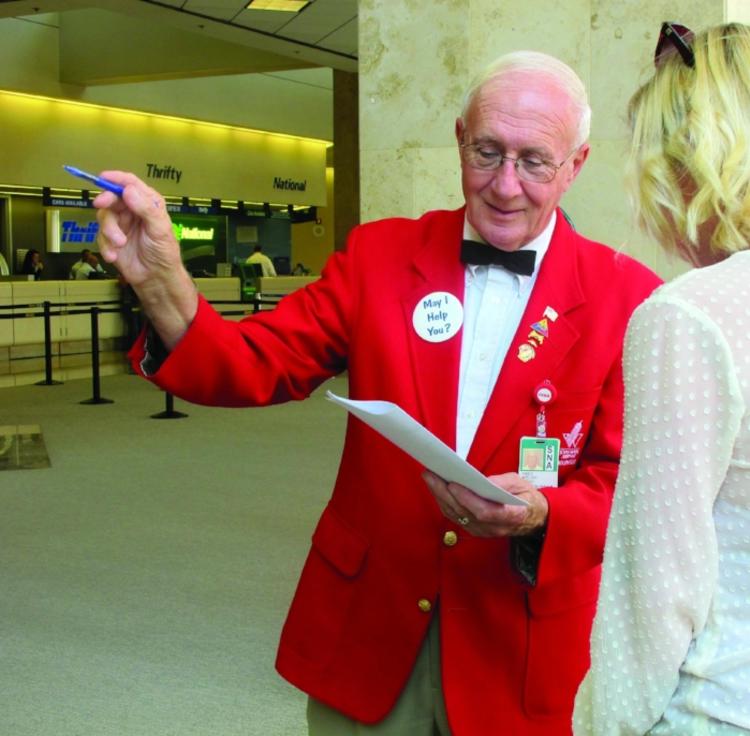 Folks like Fred Welch, a seasoned volunteer who has been an Airport Ambassador since 2006. Retirement gave him the opportunity to spend his time giving to others. His love of aviation led him to the airport. 
"I travel a lot," said Welch. "I like to be treated well and for people to be nice to me, so I thought I could do that for visitors to my airport."  
The Ambassador program consists of approximately 60 local Orange County residents who welcome guests to John Wayne Airport. They answer thousands of questions including locations of the airlines, gates, and rental car services.  To Ambassadors like Fred Welch, there is no typical day on the job. 
"You never know what's coming next and you have to be ready to wing it most of the time," said Welch. "Mostly, people just want someone to take the time to listen and to answer their questions."
What's the most common question? 
"Where's the bathroom," answered Welch. 
Fred Welch has seen more than a decade of holiday seasons at John Wayne OC Airport and he has a few tips for travel success:
"Try to get organized before departing home and pack your Patience Pills in your carry on. Leave yourself enough time and, by all means, don't be afraid to ask for help!"
The Ambassador Program adds a welcome personal touch to the modern travel experience, which is becoming more and more anonymous and automated.  This human connection is exactly what motivates Fred Welch and the other Ambassadors to volunteer their time. 
"My favorite part is when they smile back and, of course, I love it when they say thank you."
If you're interested in applying to join the ranks of this fine team or know of someone who would make an enthusiastic Volunteer Ambassador, contact Volunteer Program Specialist Joel Aguilar at jeaguilar@ocair.com or (949) 252-5296. To learn more about the program, visit our Volunteer page.