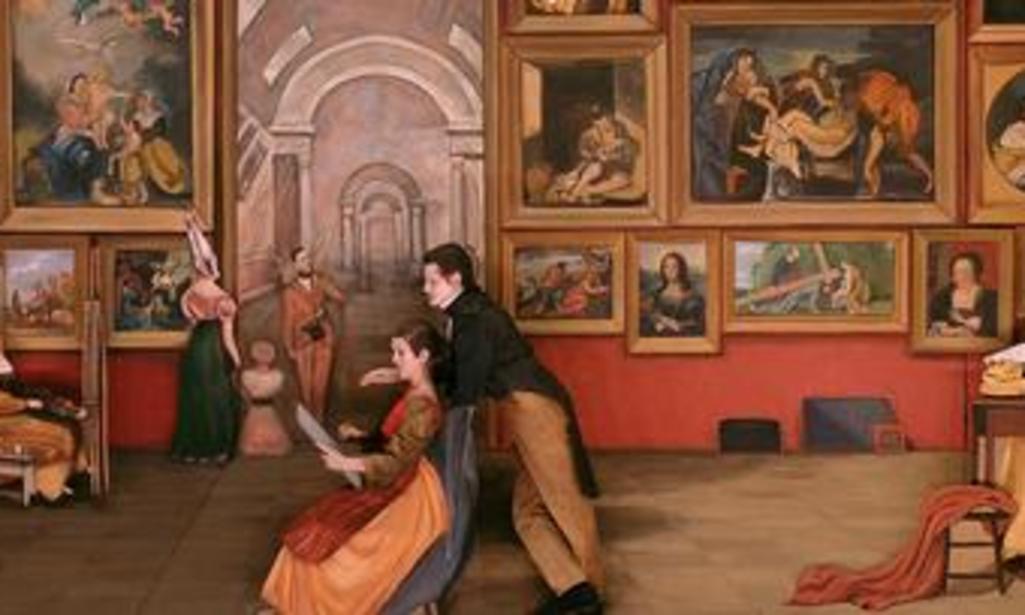 Have you ever thought of being onstage in a gorgeous costume under bright lights and summer stars? And can you stand still for 90 seconds? Perfect! You could be a Pageant of the Masters volunteer cast member in Laguna Beach.
Casting call will be held at the Irvine Bowl Park (650 Laguna Canyon Road, Laguna Beach, CA) during the following times:
• Friday, January 6 from 7 - 9pm
• Saturday, January 7 from 7 - 9pm
• Sunday, January 8 from 2 - 5pm
If you're familiar with this blog, you'll know I was a volunteer when I was a college co-ed back in the 80's. I worked at the iconic Las Brisas restaurant during the day and was a Pageant volunteer at night. The show was double cast, so I performed 7 nights, then was off 7 nights.  If I had a conflict there were a number of ladies similar in size who could step in. So, volunteering was a breeze and an experience I'll never forget.  
Here's a pic of the painting we portrayed that summer. I was the gal in front with the blue dress and red ribbon in her hair. Trivia: the bottom part of the ballgowns was constructed with chicken wire and canvas. We stepped behind the chicken wire and flipped our short gowns over the chicken wire set to complete the illusion. So cool.
The backs of the gowns were held together with drawstrings. One night during the momentary blackout before our painting was to be displayed on stage, the gal playing Empress Eugenie leaned forward and pulled my strings loose. My gown threatened to slip down and expose me to the audience. I had to try very hard to hold still yet make sure my gown didn't fall off. Talk about a memory!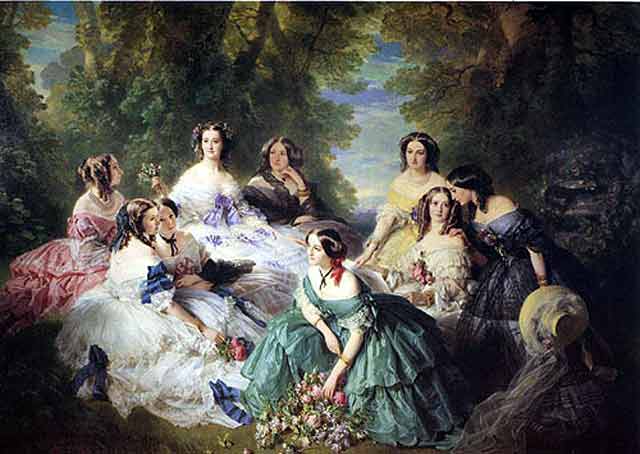 Casting Call is a fun experience for all involved. Prospective volunteers will be measured and photographed, enjoy refreshments and meet the behind-the-scenes Pageant staff. No theater experience is necessary. The only requirement is the ability to stand still and have fun.
Volunteering for the Pageant is a great way to spend your summer and it's common to have several generations of the same family volunteering for different aspects of the show. Additionally, by volunteering for the Pageant, students can earn credit towards community service requirements.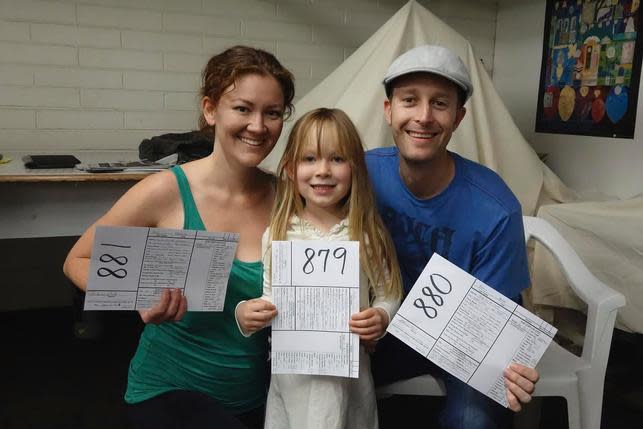 "Over 500 volunteers, both onstage and behind-the-scenes, are needed to put on the show," said Pageant Director Diane Challis Davy. "Everyone has a great time backstage and many return year after year to take part in this one-of-a-kind performance. The Pageant just simply wouldn't be possible without our volunteers!"
Pageant volunteers are also needed for positions in the wardrobe, makeup and headdress departments, as well as cast area coordinators and refreshment servers, among other positions.


Summer performances of the Pageant of the Masters will run nightly at 8:30pm from July 7 to August 31, 2017. Please call (949) 494-3663 for additional information.
The 2017 Pageant of the Masters, The Grand Tour, will be staged July 7 through August 31. Ticket prices range from $15 to $230. Tickets are on sale now by calling 1-800-487-3378 or online at www.PageantTickets.com.