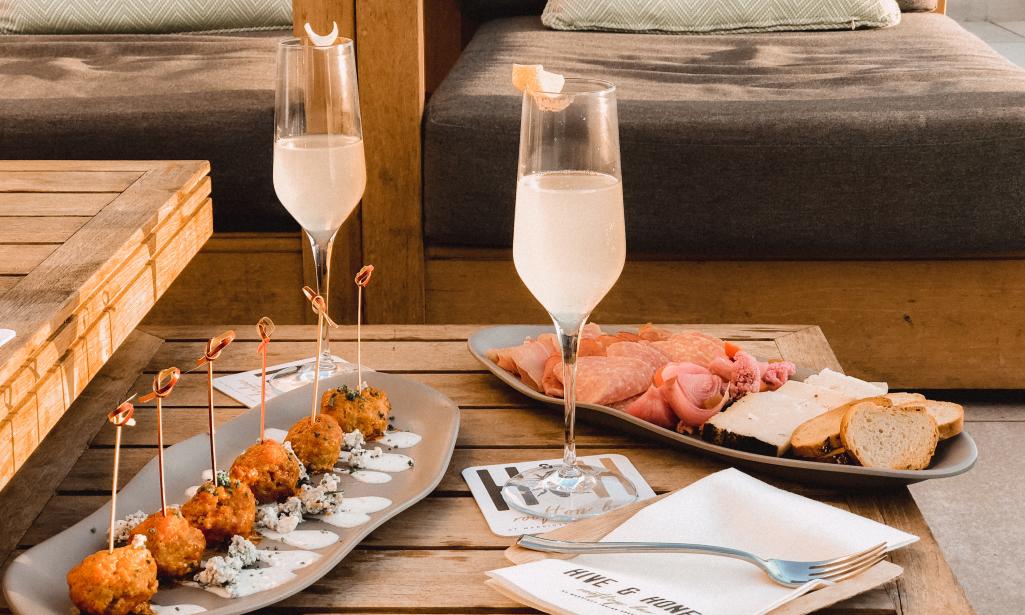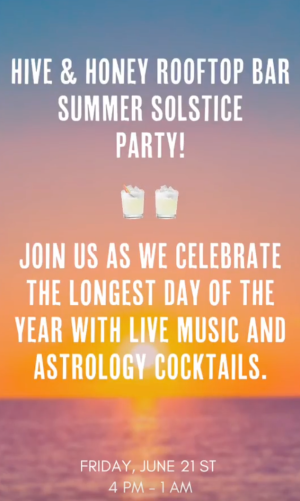 If you haven't gotten a chance to visit the Hive & Honey Rooftop Bar located at the Marriott Irvine Spectrum, this Friday is the perfect opportunity! Hive & Honey Rooftop Bar is kicking off the season with a summer solstice party and you won't want to miss it! Guests will enjoy the longest day of the year with live music, astrology-inspired cocktails and of course, the epic views of Orange County. 
Where's Hive & Honey Rooftop Bar?
7905 Irvine Center Drive,
Irvine, CA 92618 
949-759-0200
Hours of Operation
Wednesday & Thursday: 4pm – 10pm
Friday & Saturday: 4pm – 1am
Located on the 16th floor of the Marriott Irvine Spectrum
Valet Only | Call for current valet fees and policies
I've gotten to experience Hive & Honey Rooftop Bar on a couple occasions, one to try their artisanal cocktails and seasonal menu which you can see and read about here; and another time when I had a staycation at the Marriott Irvine Spectrum and enjoyed drinks and light bites here. There hasn't ever been one beverage or dish that I haven't liked, and I'm very excited to attend the summer solstice party this Friday to discover the astrology-inspired cocktails. I love coming to Hive & Honey to sit back and enjoy the sunset while sipping on a yummy cocktail, and then witness the vibe transform from mellow to more upbeat (it's really the place to be on a weekend evening!)
If you aren't able to visit Hive & Honey Rooftop Bar this Friday, you can stop in Wednesday - Saturday, with live music on Thursday - Saturday nights. You won't be able to miss the bar in the evenings, you can see lights going off the top of the hotel's roof! Have you been? And follow along with me Friday evening to see the festivities if you can't make the summer solstice party!