This week it was my job to visit a chocolate factory and sample high end, small batch chocolates. I know, I know. My life is incredibly hard but I must take on these difficult jobs so I can bring the story to you. ChocXO is an Irvine-based "bean to bar" chocolate factory which transforms  the simple cocoa bean into artisanal chocolate masterpieces and they want to show you exactly how it is done.
The ChocXO Factory is located on the corner of Irvine Center Drive and Tesla, just down the street from the Irvine Spectrum shopping center. Their inviting storefront features all sorts of high-quality bars, delectable truffles, and a variety of chocolate gifts created by cocoa beans originating from small family farms in Central and South America. ChocXo is the brainchild of Richard Flay, a man with over 30 years experience in the chocolate distribution business and a dream of creating chocolates as fine as those found in Europe right here in the USA.  He knew that in order to do this he would need high quality beans along with superior equipment and know how. His dream came to fruition in late 2013 and ChocXO has quickly put itself on the chocolatier map. Before you start filling up your truffle box with Maple Whiskey, Creme Brulee, Coconut Ginger Lime, Vanilla Chai, Grand Marnier, Chocolate Aztec, and Spicy Peanut Butter & Jelly chocolates, take a tour and discover exactly how these tasty bites of heaven came to be.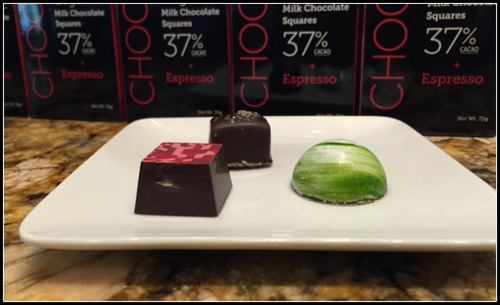 The scientific name for the cacao tree is Theobroma cacao which translates to mean "food of the gods".  Chocolate lovers around the world are in complete agreement with this description.  And while most of us have eaten our body weight in chocolate over the years, we really have no clue about how a pod on a tree is transformed into the treat of our dreams. ChocXO walks customers through the process, offering plenty of history, science, and opportunities for sampling along the way. The first sample I tried on my tour was a bit of the cacao fruit which surrounds the bean. The white pulp was tart and tropical tasting. It is used in drinks in Brazil but us American chocolate fiends prefer that they keep the fruit on the bean because it gives critical flavor to the beans during the fermentation process.  Factory tour-takers will also sample cocoa nibs, cocoa liquor (which is neither alcoholic nor sweet),  and chocolate flake before reaching the liquid chocolate sampling station which dispenses the final product with a push of a button into little tasting cups. If there were only a way to get a single-origin, 70% Yaguachi Ecuadorian dark chocolate dispenser into my own home....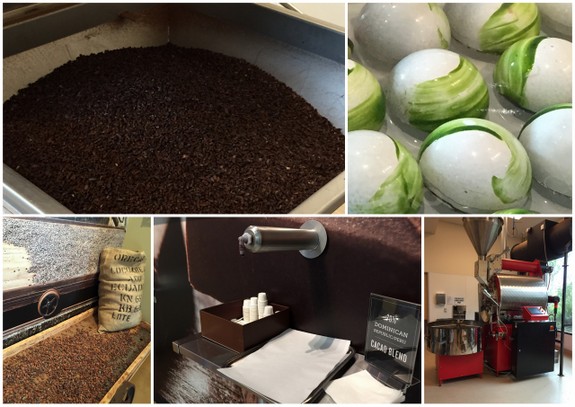 In addition to the samples throughout the tour (and three choices from the chocolate case up front), visitors will also enjoy the opportunity to set foot on the chocolate factory tour and see sophisticated machines process chocolate  through its various stages of development.  Special events for private parties of 10 or more can be booked for just $25 per person and involved an opportunity to make your very own chocolate bark to take home!
Good to know: General tours can be booked in advance on the ChocXO website. Cost is $20 per adult and $10 per child under $10. ChocXO has cafes in neighboring Lake Forest and Costa Mesa which serve up sight-roasted coffee in addition to their chocolate treats. Just imagine a mocha made with ChocXO chocolate! ChocXO chocolates can also be found inside the marketplace at Hotel Irvine.