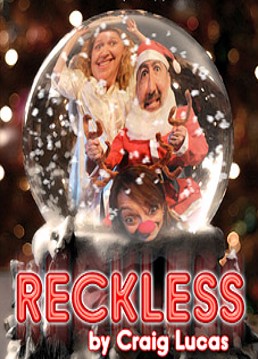 Concordia University kicks off 2015 with the whacky dark comedy Reckless by Craig Lucas. The play chronicles the (mis)adventures of Rachel who, on Christmas Eve, finds out her husband has hired a hit man to kill her!  After a narrow escape, she ends up going through a series of crazy events that finds her on the run and, at various times, living with another family, on a game show, homeless and later appearing on a talk show.  On the way she sees six different therapists and travels all over the United States - leaving a trail of mistakes and crazy coincidences in her wake.

"I love plays that send characters on a great journey." says Tony Vezner, director of the production. "In this case, Rachel is propelled on this nightmarish journey by one crazy event right after another and it's her job to adapt and go with it.   She's a sweet woman who just keeps getting into one madcap adventure after another. It's simply hilarious to see her deal with each new crazy situation."

The play takes the audience, and Rachel, through a whirlwind of different locations - a gas station, a game show set, 6 different therapist's offices, and a V.W. van on the road - so it was scenic designer Mark Klopfenstein's job to take the audience to each new location.  Klopfenstein, who previously worked as a Disney imagineer, has created an amazing set full of turntables, moving furniture wagons and movable panels that take the audience through Rachel's journey at a breakneck pace. When it came time to find a color scheme for the set's overall appearance, he turned to his 3-year-old granddaughter. She began doodling on Mark's computer rendering of the set while she was at his house for a visit.  She played with his iPad and swirled colors all over the picture of the scenery - Mark ended up keeping the idea!

Performances of Reckless will be held in the CUI Theater on January 9, 10, 16 and 17 at 7:30 PM as well as January 11 and 18 at 2:00 PM. Tickets are available here.