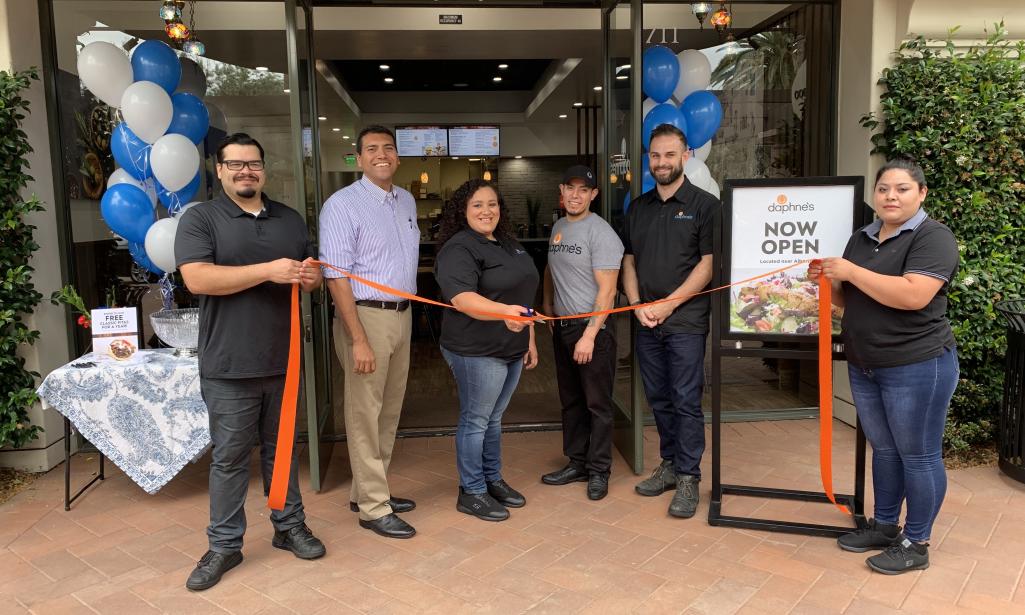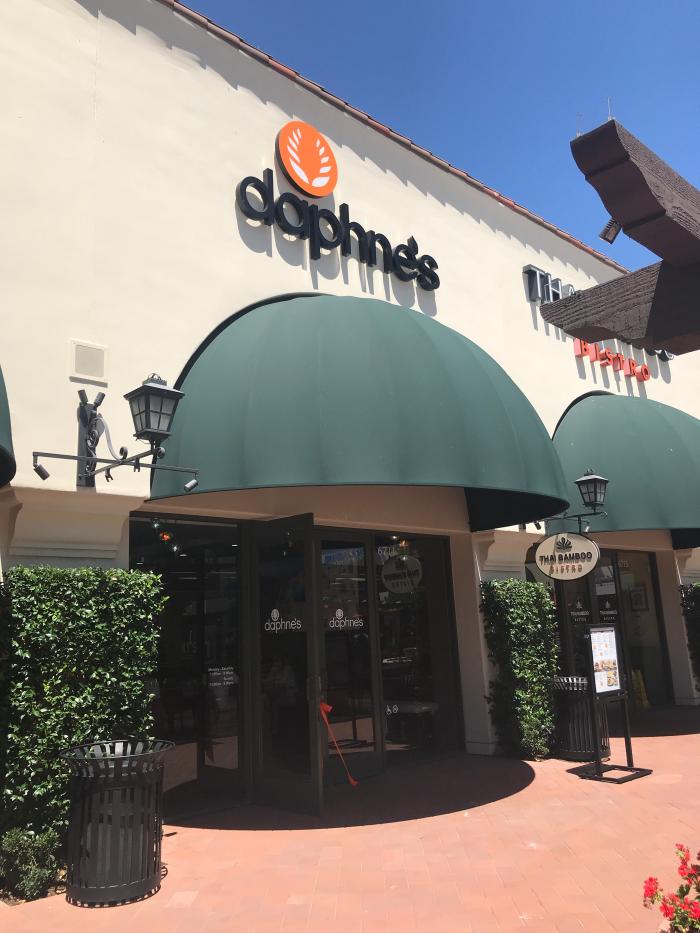 Daphne's, the fresh and wholesome fast casual known for its nourishing and healthy Mediterranean-inspired offerings, has opened its second Irvine, Calif. location at ​6711 Quail Hill Pkwy​ in the Quail Hill Shopping Center on Wednesday June 26th. All day long, guests enjoyed $2 off any entree and complimentary samples of falafel, hummus and pita, Daphne's signature Fire Feta, and baklava.
"We've been eager to expand Daphne's brand within our home state and open the fourth Orange County location in Irvine. We work hard to earn the trust of our guests by consistently serving fresh, wholesome ingredients, and fulfilling that goal has allowed us to build up a positive reputation within the community," said Tim Salazar, Daphne's franchisee for Quail Hill and five existing locations in California. "It's because of our guests' support for authentic Greek cuisine that we have the opportunity to grow the brand with new locations!"
Daphne's is a 30-year-old brand known for serving nourishing, health-focused dishes inspired by the flavors of the Mediterranean. Offerings range from traditional entrees like hand-carved gyro, grilled seafood, and falafel to more modern offerings like Fire Feta Fries, Surf & Turf Plate, and Mix & Match Plates, all made with premium, wholesome, and authentic ingredients.
Daphne's newest Orange County location in Quail Hill will be open Monday - Saturday from 11 a.m. to 9 p.m. and Sundays from 11 a.m. to 8 p.m. Daphne's is owned by Elite Restaurant Group, a multi-concept operator with a focus on emerging restaurant chains that also owns Slater's 50/50 and Patxi's Pizza. For more information about Daphne's, visit ​www.daphnes.biz​ and follow the brand on Facebook, Twitter, and Instagram at @DaphnesGreek.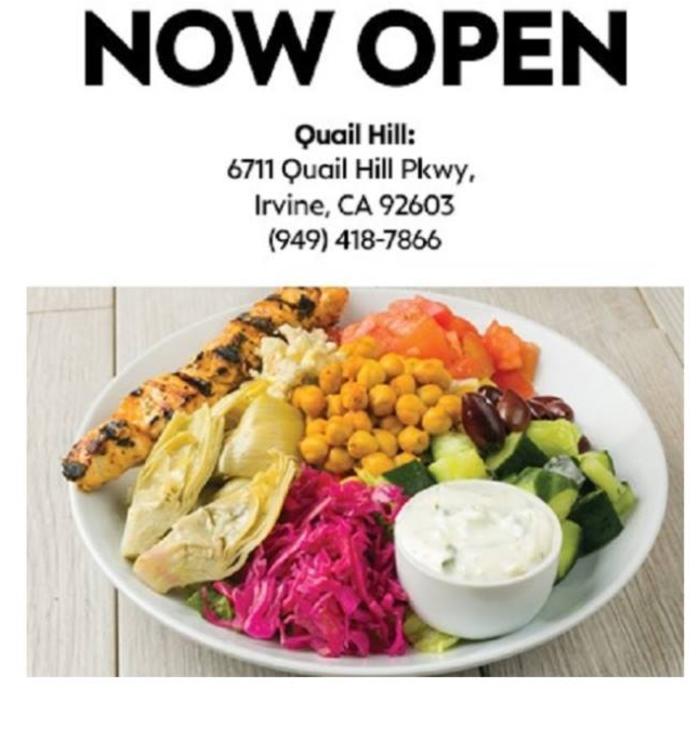 About ​Daphne's​
Daphne's offers Mediterranean-inspired fare made with high-quality ingredients and a focus on nourishing healthful options. The menu reflects a dedication to inventive combinations, elegant proteins
and ingredients, unique sauces, and overall delicious offerings that highlight all the Mediterranean has to offer. In a commitment to healthy and wholesome cuisine, most menu items fall under 700 calories and can be customized to accommodate low-fat, low-carb, high protein diets as well as vegetarian, vegan and gluten-free diets. Daphne's operate​s 32 lo​cations in California and Texas with additional locations opening soon in Boston. For more information visit ​www.daphnes.biz​.
About Elite Restaurant Group:
Elite Restaurant Group is a Los Angeles-based multi-concept operator with a focus on fostering growth for emerging restaurant chains. Founded in 2016 and led by president Michael Nakhleh, Elite Restaurant Group works with a national clientele with locations from coast-to-coast, including bacon-centric burger concept Slater's 50/50, Mediterranean-inspired fast-casual Daphne's, and family-friendly Patxi's Pizza.