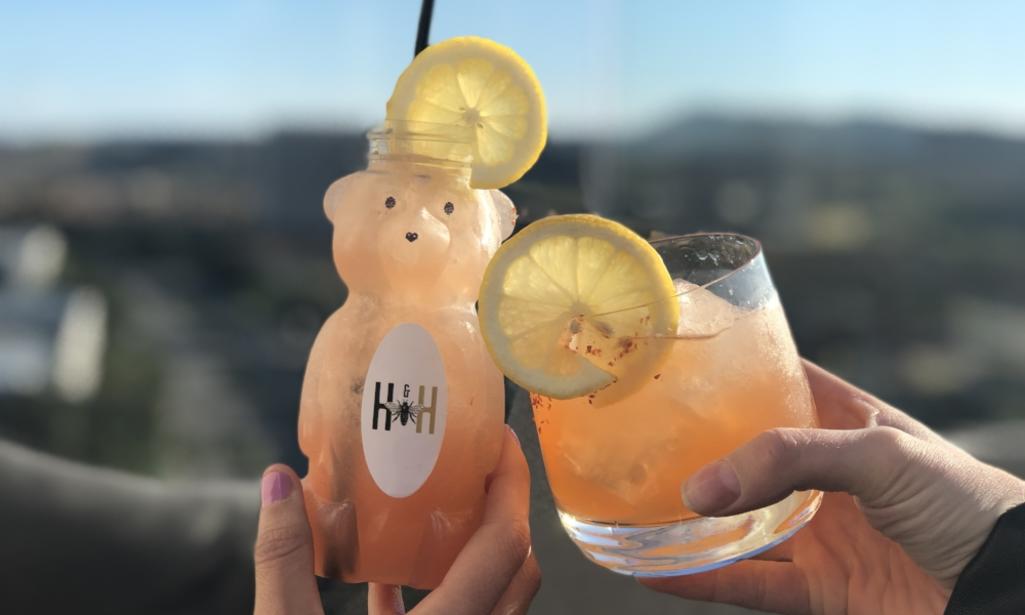 The Marriott Irvine Spectrum's Hive and Honey Rooftop Bar has quickly become the local hotspot since its opening on February 21st. Located on the 16th floor of the newly opened Marriott Irvine Spectrum, Hive & Honey is the only rooftop bar in OC and boasts an impeccably styled, contemporary plush seating arrangement, the most incredible views of the area and of course, delicious craft cocktails, beers and tapas by Chef Paolo Buffa.
When I visited a couple days ago, it didn't take long for the rooftop to become crowded with eager guests to experience the sprawling 360-degree views and sunset while enjoying a perfectly crafted beverage or delectable lite bites. Every night that the rooftop bar is open, guests have the opportunity to order an exclusive burger that is only limited to 25 burgers served for the evening. The exclusivity got me really curious, therefore I definitely had to order the burger. The patty is crafted from scratch and contains short rib, jalapeno pieces, stuffed with white cheddar and topped with a homemade avocado spread; perfectly balanced inside a potato roll and topped with a honey cured slab.
Are you hungry yet? The best part of the food aside from the stunning presentation is that it's not greasy and you can taste the quality (aka I didn't feel terrible or bloated afterwards), therefore, I wasn't surprised to find out that the ingredients are all locally sourced within California- and the honey is even obtained from our community's beekeepers. Chef Paolo joined in to tell me more about the menu and Hive & Honey, and I was absolutely blown away by his sheer passion and excitement for the entire process of creating the menu but also seeing the entire vision of Hive & Honey come to life through its gorgeous surroundings and his culinary creations. Paolo even mentioned that in the evenings, the music gets bumped up a little louder so it definitely becomes an upbeat, nightlife environment.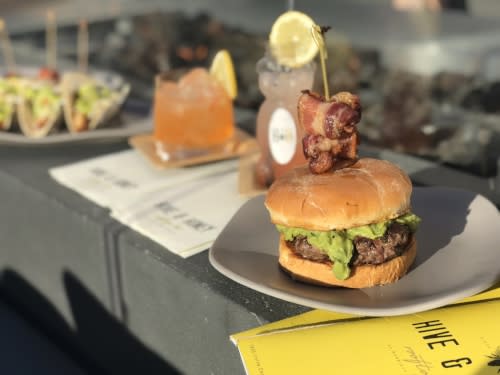 I also tried the fish tacos (seasonal blackened, flour tortilla, green papaya cole slaw, and guacamole sour cream; french fries with the yummiest jalapeno - sriracha ketchup; but the turkey meatballs were my favorite (and also a favorite of Chef Paulo), these turkey morsels of yummy goodness are covered in a buffalo sauce and on top of a blue cheese crumbles spread - it was hard not to want to order two more plates!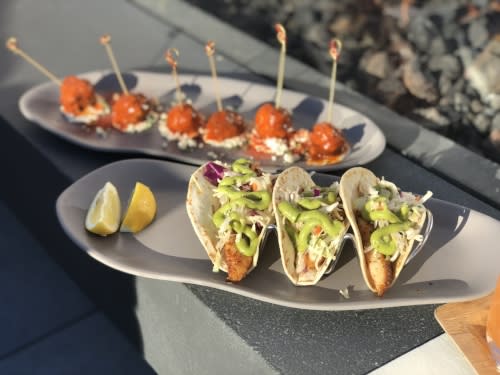 I can't forget to mention the cocktails, which of course incorporate honey - if you want a novelty drink, order the Hey Boo-Boo: copper & kings un-aged apple brandy, lemon juice, honey syrup, Angostura bitters, mint leaves, and golden coast orange blossom meal are married together and presented in a honey bear bottle. For something with a touch of class, try the Wasp's Nest (el silencio mezcal, aperol, pineapple-chipotle-honey syrup, lemon juice) or Bee's Knees (Nolet's gin, honey syrup, lemon juice).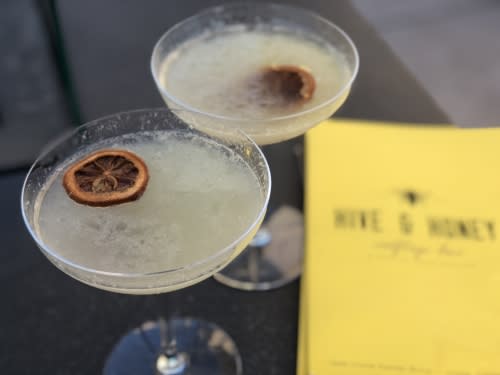 If you're looking for something to do on St. Patrick's Day, Hive & Honey will be offering specials that include Jameson shots ($6) and Buffalo Tater Tots ($5), and a fun potato toss tournament. 
St. Patrick's Day is better at #HHRooftopBar. Join us for drink and food specials as well as a potato toss tournament.
For even bigger fun, international press and "fastpass holders" are invited to the much anticipated OC Fashion Week's "Fashion Feast" event which will be an evening full of fashion fun on the runway, beauty and a food challenge. For more info, click here. 
7905 Irvine Center Drive, Irvine, California 92618, USA
Phone: +1 949-759-0200
Parking: Valet (1 Hour Complimentary, $5 per hour after)
Open Wednesday - Saturday 4pm-1am