Written by:
Melodi Steinberg | Influencer and Social Promoter
Founder - Family Review Guide & Eat Drink OC
Freelance Writer - Anaheim/OC Visitors Bureau

A family staycation can be a wonderful alternative to a long, expensive trip, especially during the holidays. Often times, traveling tends to include more work and stress than originally planned for, not to mention the added expenses, traffic and delays. Spending more quality time closer to home can be a wonderful experience and The Irvine Marriott has all the right amenities to fulfill your needs for a getaway filled with memories.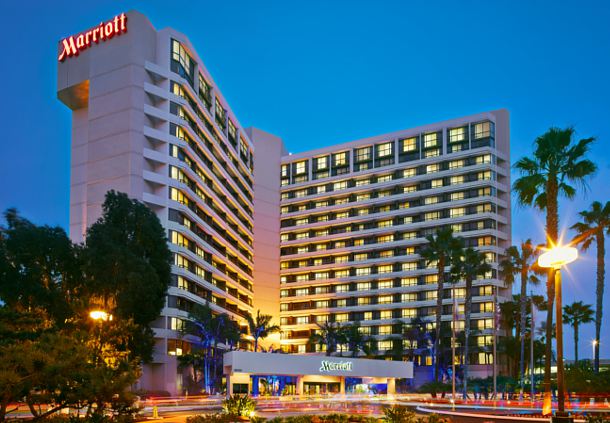 Photo Credit: Irvine Marriott
Location
Located at the heart of Irvine's commercial hub, The Irvine Marriott is close to John Wayne Airport. It is minutes away from Fashion Island, South Coast Plaza, The Irvine Spectrum, Newport Beach and more. Balboa Island is approximately a 15-minute drive and there are numerous restaurants within a short distance.

Interior
The Irvine Marriott recently completed a $5 million renovation to the hotel's lobby, lounge, and pool. Walls were moved and ceilings were raised to make the space feel more open. The now nautical-themed first-floor spaces are sleeker and give the hotel a more modern ambiance with a more sophisticated look. The color pallet is hues of blue, yellow and green which make for a very inviting and relaxed mood.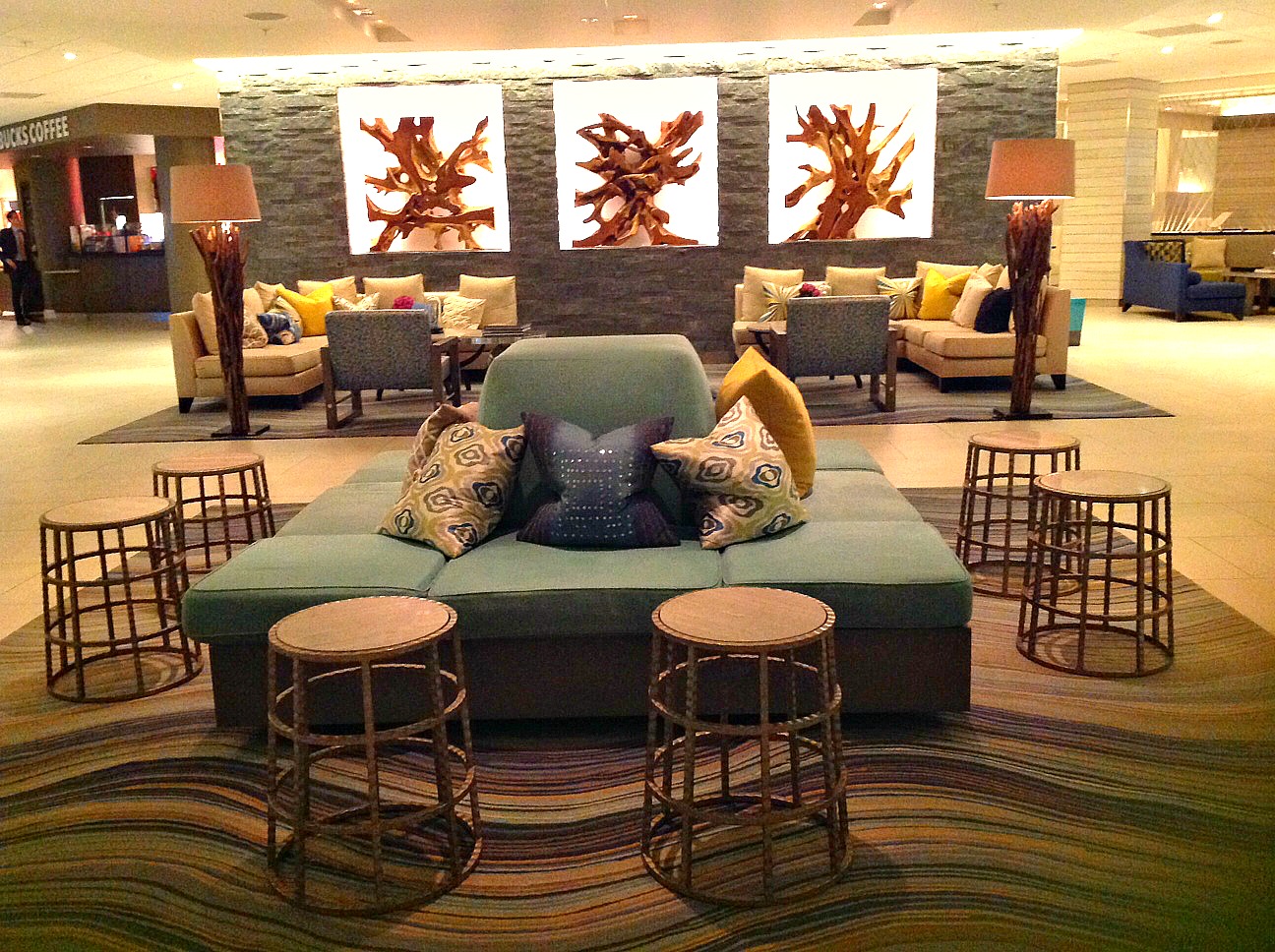 Guest Rooms
Families will fit comfortably in a double queen or a king sized room. Rooms with balconies are also available or you can choose to have a room on the concierge level. There is a maximum of 1 rollaway permitted in these rooms. For those wanting a suite, The Irvine Marriott offers a Luxury Suite as well as a Presidential suite. Both include access to the concierge lounge.
Treat yourself to a night of sweet slumbers with Irvine Marriott's luxurious pillow top mattresses and duvet bedding. Families can relax while watching TV with premium movie channels and pay per view.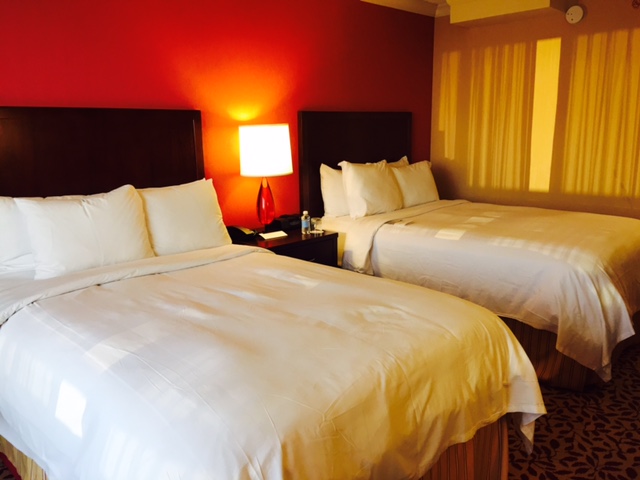 Food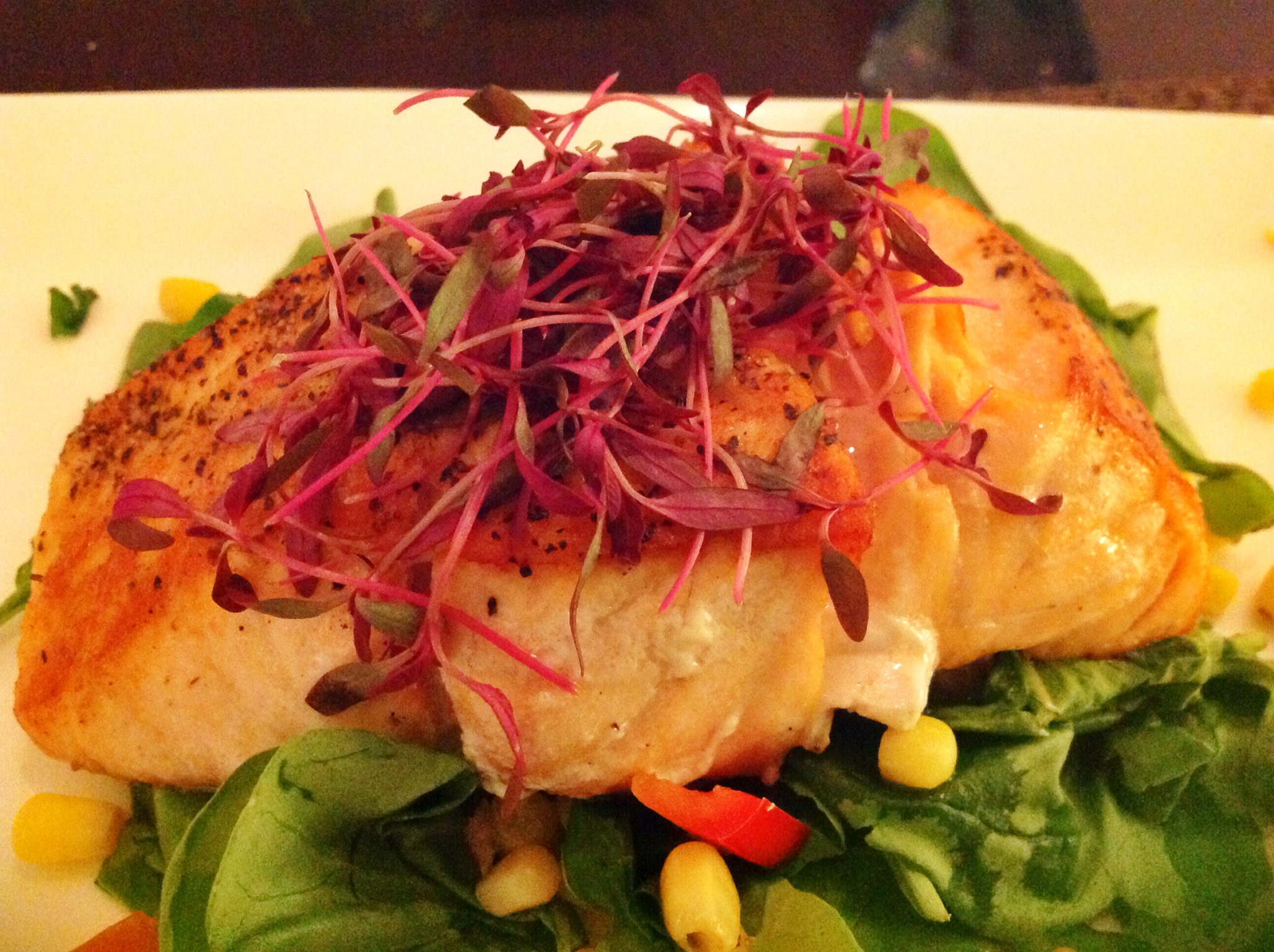 The Floe Lounge is Irvine Marriott's newest restaurant. It offers a comfortable setting with a co-mingling bar, spacious table seating and an outdoor patio. Their all-day menu features modern coastal cuisine and signature cocktails. They also have live music and a "relaxed" hour for drink specials and quick bites at half price. There is a children's menu available.
The Floe Lounge also boasts an impressive outdoor patio complete with its own herb wall that can be harvested for food at the restaurant. Plush colorful pillows and cushions fill the benches and seats outside. A warm fire pit is also a deluxe feature that guests can sit around to keep warm or use to roast their S'mores dessert.
Pools and Spa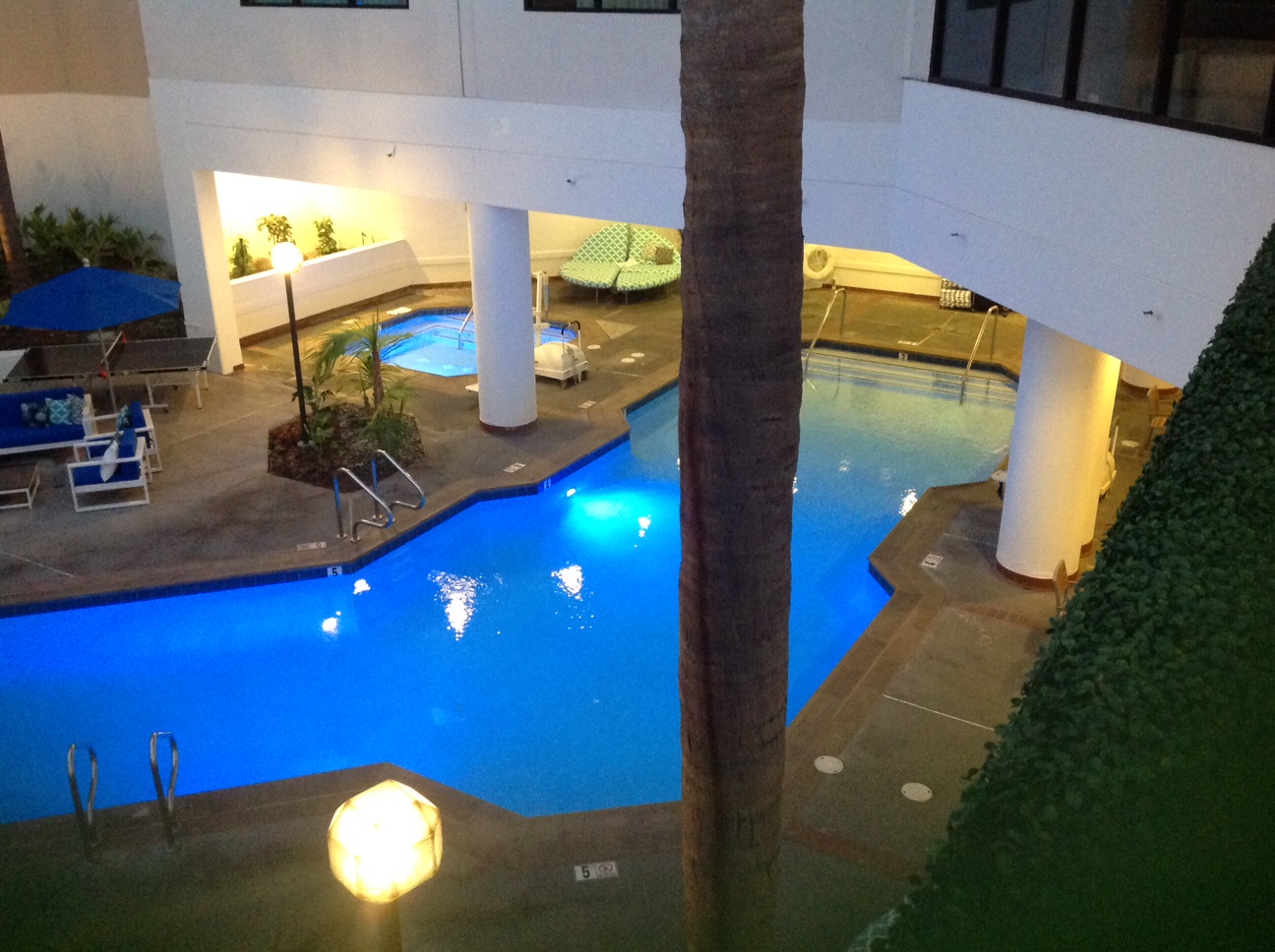 Kids and parents alike will love the pool and spa at the Irvine Marriott. The pool is partially covered so if it is raining you can still swim. The spa is fully covered and there are large lounge seats to snuggle up on. A nearby shower and bathroom near the pool make it convenient for families.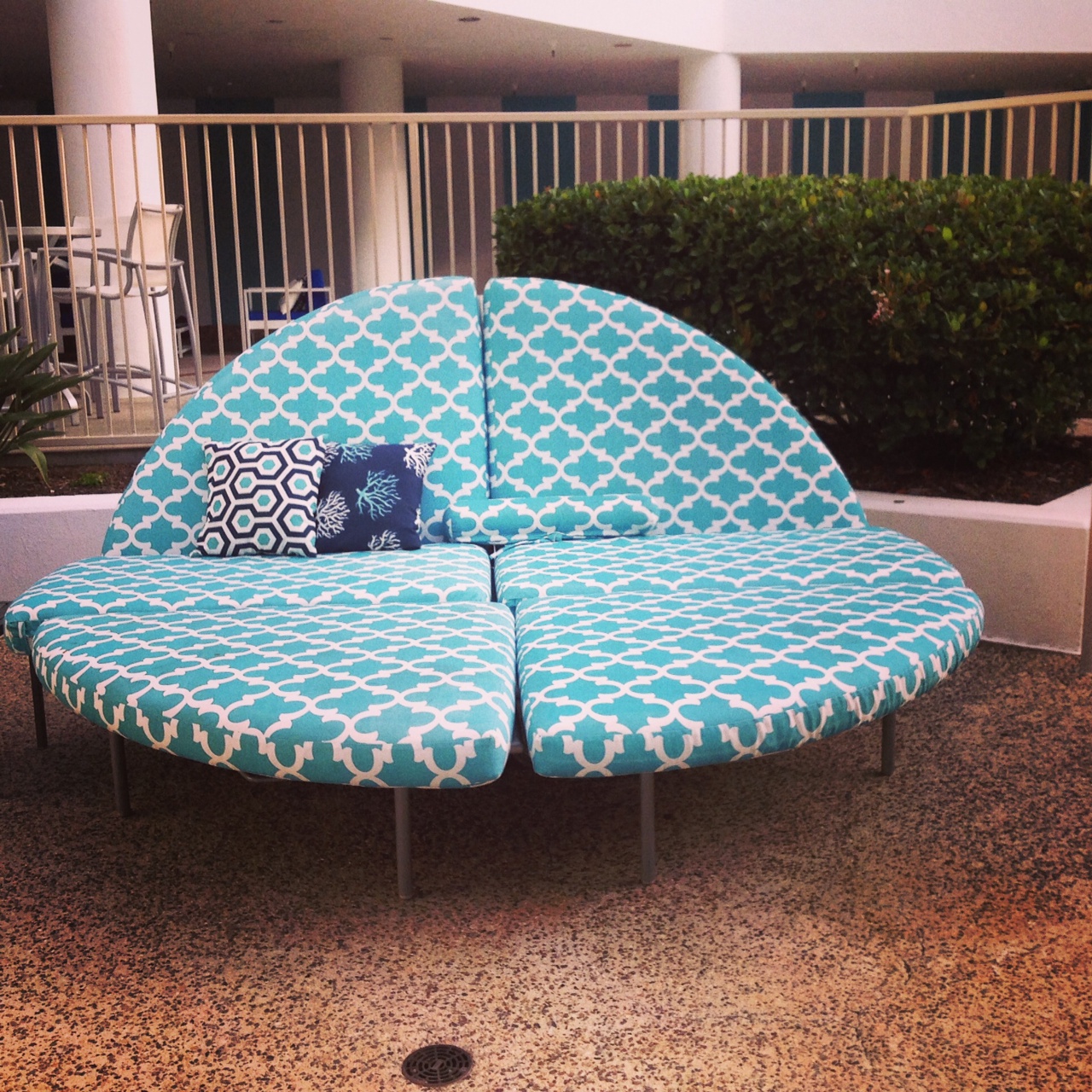 Activities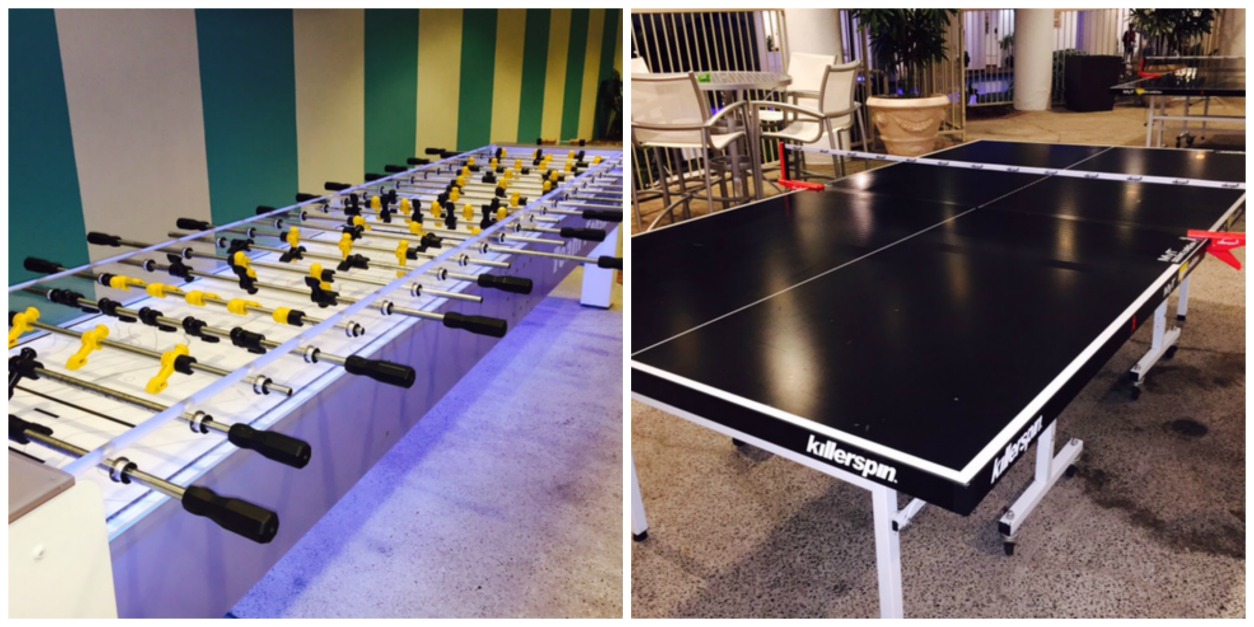 Families will be thoroughly entertained with a custom built foosball table, several ping pong tables and giant chess. Play for an hour or just five minutes, fun is the key element here. There is plenty of seating and even tables where parents can sit and watch the excitement.

Gym Facilities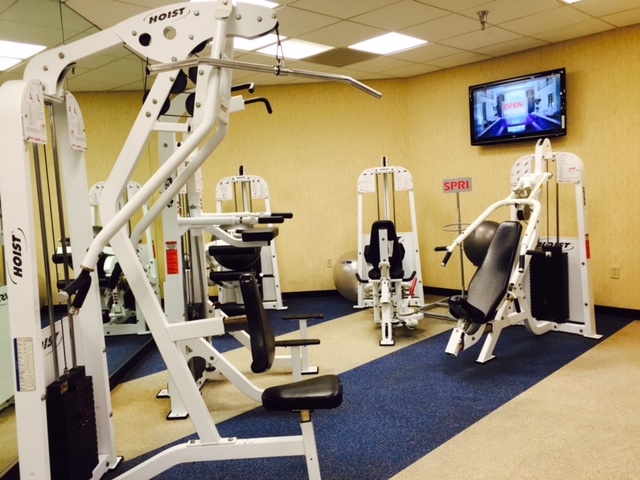 A well equipped gym with free weights and cardio machines is available downstairs near the pool. Towels and water are provided.
Concierge Lounge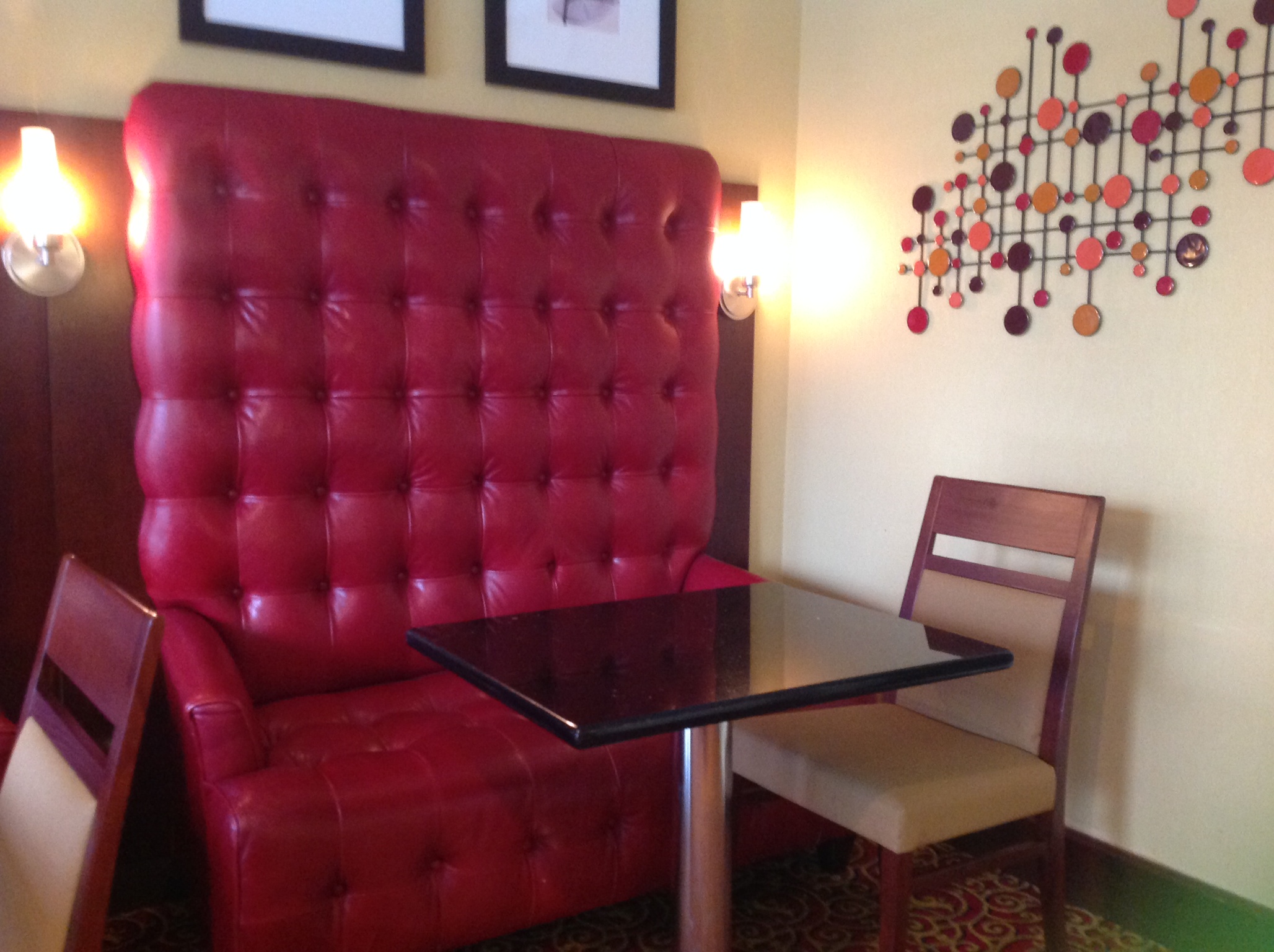 If you are not a Marriott Rewards Gold or Platinum member you can still upgrade to a concierge level room for $30 per day. This will give you access to Starbucks coffee and a full breakfast service during the day. In the evening you can enjoy sodas, water, fresh fruit, cookies and appetizers.

Views
After a long day unwind in your room and watch the airplanes fly by while you take in the beautiful view. The Irvine Marriott is a prime choice for convenience and relaxation for a short or extended stay.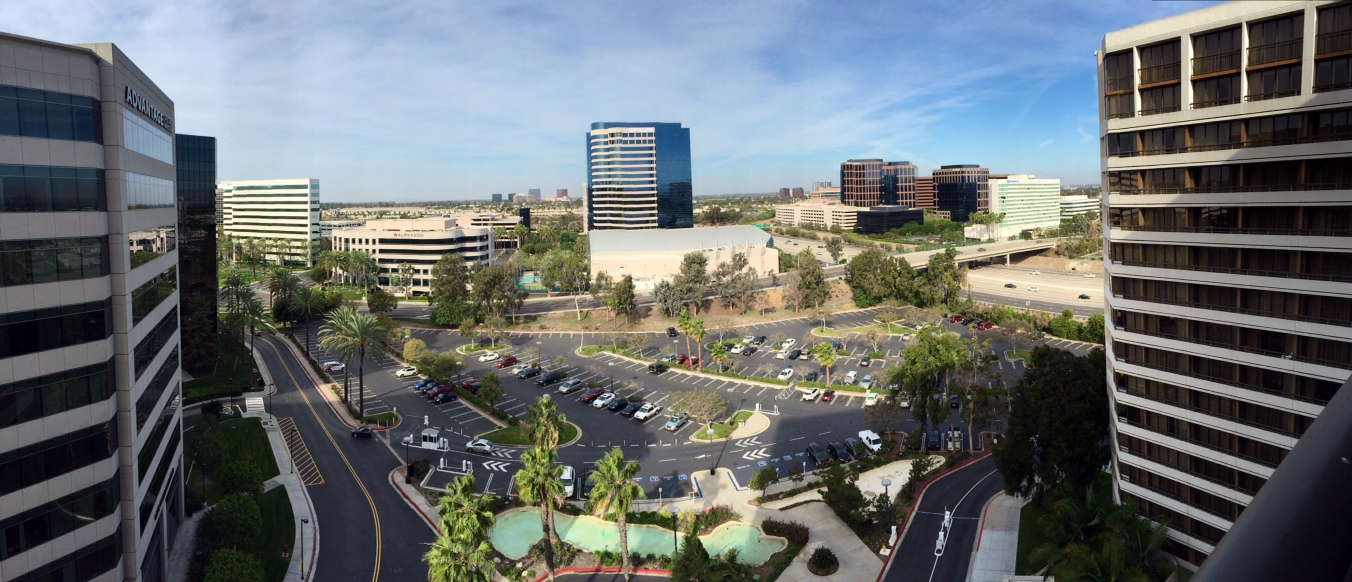 The Irvine Marriott is located at:
18000 Von Karman Ave
Irvine, CA 92612
(949) 553-0100
Blogger tip #1: Wi-Fi- is not complimentary
Blogger tip #2: There is a washer and dryer on site if you choose to do laundry.
Melodi Steinberg is a freelance writer out of Orange County. She typically covers food and family lifestyle topics. Her work can be found at www.eatdrinkoc.com and www.familyreviewguide.com