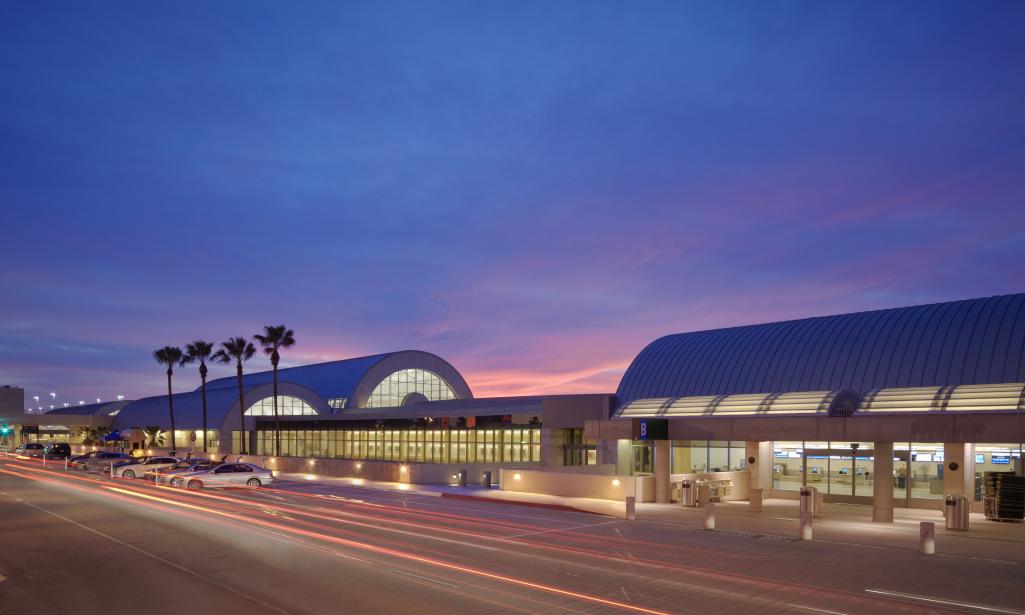 Click to learn about John Wayne Airport's "Healthy Travels" practices during COVID-19
It amazes me how many travelers to Southern California are flying into LAX instead of Orange County's John Wayne Airport. I have to imagine it is because they don't realize what they are signing themselves up for when they book that flight into LAX.
My fellow journalists and I all agree that LAX is the worst major airport in America. My husband and I both have jobs that require us fly frequently and we both kick and scream like small children whenever we get booked on a flight out of LAX.
We have been spoiled rotten by our pleasant experiences at John Wayne Airport and sing its praises to all that will listen. Here are 5 reasons why you should be flying into John Wayne Airport (SNA) instead of LAX when you visit Southern California.
1. Everything You Want to See While Visiting Southern California is in Orange County!
The majority of people visit Southern California for three reasons- great weather, beautiful beaches, and Disneyland. 
The weather in the cities surrounding John Wayne Airport is some of the most pleasant in all of Southern California. Its coastal proximity and lovely breezes which keep all that LA smog far off in the distance.
The beaches in Orange County are some of the most gorgeous in the country; from the wide expanse of sand at Huntington State Beach to the dramatic bougainvillea-draped cliffs of Laguna Beach and the legendary surf at "The Wedge" in Newport Beach.
Disneyland, the number one tourist draw for all of California, is less than 15 miles away from John Wayne Airport. That drive is a breeze compared to the 40-mile, traffic-choked journey you would have to make from LAX. *Currently, Disneyland and California Adventure are closed due to COVID-19 restrictions. 
2. Getting in and out of John Wayne Airport is Easy!
John Wayne Airport is located where the 405 and 55 freeways meet. The airport literally backs up to freeway, and getting in and out is simple.
Locals love that they have the option of valet parking directly in front of the terminal. Many Irvine hotels offer complimentary shuttle service to and from the airport.  
Those who need to rent a car once they arrive at John Wayne will find several different rental car companies have counters at the terminals and many other rental companies which pick patrons up in front of the terminals and shuttle them to their locations.
3. The Atmosphere is Pleasant and the Wifi is Free
These days, we spend more and more time inside terminals waiting for our flights. John Wayne has three beautiful terminals that are interconnected on both sides of security.
They are lined with shops, restaurants, and artwork from local artists and galleries. Wifi inside the airport is free.
LAX has nine dark and aesthetically dull terminals which are not connected. Trying to get from terminal one to terminal nine basically requires you to take you life in your hands as dart across traffic like the frog in the classic Atari game, Frogger. 
Read more about John Wayne's beautiful art installations.
4. The Food Options are Delicious
LAX has the worst food options I have seen in any major airport, partly due to the fact that its outdated design does not allow for anything but a couple simple food courts with a Starbucks and a McDonalds. John Wayne has the token Starbucks and McDonalds, along with some delicious options which reflect the tastes of the local community.
Chef Zov Karamardian's is a legend around Orange County who has been serving up Eastern Mediterranean food in her popular restaurants for years. Now airport patrons can enjoy lentil soup, tabbouleh, and much more at Zov's between terminals B and C.
Travelers can also enjoy the same classic burger and shakes at Ruby's in the airport that they can get at the end of the Huntington Beach Pier, excellent margaritas and Mexican food at Javi's, fresh soups and salads at Farmer's Market by Laguna Culinary Arts, and a glass of cabernet at Vino Volo wine lounge.
5. Direct flights from over 20 different cities are available
We all like to get where we are going as quick as possible, and direct flights are the easiest way to do it. Residents of major US cities such as Atlanta, New York, Chicago, Dallas, Denver, Las Vegas, Phoenix, and Seattle can all access Orange County.
Image courtesy John Wayne Airport.