Katie Dillman, Communications Coordinator at Premier Glow.
Running a 5K used to be a pretty straightforward morning event, geared toward serious runners but that mentality is starting to change. Large production style race events like Foam Glow and Mud Runs are attracting participants to their events by changing the face of the 5K to focus on themes, obstacles, exciting locations, and of course fun for all ages and abilities. These events are the perfect opportunity to plan a trip, try something new, support a cause you care about all while getting outdoors and enjoying being active with friends, family, and neighbors. 
Here are 5 Irvine races to check out this summer and fall.
Irvine Lake Mud Run, Summer of Mud 2016, June 18th
The Irvine Lake Mud Run is a down and dirty all day event that caters to several skills of runners, ages, and abilities.  Participants can choose to enter a timed or untimed race as an individual or team.  It will also offer a "Mud Puddles" wave for children after the adult heats have started.  For those who want to get in on the fun but skip the racing, there will be food vendors (open from 8:00 - 4:00), a beer garden (open from 10:00 - 4:00), and action sports and eco-fair booths (open from 8:00 - 4:00)
The course will bring a brand new set of challenges this year, placing 20 obstacles throughout the course.  Participants are guaranteed to get muddy but showers and changing rooms are provided.  It's recommended to bring a change of clothes for the post race festivities and lockers are provided on site.
Lexus LaceUp Running Series, September 3rd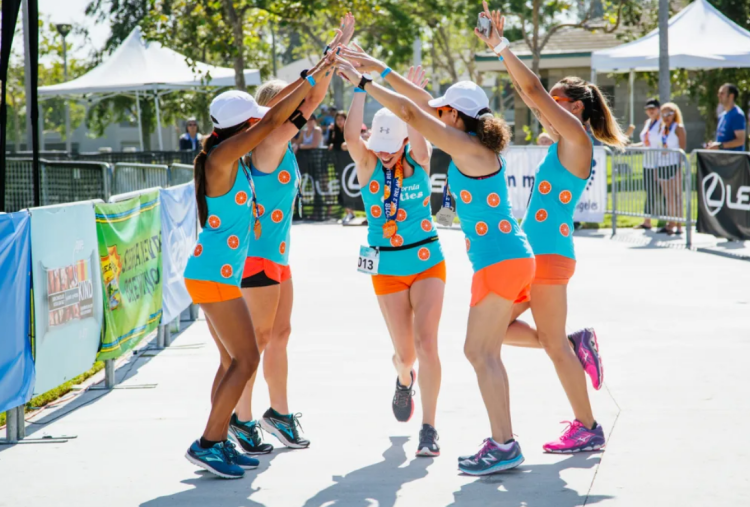 The Lexus LaceUp Series presented by Saucony aims to bring a big race atmosphere to a community-oriented event. Runners can choose between a half marathon, 10K, or 5K across a scenic course. 2016 is bringing its participants even more options by adding two new events, the Kid's 1K and the Irvine Marathon Relay. The relay event allows runners to spread the 26.2-mile race across 2 to 5 team members.
The event uses chip timing and real-time results to time runners across the out and back style course. Runners are rewarded at the finish line with a finishing medal, Sierra Nevada beer, a local food truck brunch, and a music tent. This event provides free race photos to its participants and more activities for children will be added this year. It is being held at Mike Ward Community Park.
Irvine Ecorun, Nov 5th
 The Ecorun is a new series of race circuits that takes place across the California coastline and is hosted in some the state's most picturesque state parks. The goal of the race is to promote local sustainability projects by using entry fees to fund environmentally friendly startups. Organizers seek to bring together individuals, students, NGOs, environmentalists and green companies with a passion for promoting and growing sustainable projects within their California communities.
The Ecorun directly sponsors projects themed around alternative energy, conservation, organic farming, and habitat restoration and involves three levels of education to help local governments meet their sustainability goals.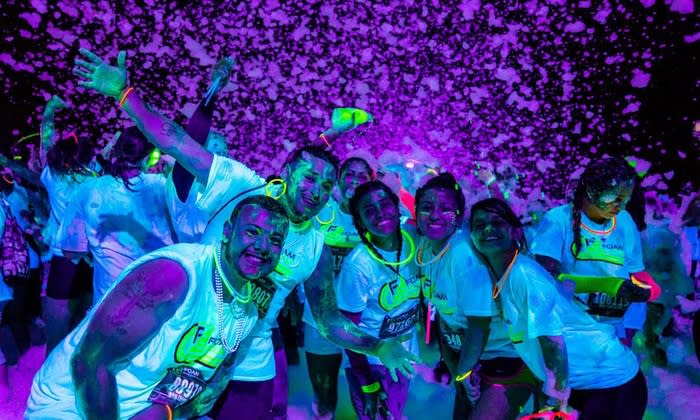 Foam Glow brings the bright aesthetic of races like The Color Run Tropicana to a nighttime timeslot by setting the colors aglow.  Race participants come armed with bubble guns and navigate a course filled with neon foam shooting cannons.  The aerial view of this race looks like a scene from Ghostbusters, with runners wading through a glowing, foam filled street.
This event has already attracted over 200 team sign ups for the Irvine race at Irvine Meadows Amphitheatre but they will be fighting The Ecorun (happening earlier that same day) for participants.  Foam Glow gives back to Children's Cancer Research and is still looking for volunteers for the November 5th event.
The Color Run is bringing "The Happiest 5K on Earth" to residents and visitors of Irvine this fall.  The Tropicana themed fun kicks off at Library Park 8:00 am and continues throughout the brightly colored race course, ending with the finish festival at the brand new Rainbow Beach.
Pace yourself and enjoy the course because The Color Run does not post race times.  It's focus is on happiness, health, and individuality.  According to its website, The Color Run is now the single largest event series in the world, offering races in over 35 countries in 2015 and growing in 2016.
The Color Run is testing a night time format in 3 cities this summer with intention of scaling that event nationwide in 2017. 
About Katie
Katie Dillman is a Communications Coordinator with Premier Glow, an online retailer of glow products.  She enjoys working with businesses through copywriting to share ideas that connect with their audience.