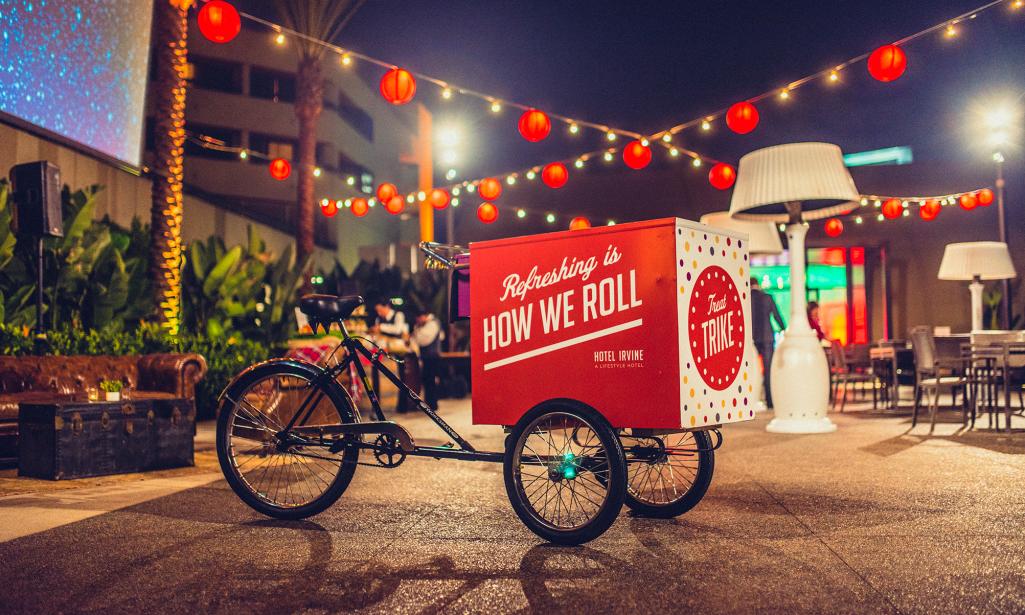 Written By: Deirdre Michalski
Photo: Hotel Irvine's retro-style Treat Trike
The Meetings and Events industry is adaptive to changes---and that's a good thing!  Looking ahead to the "new year", here is a summary of key global trends and some valuable input from locals here in Irvine, Calif. Meeting planners, industry experts and research findings have all assisted in answering the question: What are we in store for THIS year? 
1. Mid-Scale Property Openings Are Growing

For six years in a row, meeting planners participating in the AmEx Global Forecast anticipate the highest demand to be for "mid-tier" properties. New hotel openings in the United States and Central America are nearly four-to-one in favor of mid-scale hotels over those in the luxury category. In many ways, the mid-scale segment is really the whole package by offering competitive pricing, high-quality service, and convenience. Also, those cities with easy in-and-out air service will remain in high demand.
2. Creativity Is King

Hotels in a "non-resort" setting can still earn huge kudos with meeting planners and attendees alike.  Being unique and offering special activities garner high marks and send the "meeting success" scores climbing. Finding venues that are unique to the area are often considered home runs. One-of-a-kind experiences such as a "behind-the-scenes" tours, or a "meet-and-greet" with a popular industry leader are popular.  Also sought out are creative "street take-overs" and "pop-up events".  Meetings that offer live streaming and other social media apps are hits as well by expanding the participation beyond just the attendees, but also to those back at the office.
"Hotel Irvine's 'Backyard' is a popular space for meeting and party planners because it's a blank canvas waiting to be designed and converted into an exciting arena for a daytime BBQ, cocktail party, formal party and everything in-between. The Backyard includes a 6,000-square-foot pavilion, a 10,000-square-foot lush grass lawn, and an adjacent patio space. There are plenty of electrical outlets to create fun lighting such as strung lanterns, oversized floor lamps, and audiovisual effects and plenty of space for furniture, staging and team-building outdoor games. Our new retro-style Treat Trike is a hit with planners as it can be pedaled around The Backyard at events - delivering goodies and treats like ice cream, chocolates, and other items."     
Joe Martino, Director of Sales & Marketing, Hotel Irvine
"In today's meeting and event landscape, planners are looking to create experiences that
tell a story and elicit lasting memories. In 2017, 'cookie-cutter' events are a thing of the past, as meeting professionals are opting for venues that provide a canvas for big ideas to become a reality. As part of a multi-million dollar redesign, the Irvine Marriott introduced "Cannery Row". An outdoor venue built among shipping containers and other structures, Cannery Row is a pop-up space that expands upon the idea of personalization by actually taking attendees outside of the meeting room and placing them anywhere they would like to go. From a backyard barbecue to a wine tasting in Napa Valley, Cannery Row evolves to tell an event's unique story. We predict that 'pop up' capabilities will increase in popularity as planners are looking to truly make their events stand out."
Stephanie Macias, Destination Sales Executive, Irvine Marriott 
3. Adventure and Experiences Are Important Components for Attendees

Experiences, adventure, and team building are all important components in 2017. Participants
indicate they want to "experience" a destination and not just have a meeting.  This can be accomplished through local partnerships, music, cuisine, hands-on crafts, off-site venues, and authentic, shared experiences. Also, look for sessions to actually be shortened to create
more time in the agenda for hands-on learning and interactive breakout sessions. Teams want to share information in a new way. According to meeting planners, the expectation is that these "experiences" will elevate the overall impact of the meeting on an organization. So the pressure is on... full-throttle.
4. Make Time for Networking

With so many employees working flexible schedules and operating out of remote home-based offices, the desire to network and spend quality time interacting with fellow attendees is very important. These connections lead to new business, finding peer resources, and are becoming increasingly important as a component to the overall success of a meeting.
5. Security is A Serious Concern

Association Insights, a research firm, confirmed that safety and security are a top 2017 budget
consideration at all levels. This was also echoed in the 2017 American Express Global Meetings and Events Forecast. It is not just terrorism or active shooters, but cybersecurity, health concerns of contagious diseases, and other emergency situations that were not "top of mind"
in years past.
Year after year, and study after study, Irvine repeatedly rates as one of the safest cities in the United States. This bodes well for meeting planners, attendees and spouses/guests who are often elated to hear their meeting will be held in Irvine, CA!
6. Food and Beverage Prices Are On The Rise

According to CWT Meetings & Events Forecast, F&B prices are on the rise due to production prices, changes in imports/exports, transportation costs and so forth. Embracing the "keeping it local" trend is helpful in terms of transport costs, however, the actual items are not seen as
less expensive. Pre-plating and action stations can provide more control over usage and budgets. For California, the extreme rain in early 2017 will provide a welcome relief to concerns over the drought and all that means to the farming communities our hotel chefs partner
with on a daily basis.
7. Technology Broadens The Reach Far Beyond the Meeting Room

Live video-streaming, Instagram and Snapchat are all changing the game. And not only for those in attendance, but those back home in the corporate/regional offices. Virtual and hybrid meetings are on the uptick. Wider bandwidth needs will be in greater demand, similar to the needs of Wi-Fi which exploded in meeting public spaces as well as guest rooms just a few years ago.  Apps are on the rise, and more, not less, are anticipated in the future. New apps and websites are useful tools for check-in, sharing information, but also for gathering data on attendee behavior and post-meeting analysis.   Some meetings include voting in their programming---with the attendees using their mobile devices to vote on survey questions and thereby providing instant feedback to be shared in the meeting and in the moment!
"Technology concerns are often huge pain points for Event Planners. They are already tasked with creating engaging meeting content and now they have to figure out how to incorporate offsite participants in their social media platforms as well. That's why your team at Destination Irvine is promoting solution based incentives, like a technical production consultation with AKJohnston or a digital strategist certification through PCMA. When you come to Irvine, we help give planners a leg up in the digital race."
Demea Metcalf, Director of Sales, Destination Irvine
 
8. Booking Lead Times Remain Tight

Planners are citing tight lead times, with the most planning reserved for product launches and trade shows. However, another factor on the rise is a balancing act of meeting planner's charged with organizing multiple smaller meetings in addition to the "main event".
9. Elbow Room in Negotiations

With many hotel companies offering centralized sales models, this allows meeting planners to consider multiple properties at one time. The venue size, room rate, complimentary meeting space, and discounted Wi-Fi are all high on the list in 2017. There continues to be much less willingness on the part of meeting planners to negotiate on service fees and cancellation penalties. 
10. Thinking Outside the Traditional Box

Sharing is caring, and we are observing a continued increase in Uber, Lyft, various ride-sharing sites, as well as Airbnb and other short-term rental programs offering non-traditional accommodations. Globally, these are nibbling away at the more traditional travel standards. 
UberEvents, for example, was launched in 2015. This offers a prepaid option for groups and social events, such as weddings. (Now there is speculation that Uber may go public in 2017.) With social media and apps for attendees to engage prior to arrival, many are coordinating transportation and accommodations on their own.
And the spike in alternative lodging is found right here in Irvine as well. The city is starting to crack down on its use. (As of September 2016, the city had 370 listings on Airbnb, up from about 10 listings two years earlier, according to Beyond Pricing, a company that tracks vacation-rental data. Earlier this month, there were 130 Irvine listings on VRBO and HomeAway, a more than fourfold increase from three years ago, company data show.)  Statistics indicate it's not
a small issue in Irvine and other cities across the country.

Sources Include:  American Express Global Meetings and Events Forecast 2017

http://eventgenioso.com/2017-amex-global-meetings-events-forecast-highlights-key-takeaways/

The complete report is available at https://www.amexglobalbusinesstravel.com/meetings-events-forecast/.  MPI's Meetings Outlook (in partnership with MGM Resorts Int. and IMEX Group), Successful Meetings- Top 9 Meeting Trends in 2017- by Terri Hardin - Jan. 3, 2017


Smart Meetings- 8 Meeting Trends for 2017 by Ofer Yatziv 12/13/16. Ofer Yatziv is an events and marketing manager at Better Venues, also Cindy Fisher VP and Global Head of CWT Meetings & Events, Bill Voegeli- MPI Georgia Chapter and President of Association Insights
(a research firm), and Law Street Media- Crime in US Cities