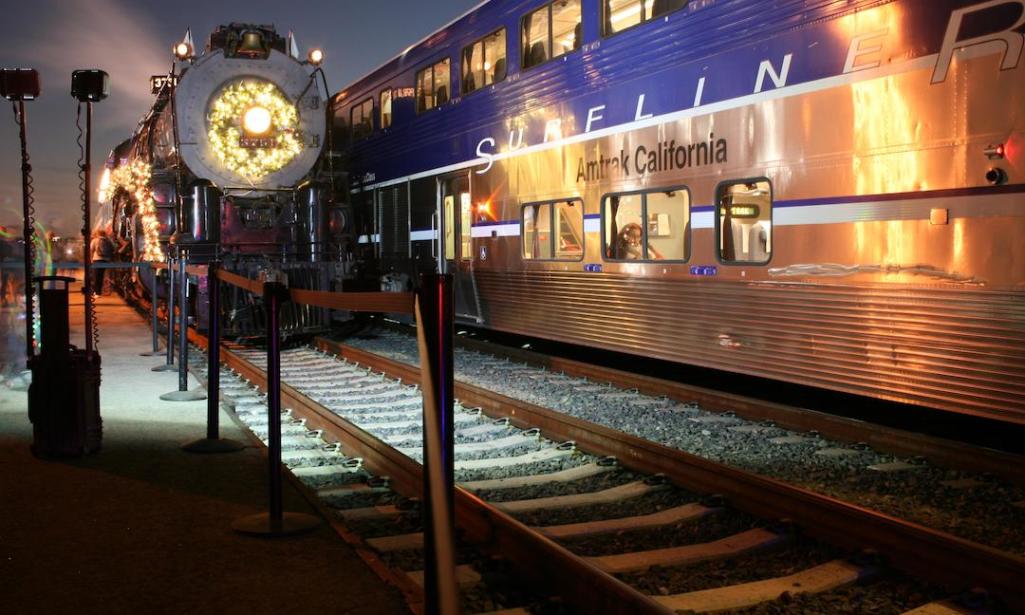 Gather your family and friends and head down to the Los Angeles Union Station for Holiday Trainfest and Toy Drive this Saturday December 16th to celebrate the holiday season and bring a bit of festive cheer to those in need. 
The free, family-friendly event will take place from 4 p.m. to 8 p.m. on Track 14 at Los Angeles Union Station, located at 800 N. Alameda St. in Los Angeles. Event highlights include holiday refreshments, a visit from Santa Claus, vintage rail cars, and an 874,346-pound steam locomotive decked out for the holidays. Staff will be on hand to collect donations of new, unwrapped toys in support of Toys for Tots and socks to assist the Los Angeles Homeless Services Authority. Last year's inaugural Holiday TrainFest drew families and train enthusiasts from across Southern California and more than 1,200 toys were collected during the four-hour event. This year's event will continue to provide opportunities to brighten spirits and support those in need during the holidays.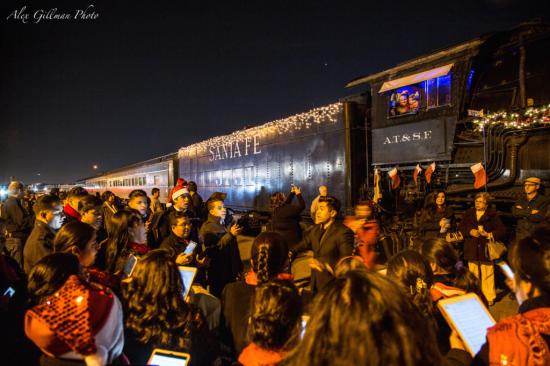 So much to do and see, for families and train lovers and all in the good spirit of giving. Bring a new, unwrapped toy to help stuff a rail car with donations benefiting Toys for Tots. Imagine all the happy smiles, and joy that will be brought to so many children! Bring a new pair of socks to Support the Los Angeles Homeless Services Authority (so many feet will be kept warm and snuggly)! Event attendees will be able to:
• See the historic Santa Fe 3751 steam locomotive up close
• Tour vintage rail cars, the Acoma and Tioga, from the 1930s-1950s decorated for the holidays
• Explore Amtrak® and Metrolink train cars
• Enjoy holiday refreshments, including hot cocoa and cookies, and holiday music
• Meet local police and firefighters and see a vintage 1930s-era fire engine, and
• Visit with Santa Claus
The Holiday TrainFest and Toy Drive is presented by the Los Angeles – San Diego – San Luis Obispo (LOSSAN) Rail Corridor Agency and Amtrak® Pacific Surfliner® in partnership with Metrolink, the San Bernardino Railroad Historical Society, L.A. Rail, the Los Angeles County Metropolitan Transportation Authority, Morlin Asset Management and Toys for Tots. The U.S. Marine Corps Reserve Toys for Tots Program collects new, unwrapped toys to distribute as holiday gifts to less fortunate children in the community.
Figuring out how to make it to the event without having to do the dreaded LA drive? You can take the train of course, because there's no better way to arrive to the train event than on a train - and there's a train station right in Irvine! Travel from train stops throughout southern California, including Orange County, Ventura County, San Bernardino and the Antelope Valley using Amtrak Pacific Surfliner or Metrolink service. More details on the event here!
Enjoy a comfortable, scenic ride on the Amtrak Pacific Surfliner from points throughout Southern California.
From San Diego or Orange County, take Train 579 and arrive at L.A. Union Station at 4:29 p.m. Then, take Train 792 home, departing at 8:15 p.m.
From north Los Angeles or Ventura County, take Train 782 and arrive at L.A. Union Station at 4:08 p.m. Then, take Train 785 home, departing at 7:16 p.m.
Explore more options and book your trip here. Visit PacificSurfliner.com or MetrolinkTrains.com for additional information, including schedules and fares.
Happy Holidays!
Amanda
Information and header image provided by The ACE Agency
Second Image: Alex Gillman Photo via SBRHS