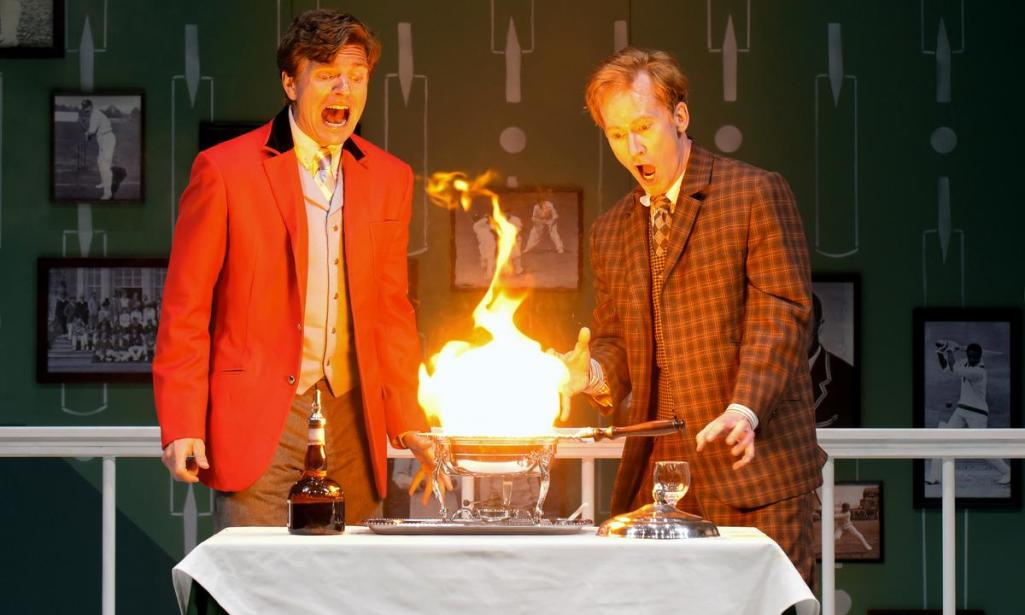 It's a wild and zany night at the theatre at South Coast Repertory's season-opener, One Man, Two Guvnors, directed by David Ivers. It's a comedic farce of mistaken identity where Francis, a failed washboard musician with an insatiable appetite, has to keep his two jobs secret from his two bosses...and they're hiding juicy secrets of their own.
There are plenty of pratfalls and puns, slapstick and... well, you get the idea. It's a heck of a lot of fun.
Richard Bean's play is loosely based on Carlo Goldoni's 18th-century style commedia dell'arte classic, The Servant of two Masters. Bean sets his action in 1963 in the English seaside city of Brighton, England, and skillfully blends in British Music Hall humor to add to the hilarity.
Francis, deliciously played by Dan Donohue is the centerpiece of the show. Clownish to the extreme, he works the stage with fast paced precision, riffing with fellow actors (William Connell plays the pretentiously posh Stanley) in gloriously scene-chewing and scene stealing performances. The world of farce and physical comedy are joyously combined in a wildy frolicking mess, with rock-and-roll beats supporting this goofy and chaotic escapade.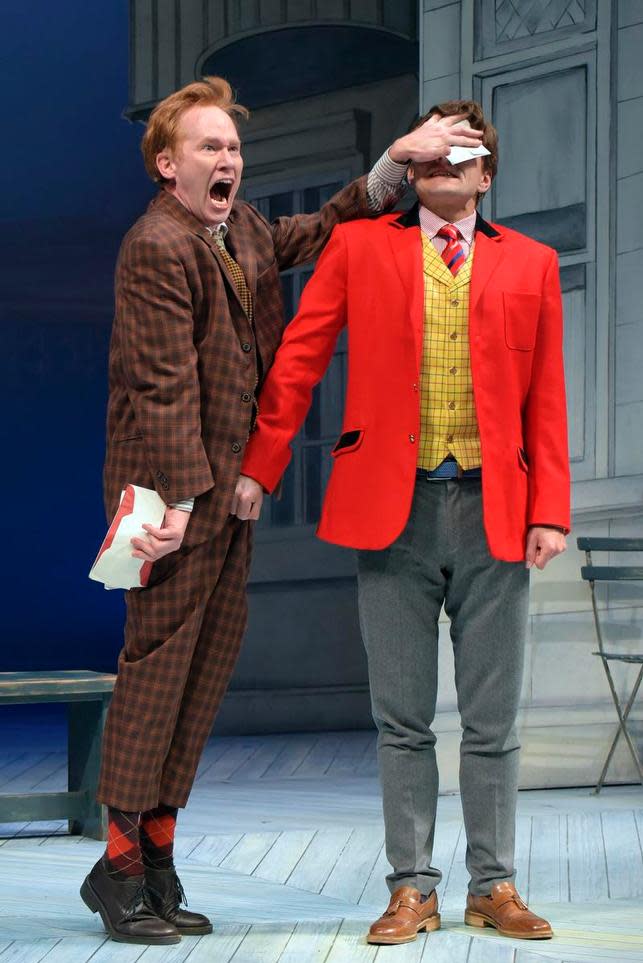 Go see SCR's glorious goofball romp for both actors and audience. It's the hottest ticket in town, through Oct. 11.
Tickets are available at www.scr.org.
South Coast Repertory is located at 655 Town Center Drive in Costa Mesa, at the Bristol Street/Avenue of the Arts exit off the San Diego (405) Freeway in the David Emmes/Martin Benson Theatre Center, part of the Segerstrom Center for the Arts. Parking is available on Park Center Drive, off Anton Boulevard.