My New Year's resolution is to try new things. So in that spirit I decided to experience Il Fornaio's  popular Festa Regionale Friuli-Venezia regional menu, and boy am I glad I did!  

The fun thing about this special menu is you get to customize your meal with choices in each of the four courses.  My handsome date created a manly masterpiece starting with the Zuppa de Fagioie, a hearty cannellini bean soup with vegetables, swiss chard, tomato and Grana Padano crouton. This was paired with the pasta course of Il Fornaio's famous Gnocchi alla Friulana, potato dumplings with Italian sausage, onion, button mushrooms and tomato cream sauce.  Such a delicious dish! The third course was a carnivore's dream:  Spiedini con Polenta a Funghi - skewered mixed grill of chicken, beef, pork tenderloin, sausage and Applewood-smoked bacon served with soft polenta and sautéed mixed mushrooms.  Bring your appetite because this is a lot of food and it's delicious!!

I chose a lighter food pairing, starting with the Insalata di Fere el Formaggio - baked pear salad with arugula, seedless red grapes, radicchio, Belgian endive, gorgonzola, pecans and pomegranate dressing. My pasta dish was the vegetarian Tagliolini al Porcial con Crème el Mascarpone - Taliolini pasta, porcini mushrooms, garlic, Trebbiano wine, Piave Vecchio cheese and mascarpone.  Sumptuous!  My main course was the Filetto di Branzino alla Greca - Grilled filet of wild seabass with black and green olives, capers, tomatoes and Trebbiano wine, served with mashed potatoes and sautéed organic spinach.  Heavenly!  I may be in love and must return for this fish dish again.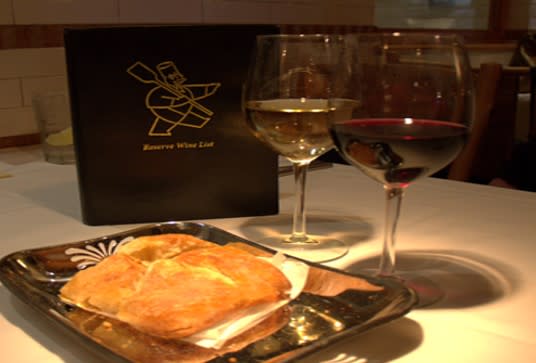 ooo and Il Fornaio offers several wine suggestions to compliment each item.  I chose my dinner to dance divinely with a lovely white.  Totally out of my comfort range as i usually go red. And let me tell you, the white was perfect with the seabass. Quite a lovely dance, indeed.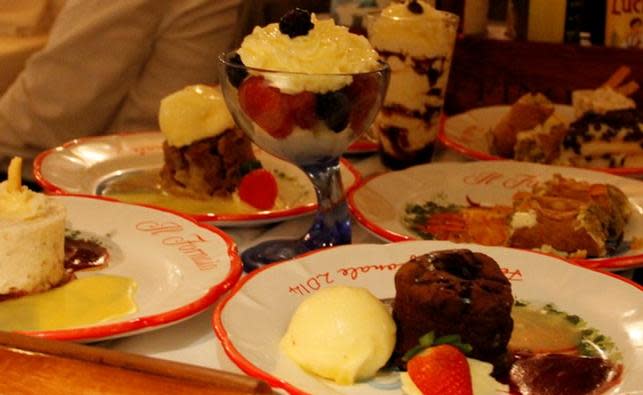 We finished up the night with two dessert cart selections:  the chocolate soufflé and the vanilla ice cream with espresso.  If you've never experienced the desserts at Il Fornaio, trust me, make your reservation today and thank me later.
Ciao!