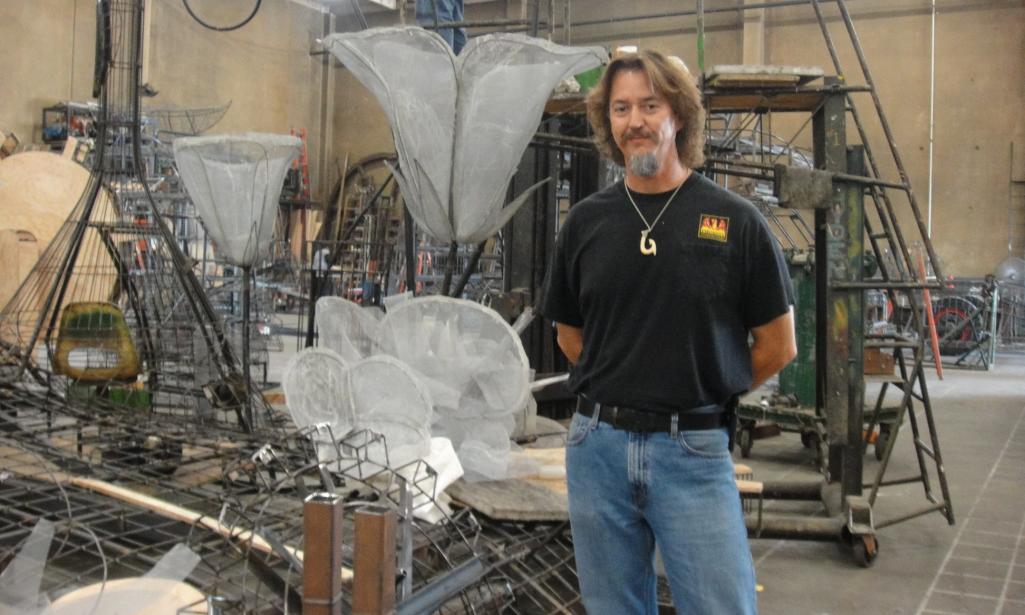 Double-header interviews today!  Irvine is known for its innovative companies and educational institutions and Phoenix Decorating Company is known for cutting-edge float design.  Sean McMinimy, Production Manager at Phoenix, talked about the mechanics and technology that goes into a seven ton Rose Parade float and Diane Biagianti, Vice President and Chief Responsibility Officer for Edwards Lifesciences in Irvine shared the innovations and commitment the company has to the greater community.

McMinimy, seen in the photo at top in front of the Destination Irvine float, fell into the float business when, late in 1995, a friend at Phoenix told him "We can use a hand down here."  He helped out with the mechanics and electrical, and he was hooked.  He says his  job as production manager is to turn a two-dimensional concept drawing into "a real 3-D object that has to come back in one piece."  He added, "We try to stay as true as we can."

"Innovation Rocks" will have animation powered by  hydraulic cylinders and a large 12-volt DC pump.  Hydraulics are also use for the "overheights," a term that refers to elements of the float, such as tall poppies and coiling tubes, that are too tall to go under the freeway bridge towards the end of the route.  These will fold down and back up.  A complex mechanism moves a set of gigantic gears at the back of the float and there are moving gears on the camera (right) side as well.  Bubble machines on both the camera and off-camera sides add to the whimsy of the lab scene.  The observer on this float will operate the animation.

Specs for a 55-foot flower-bedecked vehicle
The float begins with a medium-heavy chassis with a 22 to 24-foot wheelbase, large axles that would work on a concrete truck, solid rubber tires for the front and air-filled tires for the rear, and hydraulic brakes.  Building on that, the welded frame extensions are cantilevered to lengthen the float and retain a short wheelbase to keep turning tighter.  Watch the video of the three-point turn during the first technical test in the previous post.

McMinimy uses mostly Chevy parts for the mechanics.  "It's a lot easier," he says.  "Chevys seem to be interchangeable.  It's the same carburetor, same transmission, uses the same parts."  The Destination Irvine float has a V8 motor that would be used on a small block Chevy truck and a Turbo 400 3-speed automatic transmission.  These provide the necessary torque to move the heavy contraption and deal with the many starts and stops.

Sometimes the smallest things break down, McMinimy says.  One way of avoiding the ignominy of a stuck float is redundancy.  There are usually two backup batteries and a backup fuel pump, with extra parts tucked away. 

The crew-driver and observer in separate compartments and a Tournament of Roses float liaison outside-work together to provide a splendid, moving experience for viewers.  The driver is pretty much operating blind, but the observer has a 90-degree view (45 degrees each side of center) and in a pinch, the liaison can direct them.  There are fire extinguishers and independent brakes in both compartments.  They communicate via 12- volt wired headsets; wireless will not work with "so much RF (radio frequencies) flying around," McMinimy says.

Edwards Lifesciences: Innovation in Irvine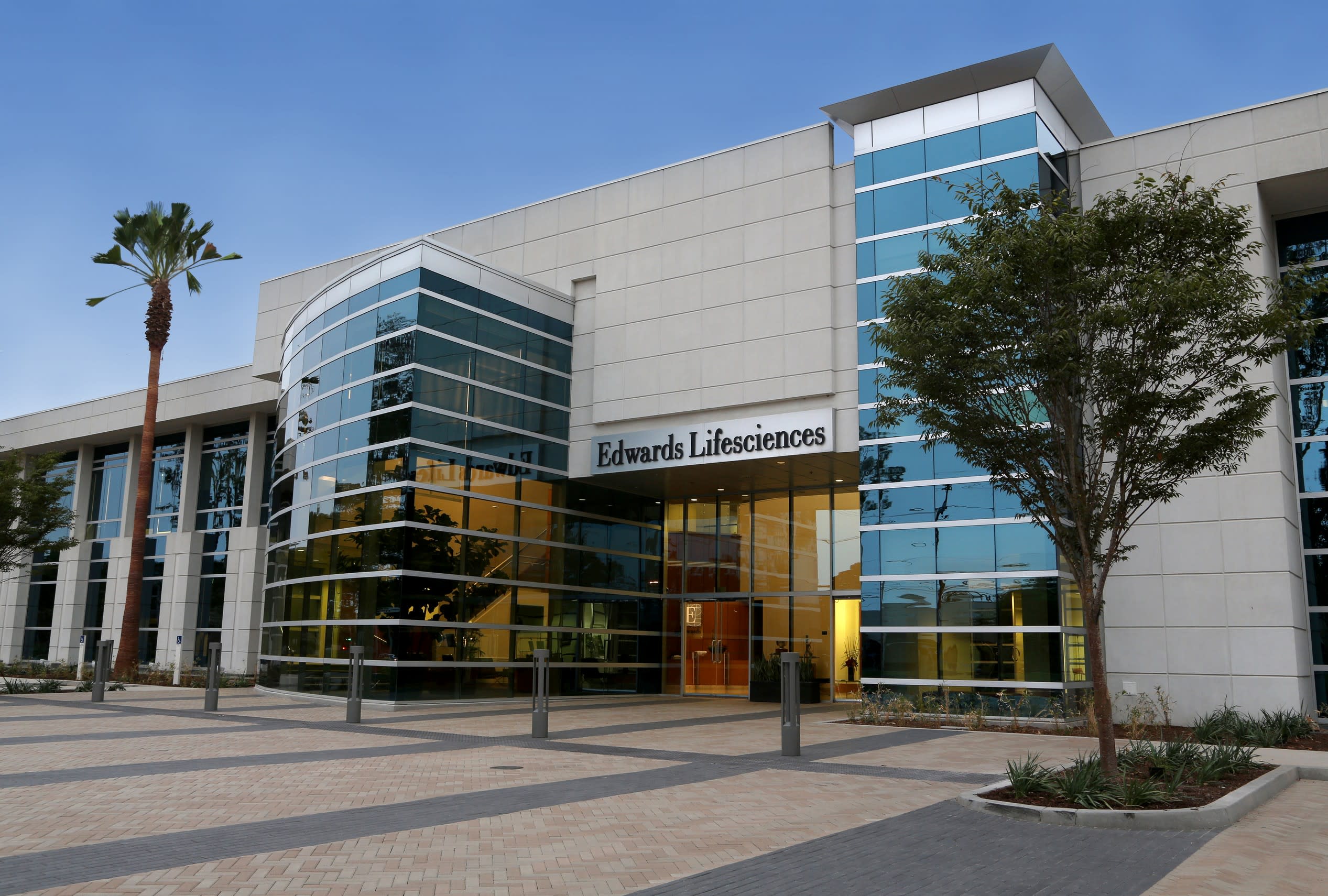 If Diane Biagianti could send a message to Rose Parade viewers, it would be the core values of Edwards Lifesciences: "We are focused on helping patients with unmet needs, and dedicated to improving the lives of people around the world," she says. 

Edwards Lifesciences has operations throughout the Americas, Europe, Asia, and the Pacific. Its pericardial tissue heart valves, which are artificial valves made from the sac of durable tissue surrounding a cow's heart hand-sewn onto a metal alloy frame, can replace diseased valves through traditional open heart surgery or less-invasive means that eliminate the need to open the chest and stop the heart and may benefit the elderly or very sick patients. 

Biagianti says, "I am proud of our company's rich history, beginning in 1958 with the development of the first commercial artificial heart valve, continuing more than 50 years later to today. We've always been focused on serving patients with unmet needs, and, more recently, our efforts have focused on the development of less-invasive or non-invasive medical technologies, such as transcatheter heart valve replacement, rapid deployment heart valves or finger cuff monitoring of the heart."

Hemodynamic monitoring, the ability to see how well the heart is working in surgery or the ICU, is another technology Edwards continues to develop.  The ClearSight system gives the health care team the ability to measure such outputs as stroke volume, cardiac output and continuous blood pressure in moderate- to high-risk patients and provides insight into fluid management.

Edwards Lifesciences is more than a science and technology firm, though.  The company is committed to minimizing its environmental footprint through such initiatives as landscaping and solar energy, and to maximizing its impact on the communities in which it operates through volunteerism and philanthropy.  This concept centers on a credo the company adopted when it went public 15  years ago.

"Our credo guides our values, spirit, and conscience in everything that we do, and forms the framework for our aspirations, which are the goals that inspire us every day," Biagianti says.  "We are committed to being a trusted partner, not only with our customers but with our external stakeholders, too. This really drives our commitment to the community and corporate citizenship. We believe in giving back to the communities in which we live and work; you can see that in our philanthropy and our dedicated sustainability efforts."

She affirms, "From Irvine to Shanghai, and everywhere in between, philanthropy is at the heart of who we are and is a source of pride for our 9,500 employees around the world."  The Edwards Lifesciences Foundation provides grants to non-profit organizations worldwide and matches charitable donations of employees.  One initiative, Every Heart Matters," aims to impact heart disease globally through education, screening, and treatment of 1 million underserved people by 2020.  Earlier this year, though a grant to the American Heart Association and a partnership with Hoag Hospital, 1,000 patients were screened at a Cinco de Mayo festival.  Edwards has also contributed to the building of neighborhood playgrounds, support for local food banks and women's shelters, the local United Way fundraising campaign, and other community programs.

Biagianti serves on the Edwards Lifesciences Foundation committee and sits on the board of Human Options, a non-profit organization in Orange County dedicated to restoring hope for women and children who have suffered from domestic violence.  She is among the 70 percent of Edwards employees who volunteer in their communities.  She says, "There are many opportunities for Edwards employees to volunteer throughout the year, such as by participating in neighborhood cleanup activities, blood donation drives through the American Red Cross, walks to support heart health such as the annual OC Heart Walk at Angel Stadium, the OC United Way campaign, and on-campus activities such as sending letters to our troops or filling Joy Jars to benefit pediatric heart patients."  The company goal is for every employee to participate in one such activity each year.

"I feel confident in knowing we serve patients in need worldwide," she says. "I am proud to work for Edwards as we continue to advance new technologies and therapies that are focused on treating patients with structural heart disease and the critically ill. Every day we hear from and see patients who have benefited from our technologies, and we feel grateful in knowing that we have touched their lives. There can be nothing more rewarding and personally satisfying than knowing you are a part of that."

Sign up to volunteer and learn a bit of floral decoration technology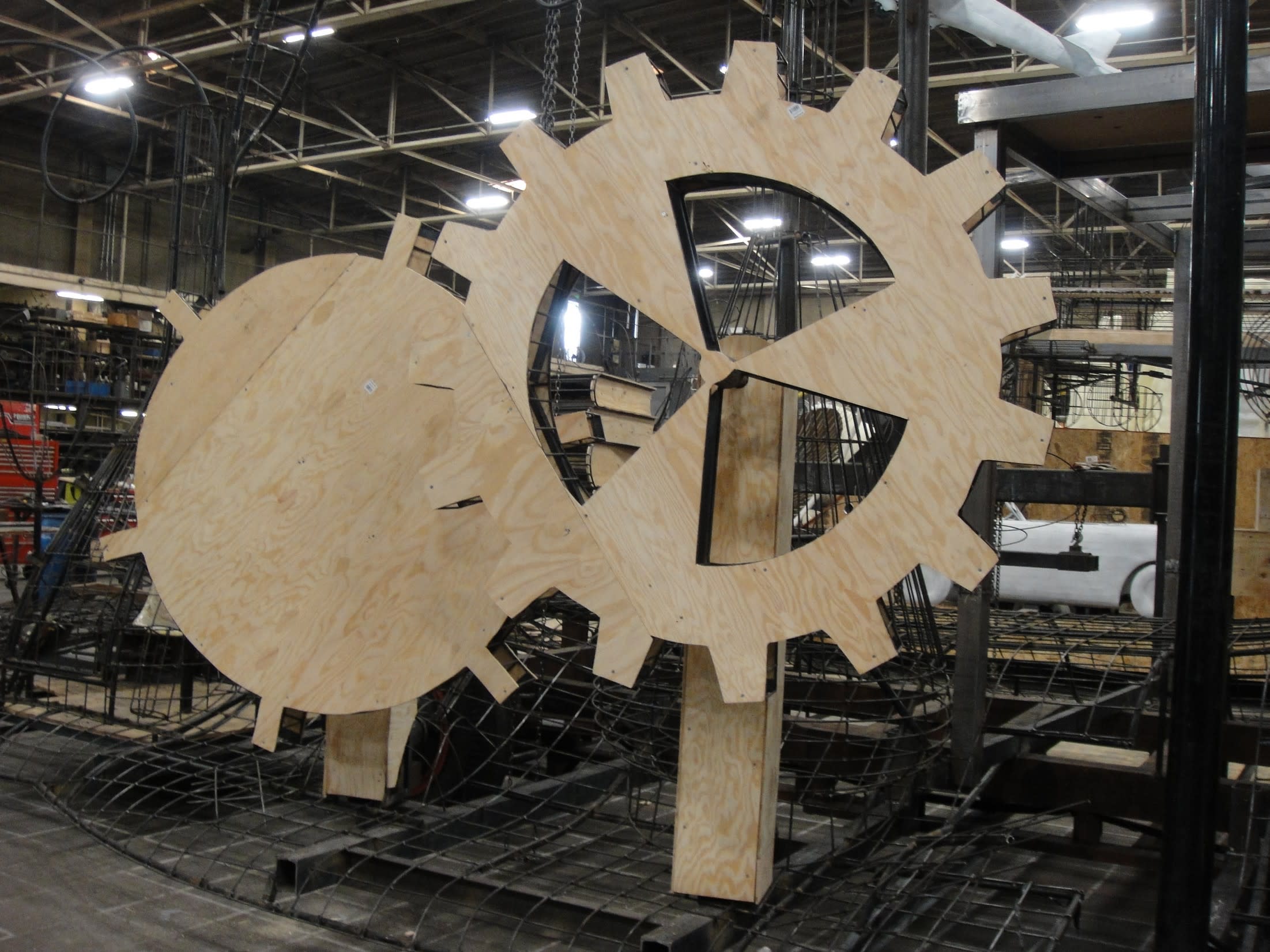 Being a cog in the building of a Rose Parade float can be a lot of fun and generate a feeling of pride and satisfaction when the float rolls down the parade route.  There's nothing quite like brushing glue on a Rose Parade float and sticking on "dry dec"-seeds, crushed flowers, spices-or putting on fresh blossoms in glorious colors.  The plywood on the gears in this photo will be covered in dry decoration.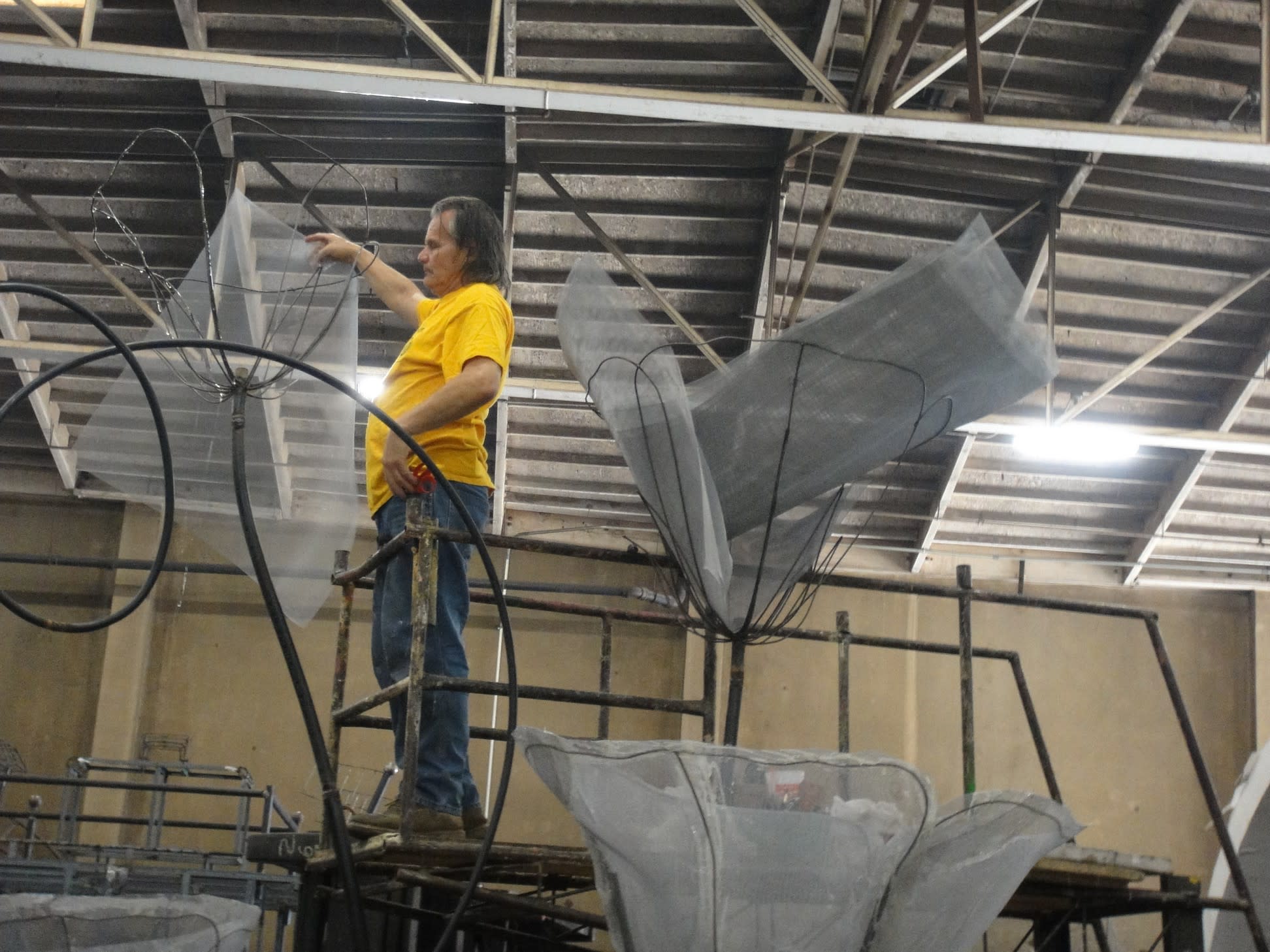 Screening is a foundational treatment, which will be sprayed with a cocooning material and some parts additional with foam for sculpting.  Screeners are skilled workers who prepare the welded sculptures to receive those materials needed to hold the botanical materials, such as flowers, greenery, and roses.  To sign up for deco duty, visit http://www.phoenixdeco.com/volunteer and choose a date.  "Innovation Rocks" is being built at the Rose Palace facility.