This weekend, Orange County native Gwen Stefani will close out 35 years of live music at Irvine's beloved Irvine Meadows The venue has been a cultural fixture in the area,  featuring legendary acts such as Michael Jackson, David Bowie, Prince and Bob Dylan. But thanks to a timely intervention by a local developer and the support of area music lovers, it looks like the music will keep on playing in Irvine. 
FivePoint Communities has partnered with Live Nation Entertainment to create a 12,000 seat outdoor music amphitheater adjacent to the Orange County Great Park that is slated to open in time for the 2017 summer season.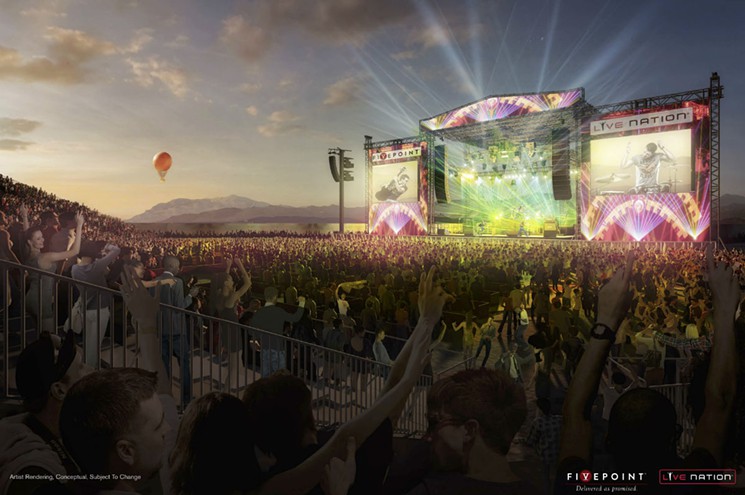 FivePoint has applied for a conditional use permit with the City of Irvine to allow Live Nation to design and build an interim venue on approximately 45 acres located less than two miles from the current Irvine Meadows site. 
"Since the early 1980's, music lovers in Orange County and beyond have made Irvine their summer home, coming to see some of the greatest musical talents of all time, said Emile Haddad, chairman and CEO, FivePoint, "We're determined to keep this tradition alive by working with Live Nation to develop the next-generation, live music venue in Irvine. Music plays a major role in building community. It brings people together and breaks down barriers. Live, outdoor music is part of Orange County's heritage and it is essential to its future."
An outdoor amphitheater and a "cultural terrace"  are part of the Great Park master plan. This temporary venue will fill the three-year gap until the permanent venue can be built. The interim site will be located at the ends of the southern runways at the former El Toro Marine Base and will be walking distance from the Irvine Transportation Center, a major mass transit hub for Metrolink passengers.
"Orange County has become a major concert stop for touring musical acts and Live Nation is committed to keeping the long tradition of live summer concerts alive and growing in this region," said Bret Gallagher, president of Southern California Live Nation. "We are excited about the opportunity to partner with FivePoint and build the highest quality interim amphitheater venue with all of the comforts and conveniences today's guests are seeking."
This is good news to more than 30,000 fans of "Save Live Music Irvine," a grass roots movement formed to build momentum for a new venue in the city. 
Outdoor music venues are a rarity in Orange County's rapidly-developing landscape.
If all goes as planned, music lovers will still be able to hear music under the stars in the summers ahead.