The Irvine Marriott recently unveiled a multi-million redesign to their M Club Lounge and hotel space, which I had the opportunity to experience through a culinary adventure utilizing my five senses. The M Club Lounge renovation completes the hotel's final phase of the $35 million remodel.
Along with the M Club Lounge renovation, other additions include:
• New Front Entrance - Lined with soaring palm trees, the entry welcomes guests with a freshly designed aesthetic that reveals an invigorating escape in Orange County. With a majestic waterfall as the centerpiece, a calming water cascade provides a relaxing soundtrack for guests as customizable LED lighting offers seasonal color and flare.
• Great Room - The grand gathering space showcases a seaside-meets-city-vibe accented by works from local artists, and stunning white limestone that provides a place for  time, not simply passing by. Additionally, a custom built 'Fusion Table' moonlights as a pool table, but is easily lowered six inches and covered with a lid to be transformed into a dining table.
• Culinary and Beverage Concepts - Keeping glasses raised and conversation buzzing, FLOE Lounge dishes coastal-inspired menus and features relaxed seating with acoustic alcoves, large communal tables, and a private dining room. Inspired by wanderlust, Y.N.K (You Never Know) offers an evolving cocktail and culinary experience that 'pops-up' as new destinations every few weeks with fresh globally inspired food and beverage offerings.
• Outdoor and Pool Areas - Travelers recharge poolside in the California sun at the Irvine Marriott's new pool area, which features fire pits, open area for events, and modern furniture. A nearby living herb garden adds flavor to libations and culinary programming.
• Fitness Spaces - The Irvine Marriott's new fitness center offers a selection of workout choices to help guests align the body and mind. Precision training equipment and exterior spaces provide alternative training experiences to meet the fitness needs of guests.
• Meetings Imagined - Designed to encourage a group's ingenuity, meetings at the Irvine Marriott provide a blank canvas to create an event with purpose and glass-encased meeting spaces can be customized with lighting, video projection, digital mapping and more.
• Cannery Row - Offering 3,016 square feet of event space, the Cannery Row shipping container spaces maintain an element of surprise, allowing planners to bring their most ambitious event ideas to life in the unique outdoor space.
• Networking: Alone or Together - For a moment of solitude amidst the buzz of a meeting, Cocoon Seating provides privacy and personal space by shielding against outside noise. With smartphone connection capabilities, meeting goers can play music through built-in Bluetooth speakers, or join a conference call without noise and distractions. For groups, Team Foosball allows for up to 12 players to join in on a high-energy teambuilding game for shoulder-to-shoulder networking outside of the meeting room.
Visit Irvine Marriott for more information or to book rooms! Join the Marriott Rewards program for great perks!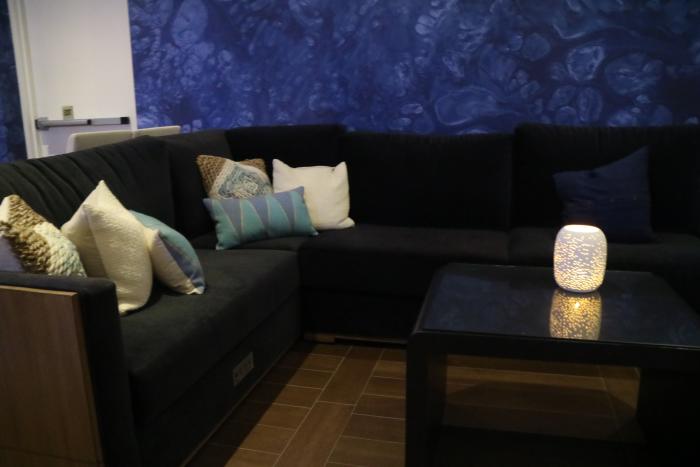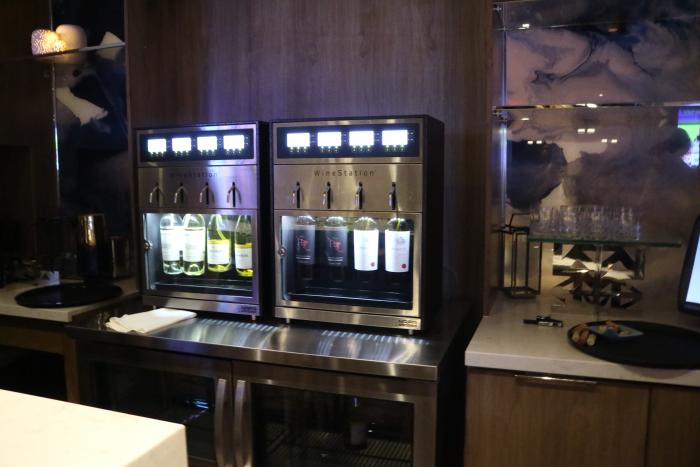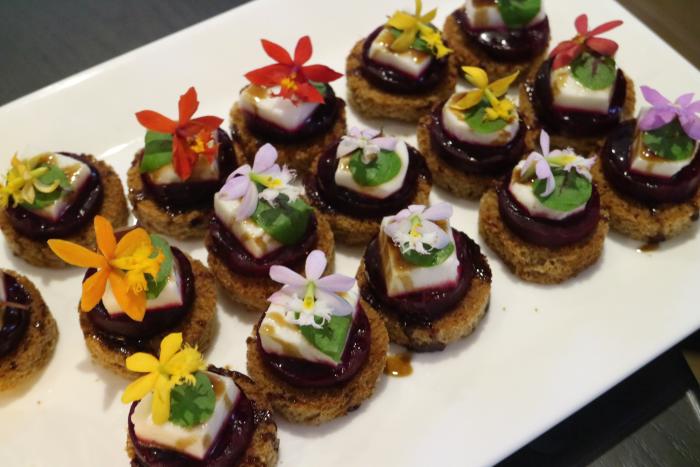 The M Cub Lounge, available to Elite and Club members, has the first ever (in the brand's portfolio) exterior entrance and includes "a range of complimentary food and beverage options such as hot breakfast, evening drinks, hors d'oeuvres, and premium beverages including espresso and hand-crafted libations. Accessible 24 hours a day, seven days a week, the M Club Lounge also offers free Wi-Fi, printing and power supplies to ensure uninterrupted productivity for business travelers".
This lounge is the perfect place to get into work mode or wind down, recharge and enjoy the amenities. I really loved the coastal decor and vibes - there are a variety of tables, booth-like seating and comfy couches to enjoy. This is the area that kicked off our progressive dinner, it was explained to us that we would visit different sections of the hotel and in each section, we would experience a different dish or libation focused through our senses.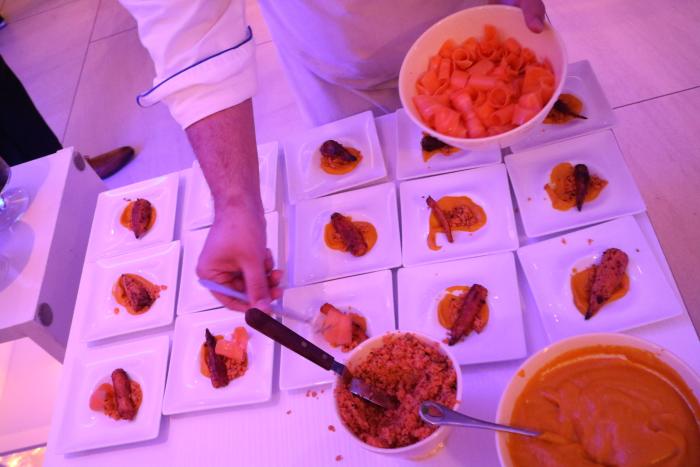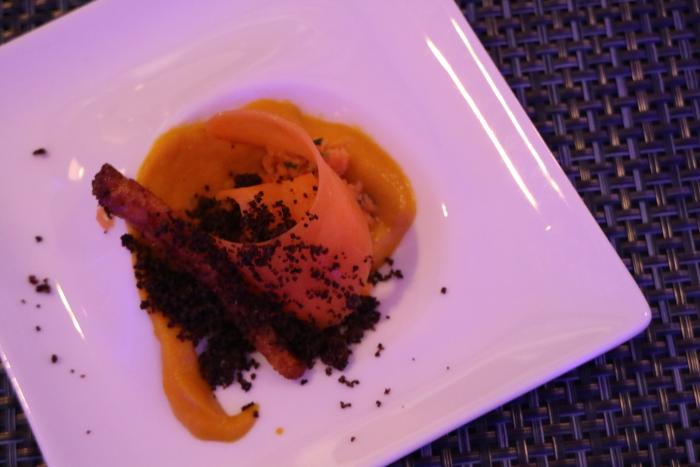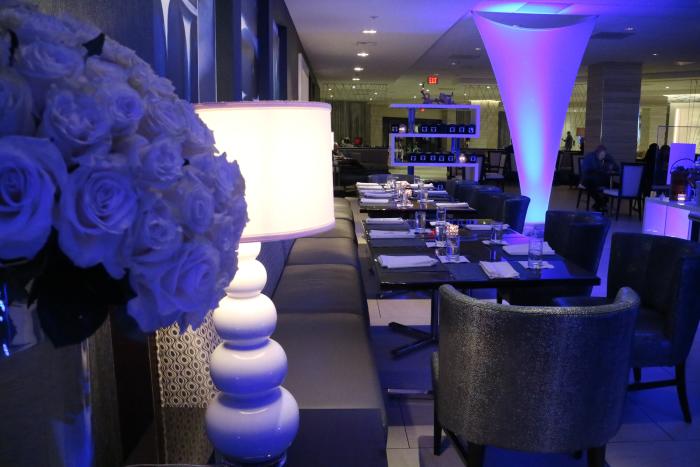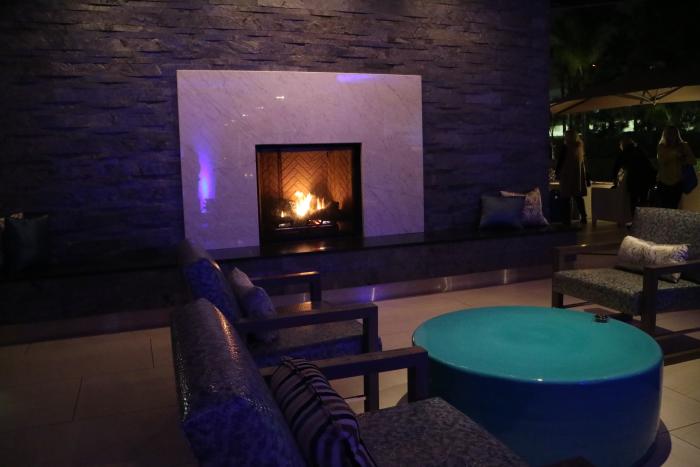 Our first stop was the Floe Lounge dining area in which we had a carrot-themed dish focused around the sense of touch, but we weren't actually touching the food. We witnessed the chef put together various layers of carrot ingredients of different textures - from pureed to carrot shavings then topped with a grainy like texture. Although we didn't touch it ourselves I could imagine what each ingredient would have felt like in my hand.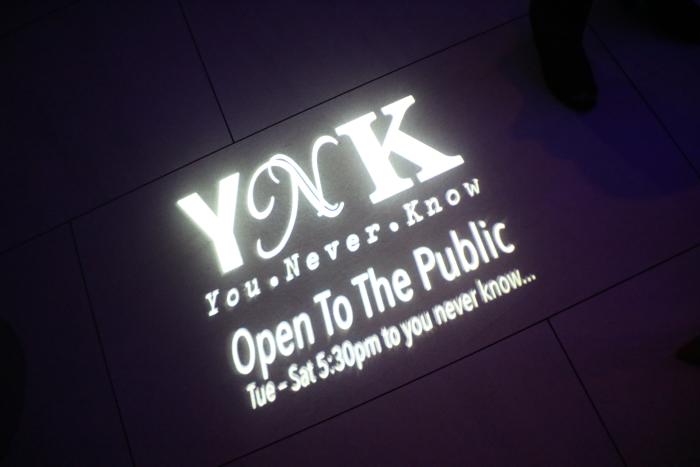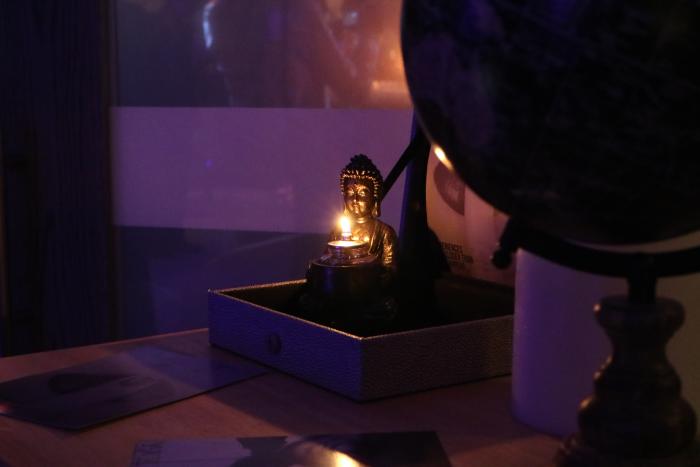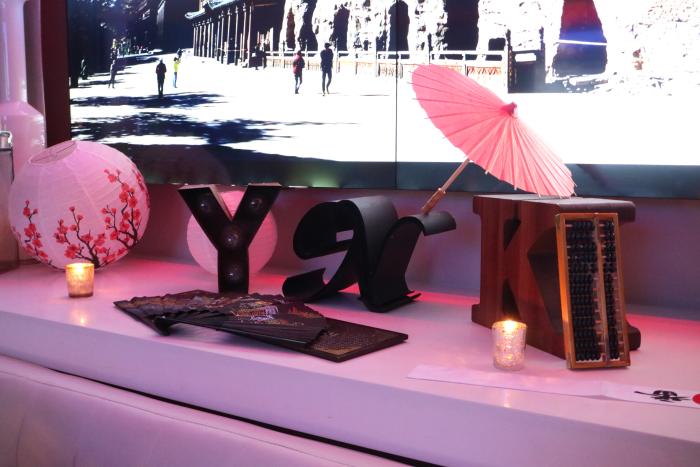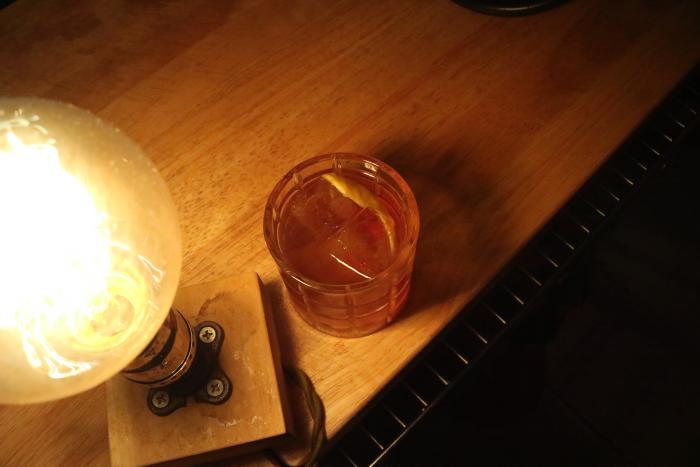 Our second stop was YNK (You Never Know), a hidden bar area behind the Irvine Marriott's main bar which offers a great place to get away from the grind and enjoy seasonal bespoke cocktails inspired by different places around the world. We experienced the making of an old fashioned through the sense of sight by wearing ear buds so we could focus on the visual of the making of the cocktail (it looked really cool with the smoke). 
After YNK, we headed over the patio area that overlooks the Irvine Marriott pool. While enjoying a steak meal that had been encased in a dome we were serenaded by UCI's acapella group. This meal focused on the sense of smell through the release of a smoky, herb fragrance when we opened up the dome from our dish.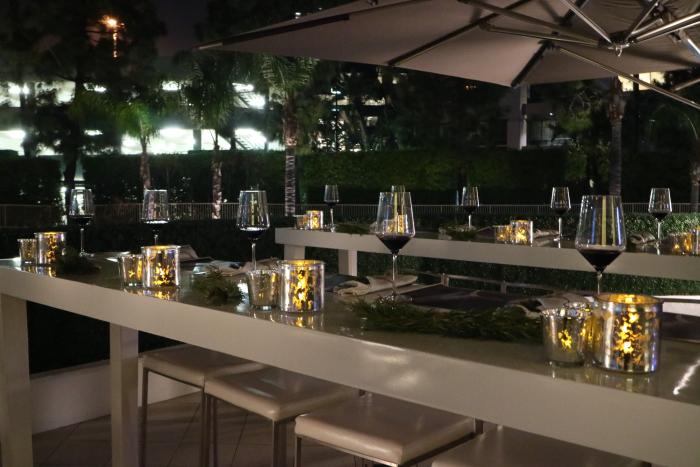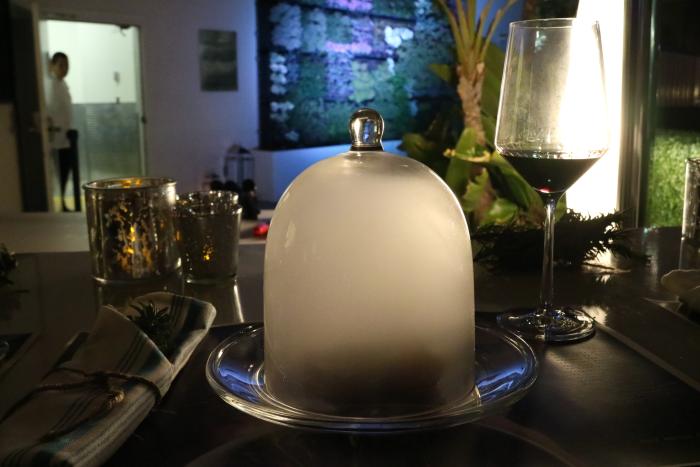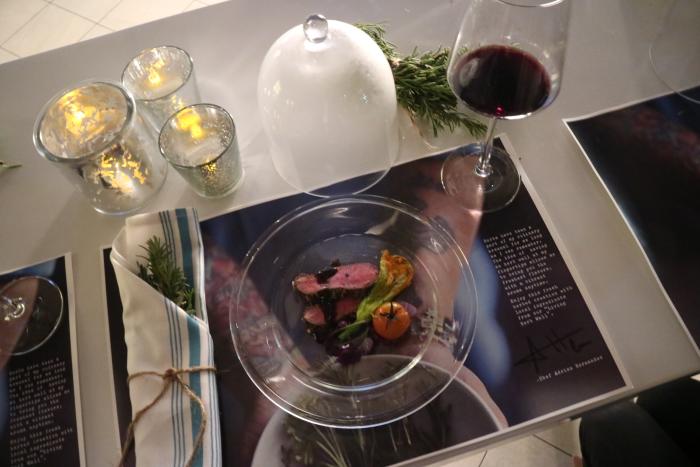 Our last stop brought us back to Floe Lounge to experience seafood bites through the sense of sound by listening to ambient ocean sounds. Overall, this was a very immersive experience, and an innovative way to experience culinary and cocktail creations; as well as get to see the Irvine Marriott's beautiful remodel.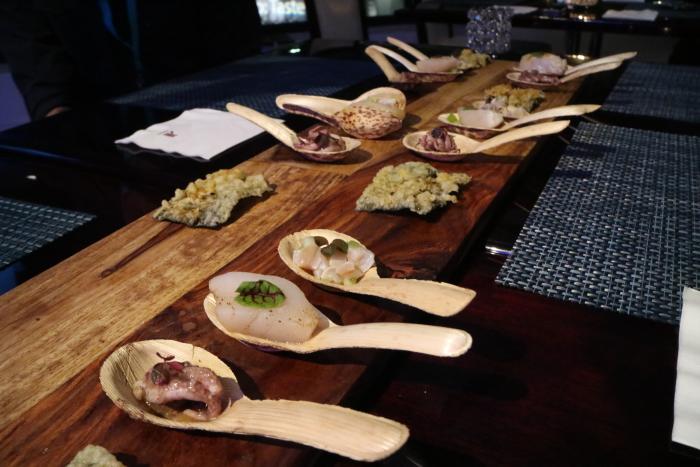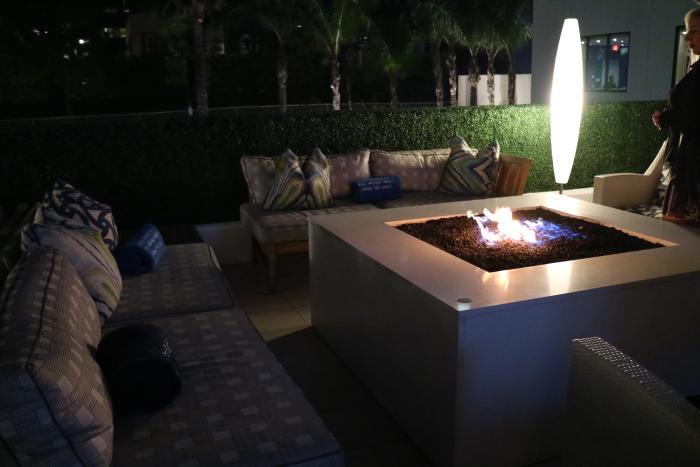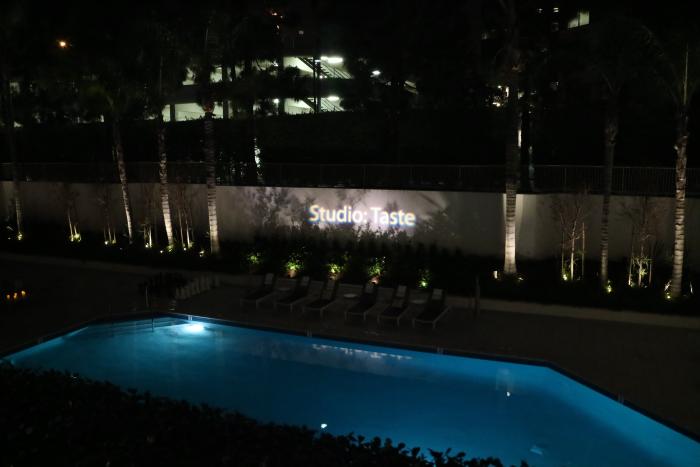 Irvine Marriott information provided by Fast Forward Events