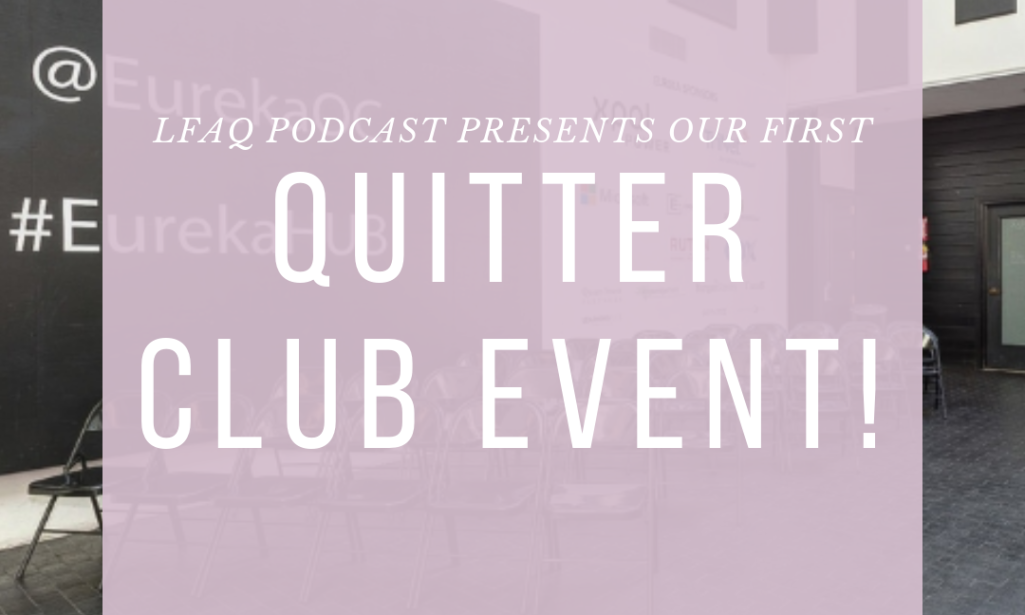 In 2014, Goli Kalkhoran quit practicing law and embarked on a new journey to discover what really made her happy. Since then, she has had 2 kids, started her own business, dabbled in a few passion projects and forged a completely new path that lights her up. And yet, she's still figuring it all out. 
Goli started Lessons From a Quitter Podcast to highlight other people who have broken free from an unfulfilling career to create a life that they love. And, in the process, she hopes to show others that it's ok to quit. In fact, your happiness may depend on it. She has insightful conversations with individuals from a variety of industries and backgrounds and hopes that this podcast and community, based on the belief that it is never too late to start over, will inspire listeners to pursue a path that fulfills them. 
With the success of the Lessons From a Quitter Podcast, Goli is hosting her first Quitter Club live event in Irvine to offer support and connect with each others. For only $20, guests will be exposed to an uplifting evening filled with networking opportunities, career coaching session, inspiring speakers and food & drinks; and the event will be recorded as a podcast episode! 
WHEN: August 15th (08/15/2019)
WHERE: Eureka Building in Irvine: 1621 Alton Pkwy, Irvine, CA 92606
TIME: 6pm-9pm
Event Sponsors: Eureka Building, Fill, Selma's, The Loop, Usie Booth 
Speakers: Shinah Chang, Pye Jirsa, Laurie Rowen, Sara Rezvanpour Rose, Elena Deutsch 
Evening Includes: Live recording of a podcast episode,  Career Coaching Session, Networking, Food and Drinks
Tickets are only $20 and you're sure to meet like-minded people, become inspired and discover what truly drives you. Get your ticket here. 
The Eureka Building in Irvine will be hosting the first live Quitter Club Event for the podcast, Lessons From a Quitter. This celebrates the one-year anniversary of LFAQ and aims to serve as a live recording and networking event. 
Creator and lead speaker, Goli Kalkhoran, hopes the event brings listeners together and empowers them to follow their dreams. 
"I never expected [the podcast] to blow up the way it has. I want the event to serve as an evening of inspiration, community and support. Figuring out what you want to be when you grow up can happen at 5 or 45 and we embrace that." 
Attendees can also expect an in-person career coaching session and boundary setting workshop from Elena Deutsch, one of the five imminent speakers participating in the live panel. The event will also feature food and drink from local SoCal businesses. Creating local support networks is a prominent goal of the LFAQ team.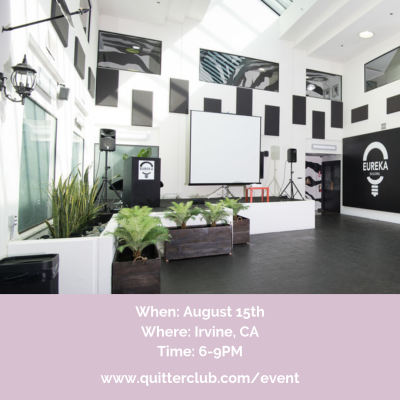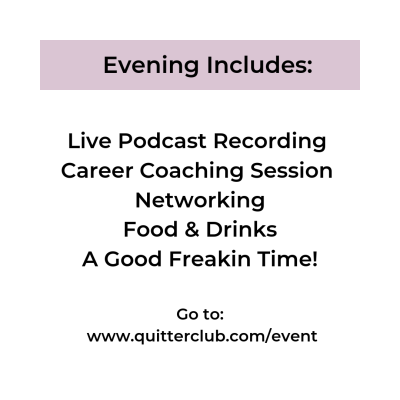 Most of us don't have the time to find our dream career because we are spread too thin doing
ALL. THE. THINGS.
Career coach, Elena Deutsch, will lead an exercise on reframing how to properly set boundaries so that we can feel comfortable saying NO to get to our YES.