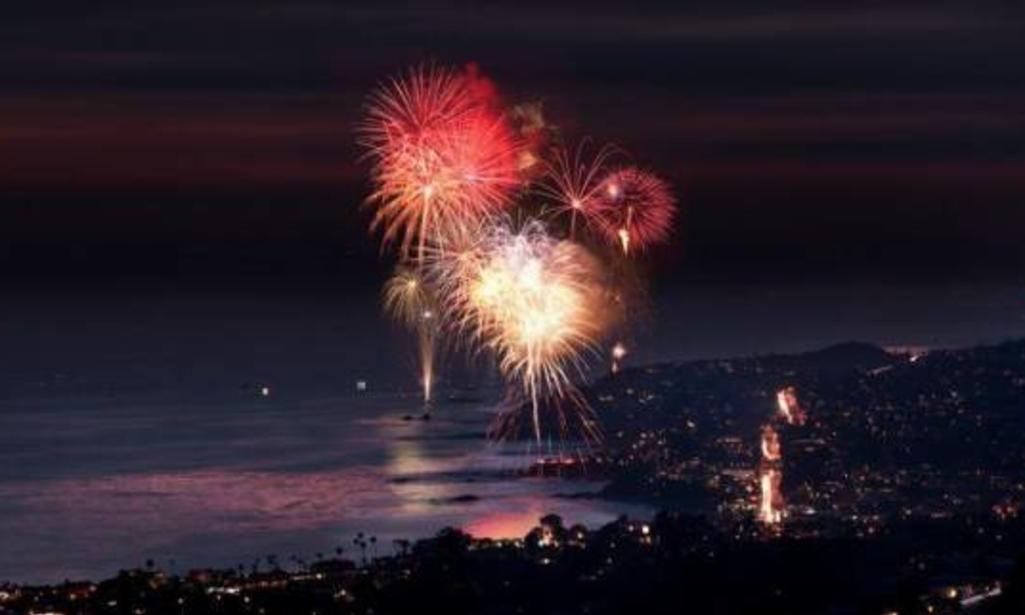 Looking for something to do in and around Irvine for the 4th of July?! Here are a few events to think about attending whether as a couple, with friends or a family! No matter what you end up doing, have a fun and safe Independence Day celebration!
This year's event will feature:
Live music by the Derek Bordeaux Group
Professional Field Entertainers with Field Games and Activities
Bounce Houses
Raffle with Prizes
Gourmet Food Trucks (food available for purchase)
Enjoy a Pyro Musical sky concert & Fireworks extravaganza
by Pyro Spectaculars

WHERE: Irvine High School Stadium
4321 Walnut Ave. Irvine CA, 92604
WHEN: Gates open at 3:00pm
Fireworks start at 9:00pm
 
DOs: Blankets & Lawn chairs recommended for seating on the football field.
Bleacher seats will be available.
EZ-Ups will be permitted, no stakes or any objects may penetrate the turf! 

DON'Ts:
No Pets
No Barbecues
No Bikes
No Personal Fireworks
No Smoking (except for in designated smoking areas) 
TICKETS: Online ticket sales are closed. Email the Irvine Police Association with any questions or for more info at: ipaevents@irvinepa.org
You may also purchase tickets from May 1st, 2019 until July 3rd, 2019 at:
City Hall, 2nd Floor, Community Services, Monday - Friday 9:00am - 5:00PM
Family tickets are pre-sale only, and will be available until July 3rd.
You may also purchase adult, children or senior tickets from the Irvine High School stadium box office on the 4th of July.
BOX OFFICE OPENS AT 3PM. ADULT TICKETS (ages 13-59) ARE $15.00, CHILDRENS TICKET (ages 2-12) ARE $10.00, SENIOR TICKET (ages 60 and over) are $10.00.
Anaheim Hills 4th of July Celebration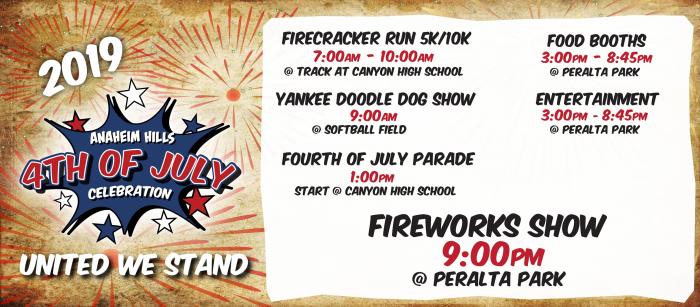 The Anaheim Hills Firecracker 5K/10K Run/Walk starts off an entire day of Fourth of July festivities celebrating the birth of our great nation. Test your endurance in the Anaheim Hills Firecracker 5K/10K, or bring the stroller and the dog, and take your time! Then enjoy an array of 4th of July Activities in Anaheim, California.
After the race stay for the Yankee Doodle Dog Show, our 4th of July Patriotic Parade, and finish the day at Peralta Park where you will enjoy countless food vendor and expo booths of our local businesses and organizations and live musical performances on our main stage.  Don't forget to grab a seat for your family and friends as the night culminates with a spectacular fireworks display honoring the red white and blue!
This year's event will include:
Firecracker 5k-10k Walk/Run
Yankee Doodle Dog Show
The Patriotic Parade
Peralta Park Food & Music
Spectacular Fireworks Show
WHERE: Canyon High School & Peralta Park in Anaheim Hills, California
WHEN: Late Run Registration or Packet Pick Up starts at 6:30am / Race starts at 7am
Dog Show 9am, Parade is 1-3pm,  Entertainment & Food 3-8:45pm, Fireworks 9pm
Doheny State Beach's 4th of July Fireworks Extravaganza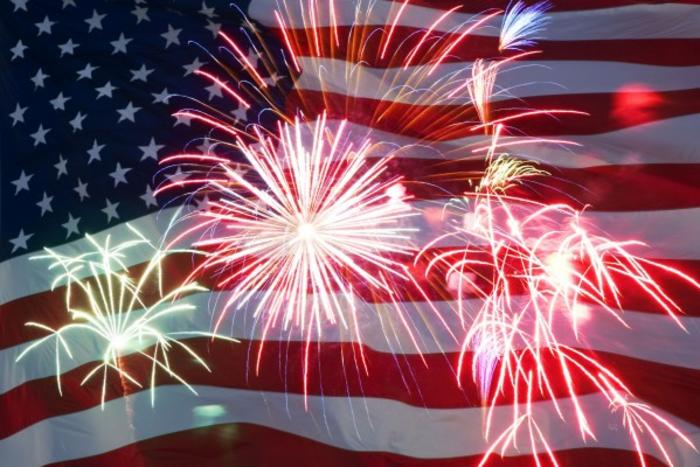 Whether you come for a day  at the beach and the evening fireworks display or just for the amazing fireworks extravaganza launched from the barge off shore, this is a great 4th of July tradition.  It is one of the most popular days at Doheny, so if you're planning to spend the day at the beach and see the fireworks in the evening, get an early start as the park fills up early.  You may walk into the park any time during the day with no fee charged.  Park hours are 6 AM to 10 PM.  Fireworks start at 8:45 PM.  Bring a personal FM radio device and listen to the patriotic music accompanying the fireworks on FM 88.5, KSBR.
Please remember that no firecrackers or fireworks are permitted in the park, and alcoholic drinking is prohibited.
WHERE: 25300 Dana Point Harbor Drive
Dana Point, CA 92629
WHEN: Spend the day at the beach, fireworks starts at 8:45PM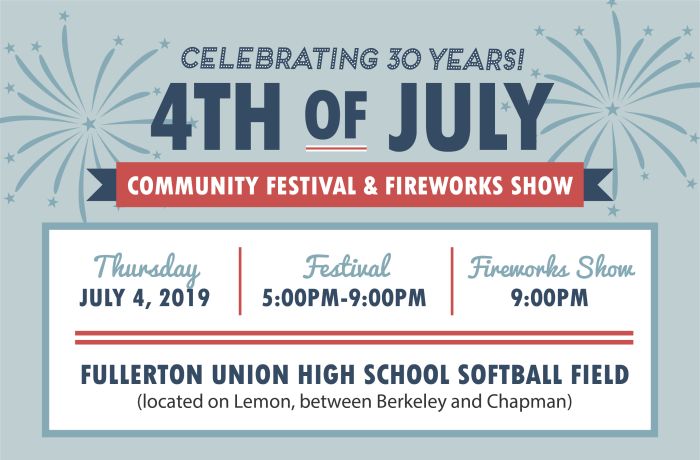 The City of Fullerton's annual 4th of July Festival and Fireworks Show will be held on Thursday, July 4, 2019 from 5 p.m. to 9 p.m. at the Fullerton Union High School Softball Fields, located on Lemon Street, between Berkeley and Chapman. Admission is free.
Entertainment
Inside the event area, participants can find kids' activities including face painting, bounce houses, a caricature artist, and a stilt walker. NOMINAL FEES MAY APPLY for activities (Approximately $2 to $5).  Enjoy live music by James Intveld.
Fireworks begin at 9 p.m. and last for approximately 20 minutes.
Food and Drink
All food is reasonably priced, and is being offered by local charity organizations as a fundraising activity.
There is no alcoholic beverage service.
No alcohol is served or allowed in the area. All coolers will be checked. No glass containers, no smoking, no e-cigarettes, no umbrellas, and no pets (seeing eye dogs are allowed).
Parking
Available at the following locations: the Wilshire parking structure (downtown on Wilshire, just east of Harbor); the Plummer Structure (downtown on the southwest corner of Chapman and Lemon); and street parking throughout downtown.
Handicap Parking
Available at each of these lots. Should a handicap person need to be dropped off, you must have your handicap placard and go to Pomona and East Union Way where a police officer will let you in. There will be no parking in the Fullerton College structure off of Lemon. Parking at Fullerton College (including the parking structure) will NOT be allowed.
WHERE: Fullerton Union High School Softball Fields
On Lemon St, between Berkeley & Chapman

WHEN: Festival is from 5-9pm, Fireworks start at 9pm
For more information call the Special Events Hotline at (714) 738-3167.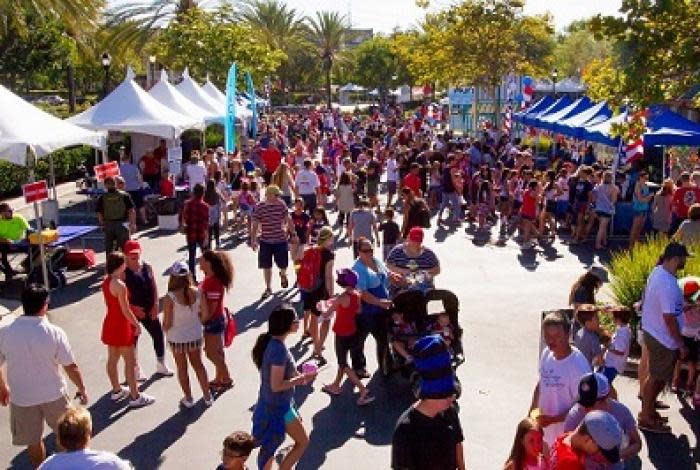 Known for one of the best fireworks displays in South Orange County, Ladera Ranch Community Services will present a fun-filled day of activities.
SCHEDULE OF EVENTS:
7:00 a.m.  10K Freedom Run
7:45 a.m. - 11:30 a.m. Pancake Breakfast
8:30 a.m. 5K Freedom Run
9:30 a.m. 1K Kids' Firecracker Dash
10:30 a.m. Community Parade
3:00 p.m. - 8:00 p.m. Games & Activities
3:00 p.m. - 9:00 p.m. Food/Concession Sales
5:00 p.m. - 8:00 p.m. Teen Zone
6:00 p.m. - 8:00 p.m. Concert (Vanity Fair - Top 40)
Dark - Fireworks
*Subject to change
WHERE: Founders Park, 28275 Avendale Blvd
Ladera Ranch CA 92694
WHEN: Runs start at 7am, 8:30am & 9:30am
Parade starts at 10:30am, Games & Activities and Food starting at 3pm, Concert 6-8pm and Fireworks at Dark 
THE FOLLOWING ARE PROHIBITED:
Blankets/tents or personal items prior to 6:00 a.m. on July 4th. 
Use of rope, tape, or fencing of any kind to reserve personal space.  Stakes longer than six (6) inches to secure pop-up tents.  Items will be removed or taken down by security.
Plastic tarps on the grass.  Items will be removed and discarded by security.
Pets, with the exception of registered assistance dogs.  All other owners with animals will be asked to leave the event.
Loitering in or around school owned property.
Model aircraft or drone with or without photographic equipment.
Glass bottles/containers.
Barbecue grill/open flame of any kind.  This includes the barbecues in the picnic shelter.
Electric or motorized vehicles in Founder's Park, on school property, or on closed streets surrounding Founder's Park.
Use of personal fireworks.
Selling products or business advertisements without LARCS permission.
Sale of alcoholic beverages.
PLEASE NOTE THE FOLLOWING:
An adult must accompany children under the age of 12 at all times.
Security or OCSD may remove any person at any time if deemed a danger, threat, or hazard.
No picnic shelter reservations on July 4th. 
Tents/Pop-ups must come down no later than 7:00 p.m. per the OCFA
Observe the "No admittance" fencing around the Fireworks Zone
All personal items must be removed immediately following the Fireworks show; and items left behind will be discarded.
Please help us keep Founder's Park clean by removing all of your trash as you leave the park by utilizing the Waste Management trash boxes throughout the park.
City of Laguna Beach Fireworks Display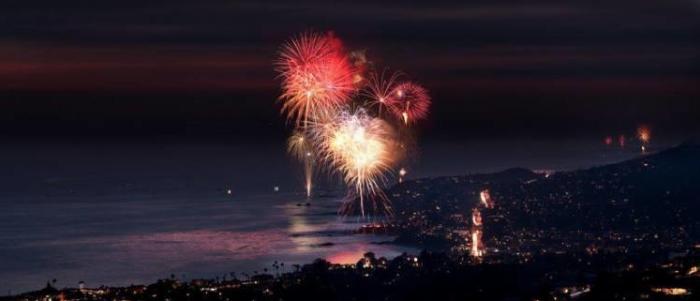 The City fireworks show will begin at approximately 9pm. The City fireworks show will originate from Monument Point at Heisler Park. For this reason, the Monument Point area will be closed all day on the 4th of July. Beginning at approximately 5pm, the area of Heisler Park from the Rock Bench at Myrtle Street to the Rockpile Beach stairs at Jasmine Street will be closed to the public to allow for fireworks preparation.
City trolleys will operate under a modified schedule, the Coastal Route will run from 9:30am to 10pm and Canyon Route from 8:30am to 10pm. There will be no neighborhood services. The normal trolley schedule will resume on July 5 from 9:30am to 11:30pm. The City encourages visitors to utilize the exterior parking lots (Lot 15, 16, 17, and 19) and take the trolley into town. If you have questions about transit, please contact the Transit Office at (949) 497-0766.
Arrive early for parking and hop on the free trolley.  Laguna Art-A-Fair and Sawdust Art & Craft Festival will also have limited hours until 6pm on this day.
City of Laguna Hills 4th of July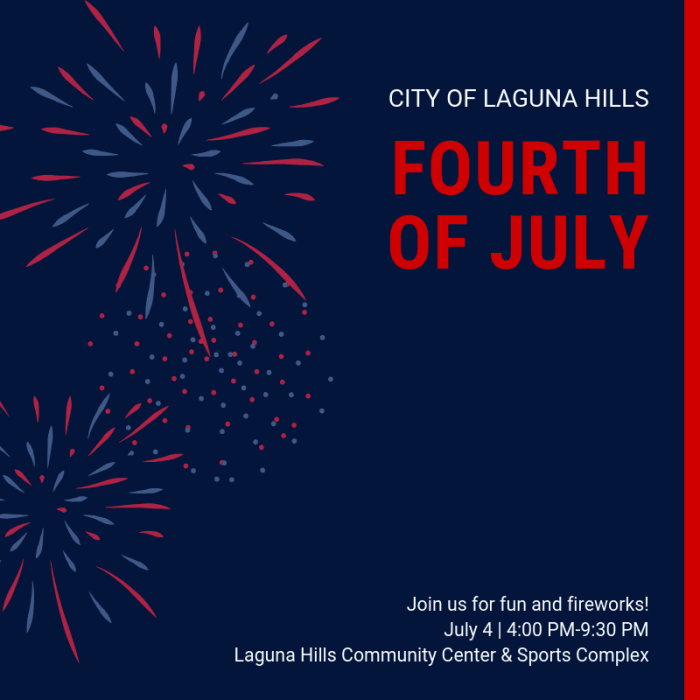 Come celebrate America's birthday at the City of Laguna Hills' annual Fourth of July Celebration! Bring your family and friends to enjoy the fun, food and festivities! Carnival rides and games, live music, and patriotic crafts will all be part of the celebration, along with a fabulous fireworks show to conclude the evening. Food and drinks will be available for purchase. Seating is not provided, so don't forget your lawn chairs and umbrellas! Please note: Carnival ride tickets will be sold from 4:00-7:00 PM.
Thursday, July 4, 2019 from 4:00 PM-9:30 PM
Laguna Hills Community Center & Sports Complex
25555 Alicia Parkway
Laguna Hills, CA 92653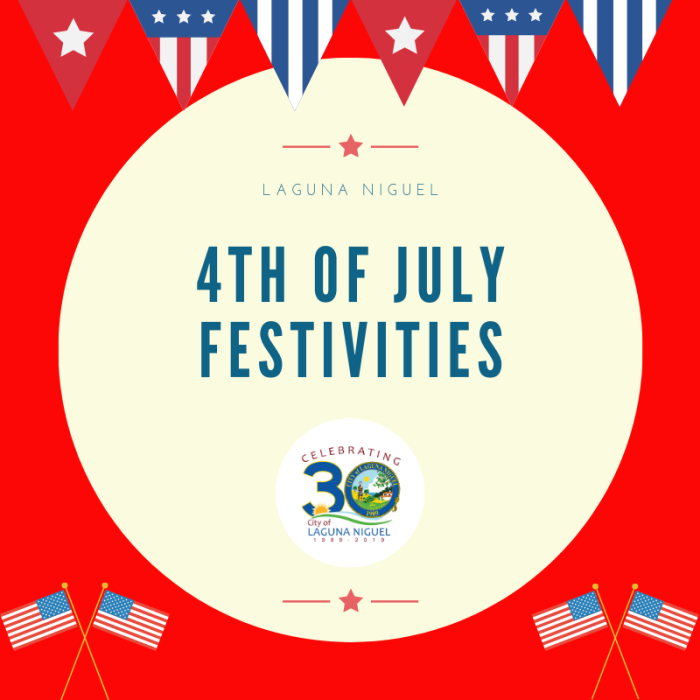 --Run in the Parks at 7:30 AM 
--36th Annual Pancake Breakfast between 7:30-10:30 AM 
--Swim from 9:00 AM - 5:00 PM 
--Summer Concert at 6:30 PM 
--Fireworks Spectacular at 9:00 PM
Pancake Breakfast 7:30 - 10:30 am
Hosted by the Laguna Niguel Chamber of Commerce in conjunction with the YMCA. $7 for breakfast. Held at Crown Valley Park
Concert 6:30-8pm
Concert (Undercover Live will take place on the lower soccer field at Crown Valley Park. Food and dessert will be available for purchase from gourmet food trucks. Please bring low back chairs/blankets. Free shuttle service available for every concert from 5:30-9:30pm. Park at City Hall (30111 Crown Valley Parkway). After the concert, walk (3/4 mile each way) to the Regional Park for the fireworks display at 9pm. Seating is in the grass/dirt.
FIREWORKS LOCATION:
Starts at 9 pm LN Regional Park, 28241 La Paz Rd (Over the lake) Limited parking on La Paz Road and limited access in Laguna Niguel Regional Park (entry fees apply).
INFORMATION: 949-425-5100
Mission Viejo Street Faire & Fireworks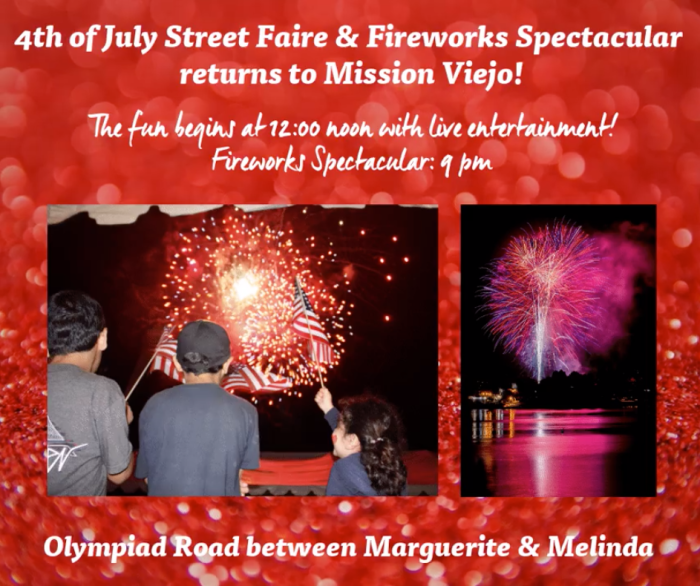 Join the City of Mission Viejo for fun on the 4th of July! The Mission Viejo Activities Committee will hold the Annual Street Faire and Fireworks Spectacular on Olympiad between Marguerite and Melinda. The fun begins at 12:00 noon with live entertainment on the Main Stage and youth bands performing on our Freedom Stage. There will be rides for the kiddies to enjoy. Food and Game Booths operated by local service groups will be available to delight your taste buds and bring fun and laughter to the little ones. There will also be over 30 booths with wonderful craft and gift ideas. Admission is FREE with tickets being sold for games and rides.. For your convenience, a free shuttle will operate from 1:00 PM to 8:00 PM. Shuttle stops are located at twelve stops clearly marked around Lake Mission Viejo. Please no pets, skateboards or roller blades , bicycles or barbecue grills are allowed.
The sky will sparkle at 9:00 PM for the fireworks spectacular. Don't miss out on the good old fashion fun.
Located on Olympiad between Marguerite and Melinda in Mission Viejo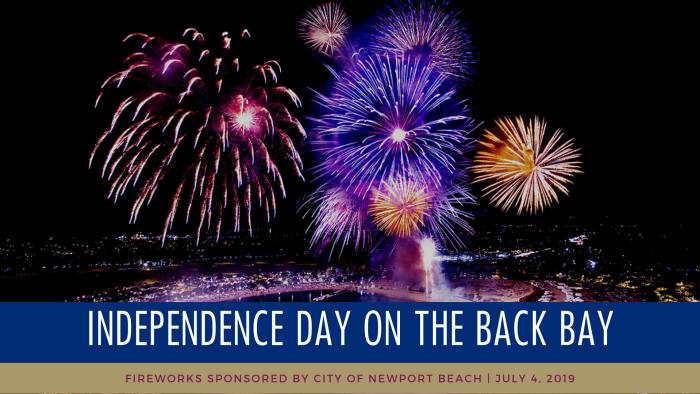 Celebrate July 4th at Independence Day on the Back Bay, sponsored by the City of Newport Beach. The Newport Dunes' annual celebration will feature live entertainment, carnival games, a photo booth, food trucks and Orange County's largest fireworks display!
Family Activities 9am-5pm
Food & Drinks 8am-10pm
Water Park & Carnival 10am-6pm
Concerts 3pm
Fireworks 9pm
Event is free, but parking is $50/car and single entry only. MORE INFO HERE.
Event Rules
POLLUTION: Disposal, dumping, or littering of toxic chemicals, trash, or grill/charcoal waste on the beach is illegal. City FINES are tripled on July 4, 2019 to as much as $3,000.
RESPECTFUL ETIQUETTE: The beach and grass will be extremely crowded. Please be considerate of other guests and staff, with sound volumes, personal space and etiquette.
PETS: Please leave your pets at home, as the fireworks may frighten them.
TRAFFIC: Due to large crowds leaving the resort all at once, it's highly recommended to avoid exiting via Jamboree Rd. Take alternate routes such as Pacific Coast Highway or MacArthur Blvd. Plan accordingly.
DRONES: Newport Beach City regulations prohibit drone usage. Any drones seen in the air will be taken down at the owner's expense.
FIREWORKS: All umbrellas and shaded structures and tents must be taken down at sunset before the fireworks for fire safety.
PARKING: Early parking on July 3rd is prohibited. All cars parked on July 3 after 9 PM will be towed at the owner's expense and without notice. Double parking is also prohibited; one parking spot per vehicle.