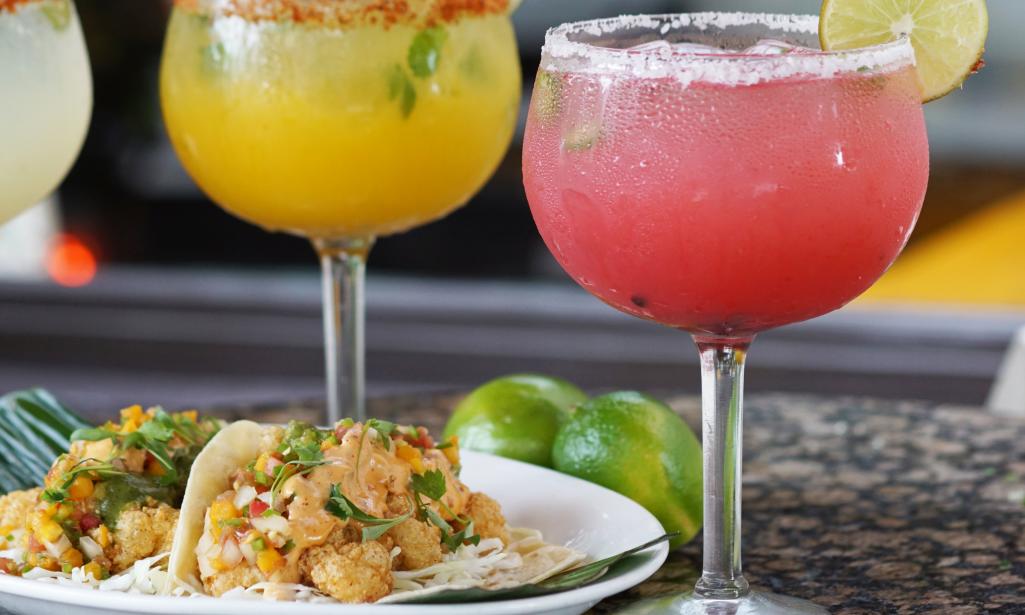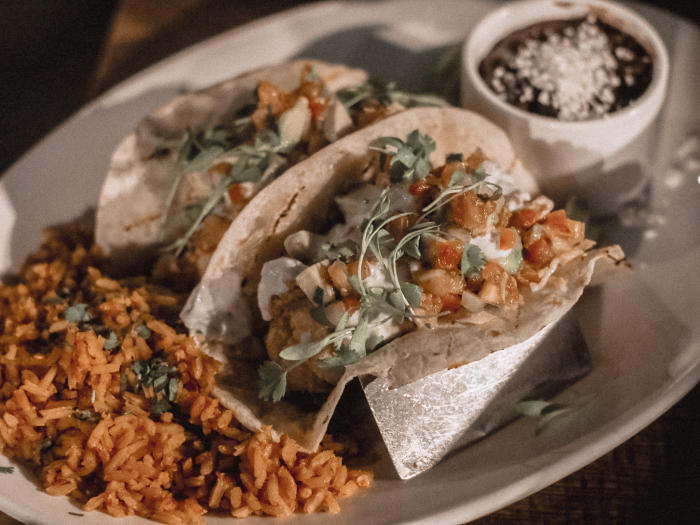 Today, October 4th is National Taco Day! And to celebrate, Cha Cha's Latin Kitchen in Irvine and Brea are offering a one-day only special: Lobster Tacos! I was beyond thrilled to get to come in to try this exclusive dish, and now you can too and don't forget a delicious margarita!
During my visit, I started with chips and homemade salsas, the Cha Cha Fries (Crisp kennebec potatoes, fresh garlic, herbs, smoked chipotle aioli) and Empanadas (Fresh ground masa with picadillo of ground beef, smokey ancho salsa & crema fresca). For my entree, I enjoyed the lobster tacos and had a few bites of the Carne Asada (Grilled, marinated skirt steak, roasted potatoes, poblano peppers, fresh chimichurri). I finished the meal with two desserts, the Churros (Home-made churros, cinnamon sugar, cajeta & raspberry-orange sauces) and Tres Leches Cake (Home-baked chiffon cake, tres leches soaked, strawberry salsa, whipped cream & toasted coconut).
Naturally, a visit to Cha Cha's Latin Kitchen is not complete without one (or maybe two? three?) of their delicious margaritas and cocktails. I enjoyed the Watermelon (Fresh Watermelon, Hibiscus Juice, Maestro Dobel Tequila, Black Pepper Agave Nectar), Cha Cha's Margarita (Siete Leguas 100% Blue Agave, Elderflower liqueur, fresh lime, ruby red grapefruit juice) and the Blackberry Serrano Daquiri (Myer's Platinum Rum, fresh blackberries, lime, serrano chile, hibiscus juice).
There was not one dish that I didn't like, but be sure to take advantage of this special offer because it's only happening once this year! Check out the menus here: IRVINE and BREA.
IRVINE
(714) 408-7819
13126 Jamboree Rd, Irvine, CA 92602
CLICK HERE FOR DIRECTIONS

Hours In The Dining Room
Sunday Brunch: 11am-3pm
Sunday Dinner: 3pm-9pm
Monday - Thursday 11:30am - 9pm
Friday - Saturday 11:30am - 10pm

Hours In The Lounge
Sunday - Monday: Open Until 10pm
Tuesday - Thursday: Open Until 11pm
Friday - Saturday: Open Until 12am
BREA
(714) 255-1040
110 W Birch St, Brea, CA 92821
CLICK HERE FOR DIRECTIONS

Hours In The Dining Room 
Sunday Brunch: 11am-3pm
Sunday Dinner: 3pm-9pm
Monday: 11:30am-9pm, Tues-Thur: 11:30am-9:30pm, Friday-Sat: 11:30am-10:30pm

Hours In The Lounge
Sunday - Monday: Open until 10:00pm
Tuesday -Thursday: Open until 10:30pm
Friday - Saturday: Open until 11:30pm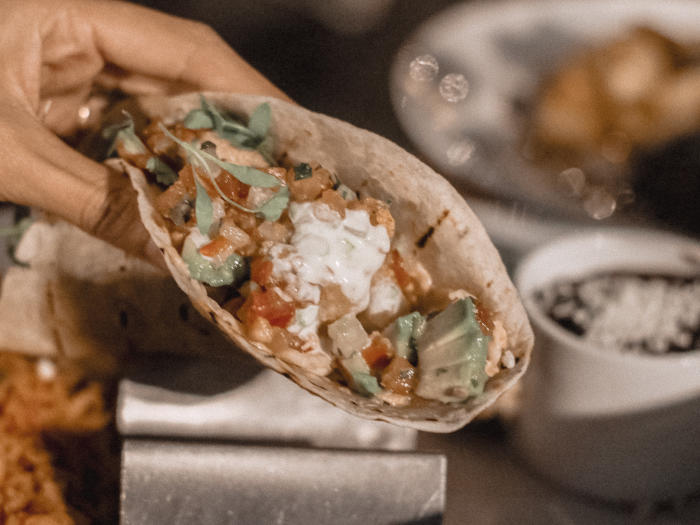 On National Taco Day, the restaurant is offering all kinds of festive items including the Lobster Tacos I mentioned above (made with maseca dusted crispy lobster tail, chipotle cabbage slaw, heirloom pico de gallo, avocado, and roasted jalapeno cream) as well as their Short Rib Taco made with guajillo-braised beef, goat cheese, their Wild Mushrooms Taco made with corn, rajas, cotija and avocado salsa, and more! They all pair perfectly with any of the margaritas, including the El Palomar Margarita (also available for one day only) - it's made with fresh serrano chili, orange liqueur, freshly squeezed lime juice, agave nectar, house-made hibiscus tea, and hand-shaken with AsomBroso Blanco 100% blue agave tequila.
About Cha Cha's Latin Kitchen:

The Latin-inspired menu at Cha Cha's Latin Kitchen adapts the culinary heritage of Mexico and Latin America to a fresh modern style. In the open kitchen, guests can watch savory dishes being prepared in the wood-fired oven, while free-range Jidori chickens roast to perfection. This energetic Mexican restaurant is always bustling with the sounds of its popular happy hour, live Latin bands, and the conversations of friends and family. For more information visit www.ChaChasLatinKitchen.com.