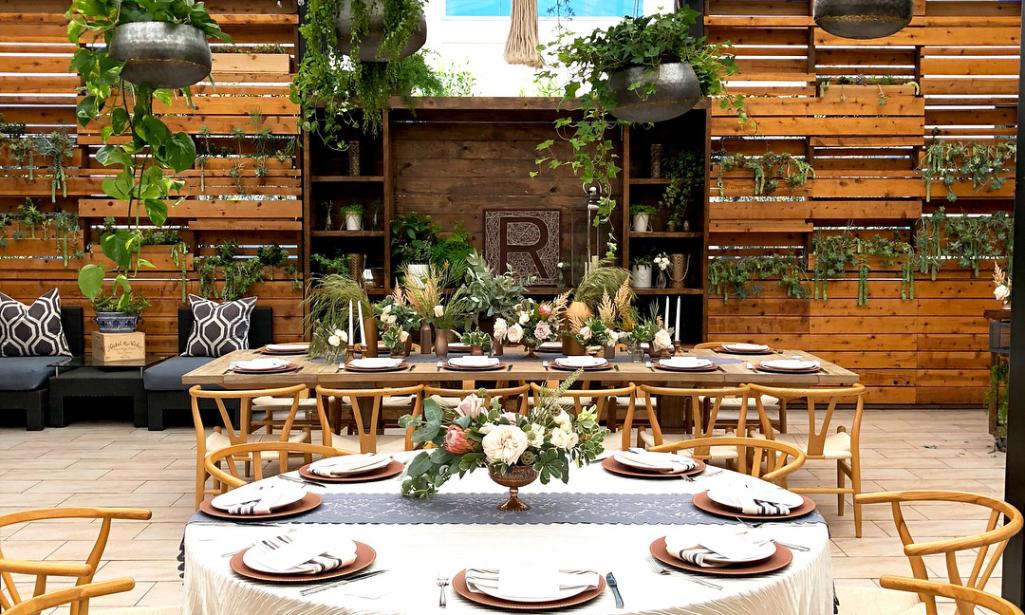 Atrium Dining at Twenty-Eight
Irvine diners have reason to celebrate! Since Orange County has been upgraded from the purple tier to red by Governor Newsom, local restaurants can now offer indoor dining at 25% capacity. This is welcome news for neighborhood favorites, such as Andrei's Conscious Cuisine and Cocktails, Bistango, Twenty-Eight and Irvine's own international dining destination, Diamond Jamboree. 
If there's one thing this pandemic has taught us, it's just how much we appreciate our local dining spots. Now, as the county moves forward and restaurants expand seating, it's the perfect time to show some local love. 
"We never went away"
In mid-March, Americans retreated to their homes as stay at home orders went into effect. But Irvine restaurants adapted to the change, viewing themselves as essential business for the community. 
"We never really shut down," said the marketing team at Diamond Jamboree. "We pivoted right away to take out and delivery."
Kevin Ho from Twenty-Eight said that the shutdown allowed their traditional dine-in restaurant to explore new partnerships with third party deliveries companies. "It was a dynamic, ever-changing time. We had to think outside the box and adapt to create a new experience for our guests." 
Takeout dining also allowed the staff at Andrei's Conscious Cuisine and Cocktails to expand their regular menu. Manager Jennifer Simmons shared how they were able to get more creative and design some new menus specifically for takeout. "Our family packs have become very popular!" noted Simmons.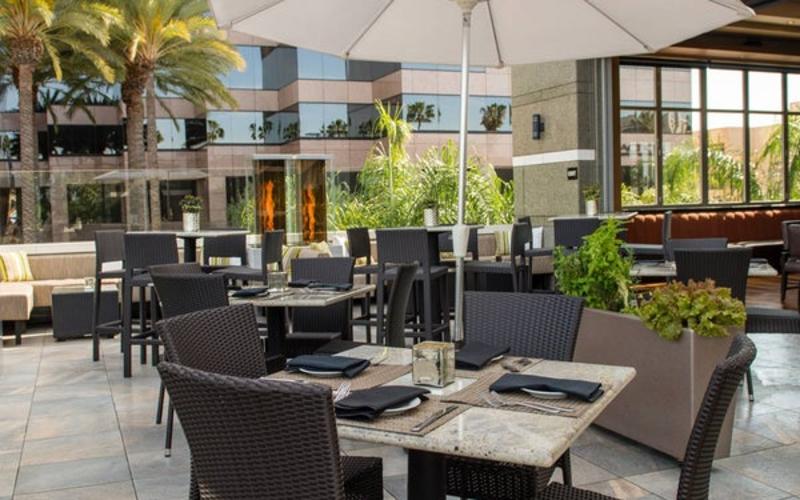 Herb Garden Terrace at Andrei's Concious Cuisine and Cocktails
Moving Outside
By the end of May, restaurants received permission to reopen for sit down dining, although seating was restricted to outdoor settings. Fortunately, eating al fresco has always been a mainstay of Southern California dining and many local eateries we ready to provide beautiful outdoor settings for their guests. 
"We are so blessed because we have our patio space," said Karyn Ghoukassian of Bistango. "We've pushed our borders and doubled the outdoor space. People are happier outdoors, they love being outside."
Andrei's was ready to go when outdoor seating guidelines were set.
"We are fortunate to offer our herb garden terrace on the second floor," said Simmons. "We have plenty of shade and heaters if it's cool in the evening. Plus, we have a great sunset view!"
The new tier allows restaurants to add some indoor dining to their seating options. This is a welcome option for diners who wish to escape the late summer heat. "At Twenty-Eight, we can now expand seating," said Ho. "Our Atrium is still considered "outdoors," but is temperature controlled with both heating and cooling."
The City of Irvine worked with management at Diamond Jamboree to create safe and spacious outdoor eating options. "We added tents and tables so now there's always a place to sit," said DJ marketing.  "Even as indoor dining options return, outdoor dining is here to stay for the near future. Our customers love it."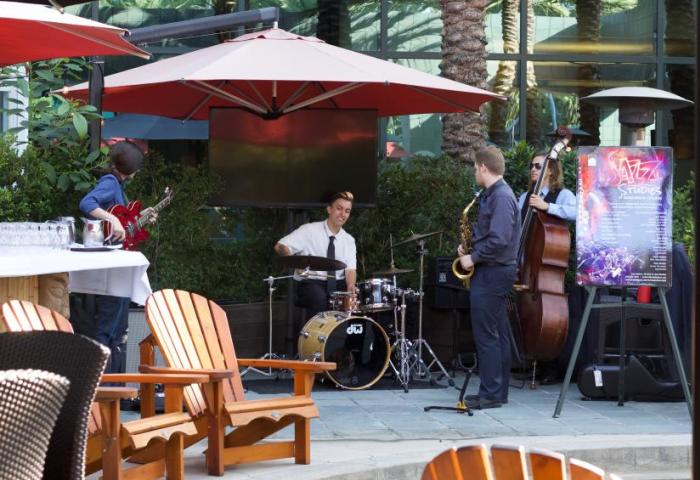 Live Music on the Patio at Bistango
Staying True to Themselves
 Although 2020 has provided a menu of constant change, local Irvine restaurants are providing a welcome return to what's familiar. Customers long for something they can recognize and dining out at a beloved restaurant provides precious comfort in times of stress. The staff at Bistango sees this as a mission for their loyal customers. Even though the setting as moved outdoors, live music is still performed four nights a week.
"People thank us for providing a piece of sanity, a sense of normalcy," said Ghoukassian. "For a few hours, they can escape."
Community service is a founding principle at Andrei's. Challenges of the pandemic has allowed the restaurant to recommit to its roots. "It has reminded us of our mission and love of the local community," said Simmons. "We had the opportunity to partner with non-profits including Someone Cares Soup Kitchen in Costa Mesa. This has been incredibly rewarding for our team."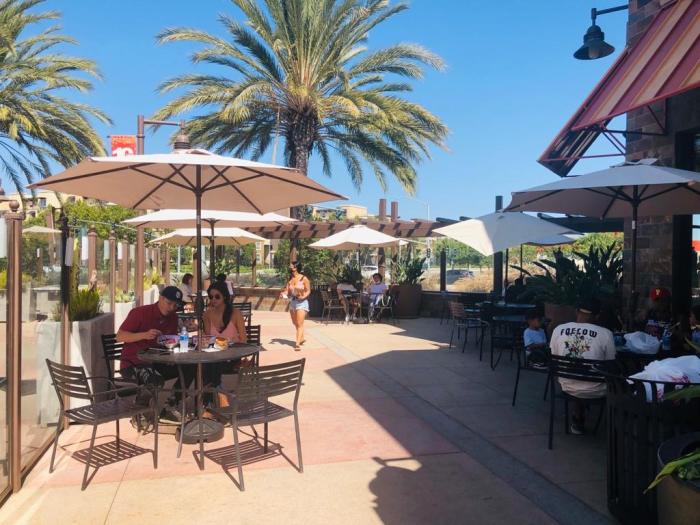 Outdoor Dining at Diamond Jamboree
Silver Linings
 In any difficult time, there are always lessons to be learned. Sometimes unexpected benefits arise out of crisis. 
"I've been impressed with how we've been able to respond to this challenge," said Twenty-Eight's Kevin Ho. "We learned how to be creative, and provide a beautiful dining experience without sacrificing the safety of our guests and team members."
The expanded outdoor seating is a plus at Diamond Jamboree, providing a more authentic, cultural experience. "Night markets and outdoor dining is very popular in Asia, especially Taiwan," said the DJ marketing team. "Having authentic cuisine in this setting is a perfect fit."
The pressure of changes has been felt primarily by restaurant staff, who have had to adapt and alter nearly every part of their work experience.
"Most of our employees have been with the company for many years," said Jennifer Simmons at Andrei's. "They have really pulled together on a professional and personal level to work as a team during the pandemic."
Karyn Ghoukassian of Bistango echoes that sentiment. "I appreciate our staff more now than ever. They show up through thick and thin. The first day we reopened, they were here ready to pitch in." Bistango is a family business. We are resilient. We don't stop."
Support Irvine's Local Restaurants
Most Irvine restauranteurs would agree that 2020 has been a mixed bag of challenges, but they have responded with conviction and recommitment to their customers. Now, more than ever, it's important for Irvine diners to show their support and eat local. We are lucky to have each other. 
"We have to count our blessings," said Ghoukassian. "We're still here!"
When you visit ..make sure to check out these special offerings!
Andrei's Conscious Cuisine and Cocktails
Chef Porfirio has created a new Culinary Adventure menu which allows you to sample global cuisine without the hassle of travel!
Bistango
Bistango's extensive wine collection is ready to drink now! New bottles are being offered by the glass...a great time to taste a new favorite!
Diamond Jamboree
Urban Seoul and Fireloop Virtual Reality Gaming Center are pairing up to offer a joint special! See info here
Twenty-Eight
Can't get on a plane right now? Try Twenty-Eight's whiskey flight instead!