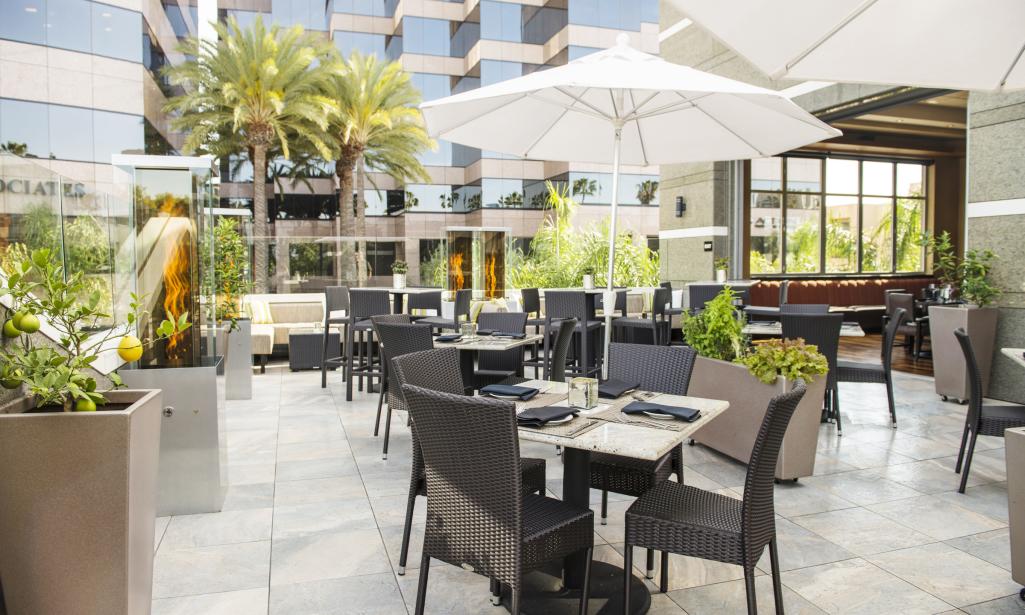 Unparalleled meetings and events are the standard in Irvine, where affordability and easy access combine with near-perfect weather and picturesque surroundings to create the ideal locale for planning and hosting an affair. The area also rings in as the perfect spot for all of those special meeting and event-related activities, from golf at a top-ranked course to a bird's-eye view of Orange County aboard the Great Park balloon and much more. And don't forget the most important part of all: the venue! Whether you're considering a casual and intimate happening or an over-the-top party at one of Irvine's plentiful attractions, plenty of options await to suit every taste. Here, just some of the many potential sites to choose from if you're considering orchestrating your next meeting or event in Irvine. As always, be sure to get in touch with Destination Irvine for assistance with planning just about every detail of your event.
This chic restaurant not only is ideal for corporate meetings, lunches, and dinners, but for B'Nai Mitzvahs, weddings, and birthday and anniversary celebrations as well. Think a first-floor private event space offering a boardroom that can accommodate smaller parties with 30 to 40 guests and a great room that holds up to 300 (along with a heated patio for an indoor-outdoor option). The main dining room on the second level also is available for semi-private parties and events — replete with a stunning 30-foot waterfall in the entryway, sustainably-farmed pecan wood flooring, and granite tabletops — while the entire establishment can be reserved for private and large parties. The newest opportunity? The terrace, a coveted spot showcasing gardens and a fire feature that is especially apropos for networking events, and bridal and baby showers. "We have so many options, but most of all we customize all our events," says Jennifer Simmons, Andrei's catering, events, and marketing director. "We love to get creative with our menus, décor, and amenities. Nowadays, corporate and social clients like to think outside of the box … and we are far from cookie-cutter!"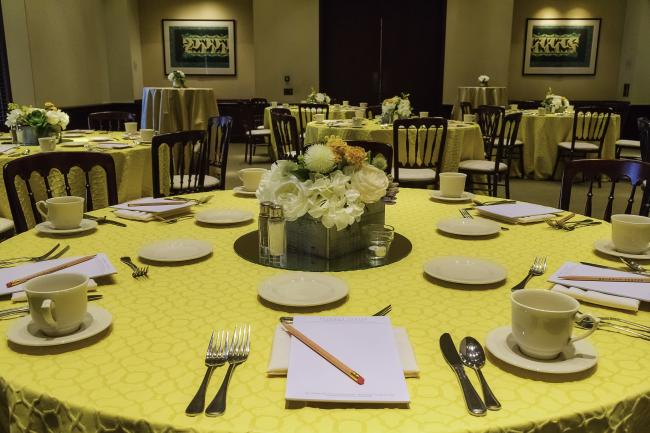 When asked what's special about this event facility situated at UCI's Research Park, Conference Center Manager Jenny Franco says, "We call it the Beckman experience." The focus is only on meetings, which means that the full attention of the experienced staff is determined to exceed client expectations from start to finish…and they do so in serene surroundings boasting soaring ceilings, plentiful natural light, a full-service kitchen that lends itself to a variety of dining options and state-of-the-art equipment. "We're set apart from hotels in that you won't find any false walls, and guests are not competing for attention with spa clientele or tourists," says Franco. "Our coordinators are completely devoted to you, and it is our mission to make the meeting planning process a breeze." Expect 50,000 square feet of total meeting space that can accommodate two to 350 people for academic events related to science, engineering, technology, and health. Among the center's best event space? Its recently updated courtyard and dining terrace.

This custom-built, special-event venue is thoughtfully designed, with the intention of hosting all types of events. [AV] is not simply a box, it's a contemporary space with tailored lines and a bold character that provides a clean canvas for the imagination to run wild. A total of 30,000 square feet of versatile, customizable indoor-outdoor space is available, with room for private and special events with as few as 60 guests to as many as 1,500. Among the typical soirees? Corporate affairs, charity and nonprofit galas, automotive marketing groups, bar/bat mitzvahs, weddings, anniversaries and more. "The possibilities are truly endless, with multiple spaces and floors to create memorable experiences," says Brittani Leoni, sales and event manager. "[AV] features a built-in bar and kitchen facilities, banquet rentals, friendly event staff, bar services, gourmet catering, and as our namesake implies, the audio-visual technology that puts its stamp on every event to truly provide a turn-key experience for our clients and guests." Think a larger-than-life, 30-foot LED wall that is great for engaging attendees and making an impact when showcasing video convent, presentations or even custom imagery created by [AV]'s in-house design team. "The sky's the limit when creating innovative experiences for our clients," adds Leoni. "If you're looking for an unbelievably unique space to host your next event, [AV] is the place to be!"  

This medical skills training platform organization primarily caters to medical device companies, hosting a variety of events including R&D testing, education courses, surgeon training and receptions. But any professional planners are welcome! Expect 11,000 square feet of total event and meeting space accommodating five to 150-plus guests. Included is a stadium-style amphitheater; a trio of lab suites (including one simulating an operating room atmosphere to support medical research, technology development, and surgeon training and education); and convertible multipurpose and conference rooms. There's even a large private parking lot that is ideal for events with food trucks or outdoor on-site catering. Coming soon: Look for Axis to open an additional space in Columbia, Md., in July 2018, as well as a third location in Austin, Texas, in 2019.  
Found adjacent to the beautiful and centrally located UCI campus, this performing arts venue offers the ideal alternative to academic lecture halls or hotel ballrooms for those seeking a space for community-sponsored performance events, cultural events, corporate meetings, annual board meetings, and receptions such as graduations, award shows and film/video shoots. Inside, meeting planners will find a large stage and backstage, with a seating capacity of 754. A variety of additional rooms and spaces are available for receptions, meetings and break-out sessions, including an outside courtyard, upper and lower lobby areas, the stage space, a green room, dressing rooms and the lovely Jade Room for special, smaller events (40 seated/80 cocktail setup). "We offer the unique opportunity to do a presentation, not just hold another corporate meeting," says General Manager Karen Wood. "It's exciting to enter the atmosphere of a professional theatre and to have the use of a curtain, stage lights, sound, and projections or video as best suits your special event." Specially priced nonprofit and corporate packages are available.  

Not only is this an automotive museum highlighted by an eclectic car collection worth more than $30 million, but it also is a nonprofit organization that dedicates a portion of event proceeds to help local youth charities such as CHOC, Caterina's Club, Olive Crest and Kids Work. Offered is 21,000 square feet of event and meeting space — including the main museum space, which can hold up to 500 guests for a seated dinner and even more for reception style, and a Race Shop for more intimate groups of 10 to 50 — all surrounded by one-of-a-kind Ferraris, American muscle cars, Formula Atlantic autos and a dragster. A huge parking lot can be transformed into the event space of your dreams, complete with a display of cars for an additional touch of flair. "It's a great backdrop for any event, and you can feel good about helping us help kids in the community," says Executive Director Missy Hanover. "We are a perfect fit for corporate celebrations, as well as daytime meetings. We also love working with other nonprofits. The Marconi is also a car lover's dream venue for anything ranging from Bar Mitzvahs to weddings."