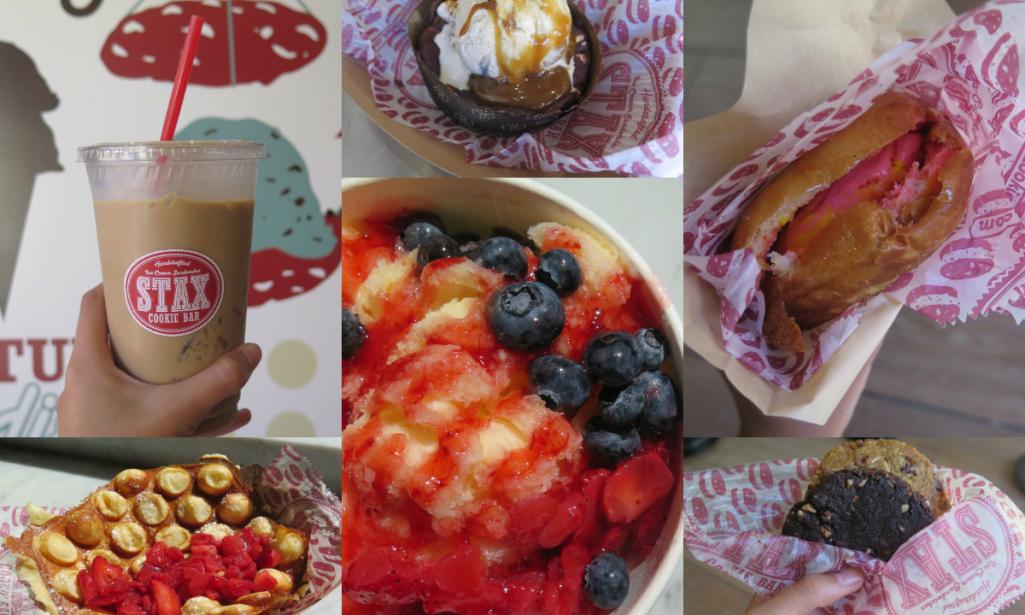 Since I last visited on a friends & family day, Stax Cookie Bar located in Irvine across from UCI (University of California, Irvine) has released an exciting array of new menu items to their already impressive roster of cookies, ice cream, and beverages. From the new menu items, I got to taste the Sea Salt Iced Coffee, Stuffed Deep Dish Smookie, Waffle Puff, Mango Shaved Snow, Cream Bun Stax, and two Gluten-Free Vegan cookies. Read what I thought about each dish below and take advantage of Stax's August promotions:
BOGO FREE Shaved Snow (Regular Size)
Facebook Picture Promotion - Take a picture of your Stax treat and post with the hashtag #staxaddicted, the best picture will win a $25 gift card and a Stax t-shirt (the winner will be announced on September 1st)
Not only are there a variety of classic, seasonal, and specialty menu items, but Stax uses NON-GMO CERTIFIED ORGANIC FLOUR OR GLUTEN FREE FLOUR, and other premium natural ingredients. Cookies are baked every morning and VEGAN Cookies are also available daily and all the ice creams are NATURAL and GROWTH HORMONE-FREE (rBGH).
STAX NOW CATERS! Share the deliciousness of Stax cookies, ice cream, cookie ice cream sandwiches and smookies/stuffed smookies at your next event big or small! Visit the catering page for more information. 
Stax Cookie Bar
4187 Campus Drive M174
Irvine, California 92612
STORE HOURS
Open Daily 11am - Midnight
STORE
949.861.2055 | info@staxcookiebar.com
CATERING
949.812.2584 | catering@staxcookiebar.com
Delivery by Postmates
STAX IS LOCATED AT
University Center | Located between Cha For Tea and Eureka! Restaurant. 
Sea Salt Iced Coffee
The sea salt iced coffee almost tastes like a Vietnamese Iced coffee which is usually a mixture of very sweet condensed milk flavors that are balanced by intense coffee flavors. I didn't particularly taste the sea salt, and if you're not too keen on sweeter tasting coffee than I would try a regular coffee.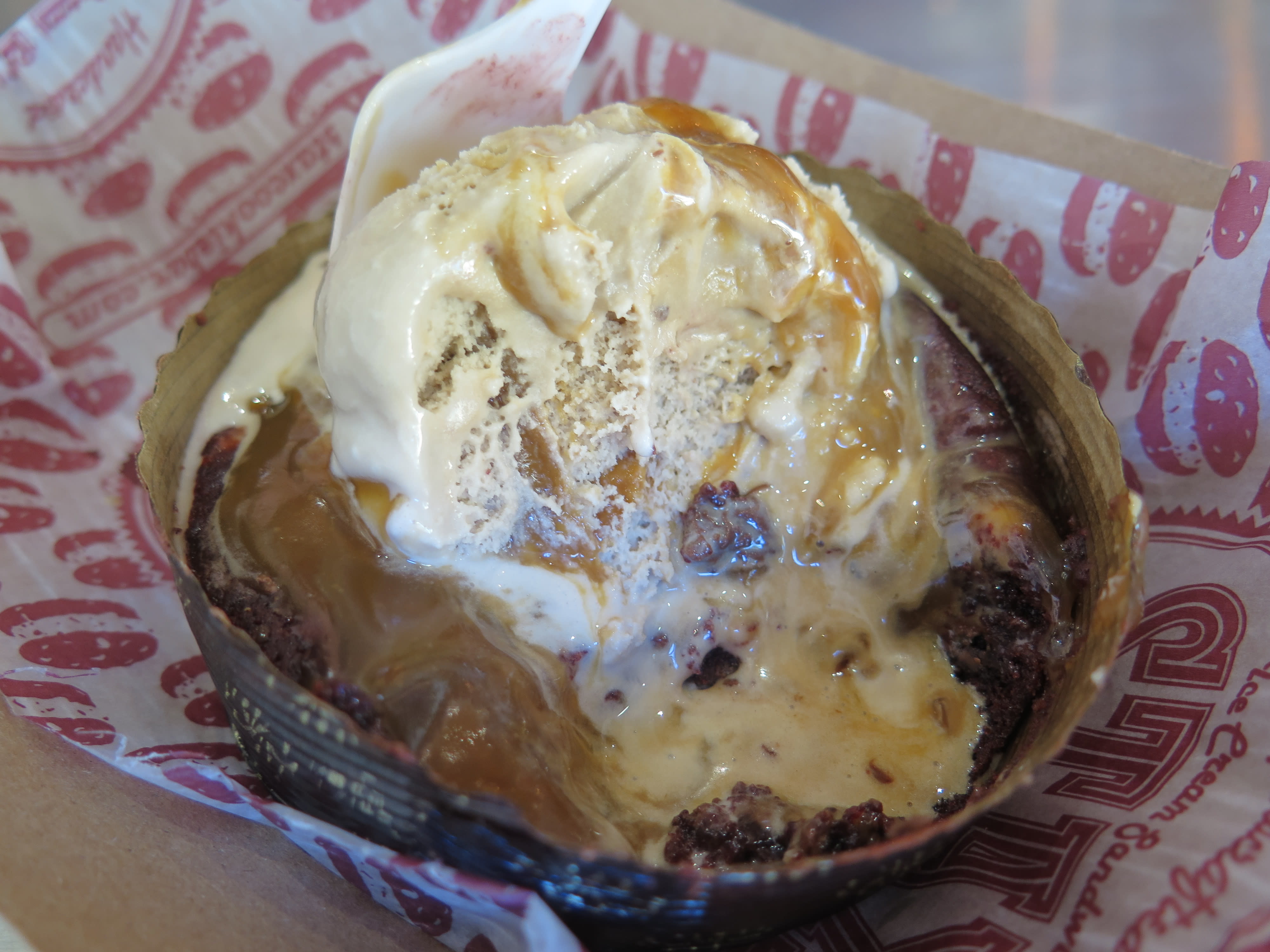 Stuffed Smookie The stuffed smookie is OUT OF THIS WORLD! I was thinking it would be too rich with the red velvet cookie stuffed with Nutella, but it was balanced by the caramel ice cream and drizzle. If there is one thing I would want to eat before leaving this earth, it would be this. And there are just so many flavors and ice cream combos to choose from. YUM!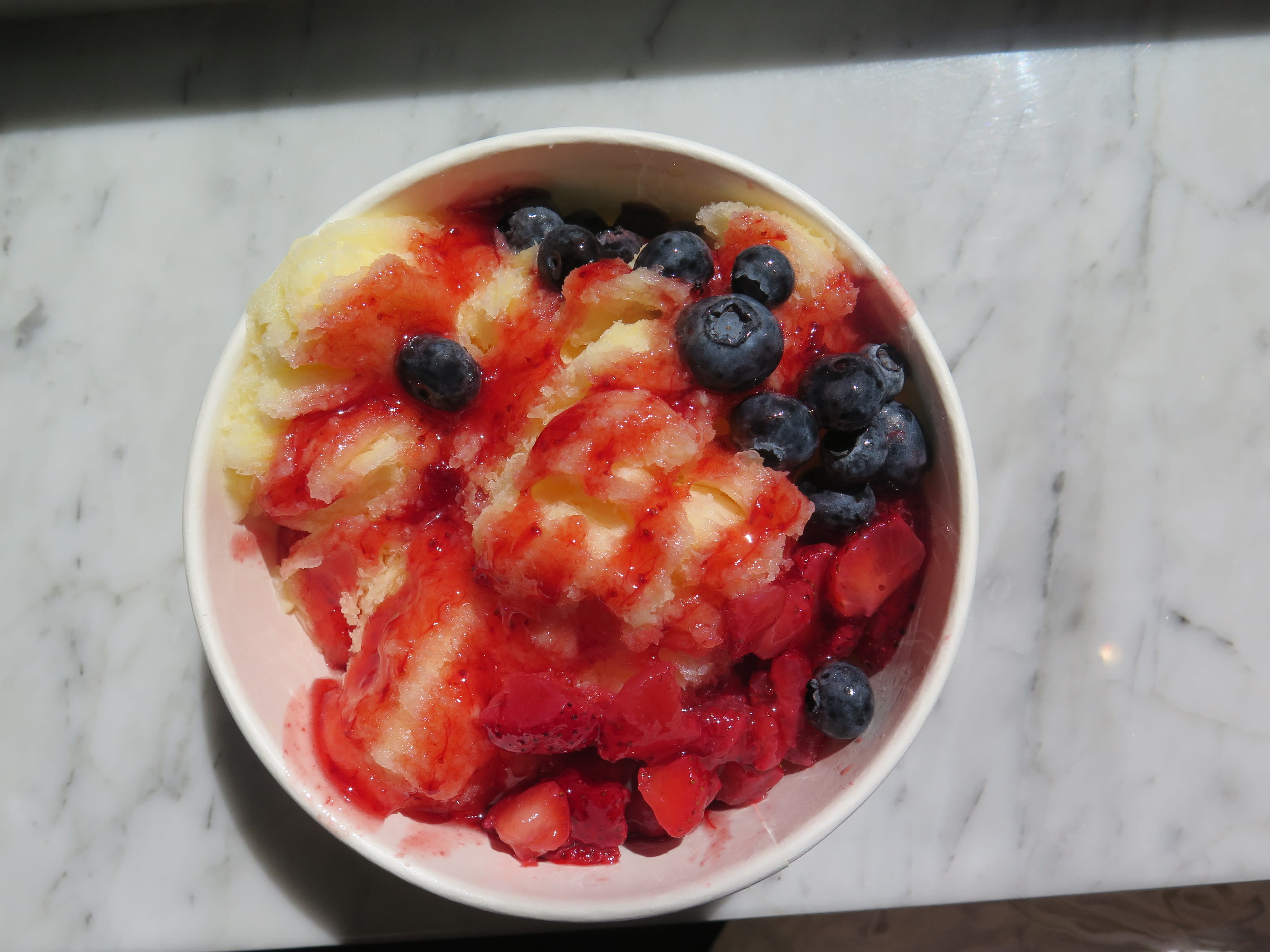 Mango Shaved Snow with Strawberries, Blueberries, and Strawberry Drizzle This is THE and I mean THE ultimate summer treat, I could NEVER get tired of eating this. Because it is shaved 'snow' instead of just ice, the mango snow has a mixture of ice cream and Hawaiian ice which keeps the consistency creamy but not thick. It's beyond refreshing, and I almost ate the entire bowl. I need to try EVERY flavor combo possible!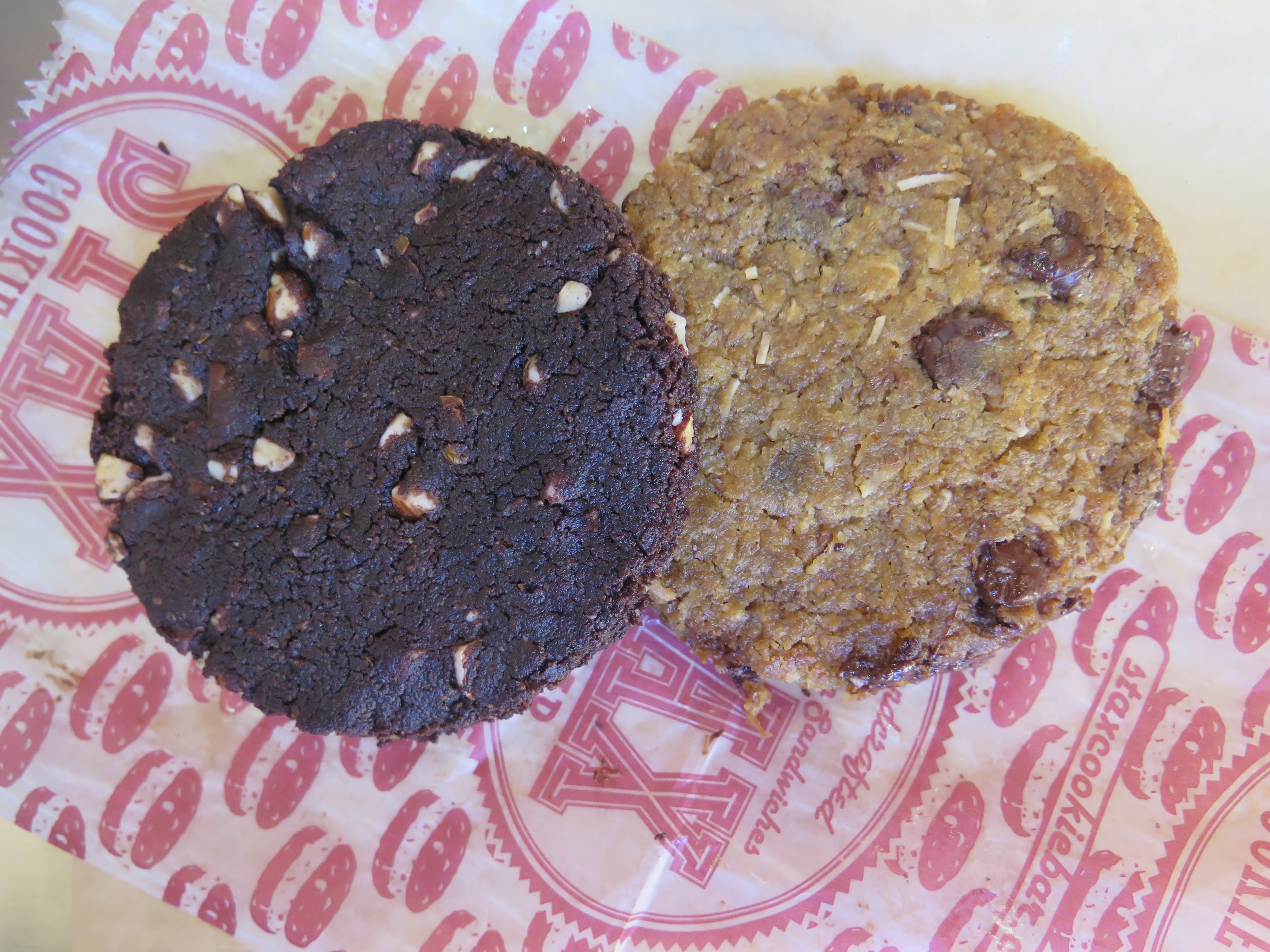 Double Chocolate Almond and Chocolate Coconut Chip Gluten-Free Vegan Cookies I usually don't eat gluten-free cookies because they end up having a dry texture or consistency and or don't have much flavor to them. Stax's GFV cookies are elevating the moisture level and taste of the cookies. They did break very easily in my hand, but they tasted delicious nonetheless!
Waffle Puff Topped with Strawberries & Powdered Sugar I was quite intrigued with how the waffle puff looked and was even more intrigued as to how it would taste. I'm in love with it; the puffs add a light texture that is balanced by the crispy pieces of batter and sweet strawberries. They also have regular waffles available!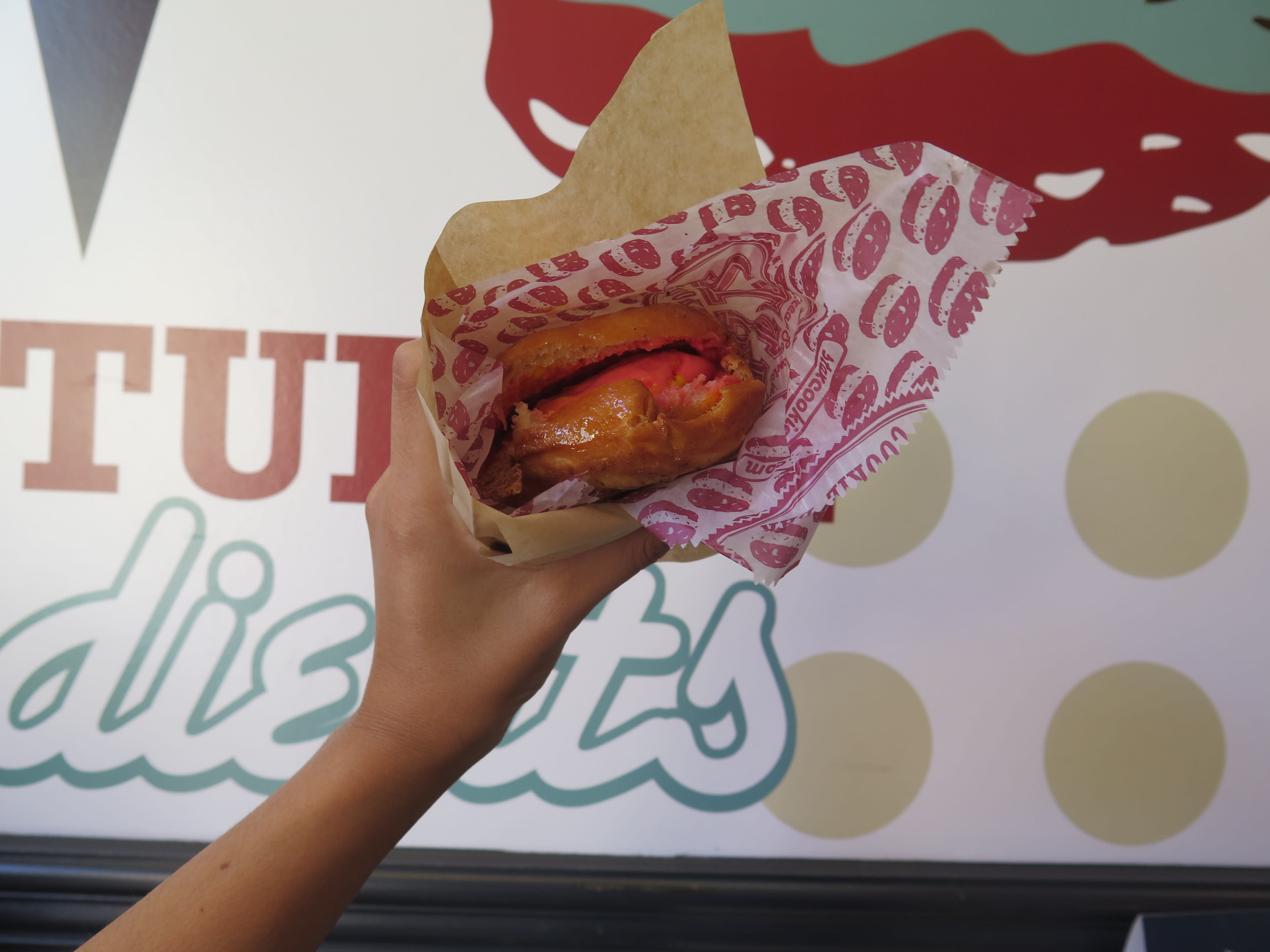 Cream Bun Stax with Maui Ice Cream The fresh baked bun is heated up and a scoop of ice cream is added inside. I like the ice cream flavor, but will probably try a less fruity flavor with the bun if I order it again. I enjoyed the warmness of the bun with the coolness of the ice cream, but the bun was quite a bit denser in texture so it made it harder for me to eat; although I had just eaten 4 other desserts, so you could see why I was pretty much at my limit. It's definitely worth a try if you are a donut and ice cream lover!
Happy Eating!
Amanda | Feast.Fashion.Faves