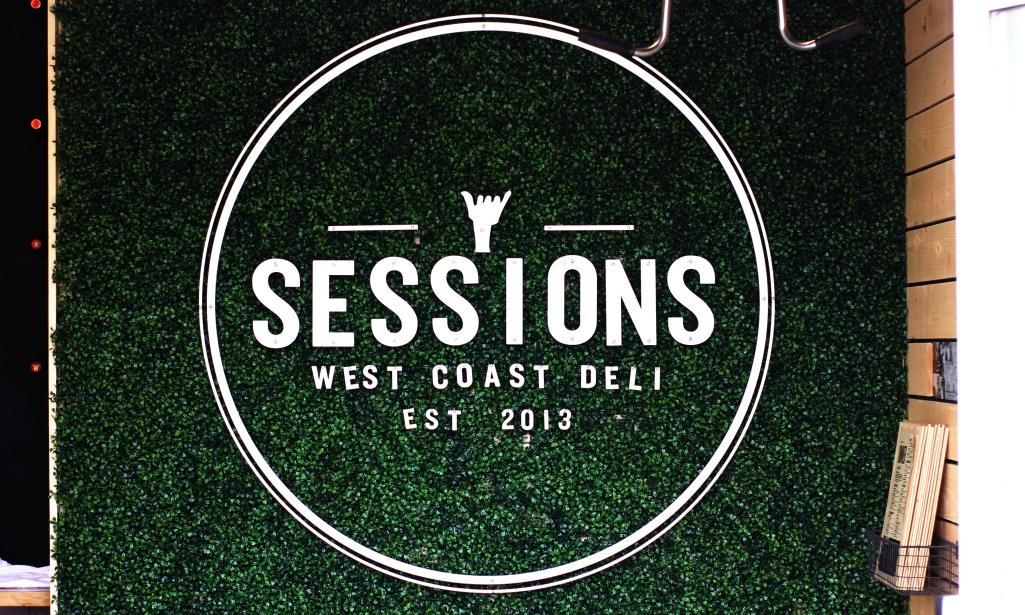 Orange County local favorite, Sessions West Coast Deli recently opened their third location in Irvine's Woodbridge Village Center. Sessions is known for its made to order sandwiches crafted from fresh, locally grown produce; humanely and naturally raised meats; and locally baked bread delivered daily from local artisan, OC Baking Company. The Irvine location serves breakfast, lunch, and dinner, and is expected to launch a happy hour in approximately 2 weeks. 
Upon arriving at Sessions West Coast Deli on a Saturday morning, I noticed how the Woodbridge Village Center that the restaurant is located in had gone through a major facelift since I'd last been there a few years ago. There's a great, open grassy area for kids as well as a jungle gym to occupy their time; many more stores and shops occupying spaces; and an overall update of the surrounding buildings and outside furniture. Sessions itself has a beautiful open concept; you enter through one side, order then can find a spot inside or out on their airy patio space which overlooks Irvine's North Lake. 
The restaurant has a harmonious mix of industrial and rustic elements with a laid-back, coastal vibe which I instantly fell in love with. For breakfast, I had the pleasure of tasting the Notorious PIG breakfast sandwich that is currently on Sessions' secret menu, the Chilaquiles (this is a new dish), and the Signature and Artisan avocado toasts all accompanied by a White Chocolate Lavender Cold Brew. Are you hungry yet? The menu, masterminded by executive chef, Max Schultz, has something for everyone and great for enjoying individually or sharing with others. You won't be disappointed; not only does the food look gorgeous and is delicious, you can truly taste the freshness and quality of the organic and locally sourced ingredients. Each dish is not overloaded with sauces or garnishes, all the ingredients are proportionate to each other and the flavors all balance each other. Sessions is also proud to serve 100% gluten-free options. 
If you're looking for a wonderful dining ambiance and quality, and feel good food that won't leave you feeling like you overate, you need to stop into Sessions West Coast Deli in Irvine. I definitely need to come back for lunch and dinner....and happy hour! 
Sessions West Coast Deli - Irvine
Woodbridge Village Center
4736 Barranca Parkway, Suite 4736
Irvine, Ca 92604
(949) 333-3949

MENUS
BREAKFAST | LUNCH | DINNER
HOURS
Sunday - Saturday 7 am - 9 pm (contact the restaurant for current hours that may be affected by holidays)