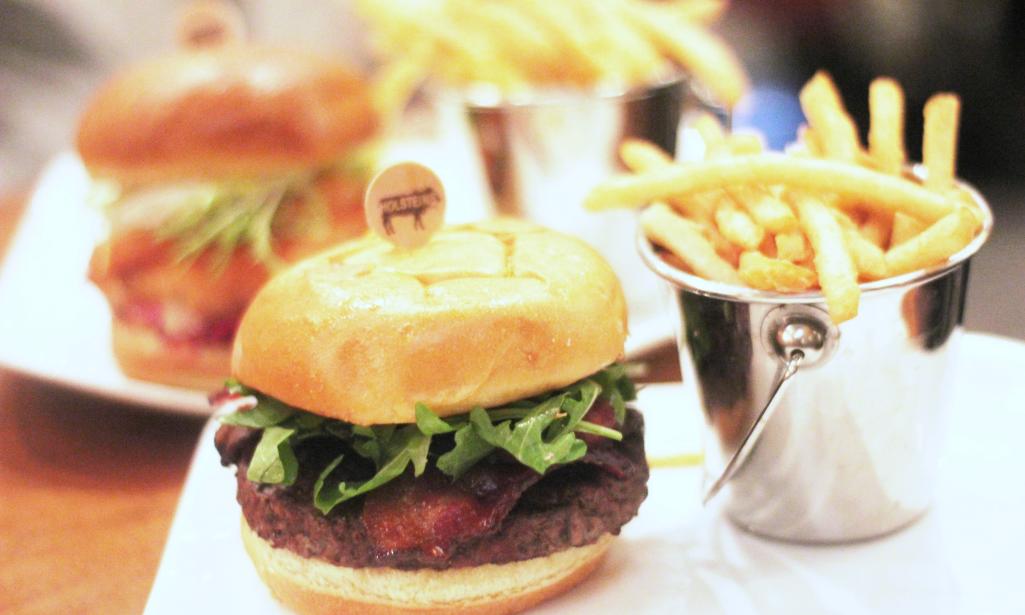 OC Restaurant Week kicks off tomorrow Sunday March 6 and runs until March 12. Get your fill of amazing pre fixe lunch and dinner menus at restaurants all over Orange County. I had the wonderful opportunity to get my first taste of OCRW at Holsteins Shakes and Buns at South Coast Plaza in Costa Mesa. Known for their innovative burgers, small bites, delicious entrées, salads and signature "Bamboozled" shakes, Holsteins originates from Las Vegas, with Orange County being its second location, and a third coming soon to Portland, Oregon!
I came into Holsteins starving and left in a complete and utter food coma. When you first walk in (from the street entrance and not from inside Bloomingdales), you are greeted by the Holsteins neon pink signature cow. All around the restaurant, the walls are accented by bright and instinctually nostalgic pop art from local artists including Shelby and Sandy, Juan Muniz, and KD Matheson. The restaurant space features rustic, leather-tufted booths with matching banquettes and red leather accent chairs; as well as many flat-screen TVs sprinkled throughout the restaurant for your viewing pleasure.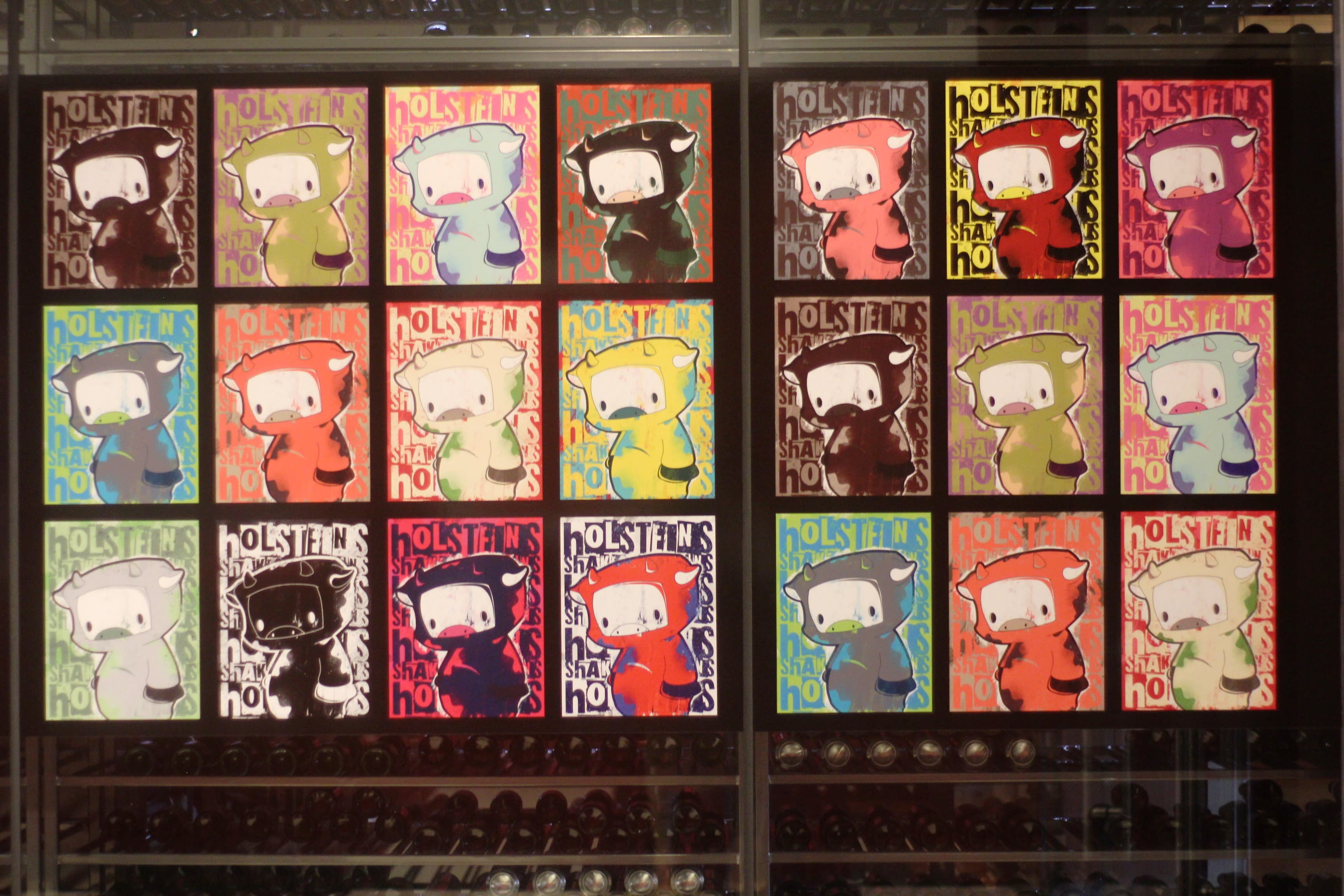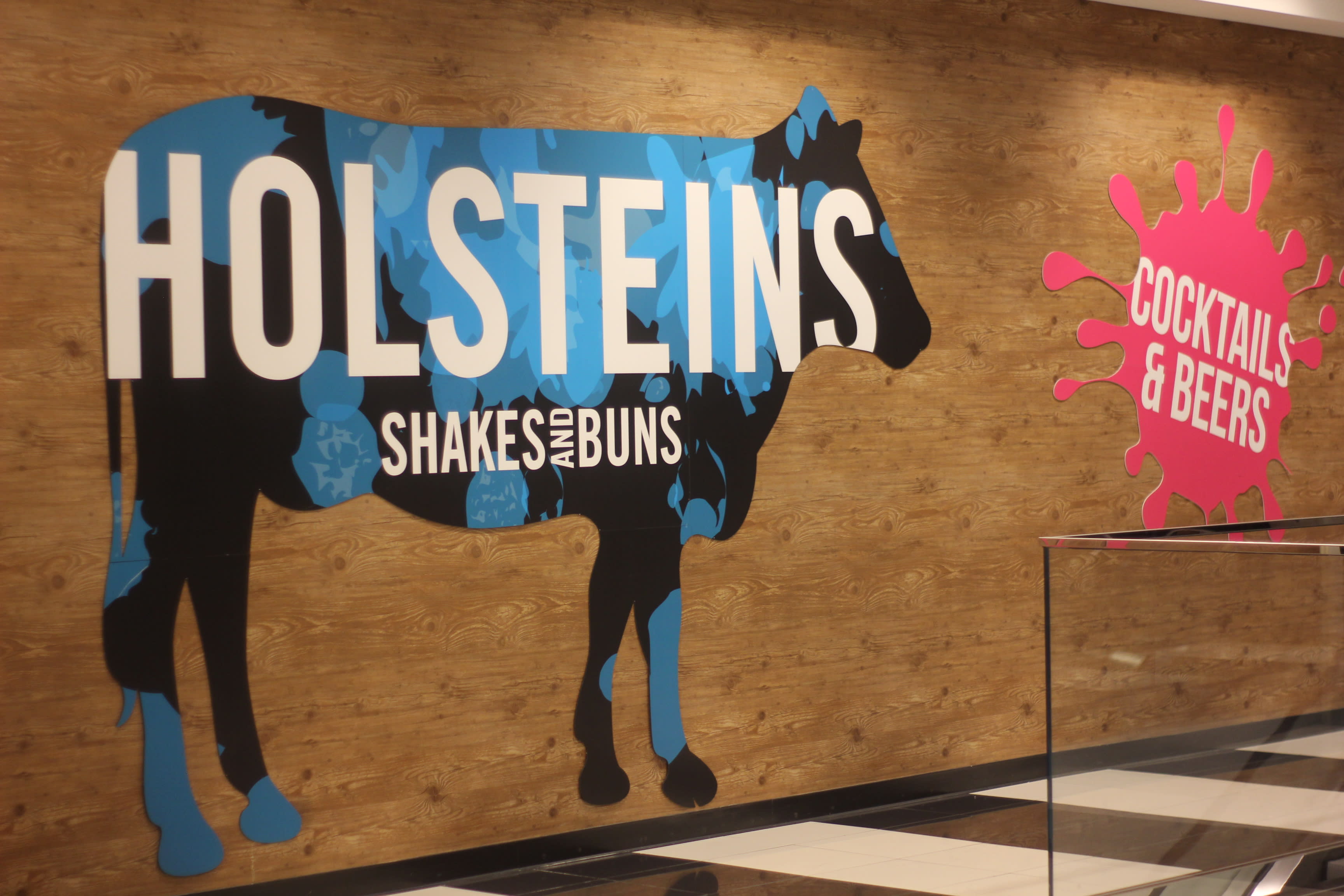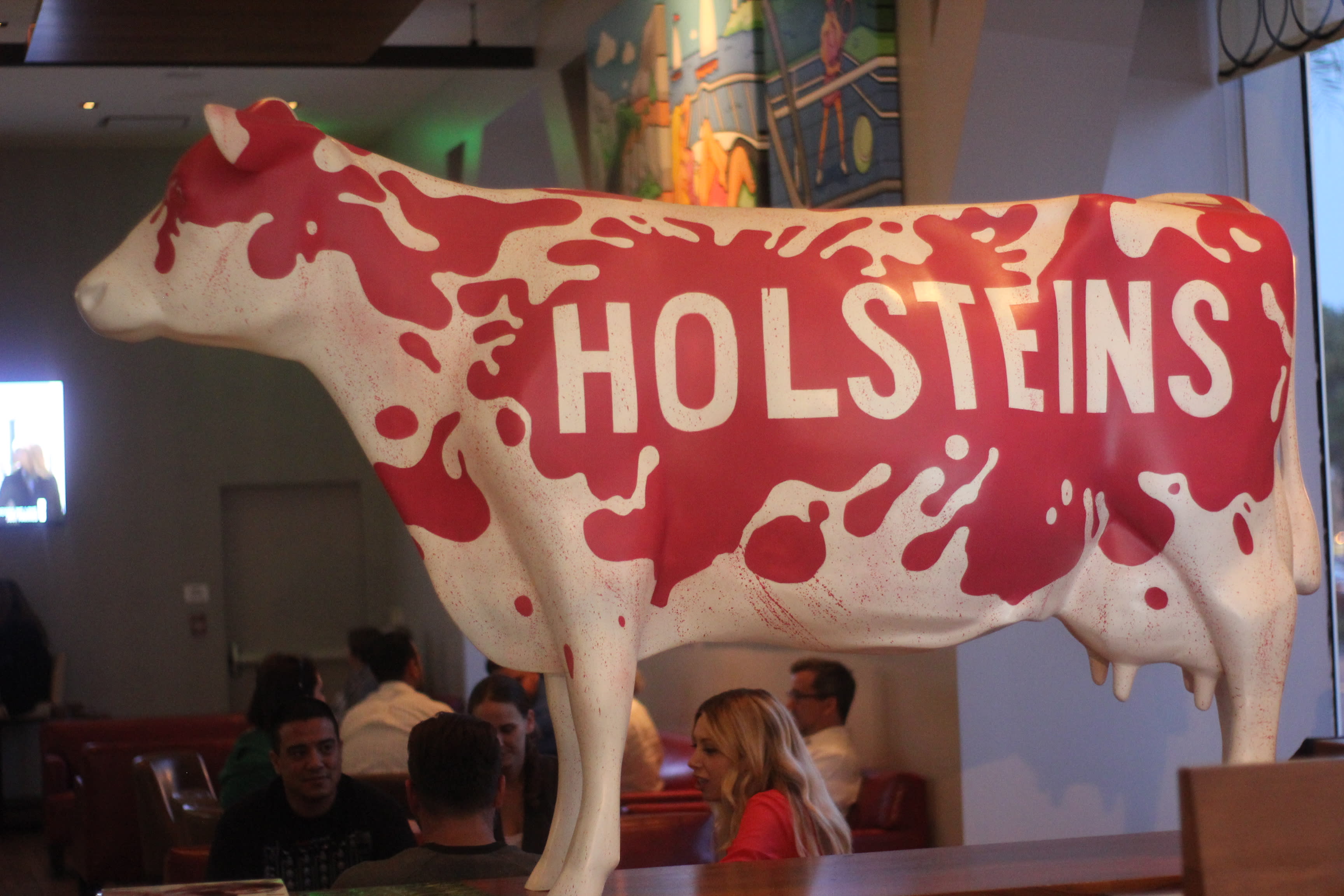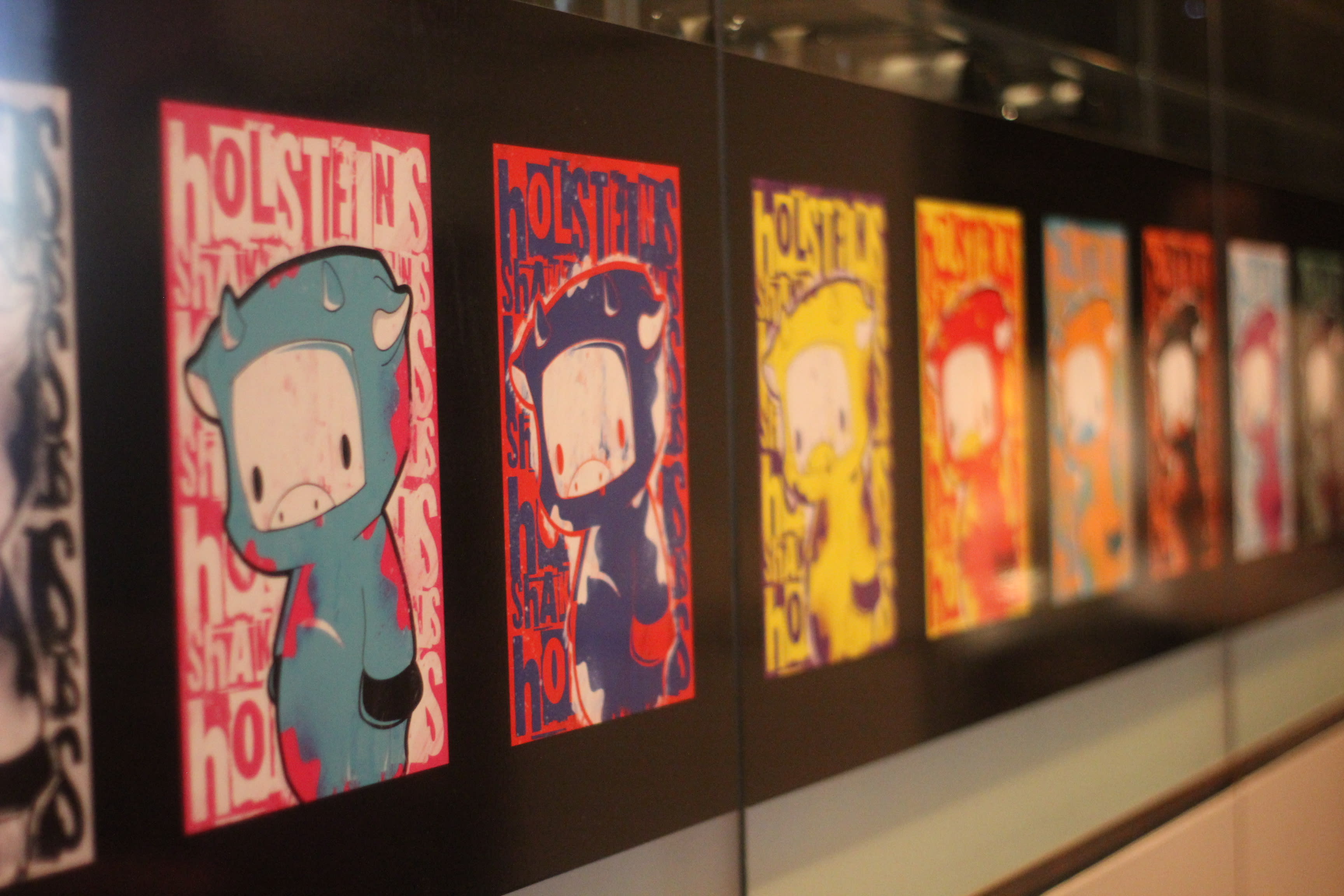 Holsteins also boasts a beer cellar with private seating for up to 12 guests complete with its own entertainment area set below the main floor, plus a more intimate private dining room, perfect for semi-large groups seeking a space to host their upcoming event or party. Enough of the restaurant tour, let's get down to Holstein's OC Restaurant Week menu. For only $20 a person, you receive a 3-course meal which includes 1 appetizer (fried pickles or poutine fries), 1 burger (gold standard, the crazy bird or the captain hook), and 1 dessert (chocolate stout trifle, see the menu offerings below).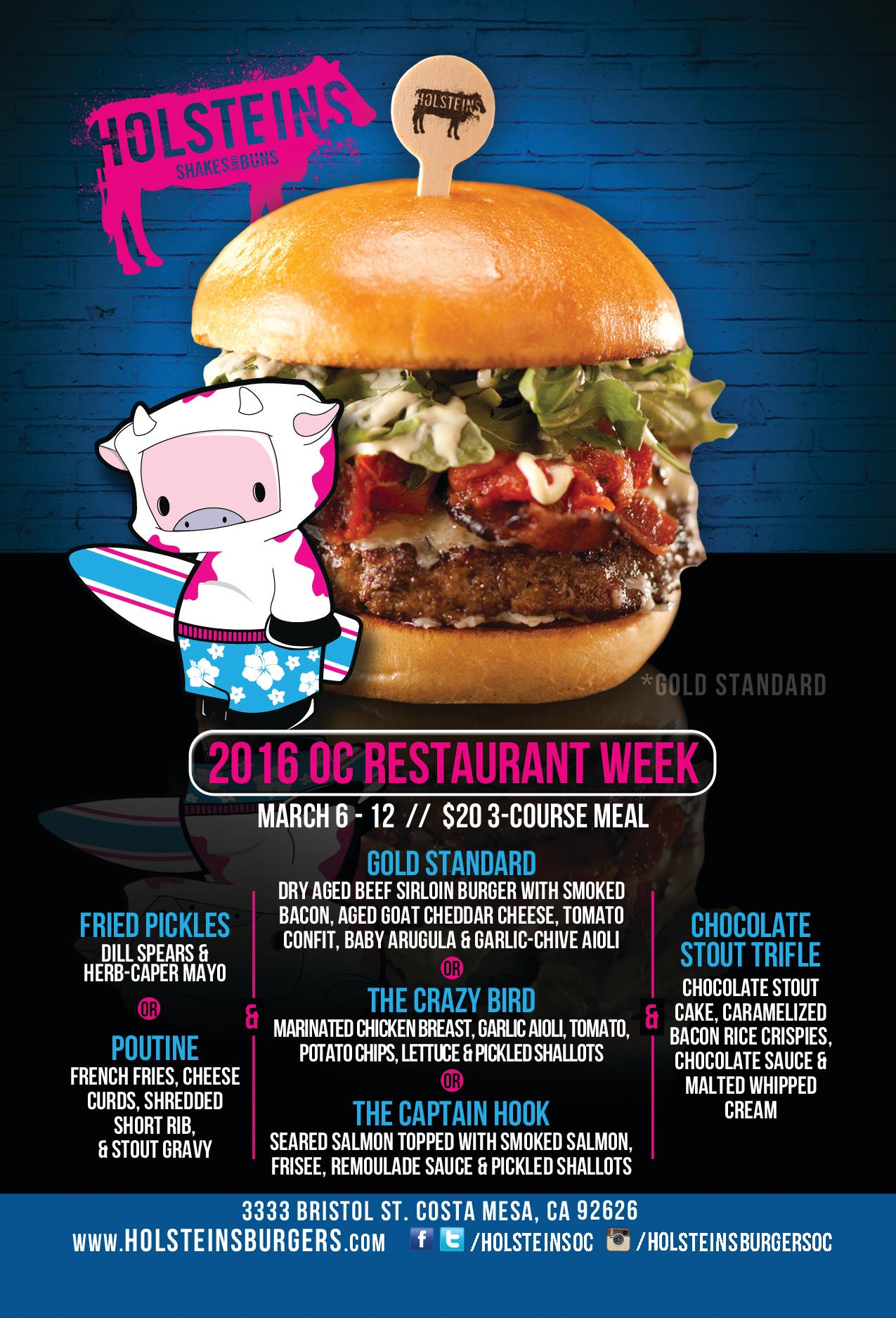 I tasted almost the entire OCRW menu items so that I can share my thoughts of each dish. I started with the fried pickles, which are the best fried pickles I've ever had due to the perfectly fried batter. The pickles didn't fall apart while biting into them and the herb-caper mayo was the perfect sauce complement. My dinner guest does not like pickles whatsoever, and he even thoroughly enjoyed eating fried pickles. The poutine fries were not overwhelmed with toppings, but I would have preferred just a smidge more gravy and for the short rib to be a tad more shredded.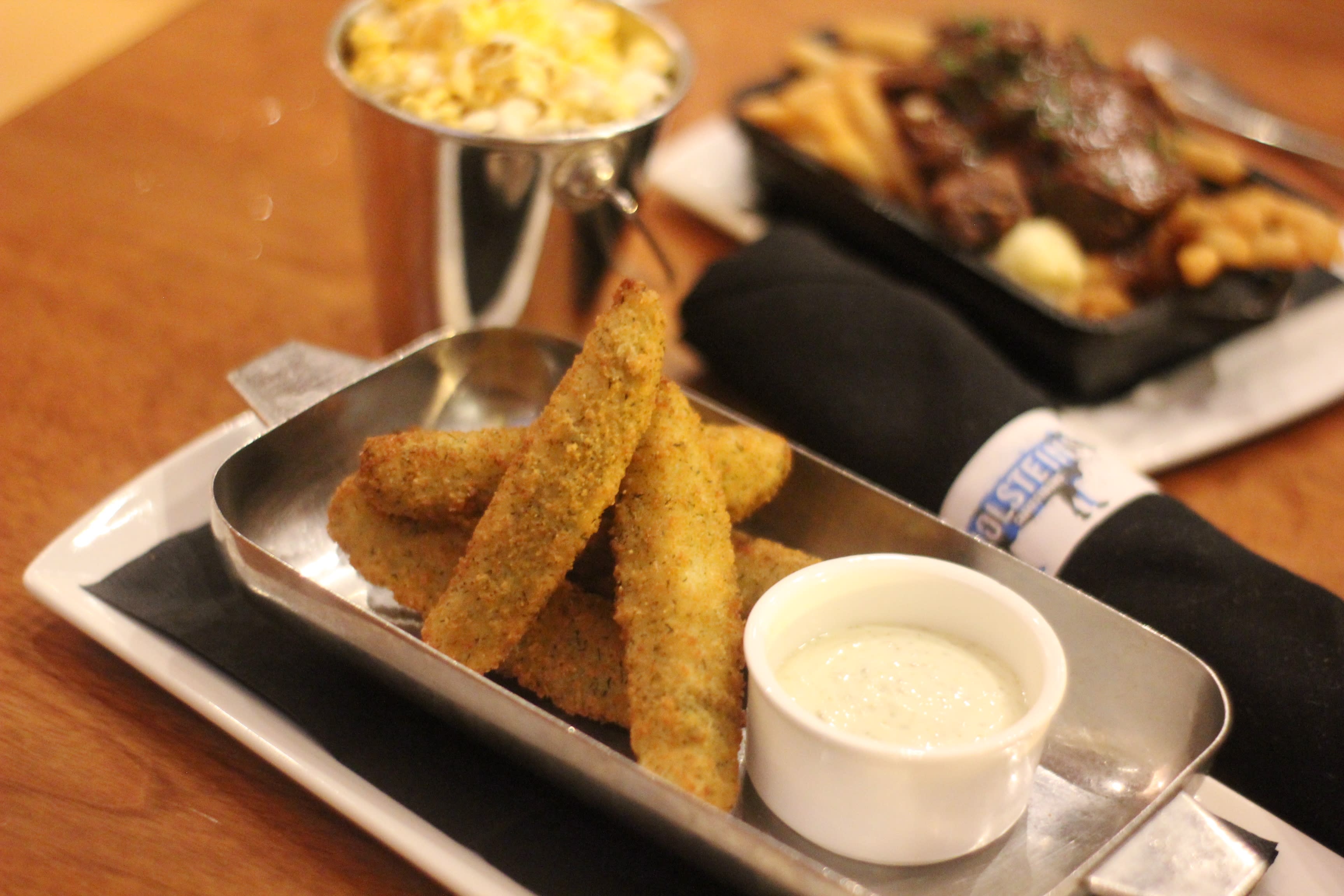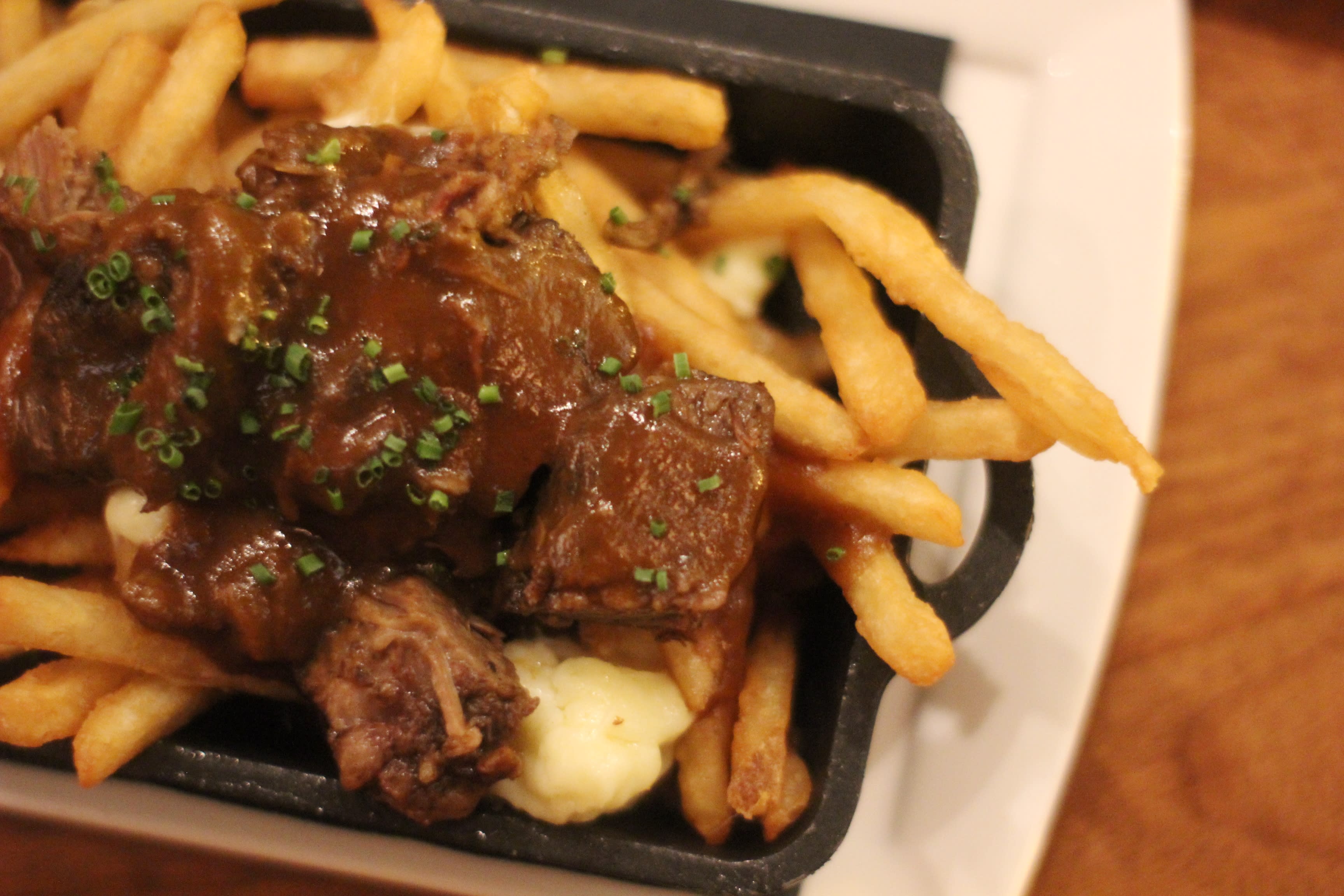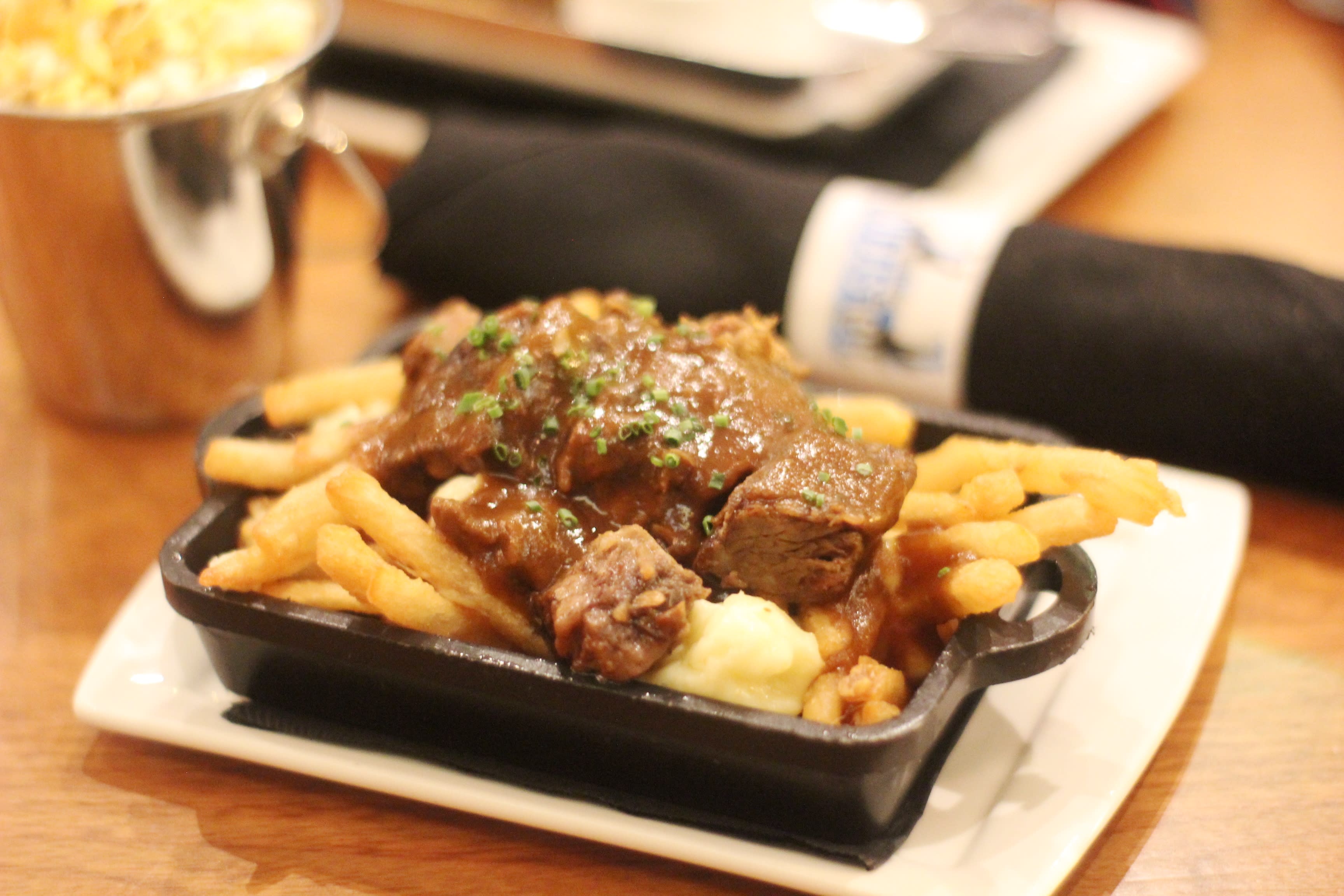 My dinner guest ordered the Gold Standard which is a staple burger for the restaurant, and I ordered The Captain Hook burger. The Gold Standard is your ultimate 'Bacon Cheeseburger' (however my dinner guest did not order the burger with cheese, but I could imagine that it would be even tastier with cheese); the tomato confit adds the most delicious roasted flavor due to the tomato being sliced in half, having the juice squeezed out and marinated in the tomato juice and other herbs for 3.5 hours before being roasted and placed in the burger. My The Captain Hook burger was one of the best salmon burgers I've ever eaten; it features seared and smoked salmon which work very well with the tangier tastes of the remoulade sauce and pickled shallots. The seared salmon was perfectly crisp and the textures of the seared and smoked salmon worked well with the frisee.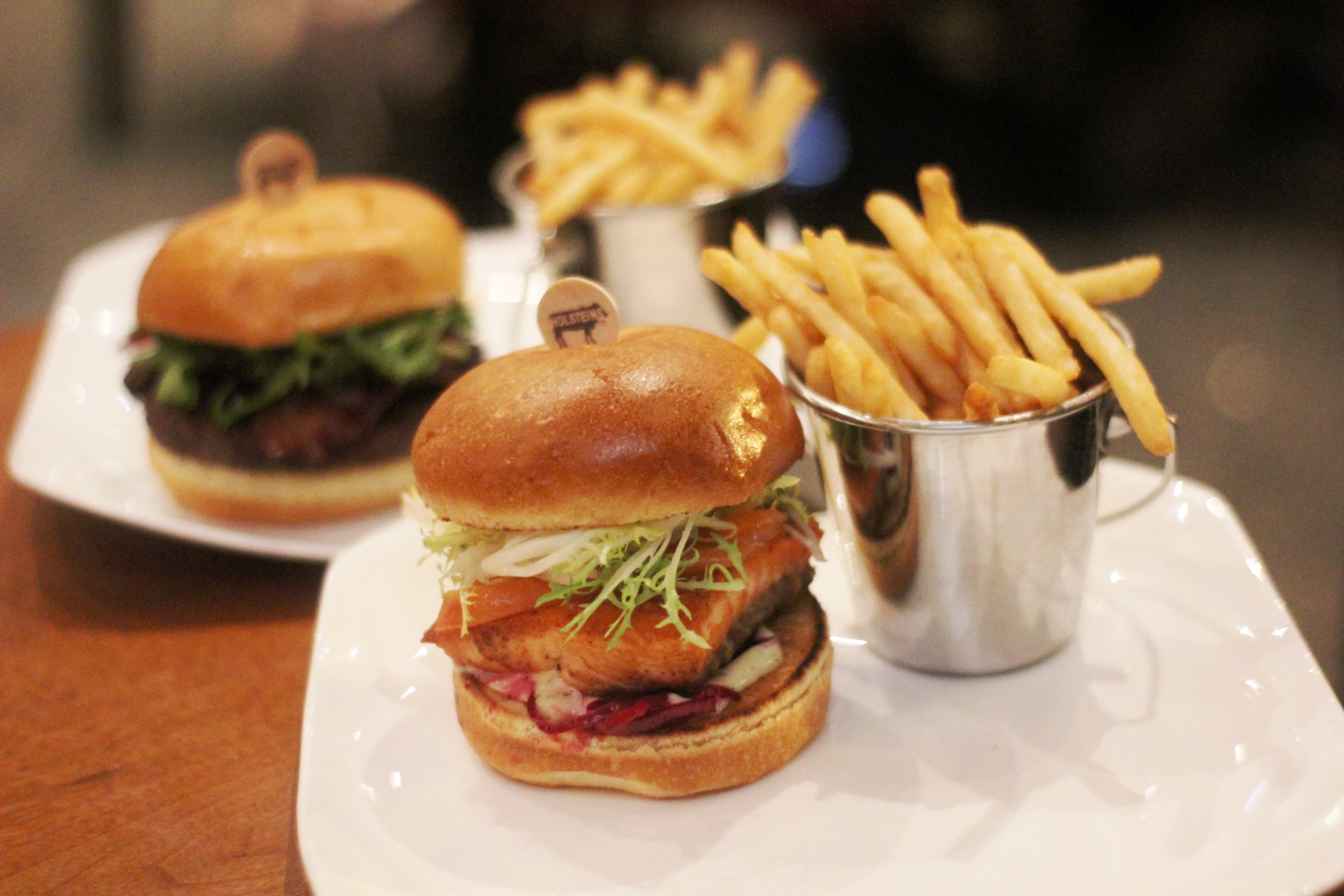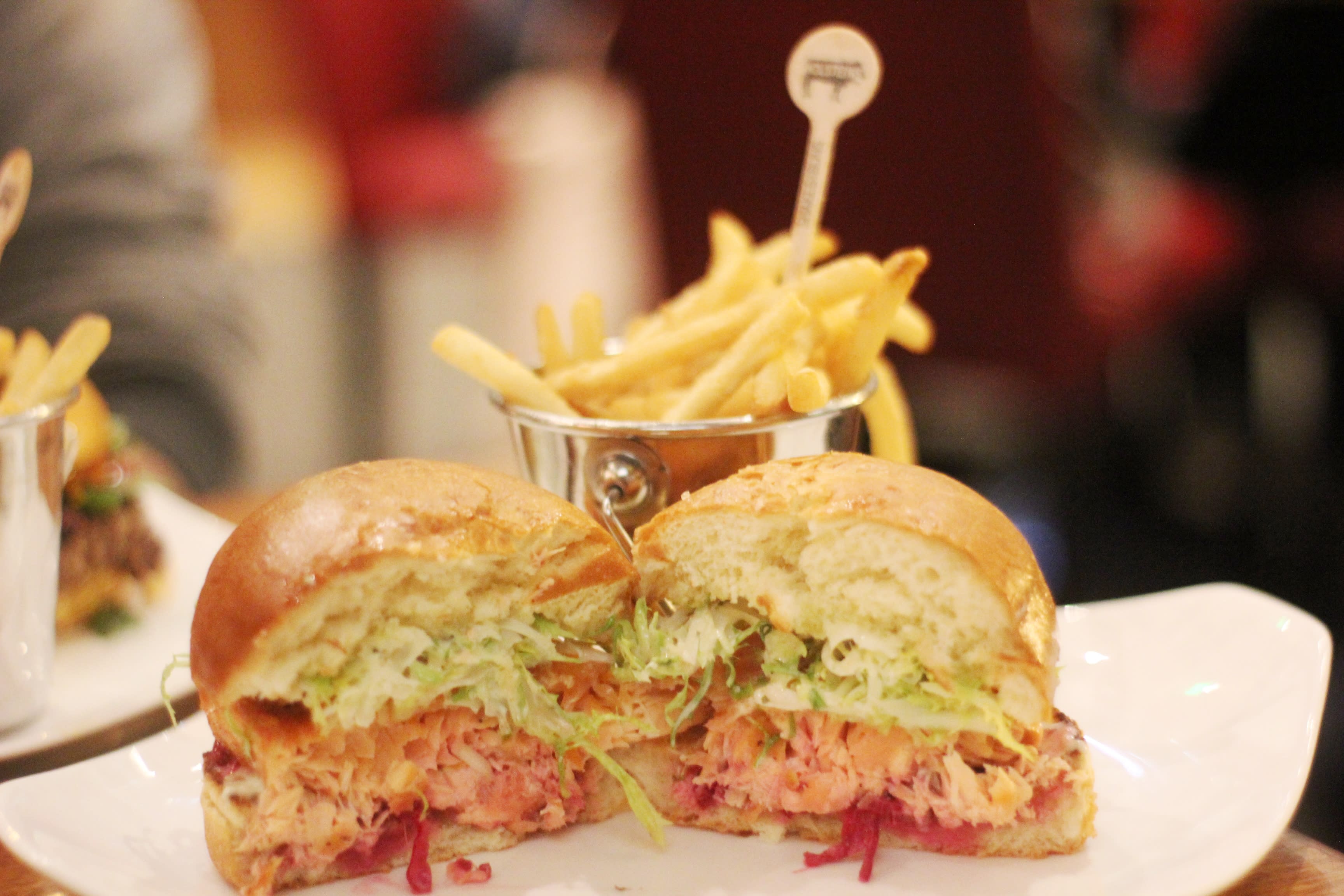 We ended our dinner with a Chocolate Stout Trifile which is served in a glass, featuring decadent layers of chocolate stout cake, chocolate sauce and malted whipped cream. Although the chocolate sauce was very, very rich; it was complemented by the whipped cream and crunch from the caramelized bacon rice crispies. However, I would have preferred the caramelized bacon to be broken down and added as layers of the trifle instead of topping the dessert as a garnish. Delicious regardless!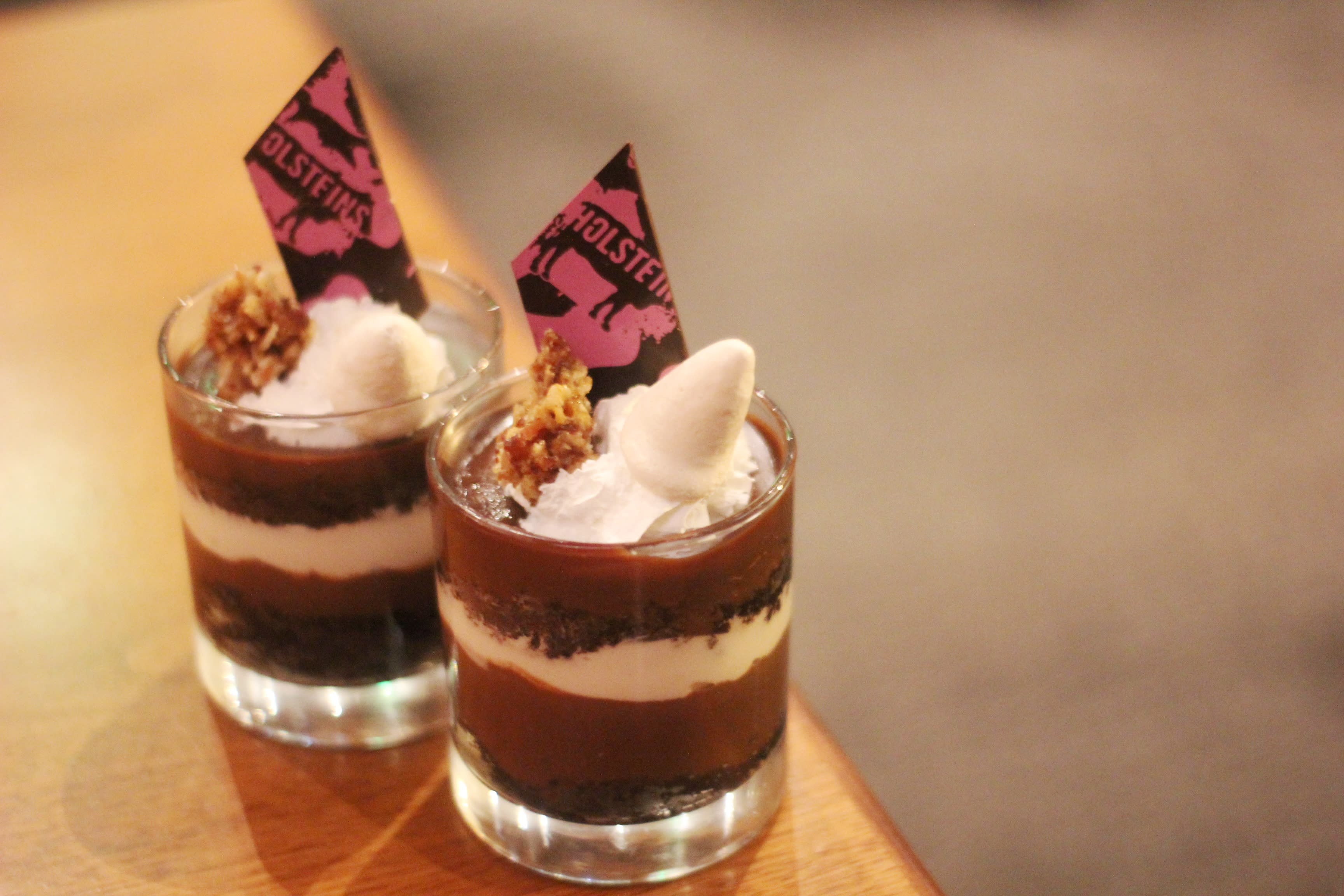 Our OC Restaurant Week meal was accompanied by Holstein's infamous booze-y (alcoholic) milkshakes; I ordered The Fatboy (uv candy bar vodka, reese's, pretzels, sprinkles, cap'n crunch, oreo cookies, butterfinger) and my dinner guest ordered Campfire S'mores (smirnoff marshmallow vodka, chocolate marshmallow, graham cracker crumbs). I have to say that when dining here, a milkshake is a MUST; and you can order one with or without alcohol; each milkshake is so unique and loaded with yummy goodness.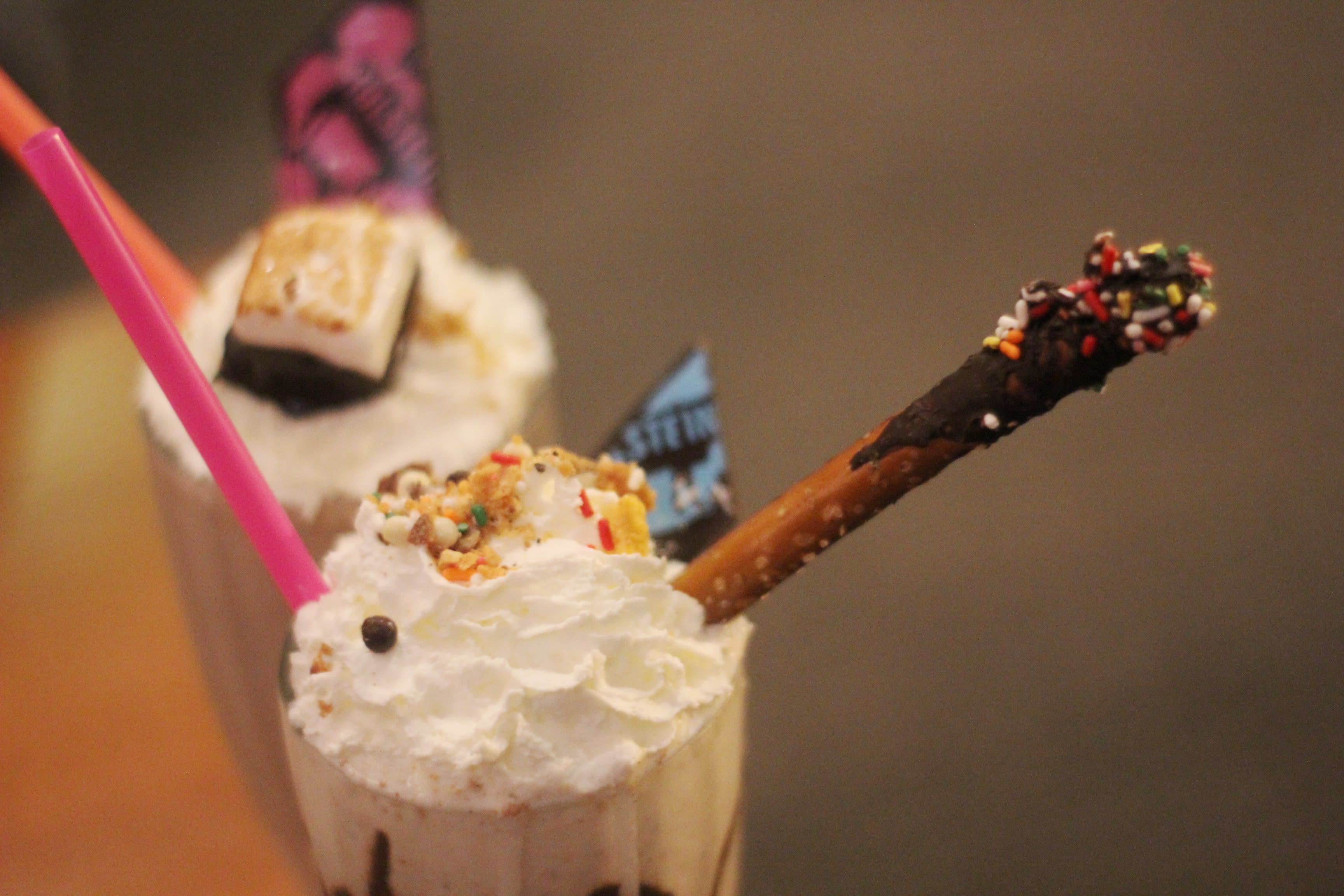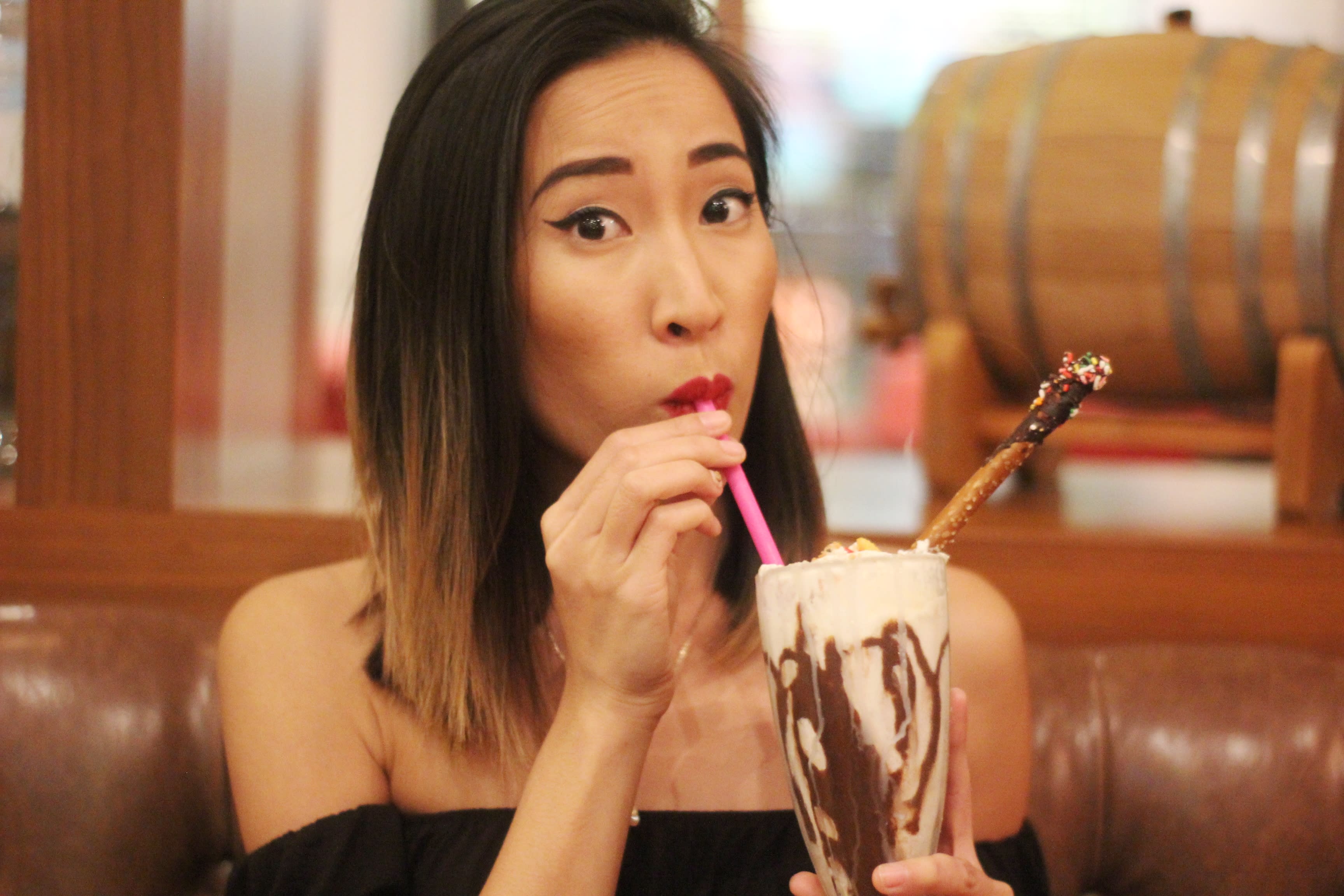 Don't miss out on an opportunity to try Holsteins Shakes and Buns with this awesome OC Restuarant Week menu!  Check out the OCRW menu, the regular menu, and make reservations here!
Search OC Restaurant Week's participating restaurants by city here, or for specifically for Irvine here!
Happy Eating!
Amanda