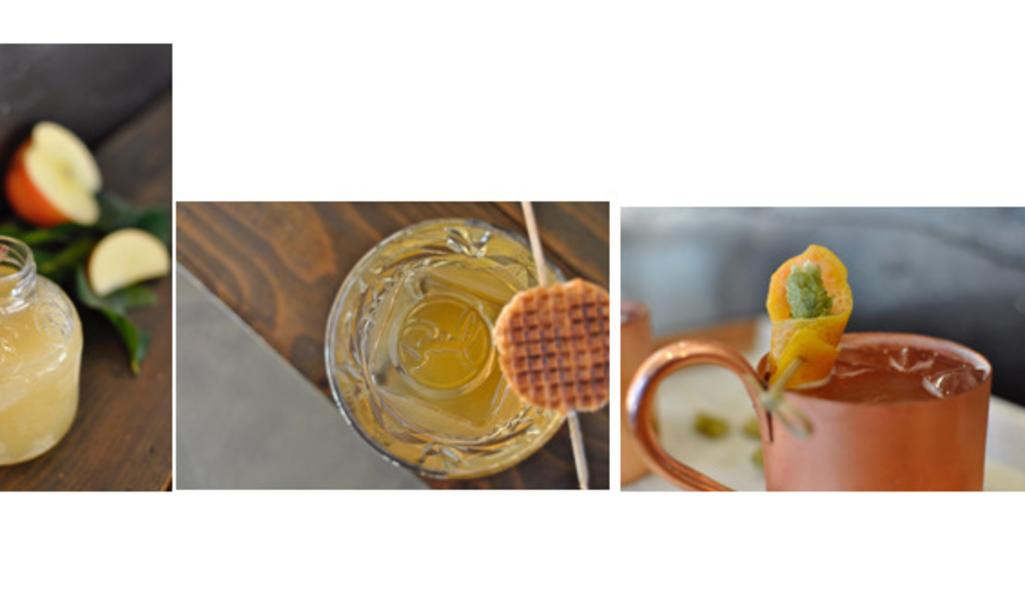 2018 Orange County Restaurant Week has passed, but you can still enjoy the participating restaurants throughout the year. Watch for information on the 2019 event.
Cocktails, anyone? Several great restaurants are offering drink specials to complement their Orange County Restaurant Week menus. Here are three of our favorite restaurants offering up special eats and drinks this week.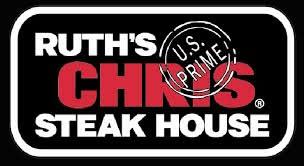 For over 20 years, Ruth's Chris has been serving up perfectly-cooked prime cuts in Irvine. The recently renovated interior welcomes guests to enjoy the finer things, including a fun cocktail to compliment their filet, strip, fish, or chicken breast. This year's $10 cocktail offerings include their Luxerita Margarita, Lemontini, a Bulleit Smash, and the classic Moscow Mule. Cocktails feature Don Julio Tequila, Bulleit Bourbon, or Ketel One Vodka. Santa Rita Coleccion Privada Reserva Cabernet and Chardonnay are also available for $10 a glass.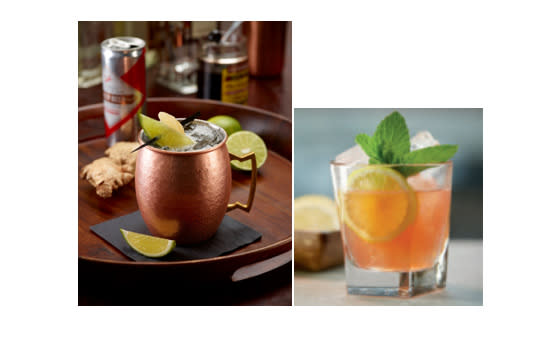 Ruth Chris's four-course OC Restaurant Week special menu features a starter, entree, side, and dessert for $50. 

Starter choice of

Louisiana Seafood Gumbo

Caesar Salad

Steak house salad


Entrée choice of

Petite Filet*
The most tender cut of Midwestern beef, broiled expertly to melt-in-your-mouth

12 oz New York Strip*
This USDA Prime cut has a full-bodied texture that is slightly firmer than a Ribeye

Wild Salmon
Fresh wild salmon served with a lemon caper dill butter and roasted vegetables

Stuffed Chicken Breast
Oven roasted free-range double chicken breast
stuffed with garlic herb cheese and served with lemon butter


Side Item choice of

Creamed Spinach

Cremini Mushrooms

Garlic Mashed Potatoes

Dessert choice of

Mini Chocolate Sin Cake with fresh berries

Mini Cheesecake with fresh berries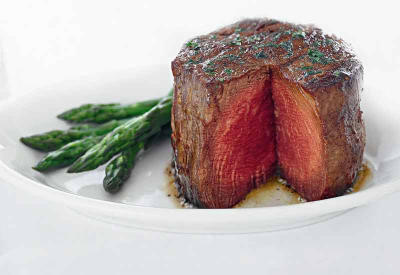 Social Costa Mesa is a fun spot known for its fresh New American cuisine and creative craft cocktails. This year's $10 craft cocktail offerings include the Hoppy Mule which is made with Ketel One Vodka, Hop Infused Ginger Syrup, and Lime. The Tini Apple is a boozy slushee with Green Apple Vodka, Fuji Apple Syrup, and Lime. The creative Chicken + Waffles cocktail is made with Fat Washed Bulleit Bourbon, Maple Syrup, and Firewater Bitters.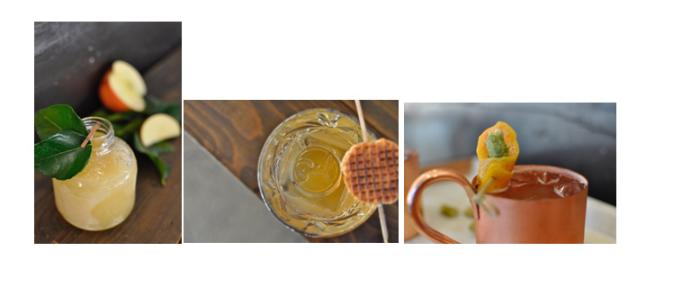 Lunch ($20) and Dinner ($40) specials are 3-course menus which allow guests to choose an appetizer, entree, and dessert. Lunch highlights include ceviche, Wagyu beef tacos, and the Social Chop Salad. Dinner Menu is below. 
Appetizer choice of

Ceviche
Black Tiger Shrimp, Avocado Mousse, Compressed Kumquat, Cucumber, Tomato Brodo

Brussels Sprouts
Honey, Smoked Ham, Sweet Potato Hay

Roasted Cauliflower
Pecorino Mousse, Meyer Lemon Relish, Almonds


Main choice of

Drive Thru Burger
Akaushi Beef, American Cheese, House Pickles, Onion, Garlic Aioli

Wagyu Tri Tip
Rock Shrimp, Tasso Ham, Grilled Corn, Smoked Tomato, Crispy Shallots

Wood Fired Branzino
Forbidden Rice, Citrus, Watercress


Dessert choice of

House Made Donuts
Horchata Glaze, Vanilla Bean Ice Cream

Thunderking Coffee Cake
Chocolate Cremeux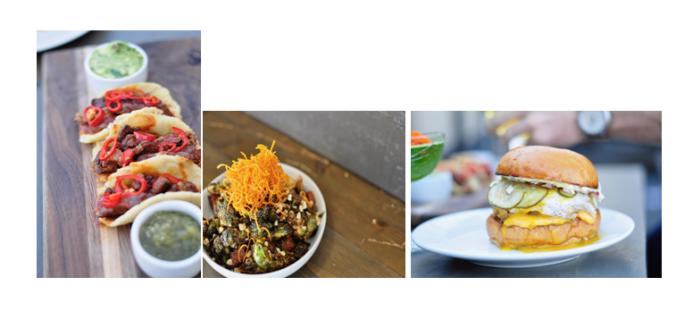 All SOCIAL Costa Mesa images by Raquel Dorsey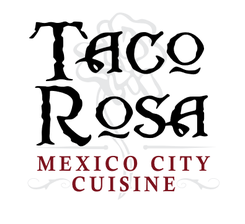 Are you ready to celebrate OC Restaurant Week with some Latin flair? Head to Taco Rosa for Mexico City-inspired cuisine. Their $10 cocktail special is the Don Julio Hand Squeezed Margarita which is made with a balance of fresh juices, natural agave nectar, and orange liquor.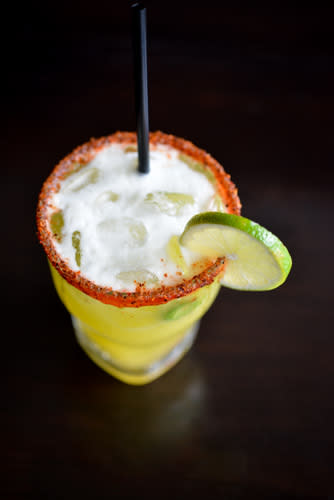 Lunch specials abound with 6 different items featured on Taco Rosa's special $10 Orange County Restaurant Week menu.
Tacos de Filete 
Two charbroiled skirt steak tacos sautéed with mushrooms and onions, 
topped with flamed brie cheese, served with Mexican rice, pinto beans and salsa.

Tacos de Chili Relleno
Two tacos, chilaca pepper stuffed with panela cheese, and topped with roasted corn, 
zucchini, and spinach, served with white butter rice and black beans.

Enchiladas Mexico City
Two chicken enchiladas topped with tomatillo sauce, melted Oaxaca cheese, 
crema, queso fresco, marinated serrano and onions, served with Mexican rice and pinto beans.

Carnitas con Chicharron
Tender pork shoulder. pibil sauce and chicharron, served with pico de gallo, 
salsa, GMO-free tortillas, Mexican rice and pinto beans.

Fajitas de Pollo
Chicken breast fajitas with sweet pepper, onions, mushrooms and basil, 
served with pico de gallo, salsa GMO-free tortillas, white butter rice and black beans.

Rosa Combo
Blackened chicken taco and cheese enchilada served with Mexican rice and refried pinto beans.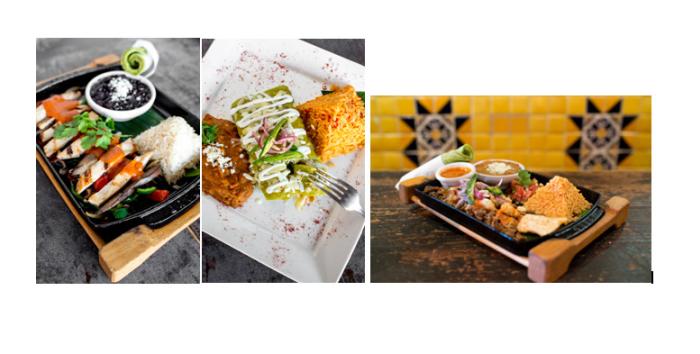 Taco Rosa's dinner menu is a 3-course offering for $30. Options are varied and include a nice selection of Mexican seafood entrees.
Appetizer choice of

Esquites
Roasted corn kernels, lime juice, queso fresco, epazote, serrano pepper and garlic butter

Guacamole
Corn chips and choice of two salsas.

Original Stuffed Jalapenos
Two, with panela cheese and guacamole

Wild Shrimp Ceviche
Cucumber, tomato, red onion, cilantro, serrano, avocado and tostaditas.


Entree choice of

Taco de Filete
A trio of charbroiled skirt steak tacos sautéed with mushrooms and onion, 
topped with flamed brie cheese, and served with salsa fresca de tomatillo, black beans and Mexican rice.

Paella Espanola
Wild jumbo shrimp, clams, mussels, calamari, Italian sausage, chicken breast,
sweet peppers, and onions on a bed of Spanish saffron risotto.

Camarones Tampiquenos
Wild jumbo shrimp sautéed in a cayenne cream sauce with garlic butter,
mushrooms and sweet peppers on a bed of white butter rice.

Wild Salmon Cazuela
Served on a bed of rice, spinach, diced zucchini, roasted corn and organic greens.

Lobster Enchiladas
Topped with a roasted poblano cream sauce and avocado. 
Served with zucchini, spinach, roasted corn, white butter rice and a sweet corn tamalito.


Dessert choice of

Cuatro Leches
Our four-milks reduced with raspberry liquor cake layered with 
strawberries and covered with white chocolate ganache.

Flan Con Churros
Frittery pastry dusted with cinnamon and piloncillo with a baked cheese flan.
Participating restaurants with $10 cocktail offerings.