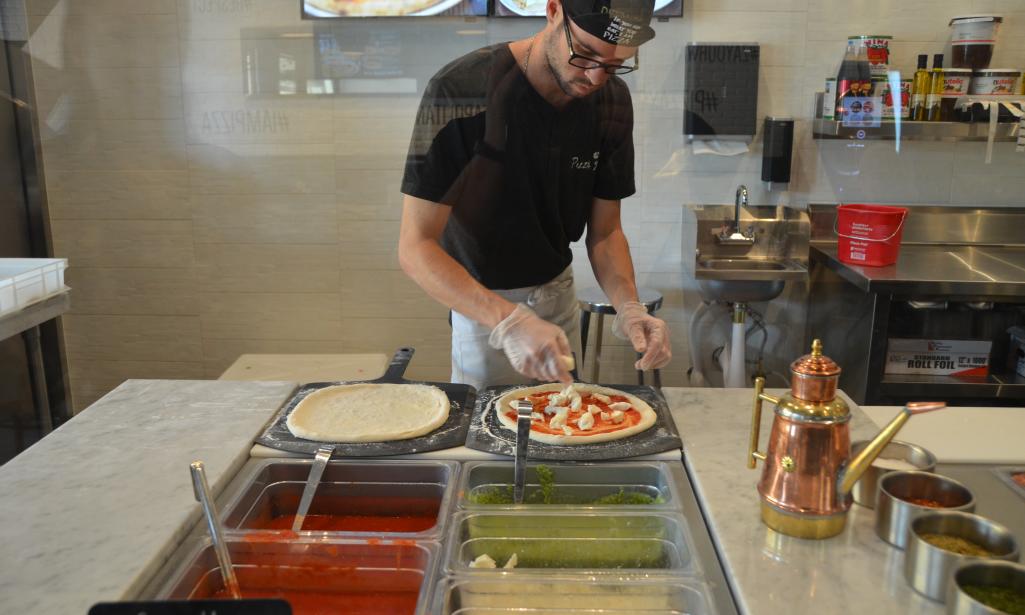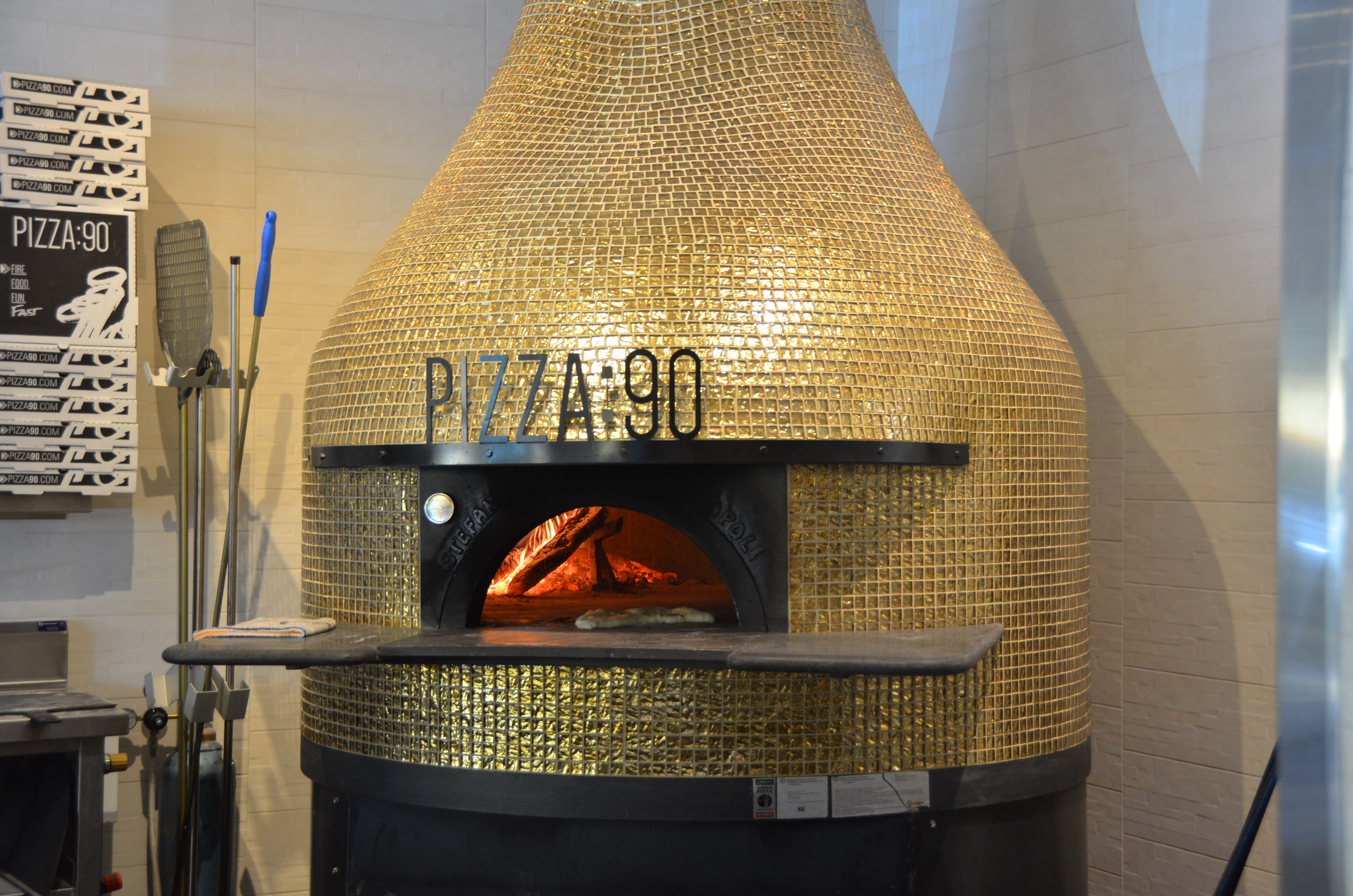 I got to stop by the new Irvine Italian Pizzeria, Pizza:90 Pizzeria Napolentana & Birreria, and was immediately drawn in my the open and contemporary space. There was much to take in, but the most exciting was to see my pizza being made in front of me then placed in a glorious, gold-tiled wood fire oven to bake for only 90 seconds before being able to enjoy. The 6000 pound oven was brought over from Naples, Italy and traveled across the Atlantic and through the Panama Canal to Pizza:90 in Irvine.
Pizza:90's first location is in Riverside and the Irvine location soft opened about two weeks ago and is having a Grand Opening celebration including a ribbon cutting ceremony with members from the Irvine Chamber this upcoming Thursday, May 7 between 2-4pm. You won't want to miss this event; customers can come in and receive a FREE Margherita pizza for sharing a promotional video found on Pizza:90's Facebook wall onto their own Facebook wall on grand opening day between 2-8pm.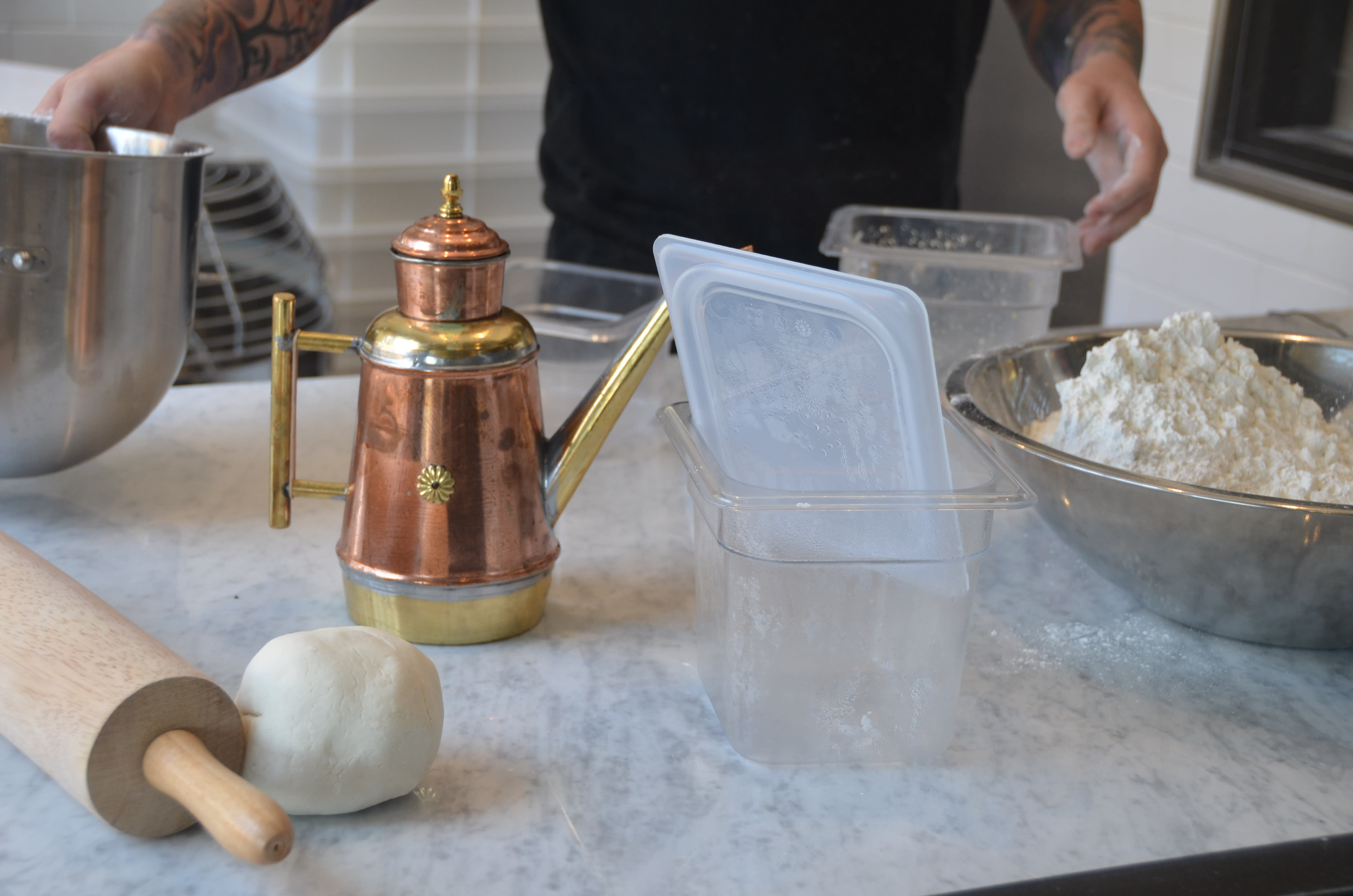 Dough balls for the pizza are made 24 hours in advance with '00', a very fine flour, in a glass enclosed dough laboratory and you can see your pizza created in front of you from the dough being stretched, to the sauce or no sauce added on the pizza, the toppings placement, then the pizza going into the oven. The '00' flour along with San Marsano tomatoes are imported from Italy, and over 8 different Italian cheeses and 12 different Italian meats are available. Customers can choose from 10 signature 12'' Napolentana-style pizzas or create their own. Can you believe the pizza only takes 90 seconds to bake? This is possible due to the flour that the dough is made from, as well as the 900 degree oven. I sat down with Scott Anderson, heading Pizza:90's Marketing & Branding, and enjoyed my 4 Salami Pizza & Grapefruit Italian Soda as he filled me in on everything Pizza:90; I can't wait to come back to try the Happy Hour, and you will just need to come in and try it for yourself! See you at the grand opening!
5365 Alton Pkwy Ste I
Irvine, CA 92604
*In the Alton Square Shopping Center

Phone: (949) 387 5088
Hours
Mon: 11:00am - 9:00pm
Tue: 11:00am - 9:00pm
Wed: 11:00am - 9:00pm
Thu: 11:00am - 9:00pm
Fri: 11:00am - 10:00pm
Sat: 11:00am - 10:00pm
Sun: 11:00am - 9:00pm