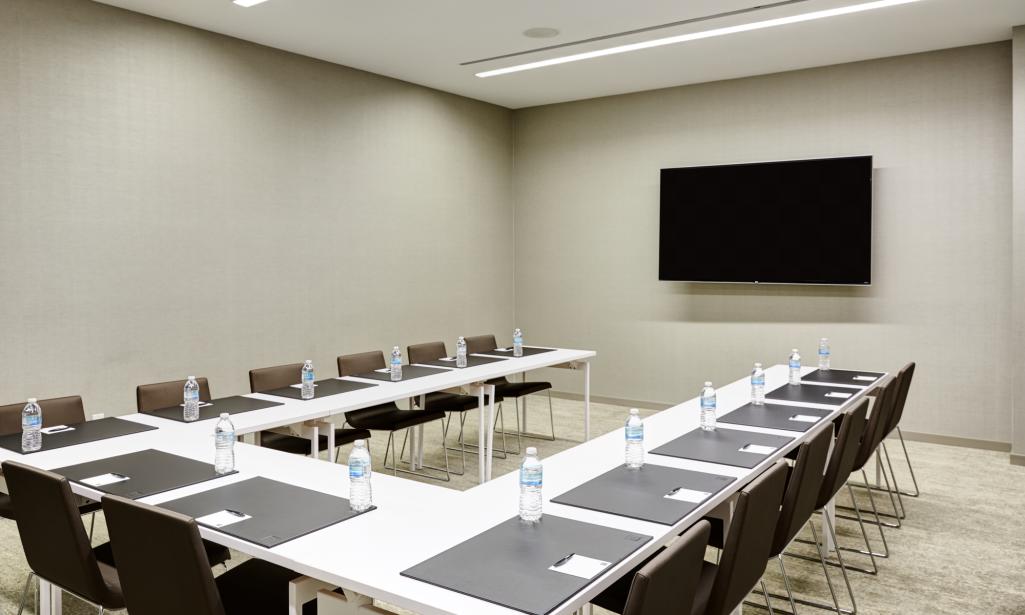 From accommodating spaces to dedicated service staff, you can trust these Irvine-based hotels to create memorable events. Here's the scoop on each property's meeting space, along with some details on why they're all special.
AC Hotel Irvine
A modern and purposeful design makes AC Hotel Irvine a popular venue for both corporate business meetings and social gatherings, evident in small details from Kallpods in each meeting room that provide on-demand service to Media Salons with built-in audio-visual equipment. "One of the most distinctive components of our property is the beverage and food," says Elizabeth Park, the hotel's director of sales. "Our events menu reflects the Spanish roots of our brand. We can also incorporate mixology as part of a team-building exercise or as creative break from your meeting." Among the hotel's most requested meeting spaces? An outdoor pool deck on the second floor, complete with a private bar, live band, and views overlooking the Park Place campus and Newport Beach—perfect for reception-style gatherings for up to 40 people. Then there's the AC Kitchen for hosting afternoon and evening events for up to 130 in environs highlighted by floor-to-ceiling windows. No matter what type of event you're planning, the creative team is on hand to brainstorm with you to make it work.
Total small meeting space: 900 square feet
Ideal meeting size: Up to 130 people
Price range: The price range varies, but as an example, a 20-person meeting with an all-day food and beverage package averages around $2,200, including room rental.
Don't miss: As part of the Marriott brand, planners can earn Bonvoy Meeting Planner points that can be redeemed for nights, flights and more.
Hampton Inn & Suites Irvine OC Airport
Looking for an outstanding spot to hold corporate training, seminars, social reception or dinner? Hampton Inn & Suites Irvine OC Airport—named No. 1 by OC TripAdvisor—has you covered, complete with a director of catering that has amassed 25-plus years of experience, seasoned senior event manager and professional banquet staff. Not to mention full-service catering and on-site audio-visual equipment. "Every meeting is met with the same professional standards by our team," says Nichelle Colasont, the hotel's director of sales and marketing. "Our senior event manager also details all of the meetings, and is on-site for any last-minute changes or needs," An added bonus? Free Wi-Fi, water, pads, pens, candy, podium and self-parking for daily attendees.
Total small meeting space: Shore Ballroom (1,161 square feet, with air wall divides); Shore I (594 square feet); and Shore II (567 square feet); there's also the Tides Great Room for hosting private lunches, receptions and dinners.
Ideal meeting size: Two to 120 attendees
Price range: Starts at $500
Don't miss: Meeting Professionals can earn Hilton Honors meeting planner points on guest rooms and event services.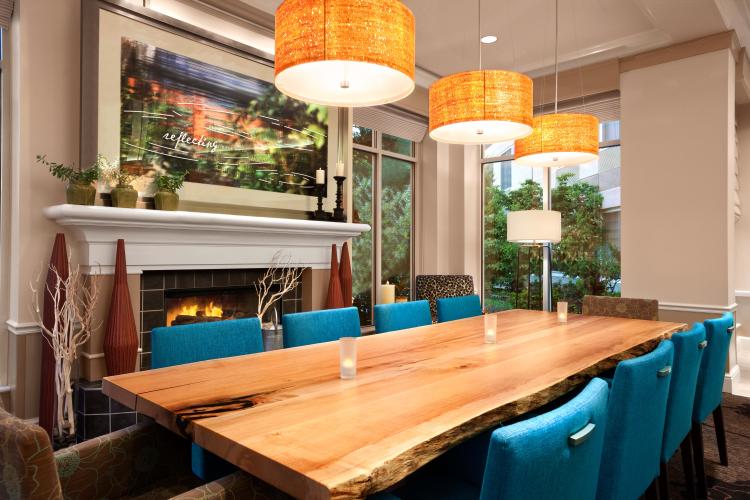 Hilton Garden Inn Irvine/OC Airport
One of the Hilton Garden Inn Irvine/OC Airport's top advantages for those seeking space for board meetings, training classes, and awards dinners is its unique "one event venue" that provides each program and guest with an intimate VIP experience, making it the focus of the entire staff and hotel. "This also ensures no competitor events will take place during the event," says Sheryl Montour, regional director of sales for the S3 Hotel Group. "Each program will be assigned an exclusive event manager to be with the client from the beginning and assist in planning, menus, audio visual, etc. The event manager will also be the on-site contact throughout the program, and of course, all supported by our full-service catering and events team, including our director of catering with over 20 years of experience." In addition to the standard meeting space? Spots for cocktail receptions and meal breaks in The Veranda (also referred to as the outdoor terrace, with the OC skyline as the backdrop) and the Garden Grille Restaurant (for exclusive events closed to the public).
Total small meeting space: More than 2,800 square feet, including a 1,244-square-foot meeting room, with an additional 655-square-foot private foyer (which works very well for breakfast and beverage service, as well as snack breaks), and 931-square-foot private outdoor terrace.
Ideal meeting size: 10-70 people for a multiple-day program.
Price range: Room rental prices vary, but all "Meeting Planner Packages" range from $50-$75 per person, and include Continental breakfast, a morning or afternoon break, lunch, and complimentary room rental, LCD projector, and screen.
Don't miss: Complimentary parking for all meeting attendees.
Hyatt House Irvine/John Wayne Airport
Think modern yet comfortable space boasting an abundance of natural light, quality audio-visual equipment, and in-house catering options for breakfast, lunch, dinner and breaks (including themed lunch buffets, shareable appetizers, and sweet and salty snacks)—all unique to Hyatt House Irvine/John Wayne Airport, and ideal for accommodating a wide range of companies, associations and groups. "The Hyatt House's All-Inclusive Meeting Package streamlines the booking and planning process," says Adam Drescher, the hotel's director of sales. "That, in combination with the quality food and service, is what makes our hotel stand out from others. The entire hotel team is dedicated to fulfilling your expectations." Among one of the most popular spots for gatherings: the hotel's bar and restaurant, the H BAR, a great indoor/outdoor venue used for evening receptions and casual events.
Total small meeting space: 1,000 square feet of formal meeting space, with an additional 1,750 square feet of outdoor/reception area.
Ideal meeting size: 25-40 people
Price range: The price range varies; in general, meetings can be as low as $300, but average around $100 per person.
Don't miss: The Hyatt Global Group offer, where planners with 10 or more room nights are eligible to receive 25,000 World of Hyatt bonus points good for at least one free night at any Hyatt Hotel in the world.