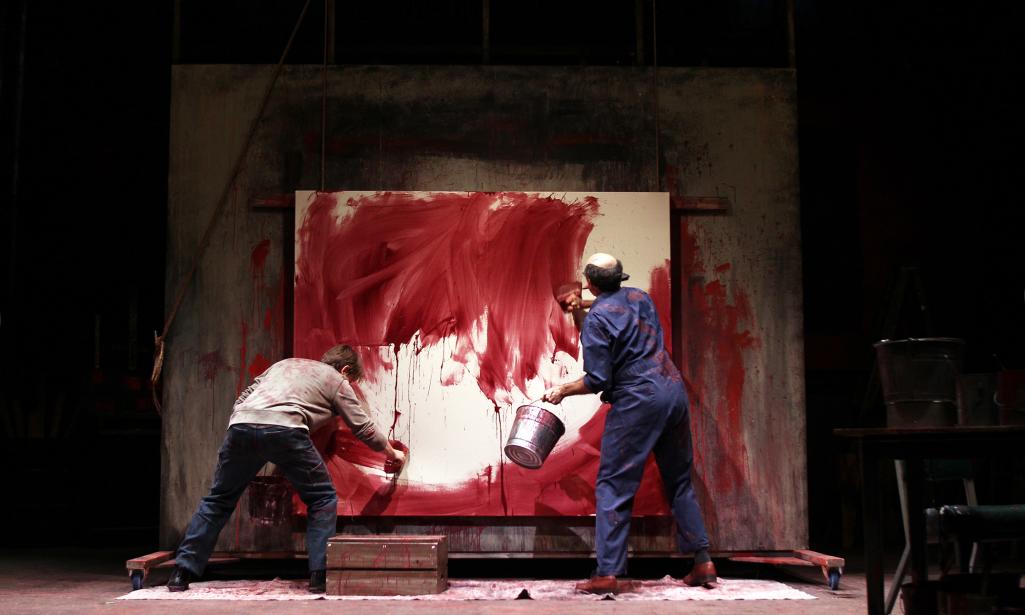 Check out SCR's production of RED for artistic inspiration, then take it to the next level with special discounts to three So Cal museums.
It begins with a question, "What do you see?" Soon a debate over art and commerce brews between 20th-century abstract expressionist art titan Mark Rothko and his new assistant in Red by John Logan, on South Coast Repertory's Segerstrom Stage, Jan. 22-Feb. 21. Tickets are now available at www.scr.org. Founding Artistic Director David Emmes directs this Tony award-winning play and looks forward to examining a dilemma many artists face.
"I'm interested in the issues of art and the idea of how one finds a way to pursue it and, at the same time, pay the bills," said Emmes. "It's still difficult today for artists to make their way-visual artist, actor, playwright, whomever-so what do you have to do? I hope audiences come away with a deeper insight into how hard is it to make your way in the world."
Veteran stage and screen actor Mark Harelik will take on the role of Mark Rothko. His film and television credits include Election, Jurassic Park III, Trumbo, HBO's "Getting On," "Unbreakable Kimmy Schmidt" and "The Big Bang Theory." Harelik has performed on Broadway in The Light in the Pizza, Mrs. Warren's Profession and The Normal Heart. His past productions at SCR include In a Garden, The Hollow Lands, The Beard of Avon, Search and Destroy and Cyrano de Bergerac. Harelik also is an accomplished playwright. His plays include The Legacy, The Immigrant, which was adapted into a musical of the same name, and Hank Williams: Lost Highway which he co-wrote with Randal Myler.
Playing Rothko's assistant, Ken, is Paul David Story, who appeared at SCR in the NewSCRipts reading of Death of the Author. On Broadway, Story was in The Caine Mutiny Court Martial. His film and television credits include "Body of Proof," "Nip/Tuck," "Law & Order: Special Victims Unit" and American Violet.
Red begins in 1958, when Mark Rothko is at the height of his glory. In a converted gym, deep in New York City's Bowery, he has begun work on the biggest commission in the history of modern art-and everything is at stake. As canvases are stretched, paint mixed and feverishly applied, Ken's answers to "What do you see?" turn into questions and become more probing-and provoking-with each brush stroke in this heart-stopping play about the nature of art and artists.
Tickets start at $22. Discounts are available for full-time students, patrons 25 years of age and under, full-time educators, seniors and groups of 10 or more. For complete information, visit:
Added bonus: your ticket will get you discounts to three local museums.