Shakespeare Orange County is kicking off the 2015 season in blockbuster fashion on Saturday, June 13th, with a gala event hosted by Producing Artistic Director John Walcutt. The centerpiece of this fast-moving and hilarious night will be a live 1930's radio broadcast-style performance of Kaufman and Hart's classic American comedy You Can't Take It With You, featuring live sound effects and music, vintage commercials, and a marvelous list of celebrity guest artists from Hollywood and Broadway.
Check out all the celebrities you can meet! Wanna have dinner with Robert Hayes?  You can! Wanna sip cocktails with JoBeth Williams?  Go for it! Fundraising ticket prices are $25 to see the show, $75 for the show and afterparty. The catered dinner will cost a bit more, but hey, it's a fundraiser, so raise the roof and make your celeb sighting dreams come true!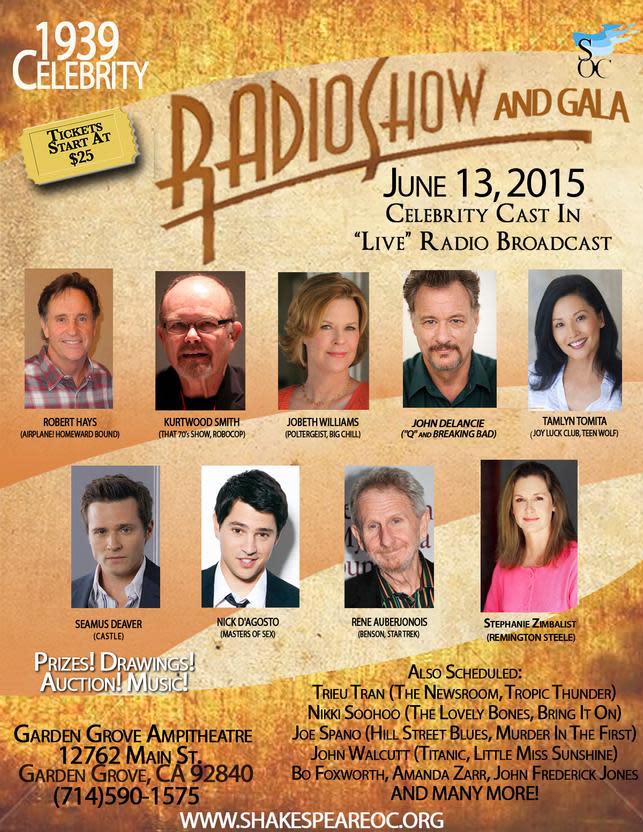 Last year's cast included Academy Award nominee James Cromwell (Babe, L.A. Confidential), Robert Hays (Airplane!, Homeward Bound), Jerrika Hinton (Grey's Anatomy), Emmy nominee Gregory Itzin (24, The Mentalist), Tamlyn Tomita (The Joy Luck Club, Revolution), Michelle Krusiec (What Happens in Vegas, Saving Face), Hrach Titizian (Homeland, Broadway's Bengal Tiger at the Baghdad Zoo), Rene Auberjonois (Benson, Star Trek: Deep Space Nine)... and more! This year's show promises more of the same.
Buy a VIP Dinner ticket and dine with the celebrity cast onstage before the show. A catered meal, drinks, and the best seats in the house. Photos, schmoozing, autographs and laughter are highly encouraged. You don't want to miss out on selfies with these fun and funny celebs!
You can also purchase a ticket that includes admission to the cast after-party, open bar and finger food, so there are several options you can choose.  I'll be there for sure!
There will also be a prize-packed silent auction and other prize opportunities to support the SOC season and educational summer program. Tickets start at just $25, so come support the Arts in OC by kicking off the SOC summer season with a BANG!