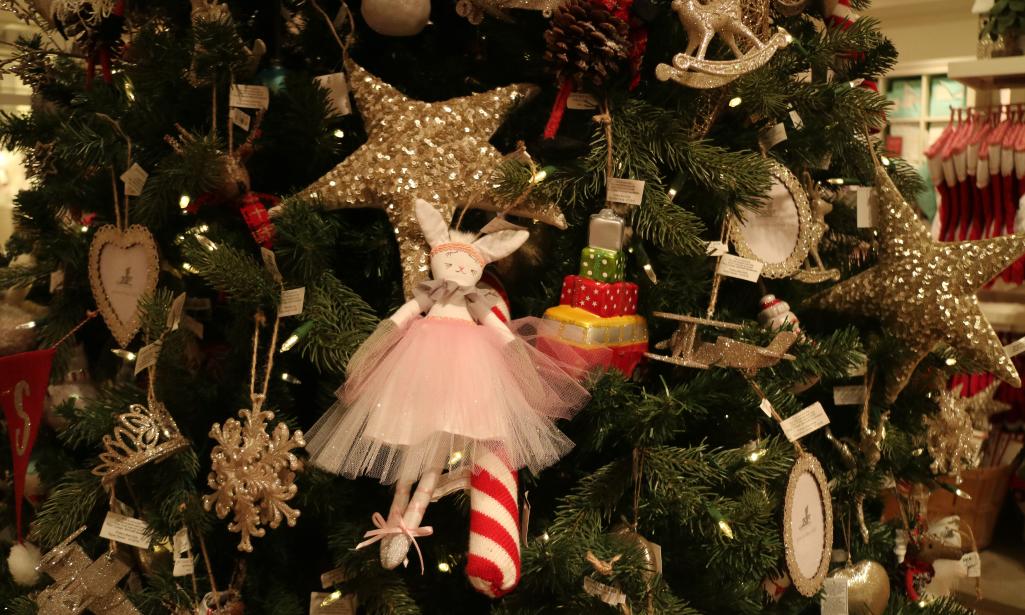 I am excited to share another South Coast Plaza shopping series with you, and centered around holiday gift-giving! In my last series, I featured items to shop for a vacation or getaway in Irvine, and this series will focus on various gift items for him, her and kids. To kick off the series, I'll be highlighting items for babies, kids and teens at select South Coast Plaza stores - let's get a head start on holiday shopping!
South Coast Plaza, 3333 Bristol St #1821, Costa Mesa, CA 92626
Phone: (714) 427-0813 
If you are worried that gifting clothing because it may not fit the baby (it's just so hard gauging sizing when holding up those onesies and tiny apparel), try your hand at the most adorable and chic plush animals, blankets and developmental toys at Pottery Barn Kids. 
It's no mystery that Pottery Barn Kids is filled to the brim with all things decor and toys that will have the little ones going crazy this holiday season. Aside from the elaborate bed and playroom setups, you have an assortment to choose from for small to large gifts. For babies, in particular, there's a plethora of the softest plush animals and the coziest blankets, and booties and cap sets. If you would like to make your gifts especially special, PB offers customization with monogramming or name printing/embroidery on select items!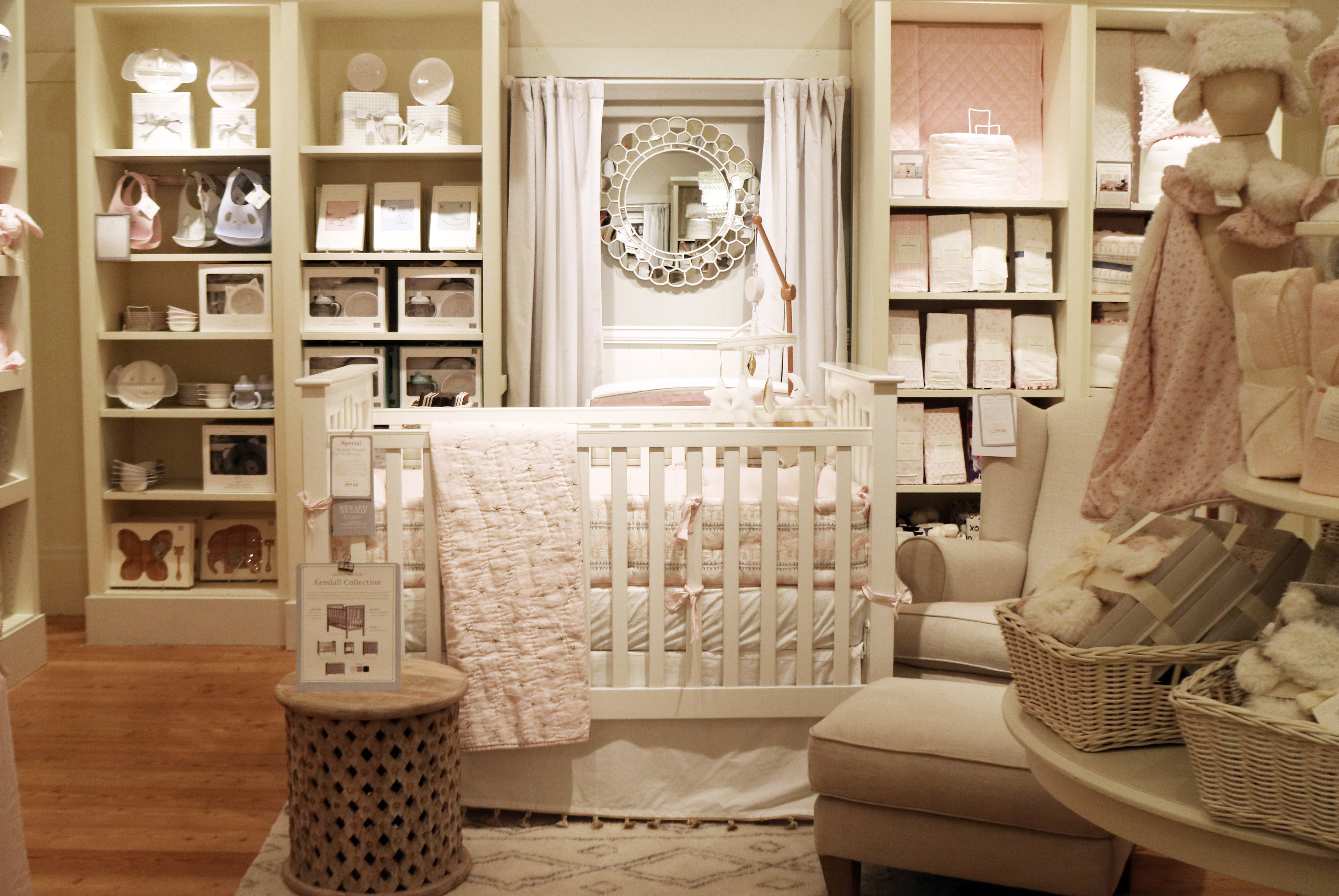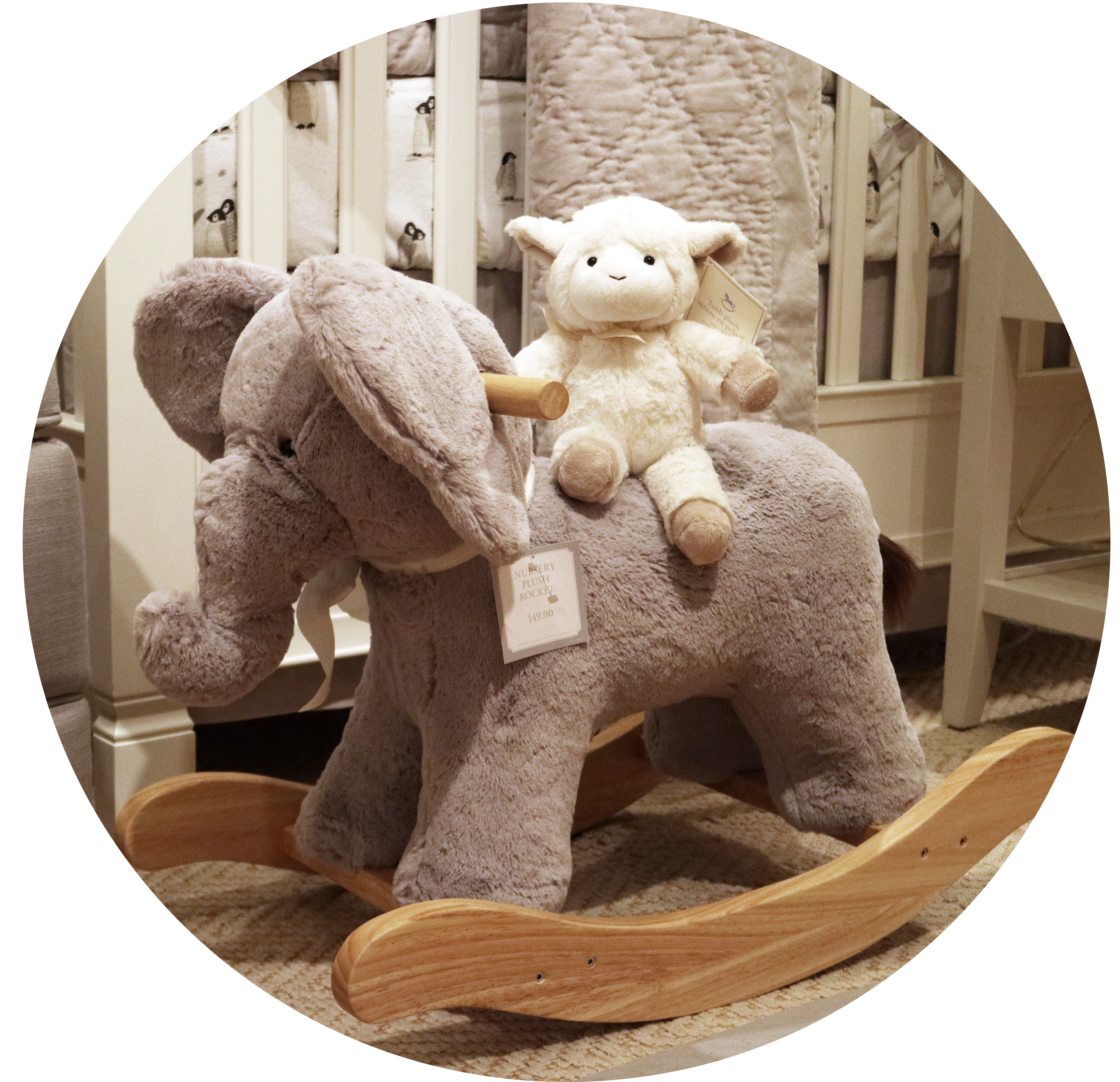 Gold Star Hat & Bootie Set- Give them the softest gift. The matching hat and booties are knitted for warmth and comfort and the starry pattern adds timeless style to their snuggly outfit. 
Gold Star Sherpa Baby Blankets- Offering supreme softness to your little one, our Sherpa stroller blanket epitomizes on-the-go style and functionality.
Plush Collection - Cuddly and soft plush animals of small, medium and large sizes. The animal repertoire includes bears, kittens, unicorns, elephants, doggies, bunnies, and lambs. 
Elephant Rocker - Little ones can go on a make-believe jungle adventure with our super plush elephant rocker. Sweet and huggable, it features solid wood handles and precision-shaped runners for a smooth, secure & gentle rocking motion (Other animals available).
St. Jude Thanks And Giving® Wooden Toy Sets - Classic wooden toy sets in beautiful natural beech wood and metallic finishes (paint finishes are child safe). These toys are not only fun for tots but aid in cognitive development and imaginative play, as well, PB donates 30% of the purchase price of these toys directly to the St. Jude Children's Research Hospital which supports research and treatment for pediatric cancer and other life-threatening childhood diseases.
For the young tot, developmental toys and plush animal rockers are the way to go. And for the kids, the sky is the limit from designer dolls, dollhouse sets, vanity and kitchen sets, as well as tutus, jewelry boxes and tea sets for girls; and all things DC Comics, Marvel, Star Wars and wooden playsets for the boys. 
A few standout items for girls include wooden dollhouses and the loveliest stuffed designer dolls that look like they have a detailed, handcrafted touch to them.
Designer Dolls Collection - These very special soft dolls will steal your child's heart. Echoing the artistry of homemade dolls from an earlier era, ours are made from linen and feature outfits stitched from an assortment of fabrics, including cotton, ribbon, tulle and felt. 
Götz Doll Collection - A Götz doll is a true collectible, a gift your child will care for and love for years to come. Meticulous attention to detail, from eyelids that close to brushable hair, gives these dolls their outstanding play value.
Dollhouses -  Whimsical, elegant and storybook-style dollhouses are available and will be the site of many imaginative hours of make-believe play. Purchase furniture and dolls to complement the adorable dollhouses.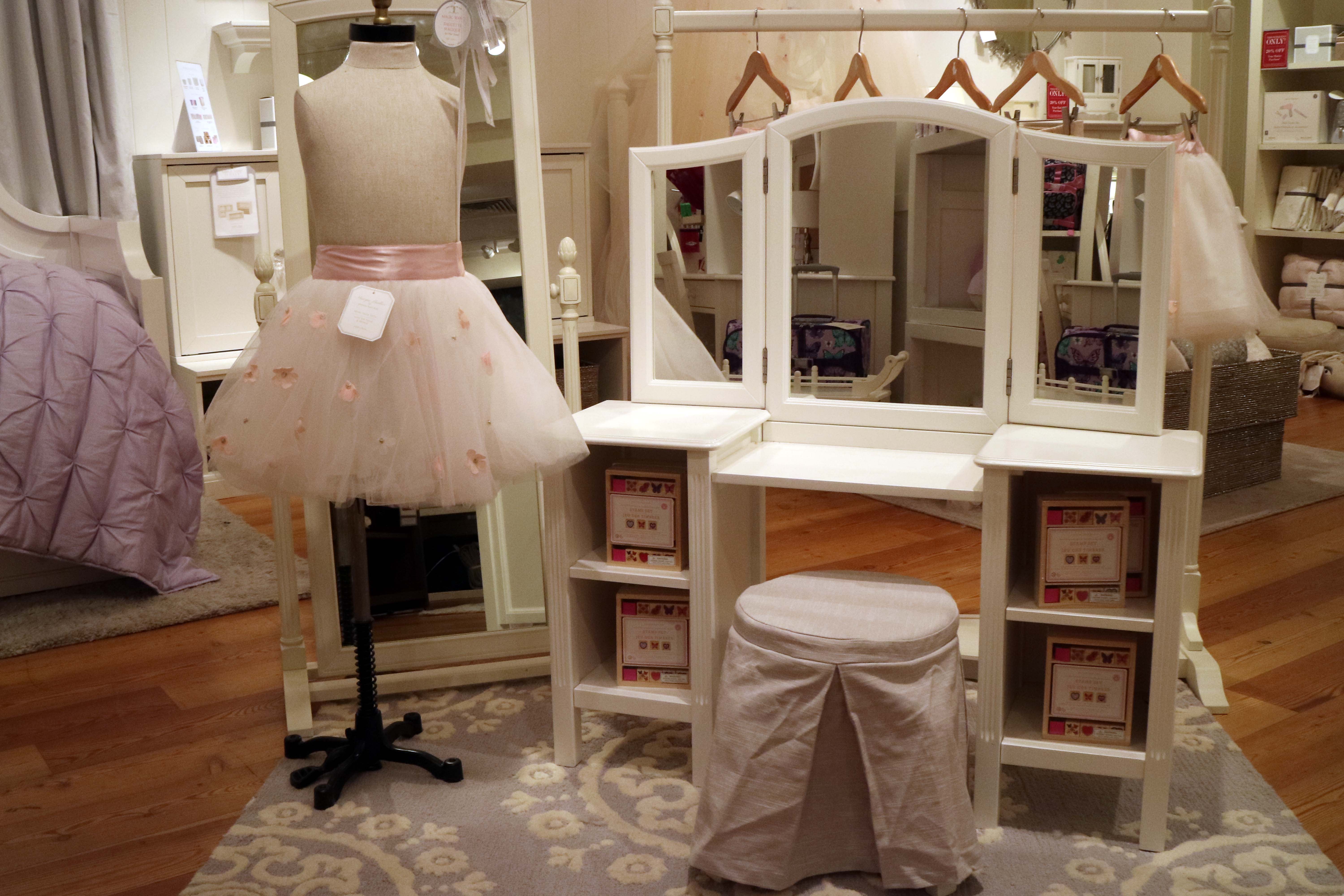 The boys will go nuts over their favorite superhero toys and decor, building an entire city out of wooden structures and automobiles or pretending to be a Jedi or on the Dark Side with Star Wars pillows, toys, and more. 
Figurines Sets - Marvel characters and classic DC comics' characters come to life with these wooden figurines which allow for endless bold and courageous adventures. To complete the scene, play set buildings and automobiles and aircraft are available.
Star Wars Shaped Decorative Pillows - Accent their sleep space with these adorably shaped pillows that sport their favorite heroes and villains from Star WarsTM. Perfect for cuddling or tossing on bedding or chairs, a playful color palette adds a vibrant and galactic style to their room's decor.
Wood Play Sets - Train tracks, cities and towns come to life with wooden playsets. Create an imaginative scene by building train tracks, parking garages and towns using the wooden blocks, structures, automobiles, trains, and aircraft!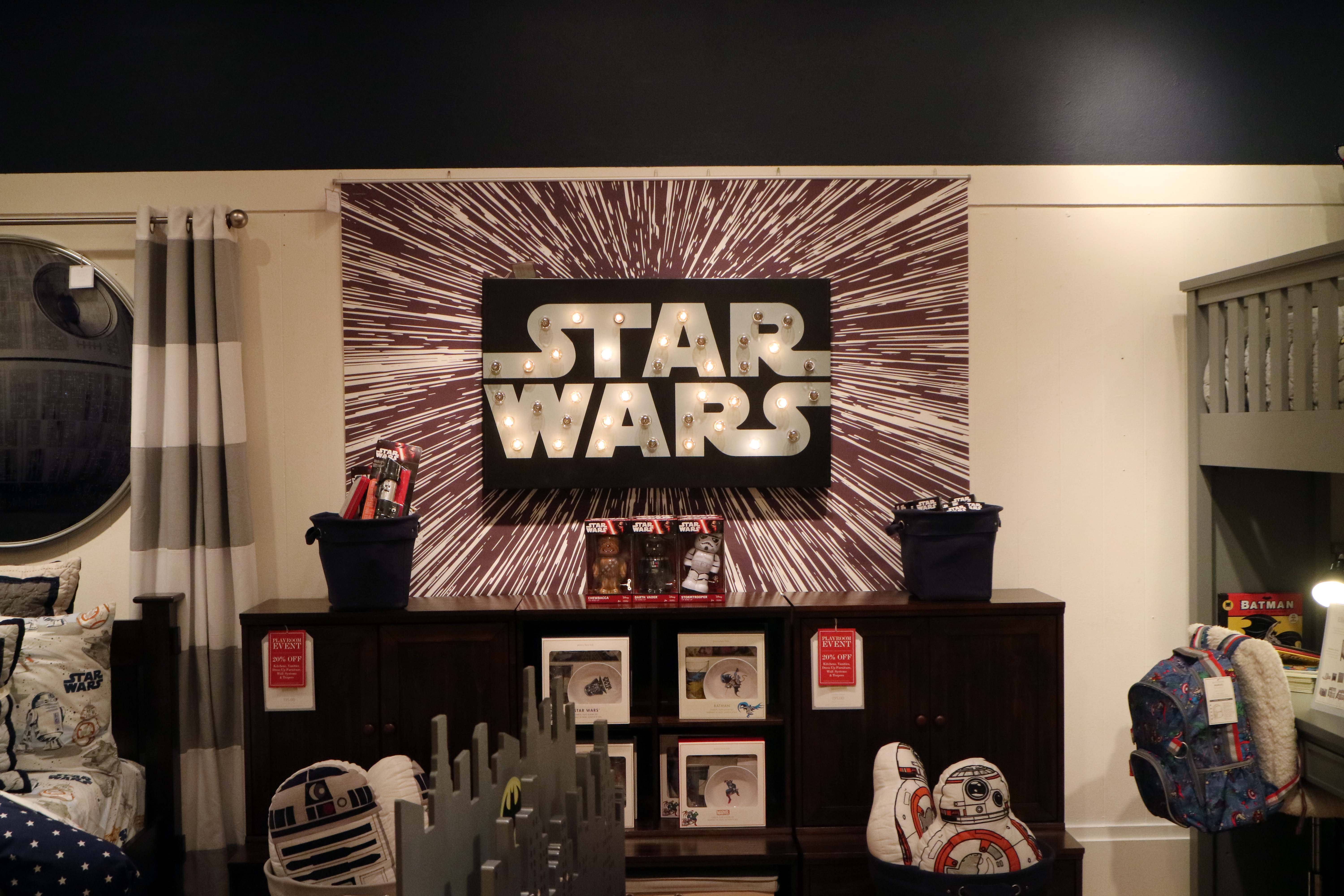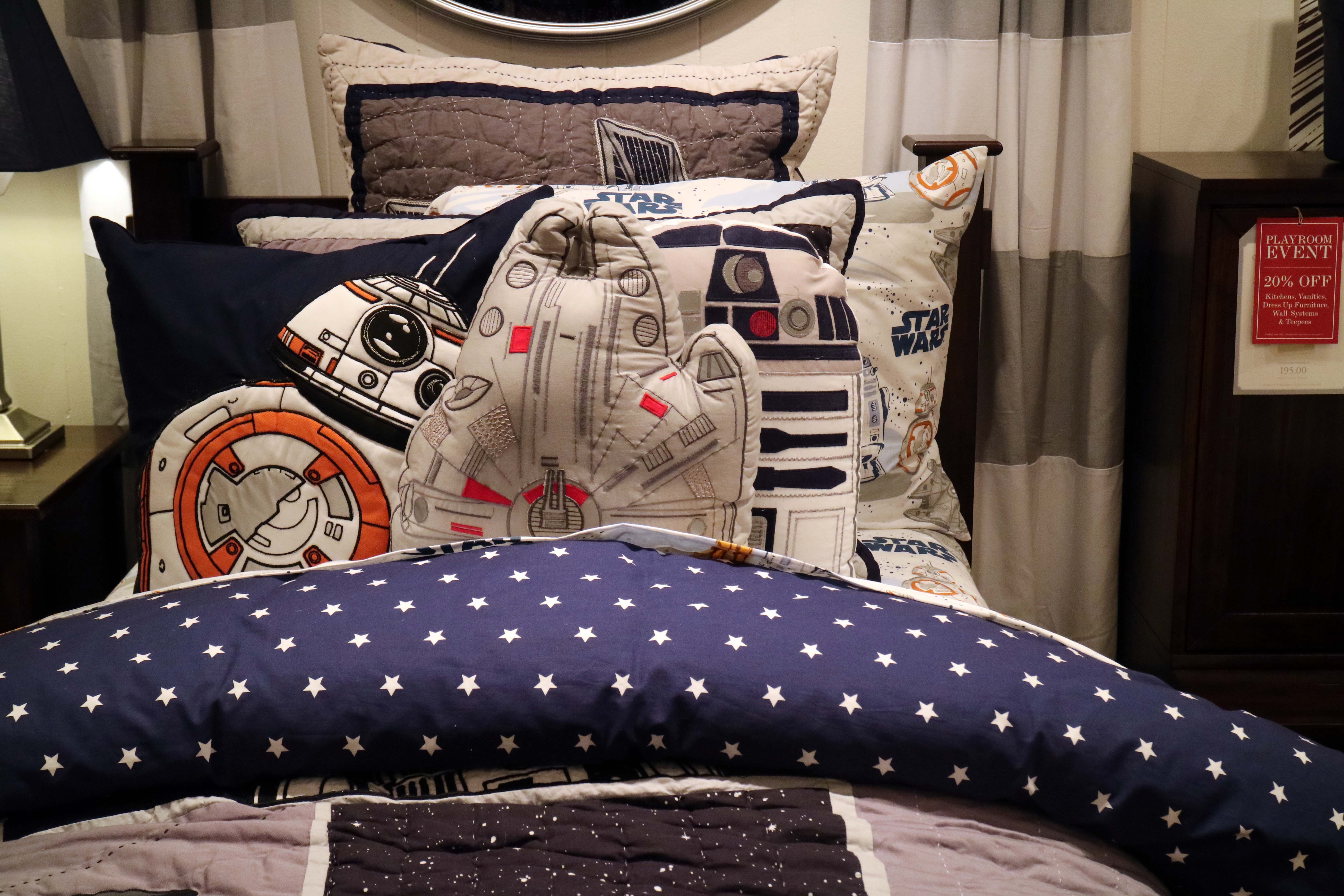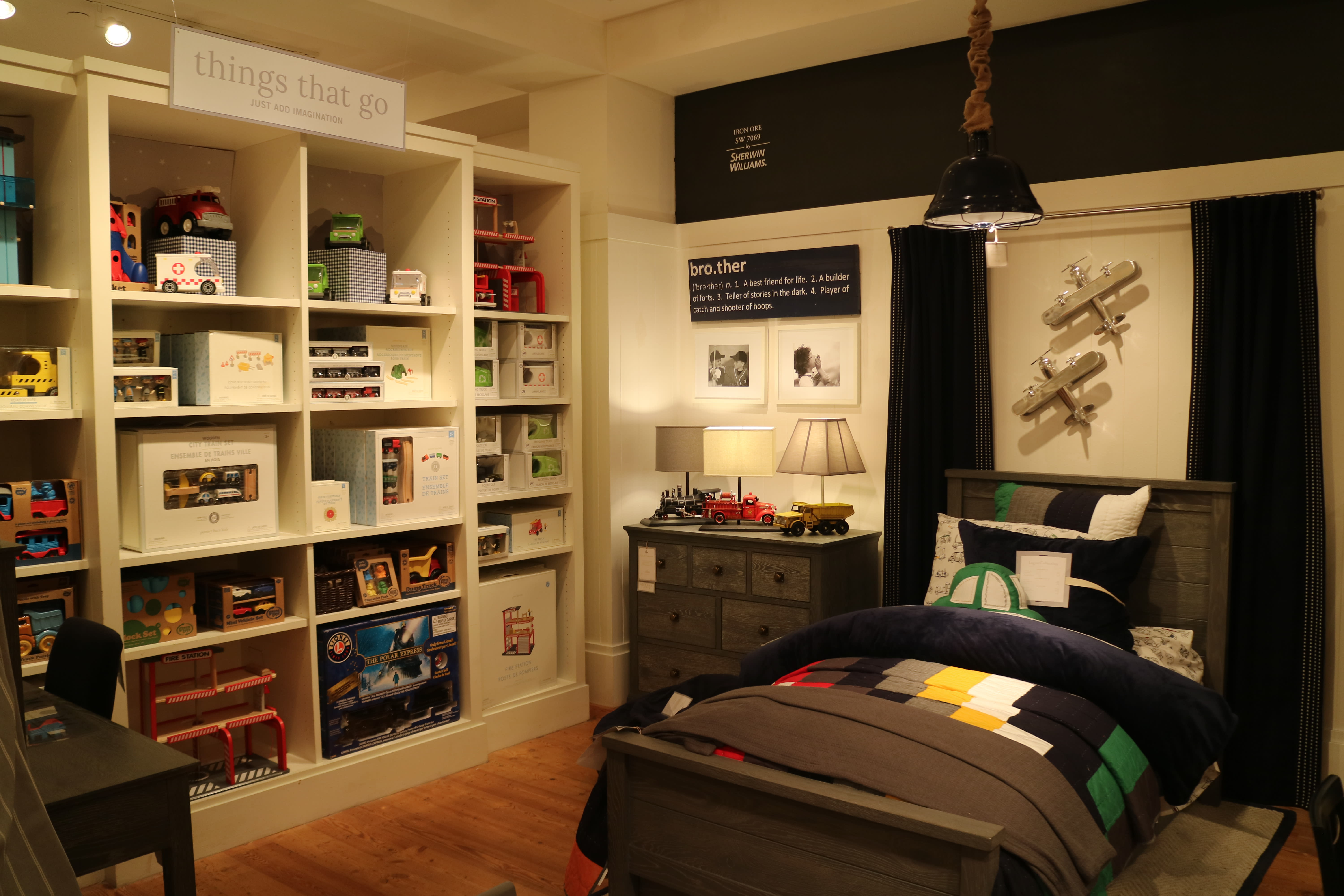 If you're looking for smaller gifts or stocking stuffers, PB Kids also has an assortment of art kits and games that are sure to get kids' creative juices flowing and energy booming!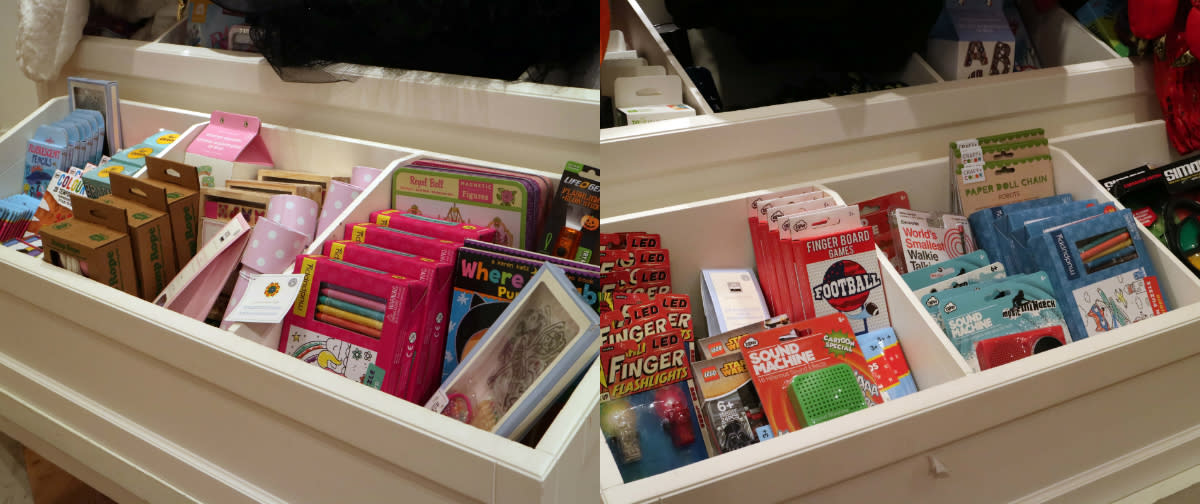 South Coast Plaza, 3333 Bristol St, Costa Mesa, CA 92626
Phone: (714) 427-0998 
Kiehl's not only offers a wide range of skincare products for men and women but also currently has a phenomenal arrangement of gift bundles and goodies for everyone in your life. I had no idea that Kiehl's carries a line for babies and kids (as well as dogs!) that has long-lasting nourishment, soothing properties and is gentle. These particular gift sets are packaged in a chic matte red box and finished with a bow; there is a variety of festive, vibrant, and elegant gift package bundles (many that I will share in the following gift posts). 
What's in the Baby Gift Set?
Mom & Baby Moisturizing Cream - a unique blend of mild, carefully selected ingredients to moisturize and soothe baby's delicate skin. Made with Shea Butter, Apricot Kernel Oil, and Olive Fruit Oil, this formula nurtures and hydrates skin, leaving it soft, smooth, and supple and is gentle enough to use on baby's face to help moisturize and even out dry patches. 
Mom & Baby Nurturing Body Oil - a mild formulation gently nurtures baby's delicate skin with moisture and keeps mom's skin feeling softer and smoother, too. Enriched with a moisturizing blend of natural Olive Fruit and Apricot Kernel oils, our replenishing formula helps soothe skin while leaving it comfortable, soft and smooth.
Baby Lip Balm - utilizes a unique blend of ingredients, including Shea Butter and Tocopherol to nourish skin and prevent irritation In consumer tests, 96% of mothers reported that baby's skin appeared moisturized and hydrated after application.
Gentle Hair & Body Wash - Moisture-rich wash for babies and children, mild, tear-free formula, and infused with a light pleasant scent to leave baby's skin and hair smelling fresh and clean.
Why This Set is Amazing
It Includes Products that are:
Paraben-free

 

Silicone-free
Fragrance-free
Pediatrician-Tested
Dermatologist-Tested
Mommy-Approved
Safe for Sensitive Skin
Mineral-Oil-Free
What's in the Doggy Gift Set?
Cuddly-Coat Conditioning Rinse - Lightly-scented, nurtures and moisturizes while providing an enduring shine between treatments. Formulated with Chamomile Flower Extract - nature's own superb hair and skin conditioner.
Spray-N-Play Cleansing Spritz - Leaves no irritating residue as it effectively cleanses dog's coat and skin. May also be used for removing stains on coat or to spot clean and deodorize. Formulated with Chamomile Flower Extract.
Cuddly-Coat Grooming Shampoo - Gentle enough for dog's coat, face, and skin
Blends Chamomile Flower Extract with efficacious and gentle cleansing ingredients
pH-balanced formula will leave coat and skin clean with a light and refreshing lavender scent. Ideal for big and small, long- or short-haired dogs.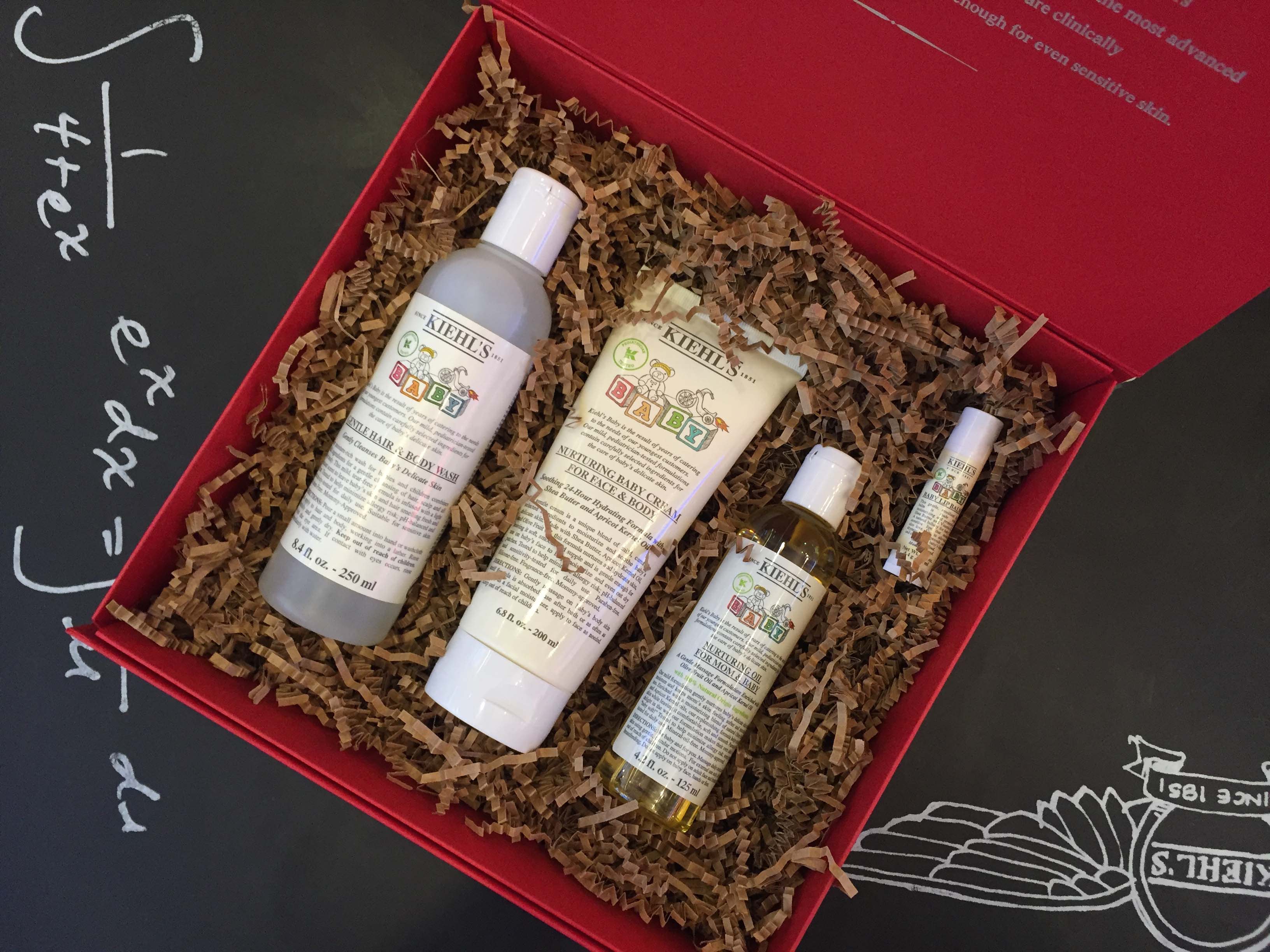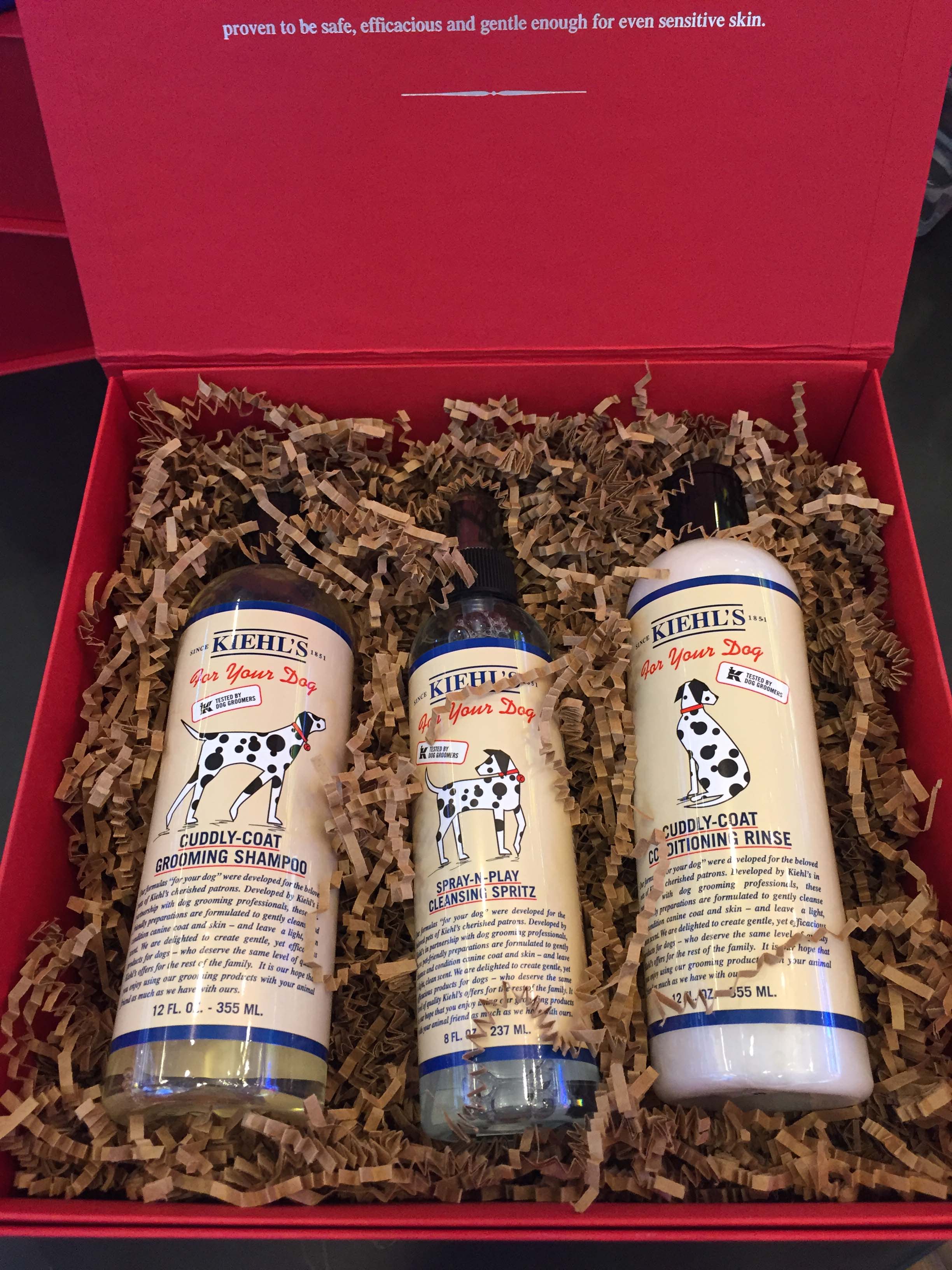 South Coast Plaza, 3333 Bristol St, Costa Mesa, CA 92626
Phone:(714) 979-1771 
Coach is known for creating the most exquisite and timeless leather goods, and leather goods for teens and young adults are no exception. If you're looking for a more upscale touch for the teen in your life, check out Coach's cutest and chicest selection of keychains and small handbags and wallets; all three items pair together well for a nice bundled gift. Maybe pick up something nice for yourself as well!
Coach Swagger 15 in Pebble Leather - More petite than its big sisters, this darling design in plump pebble leather shares the same coveted silhouette, with the versatility of a long strap that snaps on with ease and just enough space for essentials.   
Envelope Card Case in Pebble Leather - this perfectly simple case is crafted in richly pebbled leather with precise edge painting and a metal Horse and Carriage logo. 
Leather Inlay Robot Bag Charm - A little tinkering with glove-tanned leather, and our design team came up with the next generation of this whimsical robot. The one-of-a-kind automaton and key keeper is a witty combination of our signature turn lock and bead-chain hardware.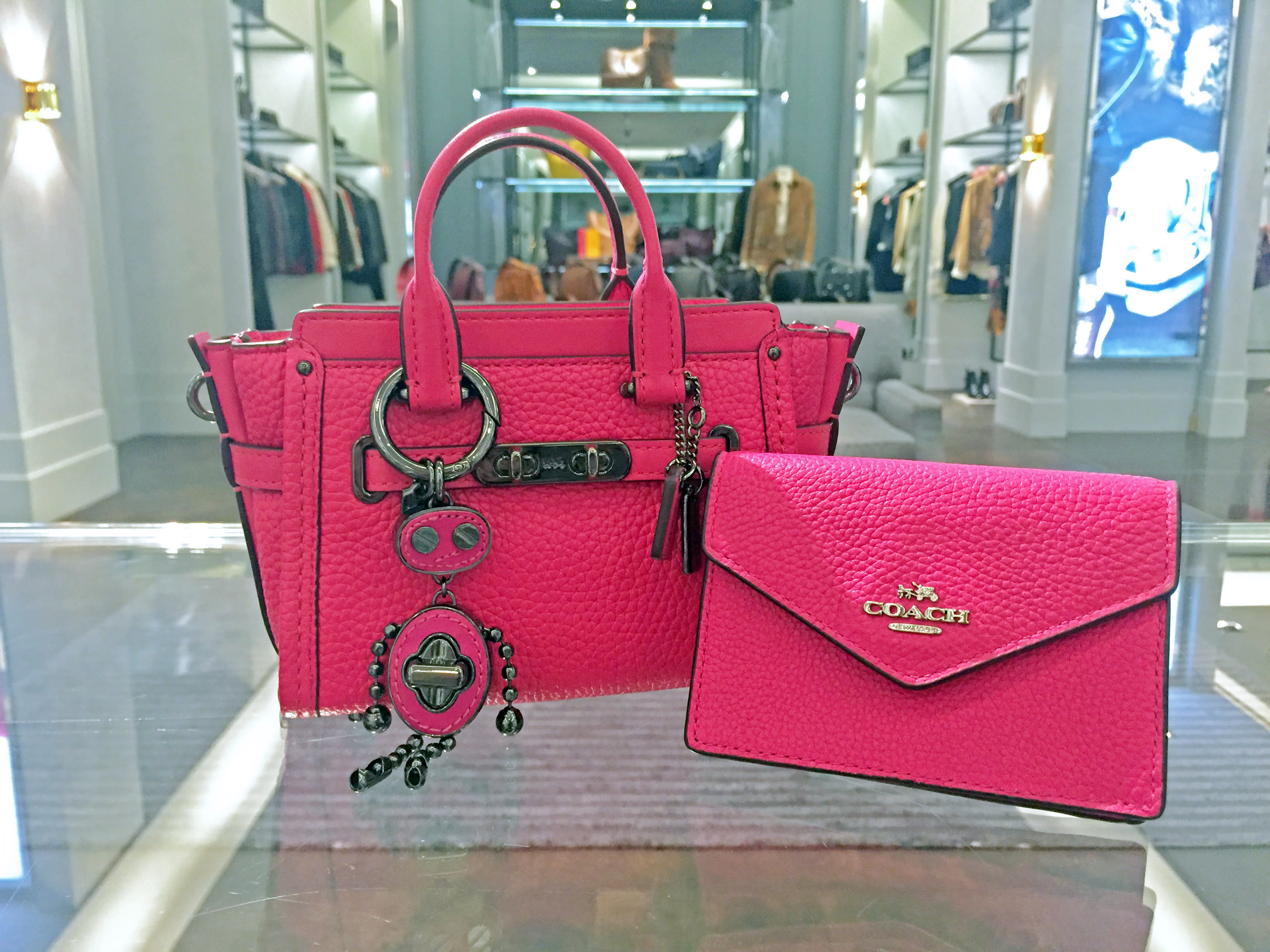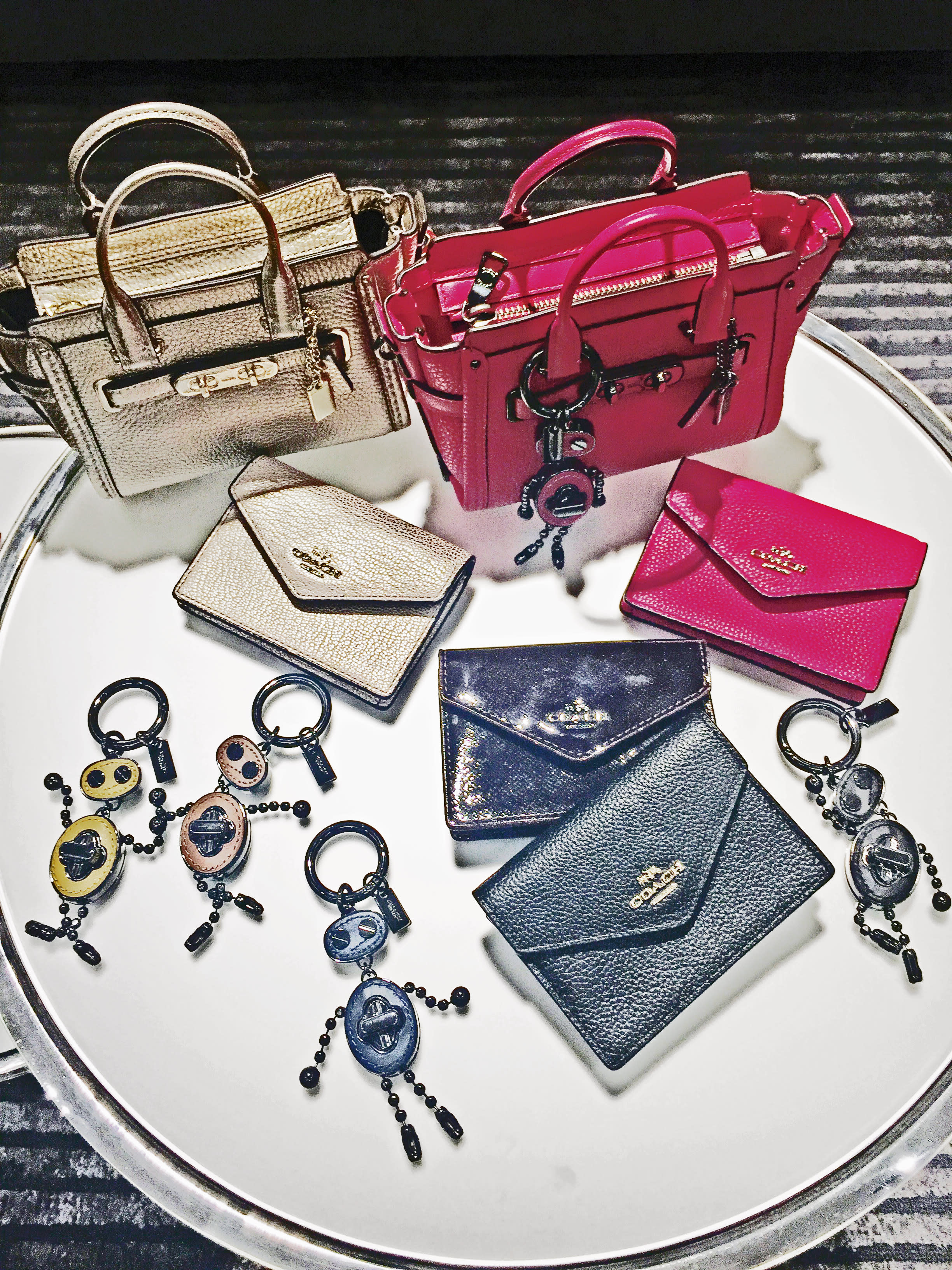 South Coast Plaza, 3333 Bristol Street, Costa Mesa, CA 92626
Phone: (714) 540-3233 
You can find the most opulent and classic designer and contemporary goods at this department store. To highlight some items to pick up for the teen you're gifting, check out these gift sets and trendy accessories.
Smith & Cult Nail Lacquer Collections - Available in a 3 or 9 piece set, this luxury nail lacquer set is for the manicure maniac in your life or fitting for someone wanting an introduction to self-manicures. Aside from the stunning nail lacquer bottles, each set comes with a zip bag and mani tutorials. The 9-piece set, in particular, is presented in a beautiful boxed package. 
Prada Bear and Robot Keychains / Bag Charms - These are the chicest and trendiest keychain/bag charms that perfectly pair with a Prada handbag or spruce up your own handbag. Each keychain is intricately detailed and has a personality of its own - find one that perfectly represents the teen you are gifting.
Anya Hindmarch Handbags & Accessories - I was immediately drawn to this display due to the bold and vibrant designs of each bag and accessory. Anya Hindmarch's designs pay homage to pop culture, retro, and modern and can be worn by teens and adults. Backpacks and small crossbody bags, as well as patches and stickers, will sure have your teen styling outfits with their Anya Hindmarch piece for hours.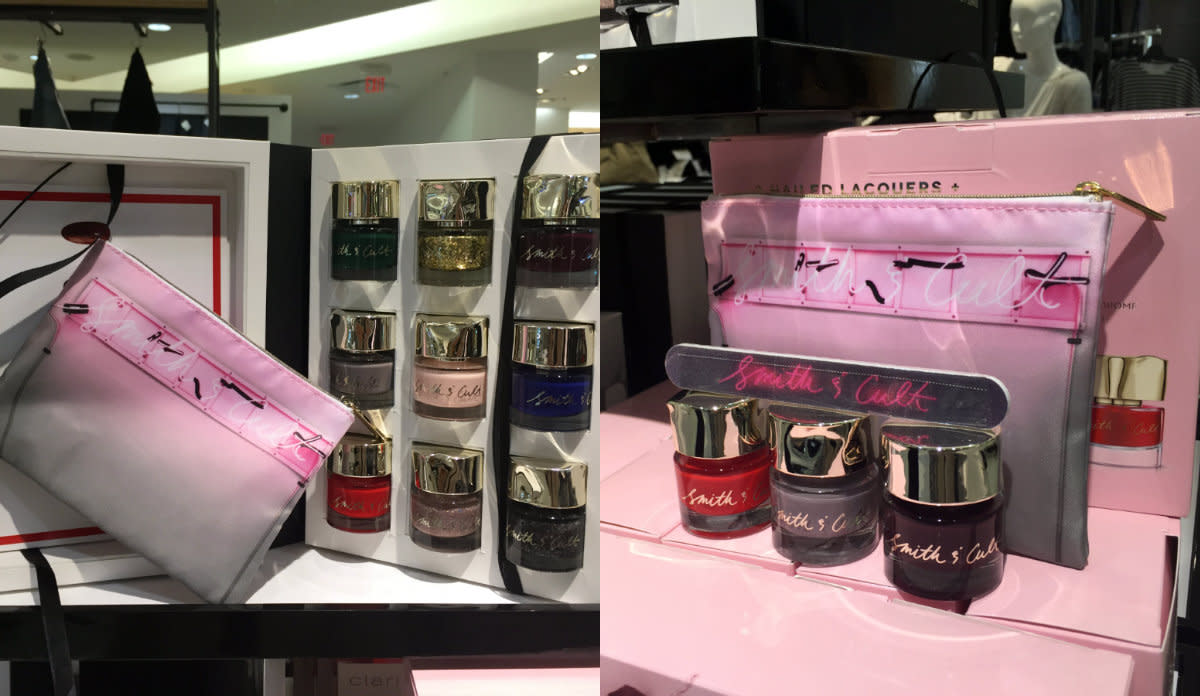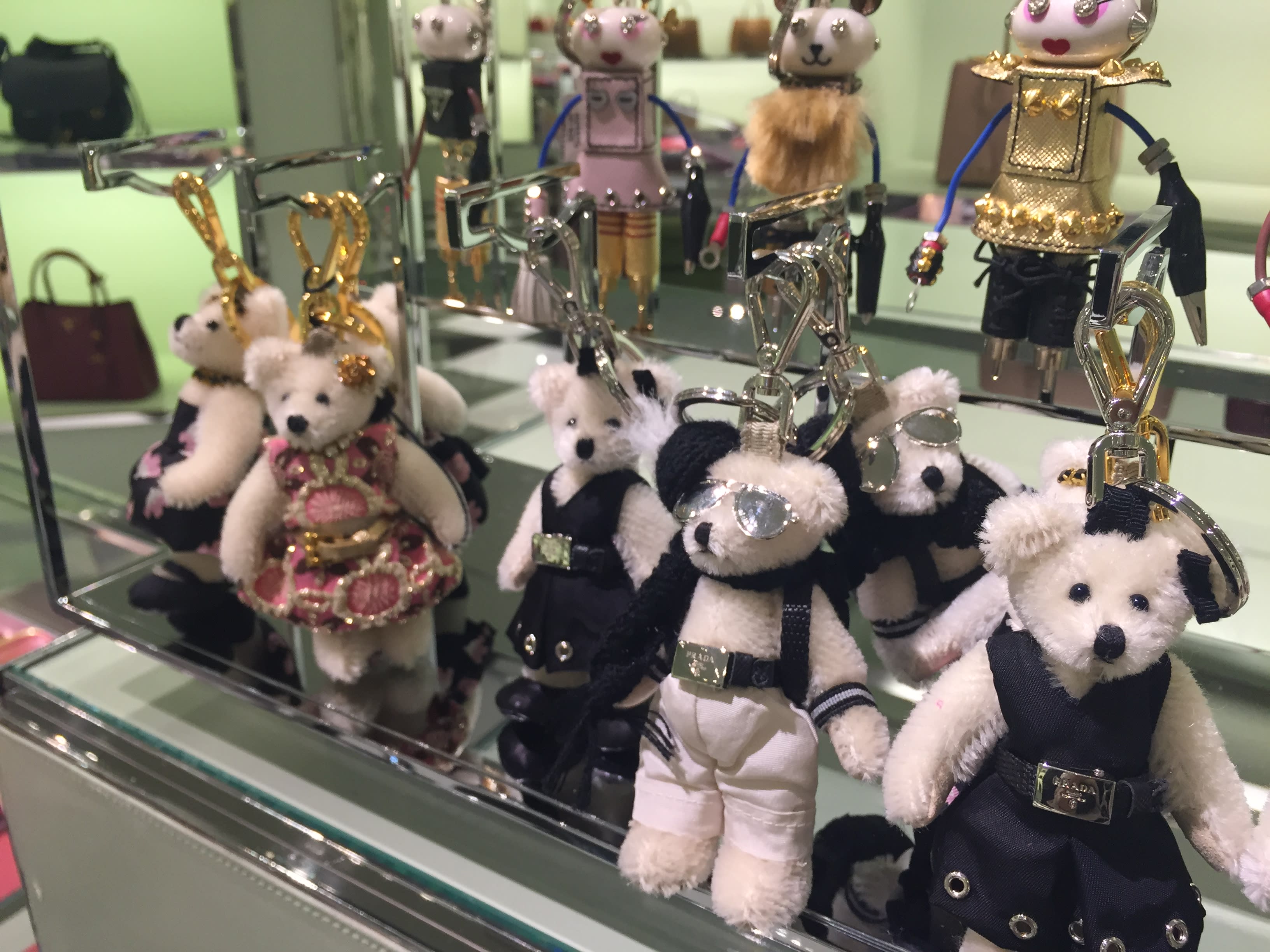 Happy Shopping!
3333 Bristol St, Costa Mesa, CA 92626
Images were taken by Amanda of Feast.Fashion.Faves, all product information pulled from each brand/company's store websites. For more information on each product, please contact each store. Thank you to SCP and each store that participated in this series.