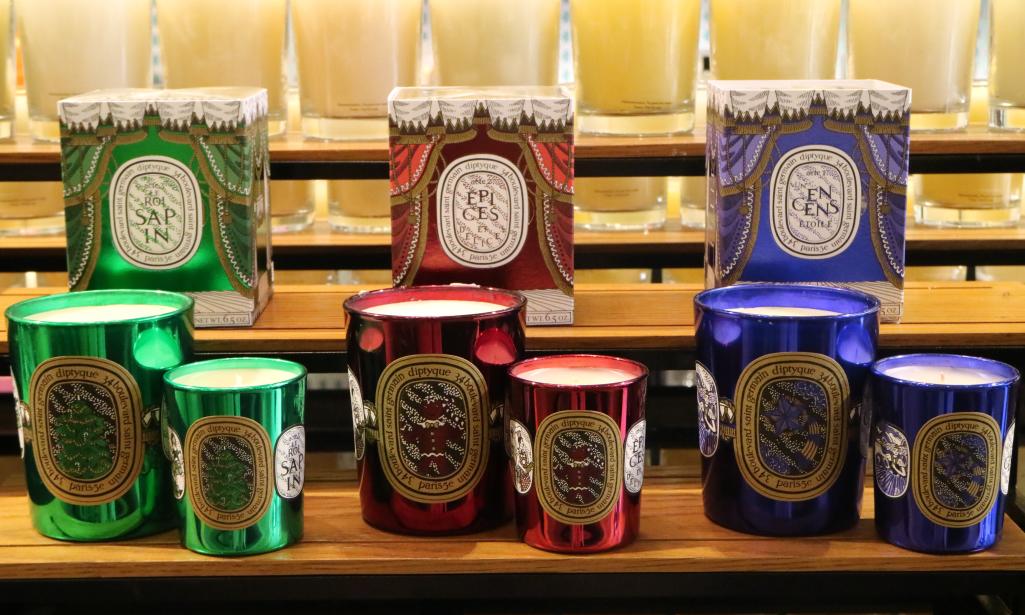 Black Friday Sales are just around the corner and if you plan on getting a headstart on your holiday shopping, this last installment of a holiday gift guide series at 
South Coast Plaza
 may come in handy when gift shopping for 
her
. Although the items featured in this shopping series may or may not be included in Black Friday promotions at South Coast Plaza, these gifts make for stand-out presents to your loved ones. Check out the rest of the Holiday Gift Giving series by clicking 
here
 for babies & kids gifts and 
here
 for men gifts.
Phone: (714) 850-9995 
Diptyque, a leading Parisian Perfumer is full of gift options this holiday season offering luxury, limited edition fragrances, scented candles and gift sets. As an avid collector of luxe candles and fragrances, I was immediately smitten with all of the holiday items and gifts in Diptyque's holiday collection. Every holiday season Diptyque releases three limited edition candle scents in the most detailed designed glass votives. This year, the three scents tell a story called A Night at Diptyque, through three theatrical fragrant acts. Stop by Diptyque to discover the sparkling incense aroma, spiced gingerbread and lush pine fragrances for yourself. If you're shopping for a Diptyque enthusiast, these limited edition holiday candles are the perfect gift, but there are also a variety of soap, fragrance and mini candle discovery sets, as well as the brand's most unique limited edition items such as a Bais Deluxe Holiday Candle and Advent Calendar (which sells out quickly).
Act 1: Un Encens Étoilé (Sparkling Incense) Candle (190g or 70g)
Fairies caroling, sparkling incense, and crystalline elegance. A burst of dazzling elemi and spicy cloves mingle with mysterious swirls of incense and sweet vanilla.
Act 2: Épices et Délices (Delicious Spices) Candle (190g or 70g)
An exclusive treat, a unique recipe of delicious spices. Warm gingerbread notes mingle with tasty honey laced in hints of star anise.
Act 3: Le Roi Sapin (The Festive Fir Tree) Candle (190g or 70g)
Oh Christmas tree, oh Christmas tree, how lovely are your branches... The incredible smell of a lush, pine-laden forest steeped in the woody tones of resin, cedar, and patchouli. 
5 or 12 Mini Candle Set 
Choose from the 5 Mini Candle Set to create a warm winter ambiance (includes Wood Fire, Opopanax, Amber, Pomander, Benjoin) or the 12 Mini Candle Set - a selection of timeless fragrances composed of woody, spicy, floral and fruity creations. Twelve scents, one for each month of the year to pick from according to your mood (includes Mimosa, Berries, Roses, Fig Tree, Jasmine, Cypress, Hazelnut Tree, Amber, Tuberose, Wood Fide, Pomander, Benzoin).  
Eau de Parfum Discovery Set (Set of five 7.5ml sprays)
An invitation to discover the universe of diptyque Eaux de parfum through its five signature fragrances - Tam Dao, Philosykos, Do Son, L'Ombre dans l'Eau, Oud Palao
3 Soap Holiday Coffret
Discover a selection of timeless body care treats. Three scents, dear to the brand Do Son, L'Ombre Dans Leau, and Philo.
Baies Limited Edition Deluxe Holiday Candle (1500g)
Indoor/Outdoor Candle. During this holiday season, the giant Baies candle is adorned with gold stars for the very first time. Each enamel pot is unique, entirely manufactured by hand at Virebent, a pottery house renowned since 1924. Before indulging in the scents of roses and blackcurrant leaves, discover the candle in its special hat box illustrated with little scenes.
Advent Calendar (25 little treasures to enjoy before Christmas)
An exceptional gift offering a unique selection of fragrances to enjoy during the holiday season and bring you to the new year. Includes 10ml miniatures of eaux de toilette,15ml miniatures of skincare, 35g mini candles, and a 70g candle.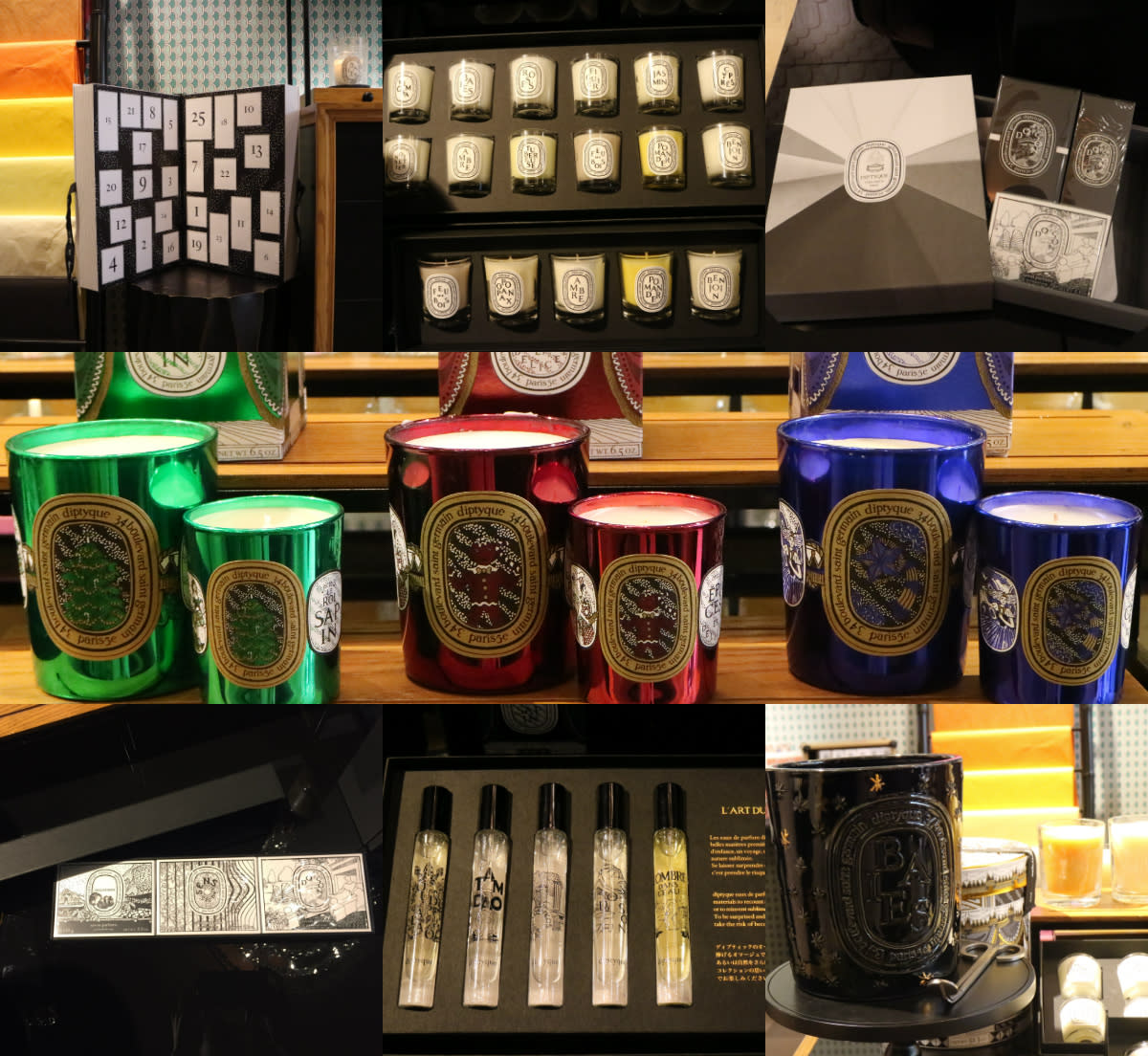 Phone:(646) 771-8067 
Massimo Dutti is a new global store concept from the Spanish-based parent company of Zara, and it recently opened its doors to the first West Coast location at South Coast Plaza. If you're shopping for a fashion forward individual, there's a plethora of winter leather goods and accessories as well as style staples that make for a timeless and fashionable gift. Shop from a vast wall display of items from gloves, hats, and wallets to shoes, scarves and leather jackets.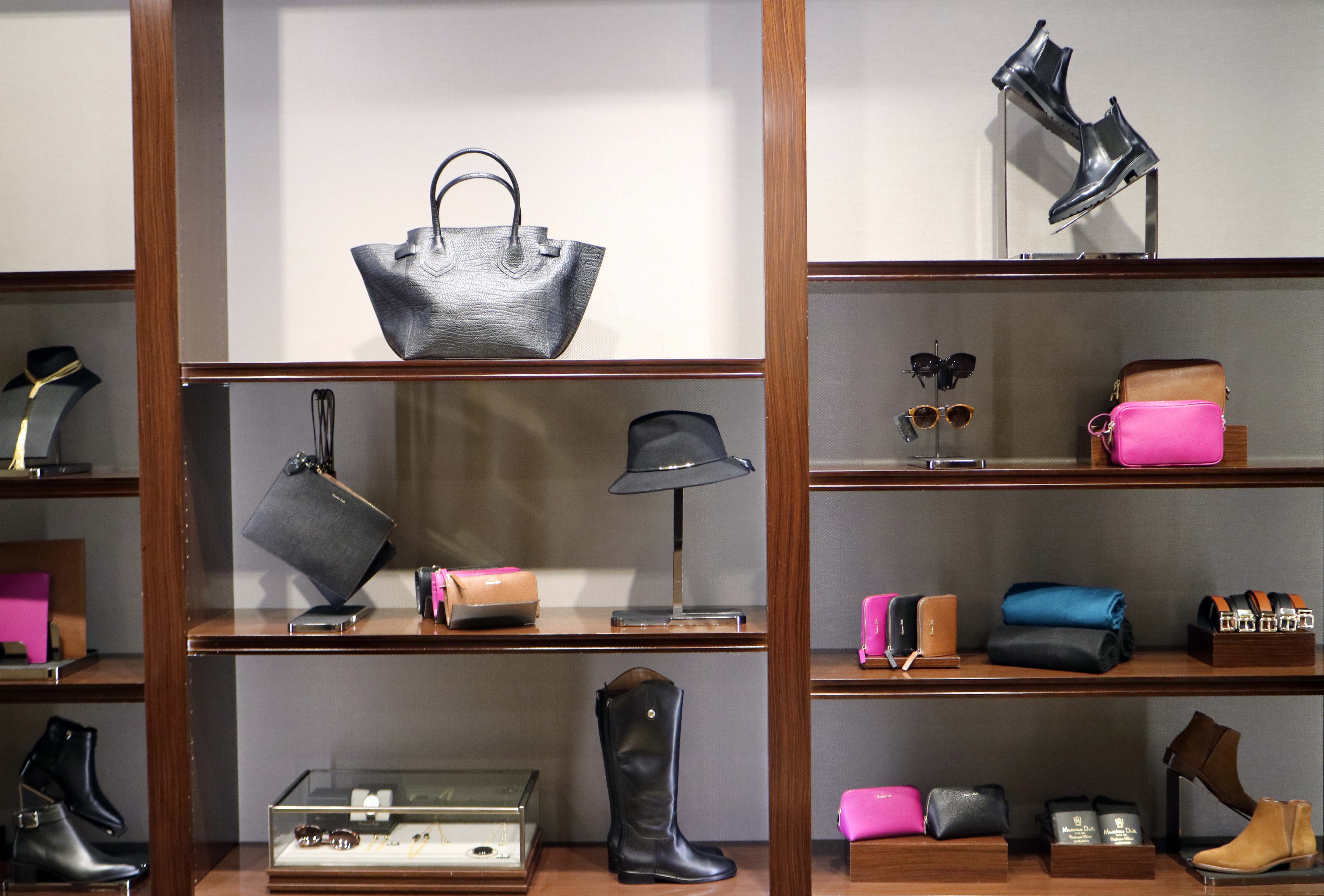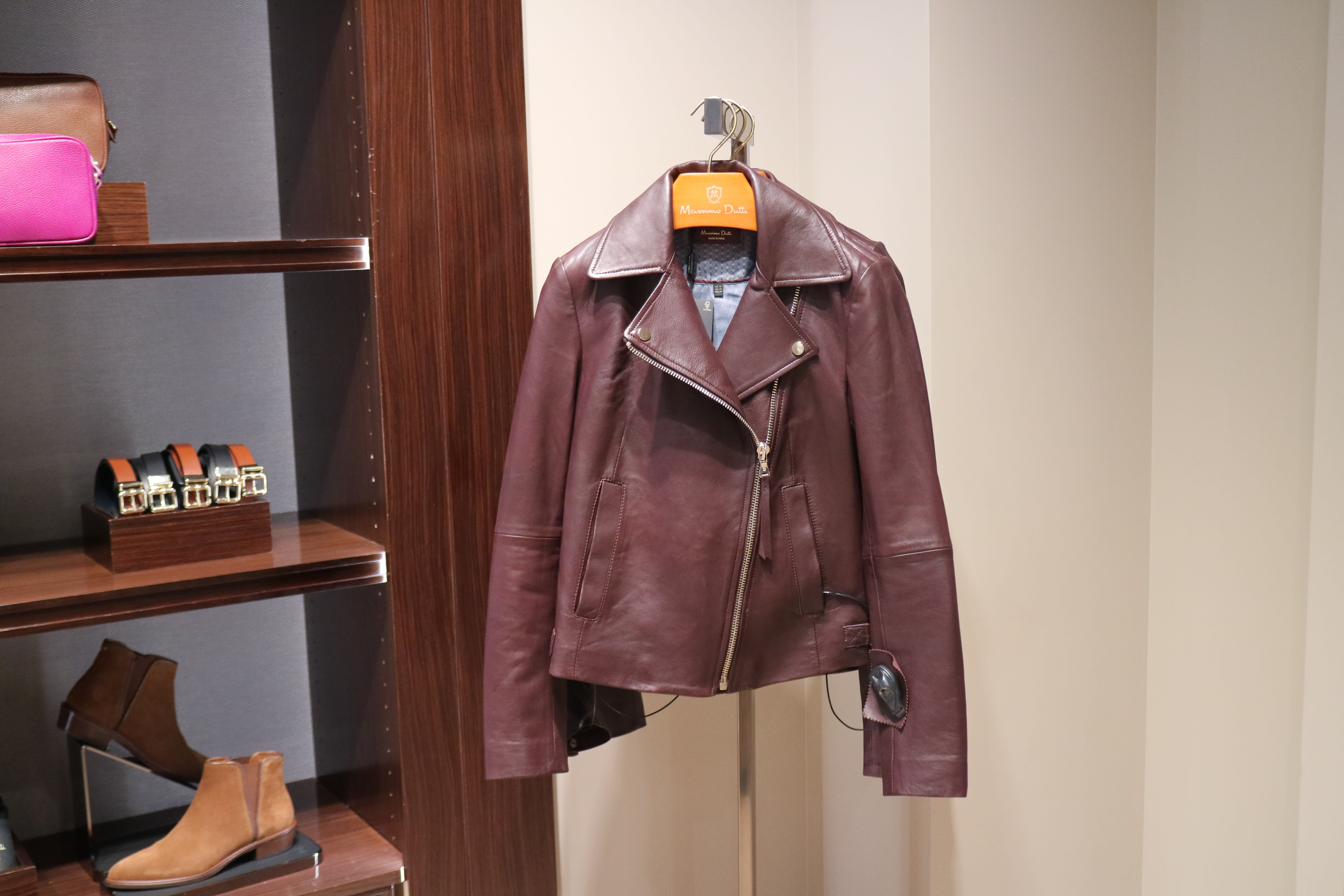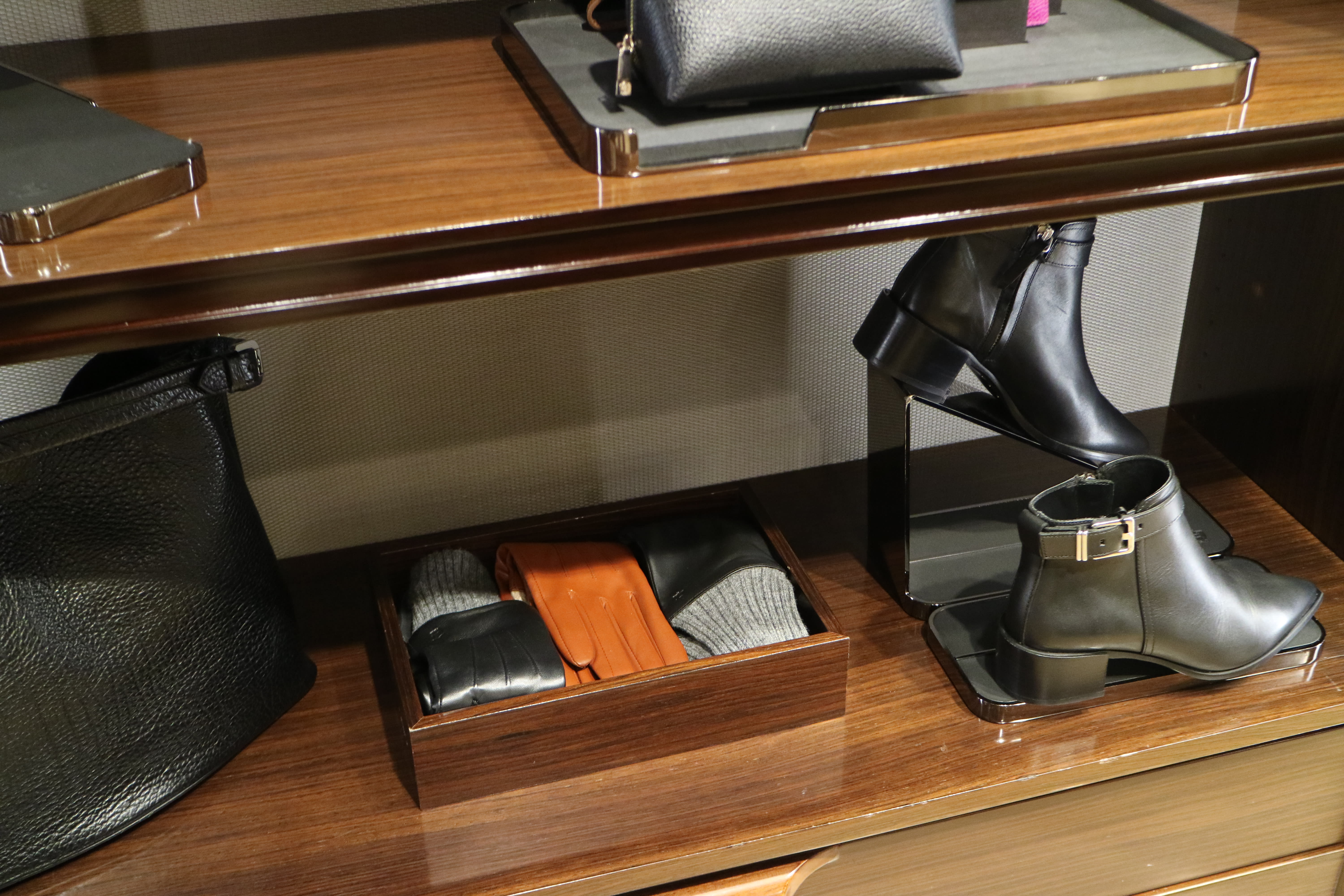 Phone:(714) 427-0998 
If you're shopping for a skincare aficionado, Kiehl's will have the holiday gift sets you need. The brand has gone above and beyond with holiday gift giving this season through multiple dedicated holiday wall displays filled with fun and festively packaged skincare gift sets. If you're not quite sure what skincare product or gift set to purchase, ask a Kiehl's associate to demo any of the products you are curious about.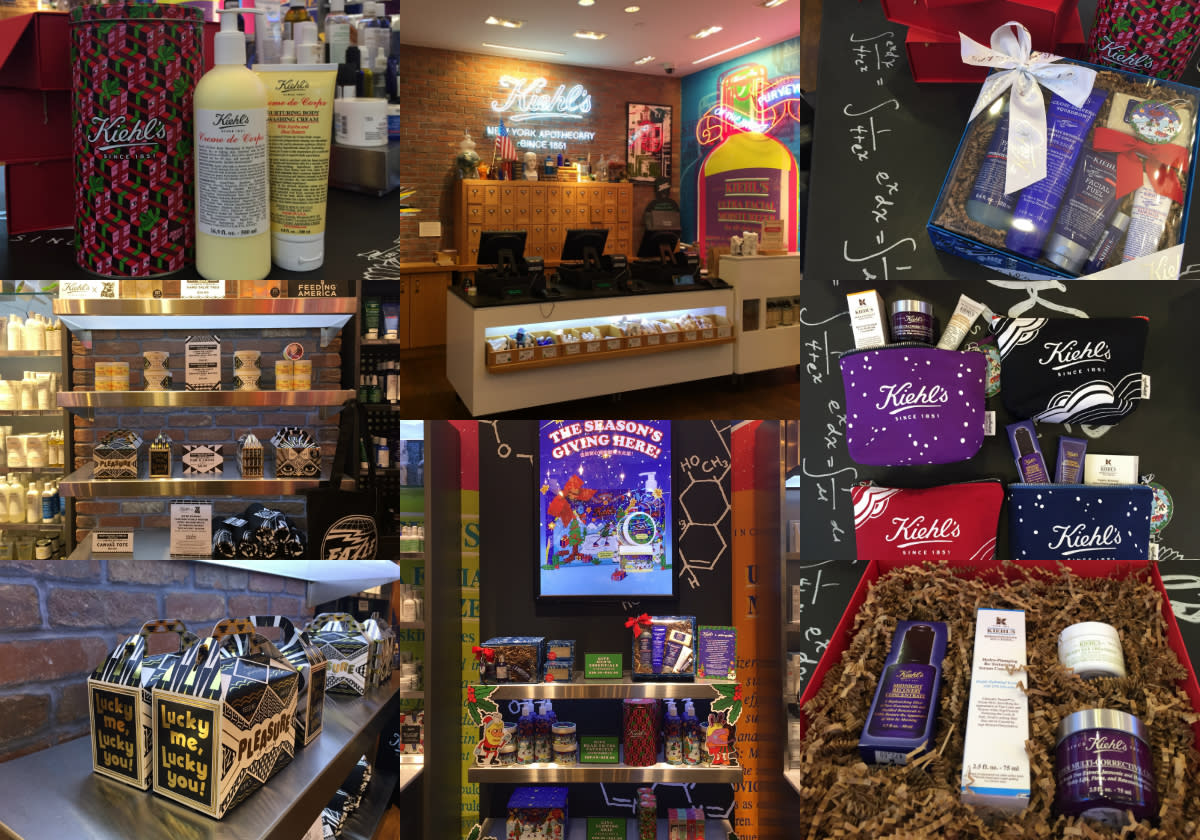 Phone: (714) 979-1771 
Coach recently launched their new eau de parfum, COACH THE FRAGRANCE (which I am the proud owner of), featuring airy and contrasting notes inspired by the spontaneous energy and downtown style of New York City. Coach has the fragrance in a three-piece set which includes the bottled eau de parfum, perfumed body lotion, and tube eau de parfum spray all beautifully packaged in a pink gift box. Accompany the fragrance with one of Coach's exquisitely crafted leather handbags, such as the Tea Rose Applique embellished crossbody bags or a convertible wallet clutch. 
Coach the Fragrance Eau de Parfum
Coach introduces a fragrance full of contrasts inspired by the spontaneous energy and downtown style of New York City. Spirited and sparkling, yet sensual and feminine, Coach Eau de Parfum opens with bright, sparkling raspberry, which gives way to creamy Turkish roses, before drying down to a sensual suede musk base note. 
Tea Rose applique DINKY Crossbody
Luxury craftsmanship meets the whimsicality of hand-placed leather blooms on a charming little silhouette that reimagines a beloved Coach design from the 1970s. The bag is crafted in modern glove-tanned cowhide with an iconic turnlock and a chain strap woven through with a slender ribbon of leather.
Tea Rose applique DINK Crossbody 24
Luxury craftsmanship meets the whimsicality of hand-placed leather blooms on a charming silhouette that reimagines a beloved Coach design from the 1970s. The bag is crafted in modern glove-tanned cowhide with an iconic turnlock and a chain strap woven through with a slender ribbon of leather.
Drifter Wallet in Exotic Embossed Leather
A striking new turnlock plaque inlaid with semi-precious stones anchors this 2-in-1 design. Well-organized, accordion-style wallet and sophisticated clutch in one, this edgy new silhouette is crafted in smooth and snake-embossed leathers with a detachable curb-chain strap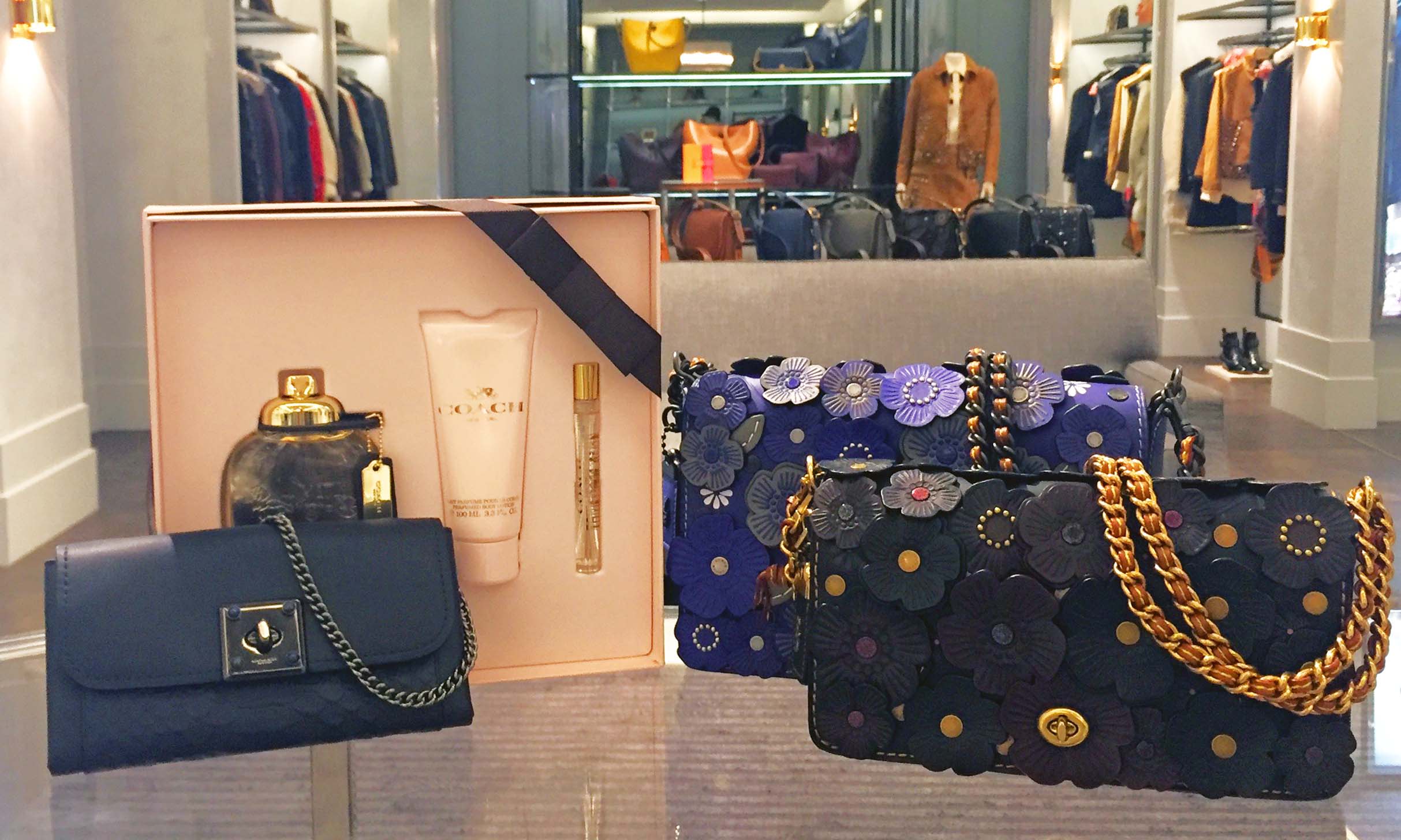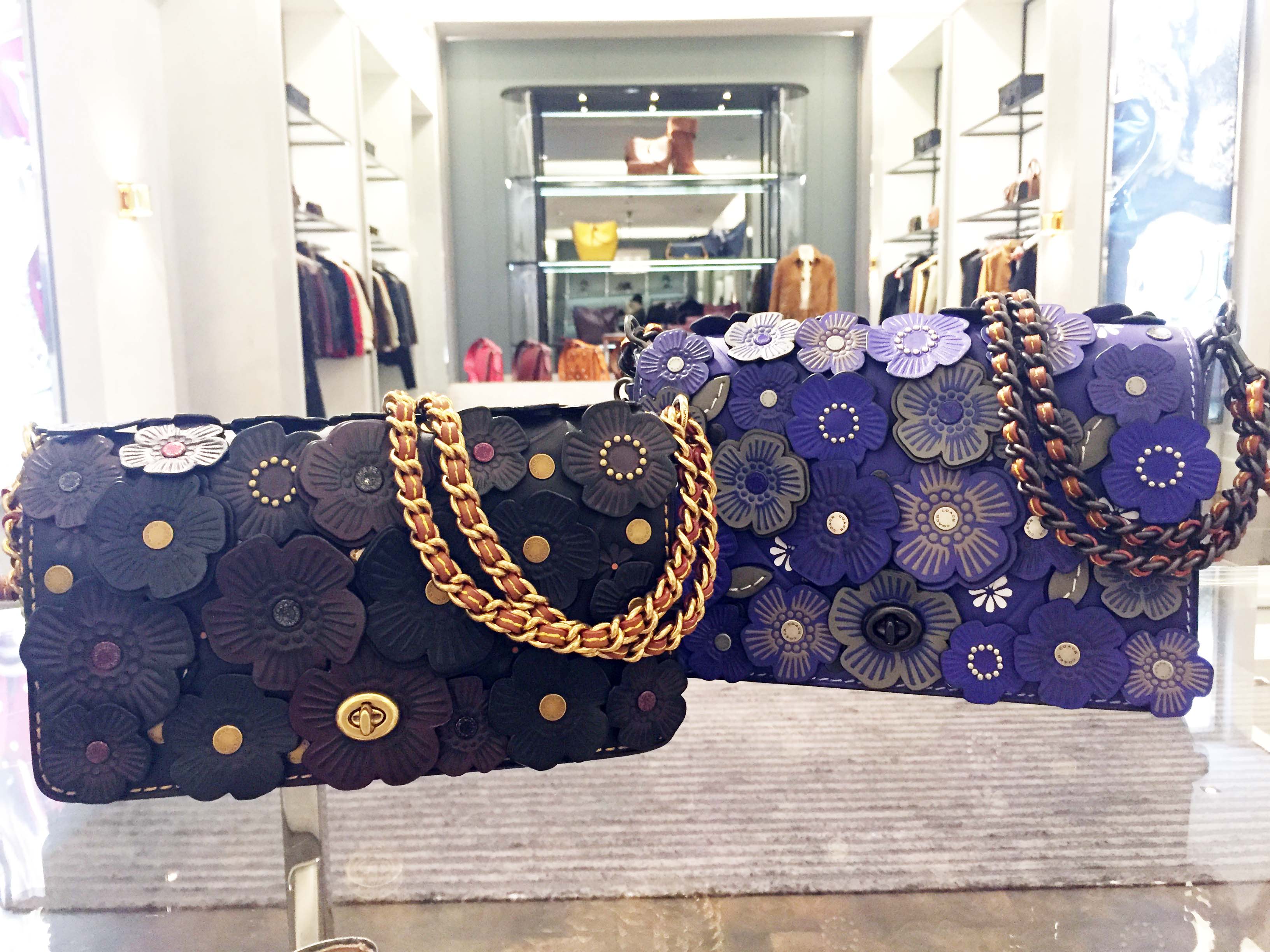 Phone: (714) 540-3233 
Saks Fifth Avenue will not disappoint when it comes to the most sought after, high-end luxury designer pieces. Each department from beauty to eveningwear is filled with a variety of gift options for her. Starting at the front in the fragrance department, I was drawn in by the spectacular perfume displays from brands such as Creed and Alexander McQueen. Moving into Handbags I loved seeing the range of styles available; you can shop classic handbag styles to more contemporary brands. Designer labels such as Prada and Louis Vuitton have their own in-store shops that you can easily pop into.

There's also an exclusive to Saks Fifth Avenue collection of Edie Parker acrylic clutches that are sure to make an unforgettable present, each clutch is a beautiful work of art. Just on the other side of the Edie Parker clutch display case lies a vast array of jewelry pieces, shop from trendy fashion jewelry brands like Chan Luu or fine jewelry brands such as Zoe Chicco.

I made a stop in the shoe department which not only had a spectacular collection of designer names but a great selection of shoe style and color options for each brand. Brands that caught my eye include Valentino, Manolo Blahnik, and Jimmy Choo. I ended my Saks Fifth Avenue journey in the Women's Evening Wear department that seemed to cover almost an entire floor.
Before making my way over the displays of sparkling dresses, I noticed that there was a luxe lingerie section in which there were quite a few intimate pieces and holiday gift sets that would make as a great gift from a husband to wife.

The eveningwear selection is quite awe-inspiring and you can't help but want to peruse through every rack, as well as the mannequin displays to see styled evening looks. Although it may be difficult to shop for her when it comes to evening gowns, this may be an opportunity that you can gift someone a shopping trip in the evening wear department for a special piece to wear for an upcoming holiday occasion or event.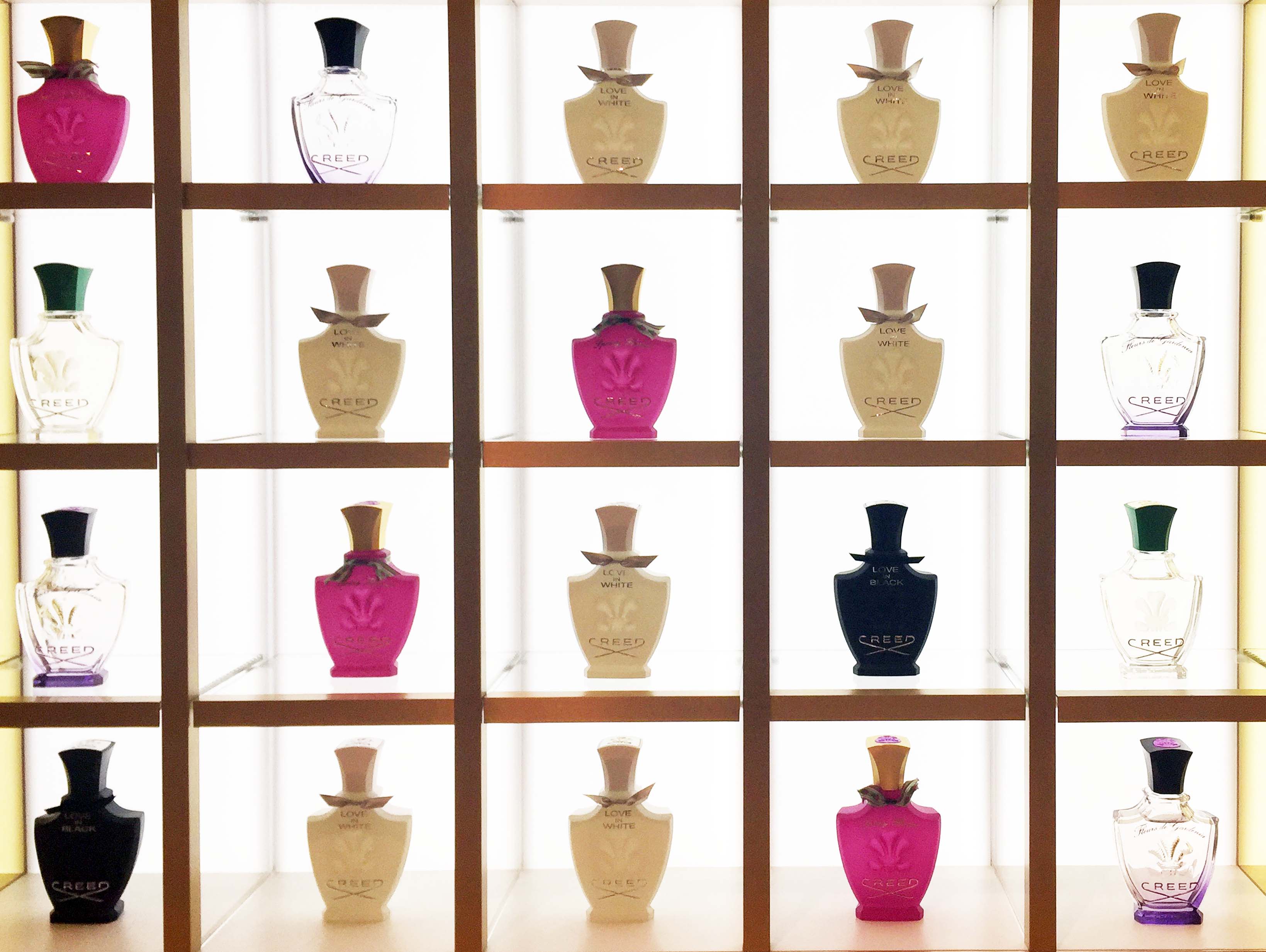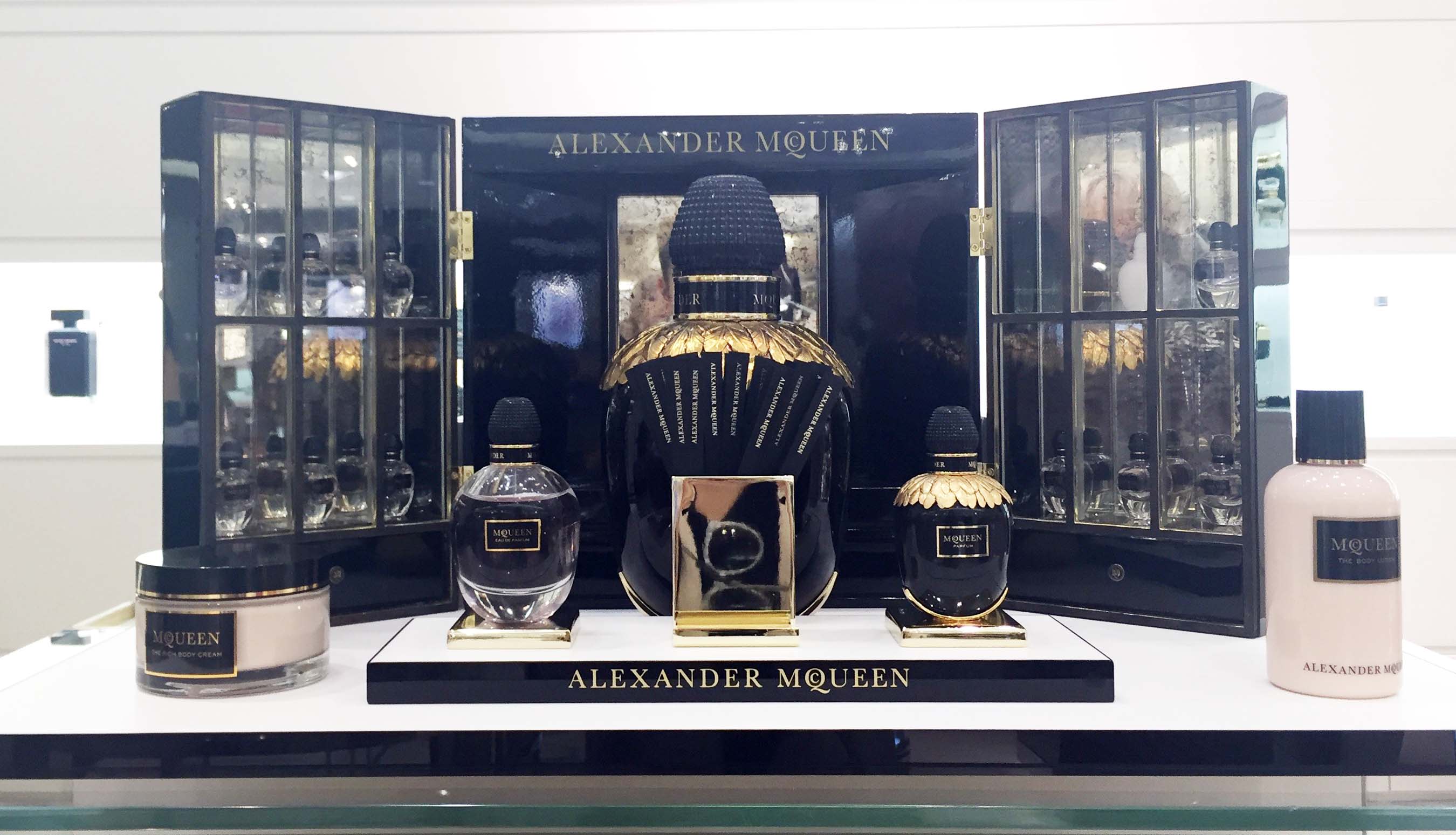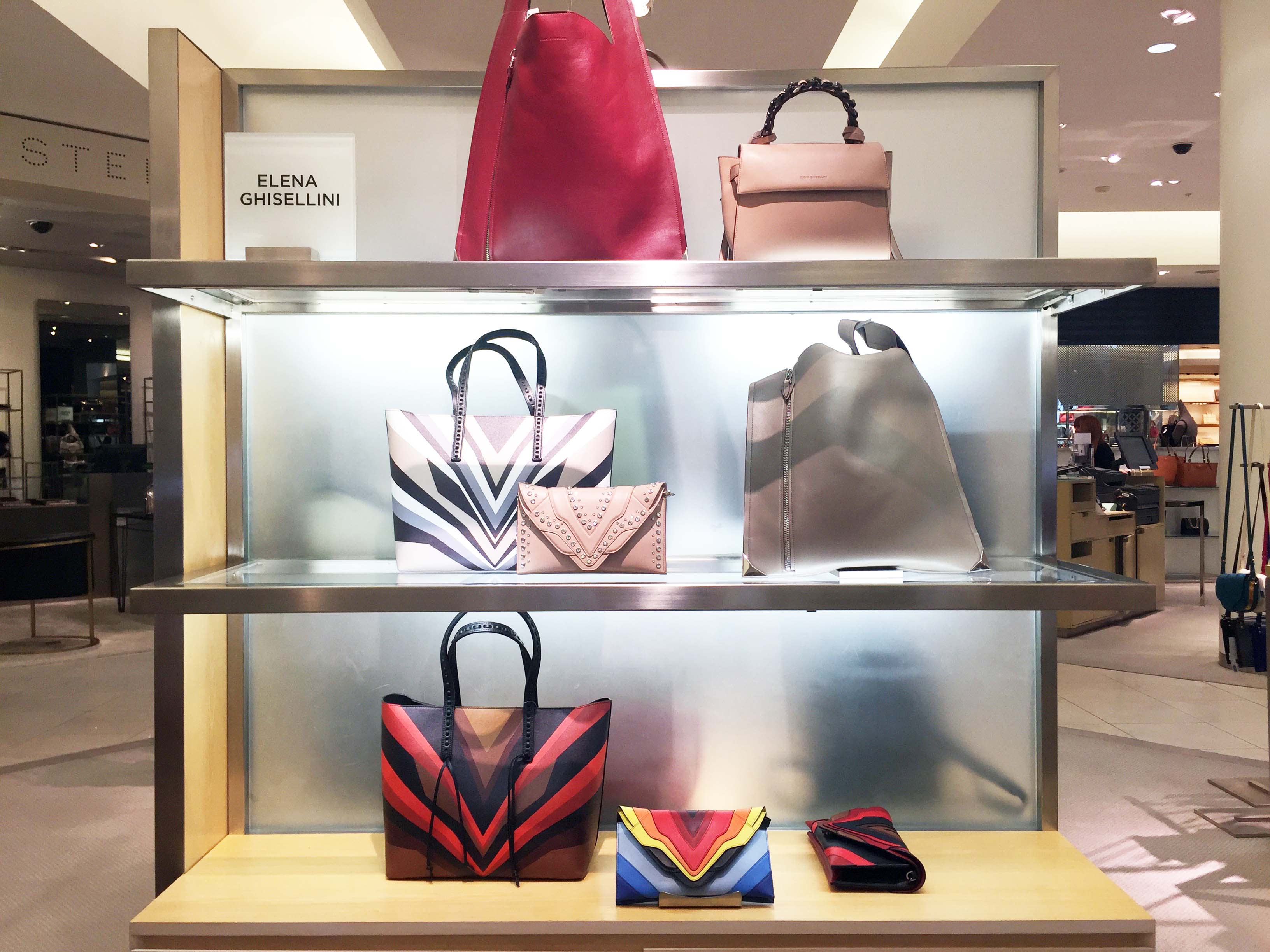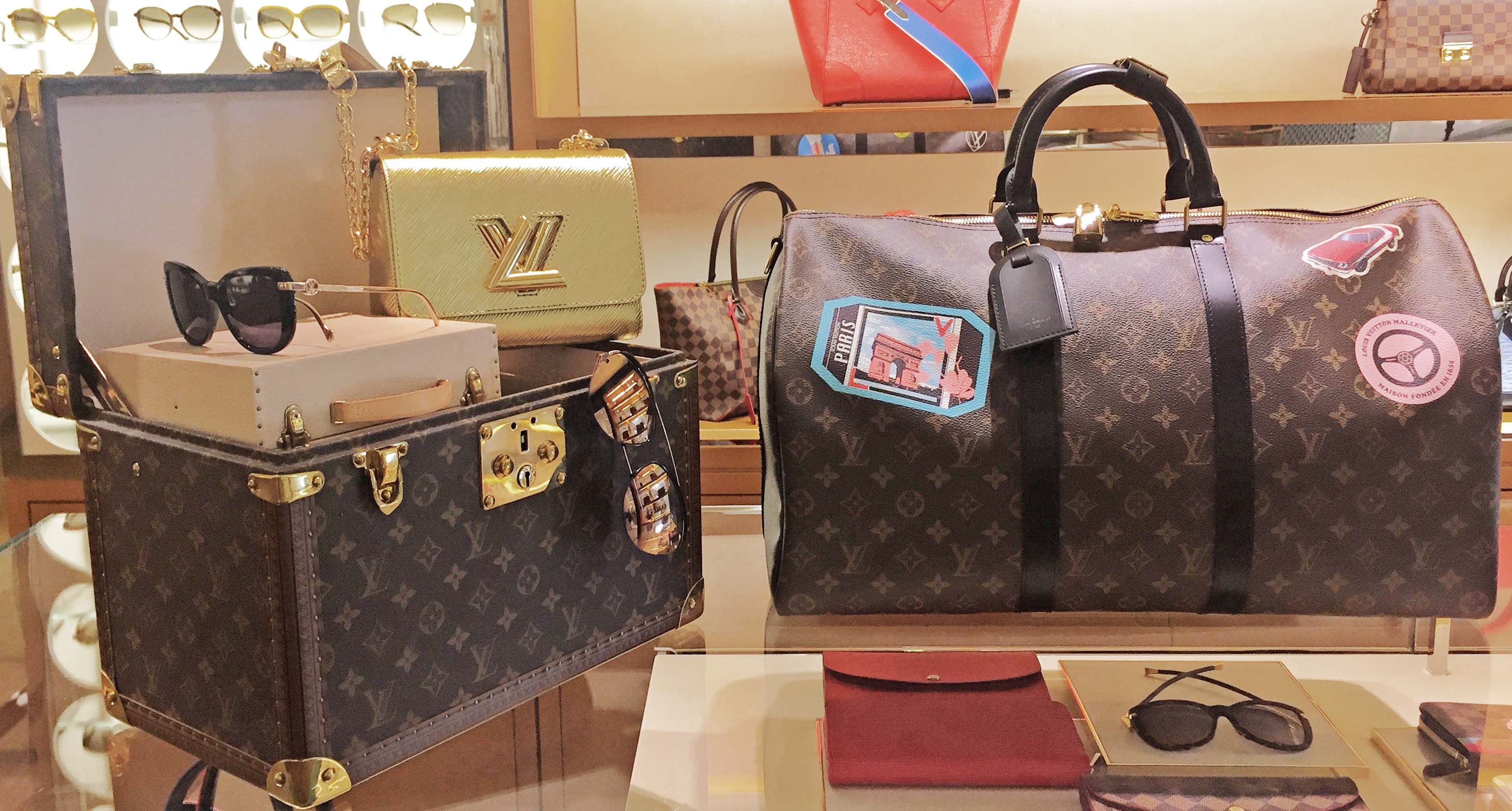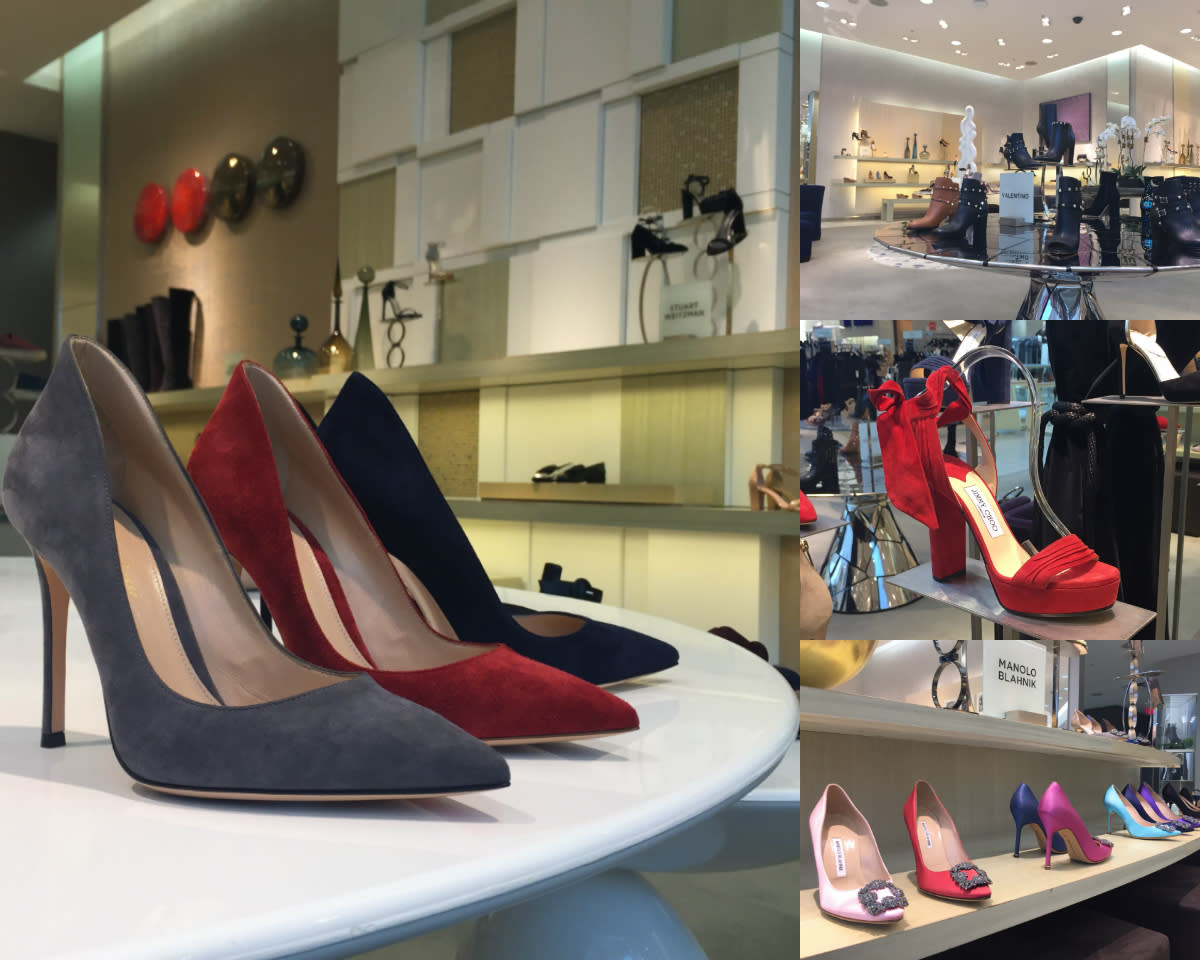 South Coast Plaza
3333 Bristol St, Costa Mesa, CA 92626 
Photos taken by Amanda of Feast.Fashion.Faves, all product information is pulled from each brand's website.