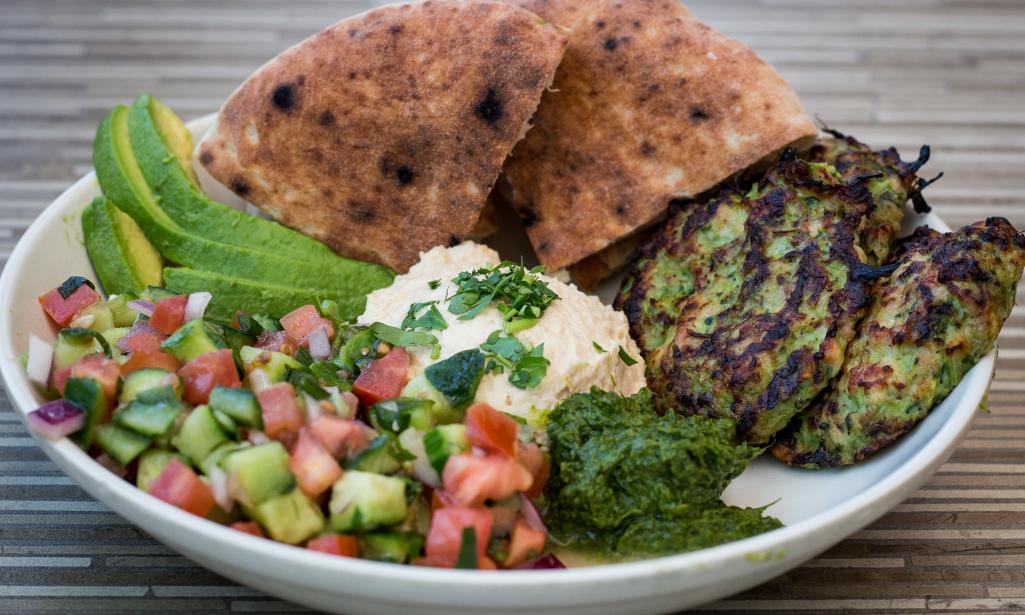 Stonefire Grill, known widely at parties for catering delicious tri-tip, bbq chicken, and breadsticks, has a brand new snack menu and it is sure to impress. The test kitchen for Stonefire Grill tried out several menu items and landed on these popular favorites. I was invited to try them out and I'll tell you what my favorite ones were - plus a hint about one of the best cakes you can eat in Irvine!
The all-new snack menu has plates that are meant to share. Choose your size based on the number of people you want to share these delicious options with.
Individual serves 1-2 | Small serves 3-4 | Large serves 5-6
Traditional hummus - Served with cucumber, grape tomatoes, and Jerusalem pita
Caramelized onion dip - Served with your choice of salt & pepper potato or tortilla chips
Mediterranean chicken patties - Protein-packed and served with lemon tahini and spicy cilantro-serrano sauce on the side
Chilaquiles Verdes - Lightly fried corn tortillas simmered in our spicy tomatillo sauce, topped with feta, red onion, and cilantro. Add avocado, pulled pork, chicken, or tri tip
Mesquite BBQ Meatballs - Served with signature or spicy BBQ sauce
Chips and roasted tomato salsa - Chips and guacamole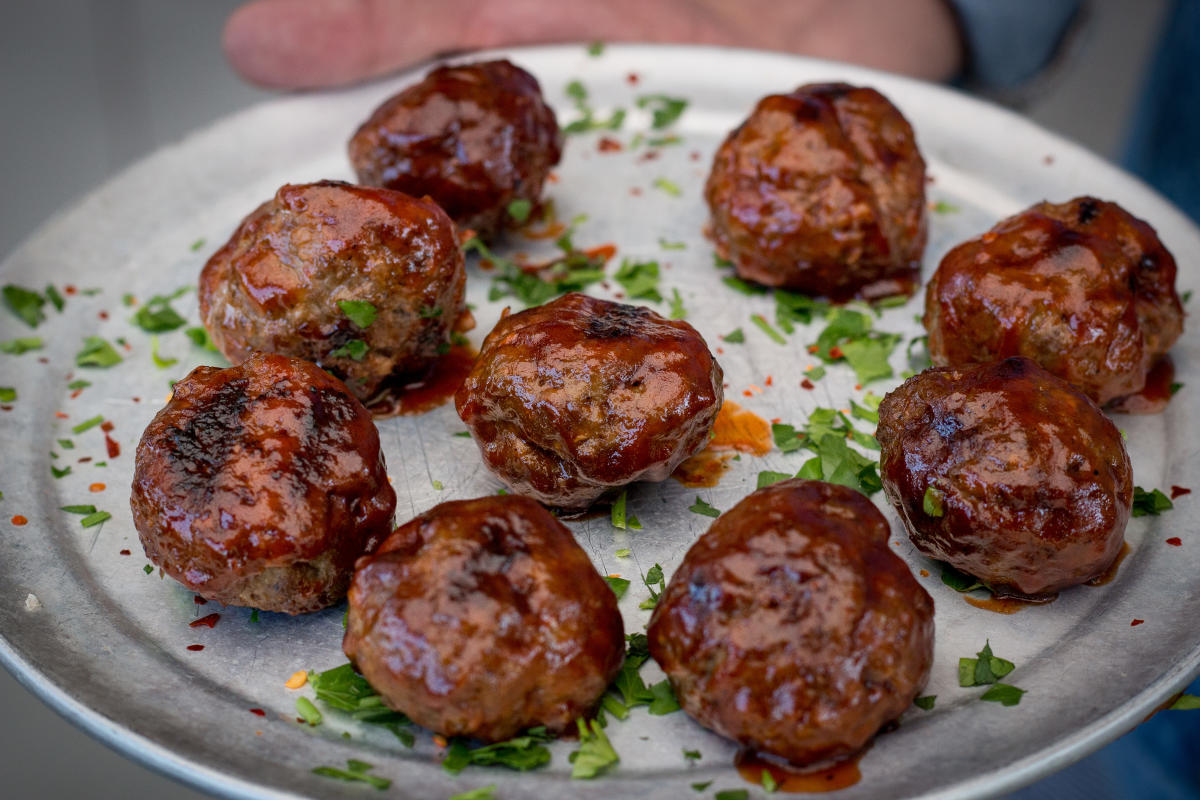 My top picks: The Chilaquiles were crispy and covered with amazing flavors of onions, cilantro, and feta, but felt a little plain all by themselves. Topped with pulled pork and avocado would have made this an amazing dish in my mind. The Mediterranean Chicken Patties were full of complex flavors and had a great taste. I put them inside the Jerusalem pita and topped them with hummus, and avocado. Just a tiny dip in the cilantro-serrano sauce (it had a big kick) and then it was a perfect bite. The combination made for a premium-sandwich-like-quality of protein loaded chicken, healthy fats, and a delicious taste. The best taste of the afternoon from the snack menu had to be the mesquite BBQ meatballs. They exploded with flavor in my mouth, were tender, and delicious. Although I tried the spicy BBQ sauce, it was not very hot in flavor, rather full-bodied and delicious.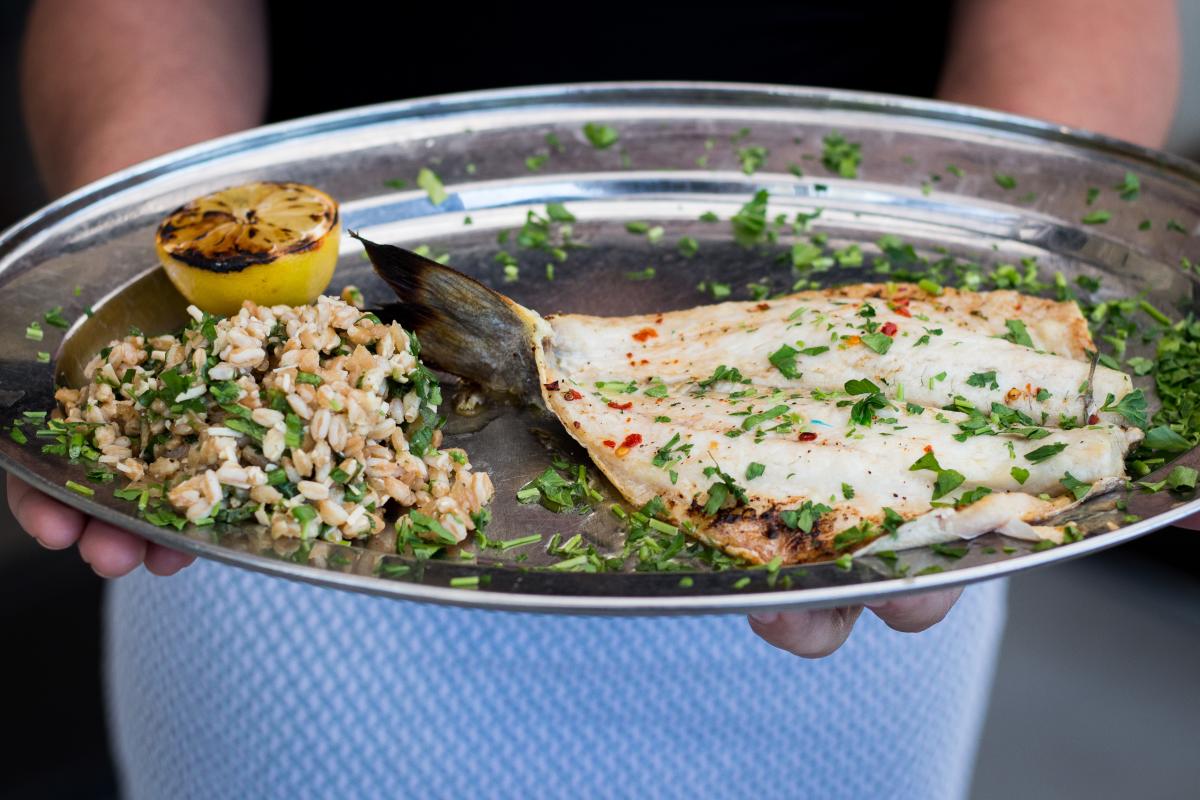 While we were seated comfortably on the newly reopened patio, out came a uniquely plated Mediterranean Sea Bass. This fish was freshly seasoned with lemon juice, olive oil, and red chili flakes and came served with the tail. That was fun! A bed of Farro Salad, tangy and sweet with parmesan cheese and cilantro added a good base flavor. This sea bass is on the regular menu and is a great option for lunch or dinner. 
A large, double patty cheeseburger, topped with grilled onions, tomatoes, and lettuce, came with a spicy sriracha ranch to dip this All American Cheeseburger. It was the perfect blend of flavors and is sure to please every cheeseburger lover in the USA.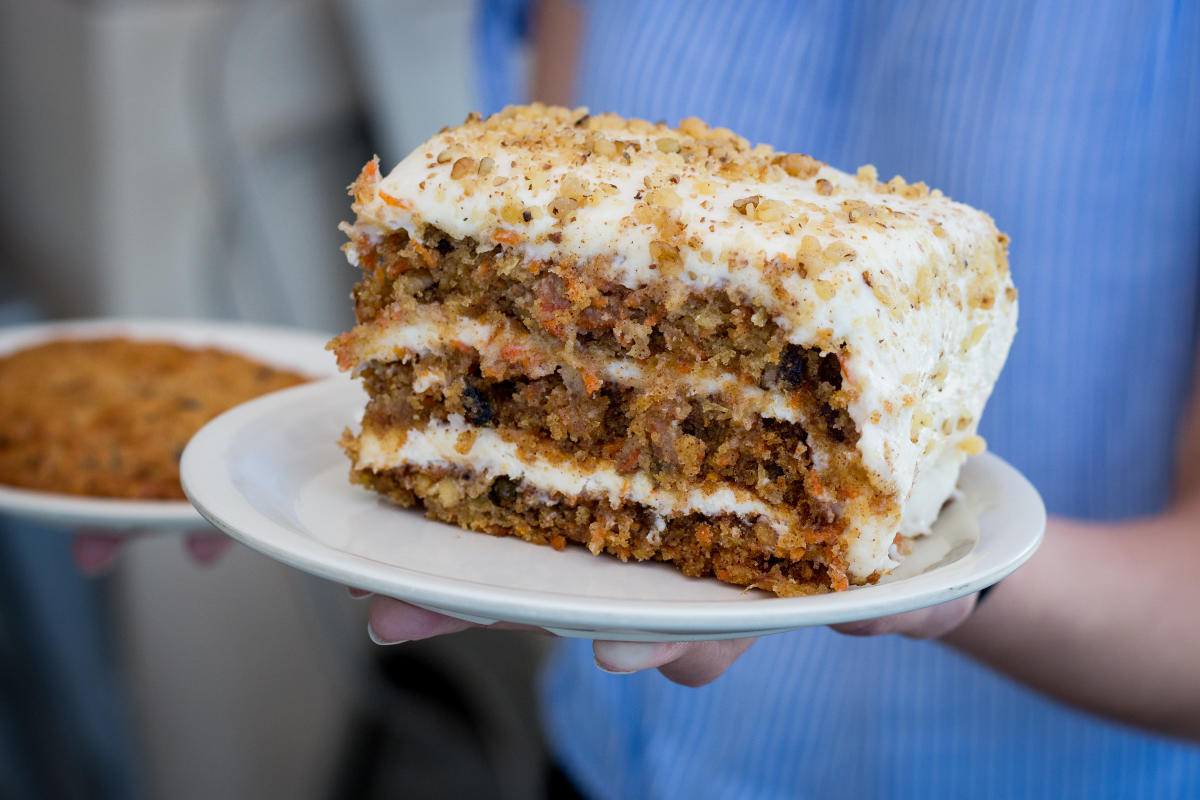 The pièce de résistance was Stonefire Grill's signature dessert, accurately titled, "Our Incredible Carrot Cake." I was convinced it would be one of the best carrot cakes I had tasted when I saw the three layers of moist cake topped with a creamy white frosting sprinkled with nuts. I've heard this cake has won over many a "non-carrot-cake-loving" person. Made from fresh carrots daily in the kitchen!
All images by Michelle McCoy