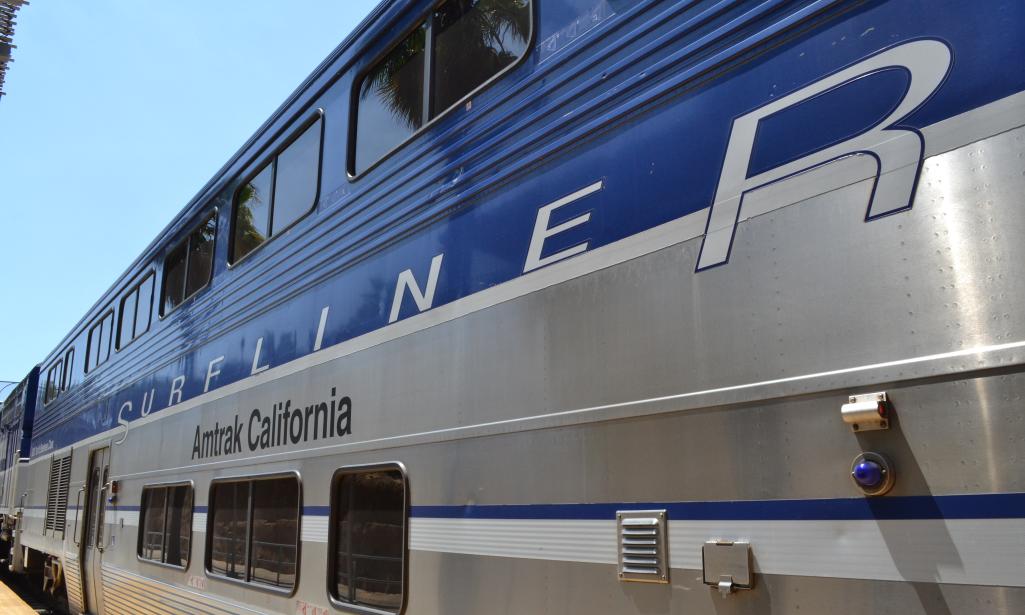 Daily Amtrak Service To "Where the Surf Meets the Turf"
You may know that Irvine is located in the heart of Orange County; centrally located between the beaches and the foothills, minutes from Disneyland in the north and the Capistrano Mission in the south.
But did you know that a day at the races is only a short train ride away?
California's historic thoroughbred racetrack, Del Mar, is only 66 miles south of Irvine. Sure, you can drive there on the 5 Freeway, but it's oh so much better to travel there by train.
Recently, I made my summer pilgrimage via Amtrak's Pacific Surfliner, the sleek, double-decker train that stops at the Irvine Station. The jaunt south can be a traffic challenge, so we decided to park our car and let Amtrak do the driving for us.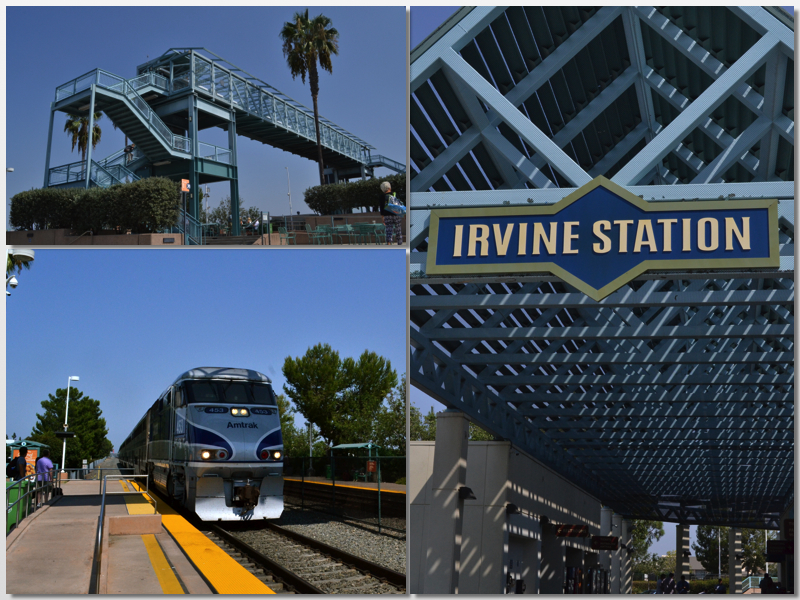 There were already a few travelers at the station when we arrived. Since I purchased our Business Class tickets online through Amtrak's website and printed them at home, there was no need to go to the ticket counter.
Promptly at 10:58am, we boarded, found seats on the right side of the train, and settled in for the ride.
A trip on the Surfliner is the perfect example of the phrase; "the journey is just as important as the destination." As soon as the train passed San Juan Capistrano, it began a stretch that traced the coastline, offering spectacular, surfside views of the Pacific.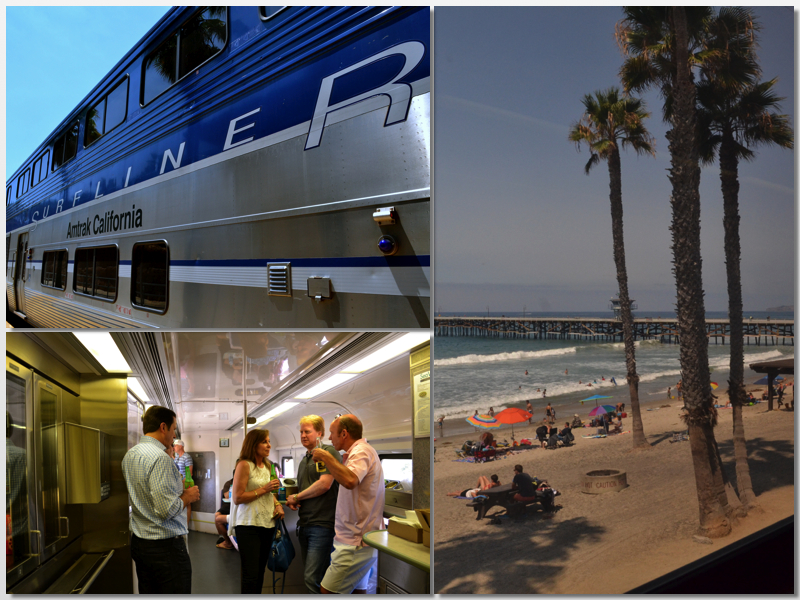 I sat back, watched surfers challenge the waves and sipped on a little something from the Club Car.
"I wonder how those stuck in traffic on the 5 freeway feel right about now...?"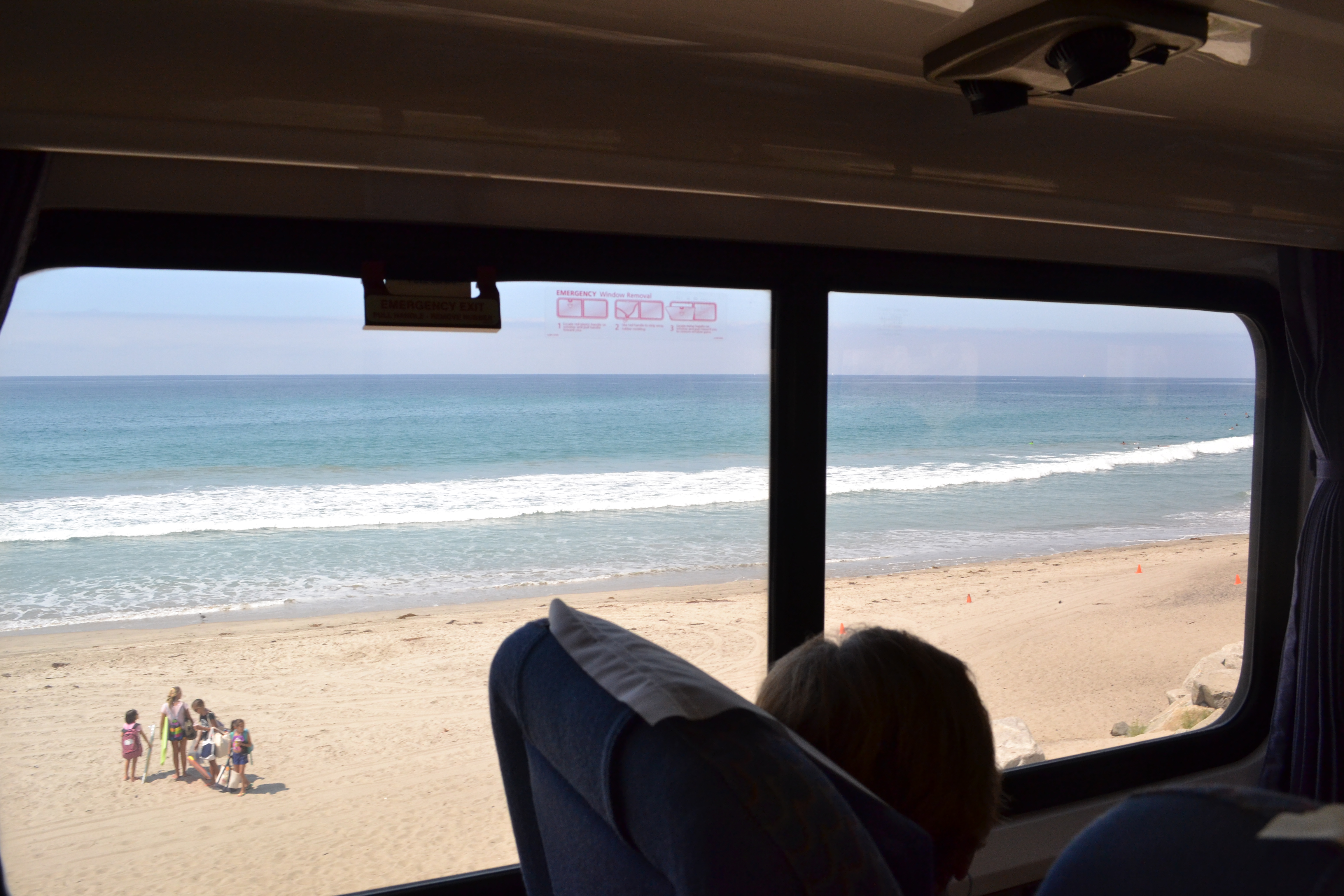 After a relaxing, one-hour trip, we arrived at the Solana Beach station, where complimentary, double-decker shuttle buses were waiting to take us to the track. A few minutes later, we were walking through the Clubhouse Gate, ready to pick the winners. First post at 2pm was still an hour away.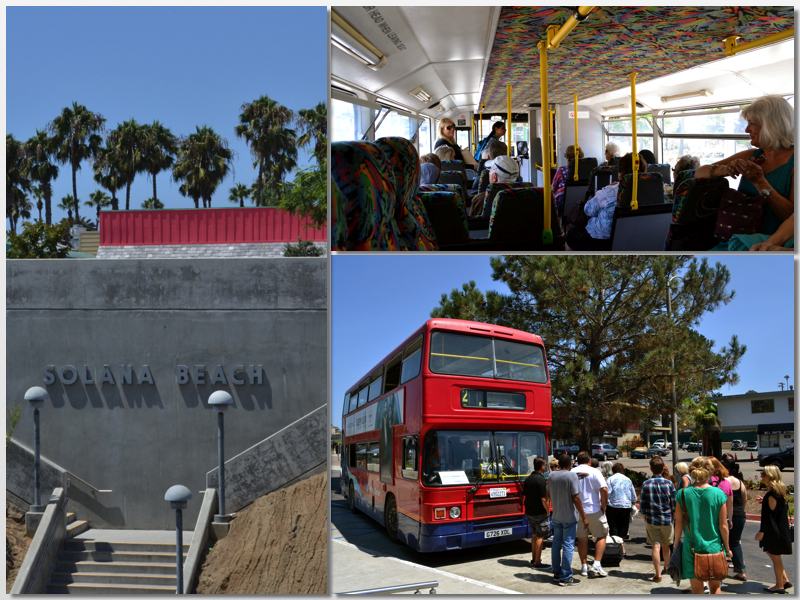 From the moment you arrive, you realize that Del Mar is no ordinary racetrack.
Whether you love horse racing or not, it's a beautiful place to spend an afternoon. Stately, white buildings topped with clay-tiled roofs shine against the bright, blue sky. Flowers bloom everywhere. And even in the heat of summer, Del Mar's close proximity to the ocean means there's always a cool, sea breeze.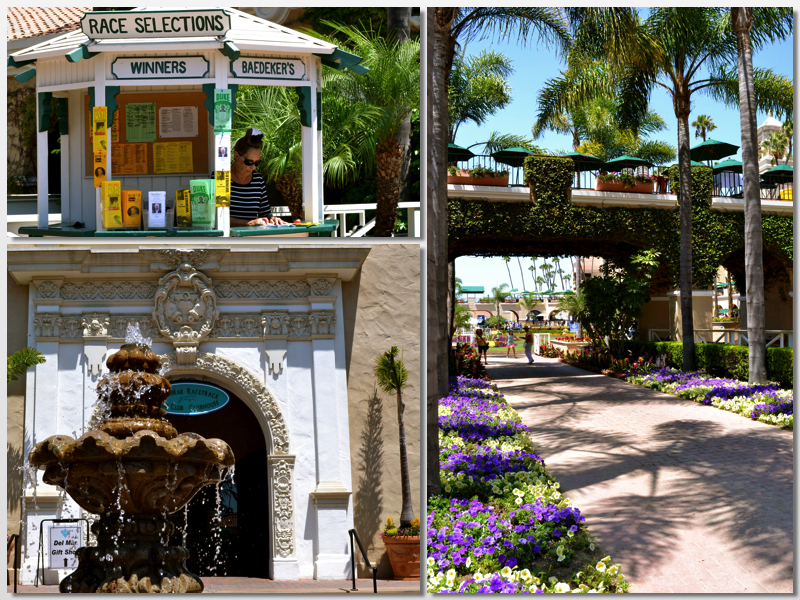 Standing in the Paddock, where the horses parade by before each race, I imagined what Del Mar must have been like on its first Opening Day, 78 years ago.  Back then it was the playground for Hollywood Stars like Dorothy Lamour, W.C. Fields and, the most famous Del Mar regular, Bing Crosby. Jimmy Durante came to Del Mar so often that they named the turf track after him.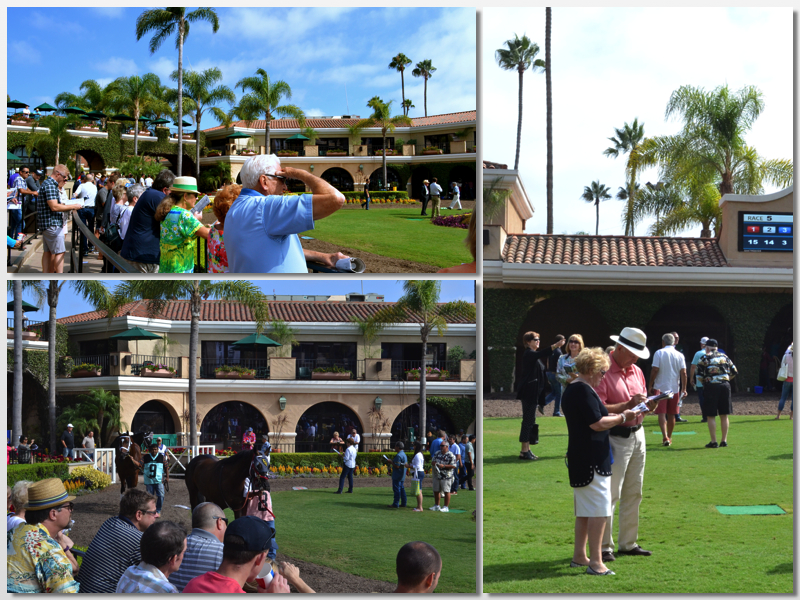 Whenever I see these magnificent creatures up close, I am amazed at how stunning they are; these top-of-their-class,  shiny-coated beauties led by jockeys wearing brightly-colored silks. For a moment, I wondered what it must have been like to have been here in 1938, when a horse named Seabiscuit walk past.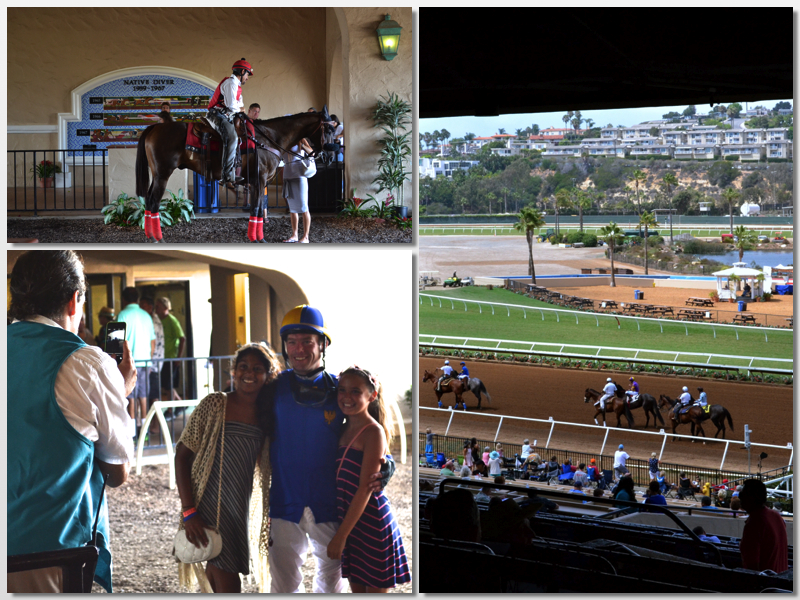 You don't have to know a lot about horses to have fun at Del Mar either.
A first-timer can get as lucky as a veteran handicapper. Single bets can be as low as $2, so the stakes don't need to be high. Betting based on the horse's name or your favorite color is perfectly acceptable, but if you want a little more guidance, there are inexpensive racing guides for sale.
When the races were over for the day, we boarded the shuttle that took us back to the 7:22pm train for the trip back to Irvine. The sun was setting in the west as I relaxed with a cup of coffee, some race winnings in my pocket, and a few more memories of another great day at De Mar.
Del Mar Thoroughbred Racetrack
2015 Season Continues until Monday, Sept 7th
Daily Races, except for most Mondays and all Tuesdays
2015 Bing Crosby Season
October 29th - November 29th
Admission Tickets : $4 - $10
Reserved Seats : $5 - $25
Some restrictions for children under 18.
Amtrak Service
Daily from Irvine Station to Solana Beach
Free Shuttle from station to racetrack
Regular Round-Trip Ticket : $40
Business Class Round-Trip Ticket : $60