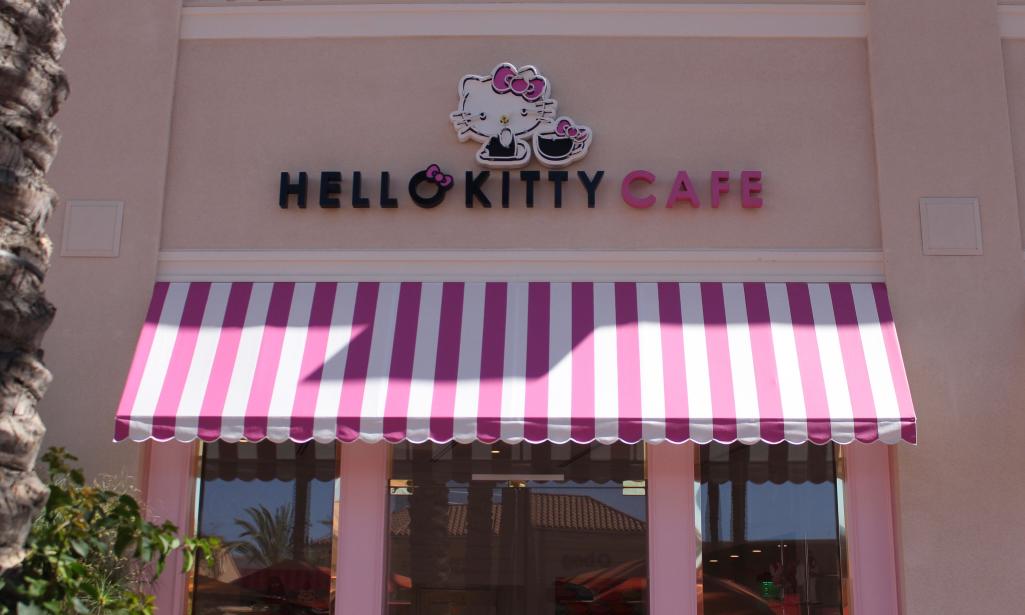 The very first Hello Kitty Grand Cafe is finally here! No longer just a pop-up mobile cafe, the Irvine Spectrum is now home to a permanent Hello Kitty Cafe. The front of the restaurant offers hot donuts, mini cakes, merchandise, along with hot and iced drinks, served from behind a to-go counter. If this wasn't awesome enough, more magic lies behind the door with a golden bow.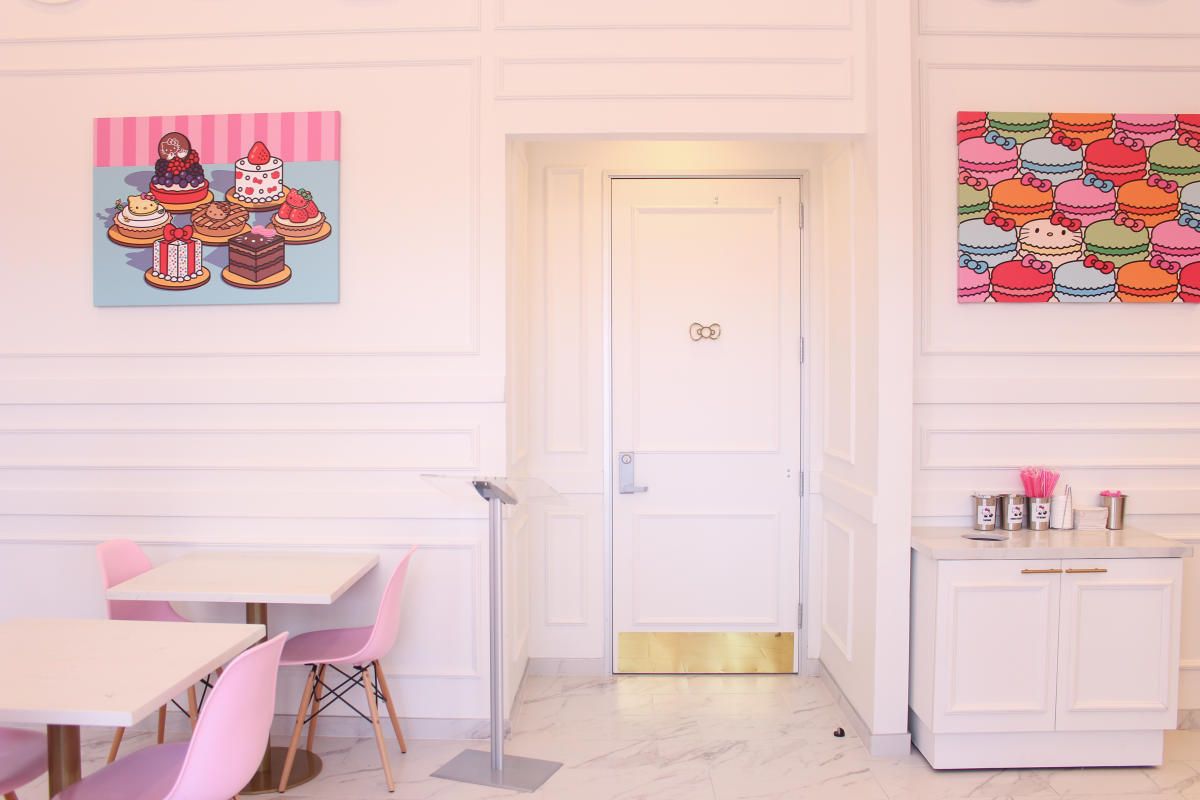 Knock on the golden bow and get ushered in (with a reservation of course) into the Bow Room. Enjoy afternoon tea or evening cocktails in this gorgeous pink room with a large bar, comfortable booths, and Hello Kitty pillows gracing the velvet chairs.
Afternoon Tea
Wednesday - Friday 11 am - 4 pm
Saturday and Sunday 10 am - 4 pm
A traditional afternoon tea service for at least 2 guests includes hot tea, seasonal fruit, scones, tea sandwiches, mini cakes, and savory treats.
$55 per 2 guests
Reservations are required and are available up to 30 days in advance.
Tea service is booked for two people, or multiples of two.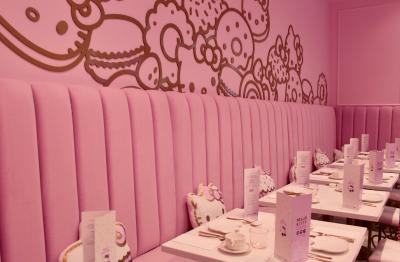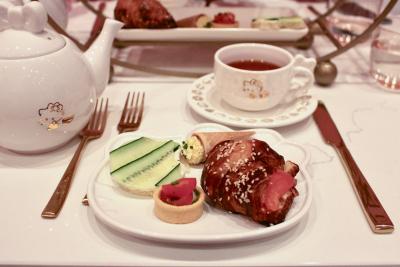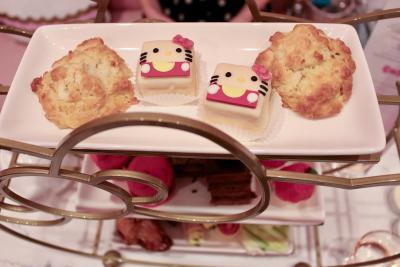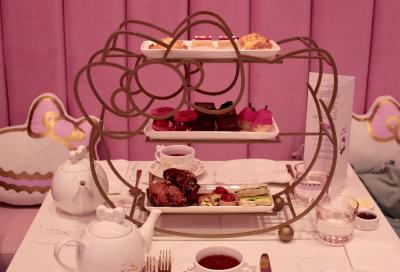 We enjoyed afternoon tea - a sweet affair of relaxing on velvet lined booths with waiter service and savory and sweet treats. Hot teas with a large variety of selections were served in Hello Kitty themed pitchers which we poured into sturdy porcelain mugs. Rosehips, hibiscus, Earl Grey, Japanese cherry, and lychee peach were a few of the options. Tea service began with fresh fruit topped with sweet whipped cream and dashed with a Hello Kitty imprint. Next, a waitress brought a large golden tower with three trays of savory and sweet bites with two of each food item. A delicious pretzel croissant with smoked salmon, a mini waffle cone with egg, and a tart shell with pesto, tomatoes, and cheese were some of our favorite savory bites. A mini cupcake carefully decorated with a mini leaf and stem was one of the delicious little sweets, but the chocolate layered cake was the biggest surprise with the delectable and melt-in-your-mouth texture that made it our favorite sweet. And who could resist the adorable Hello Kitty mini cake?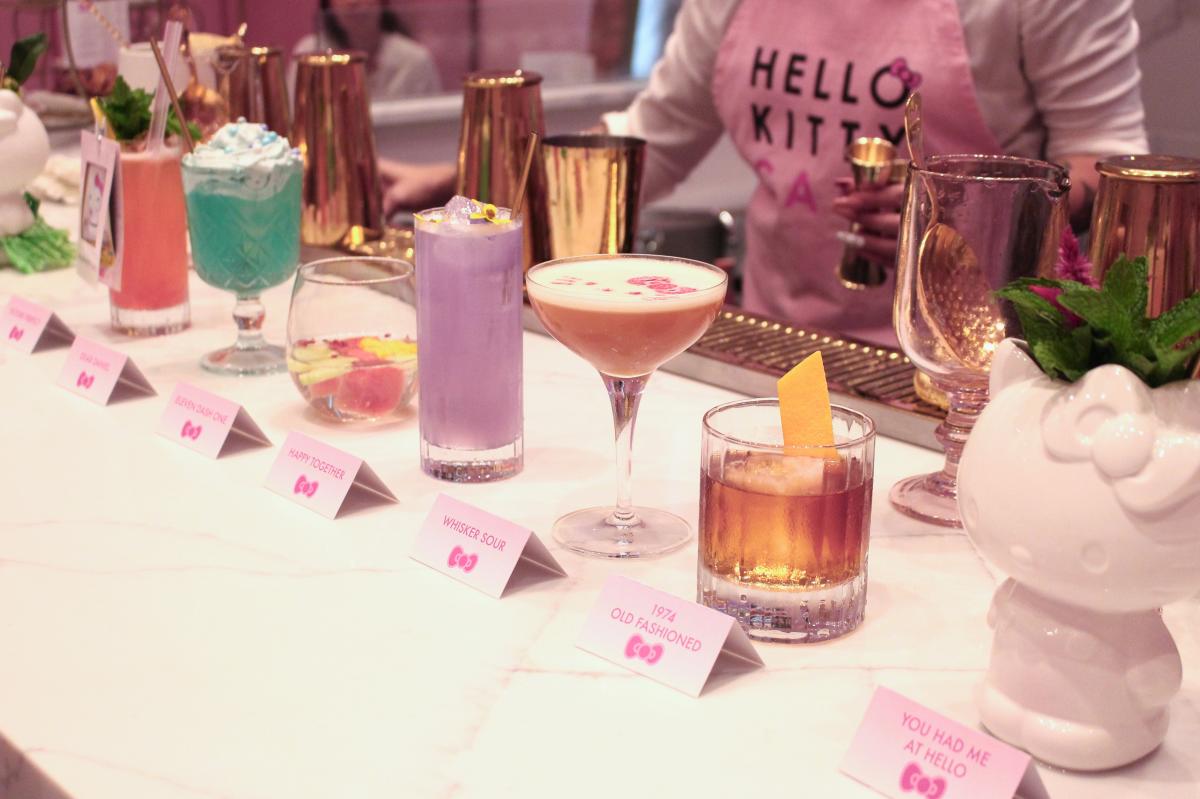 Cocktail Service
Wednesday, Thursday, Sunday 5 pm - 9 pm
Friday and Saturday 5 pm - 11 pm
Enjoy creative cocktails with a Hello Kitty twist from master mixologists during cocktail hour in the Bow Room. Or choose from the wine list including a selection of the varietals from the exclusive Hello Kitty collection.
Reservations are recommended but walk-ins may be admitted if space allows.
The cocktails at the Bow Room Bar are as creative as Hello Kitty and all her friends. Recognizable creations such as a pina colada have been twisted into something special, such as a "Dear Daniel" - a bright blue concoction of mezcal, tequila, pineapple, lime, and spirulina, topped with a salted coconut whip. Served in creative glasses, some come with a metal straw with a spoon at the bottom so that all the delicious elements of the drink can be enjoyed.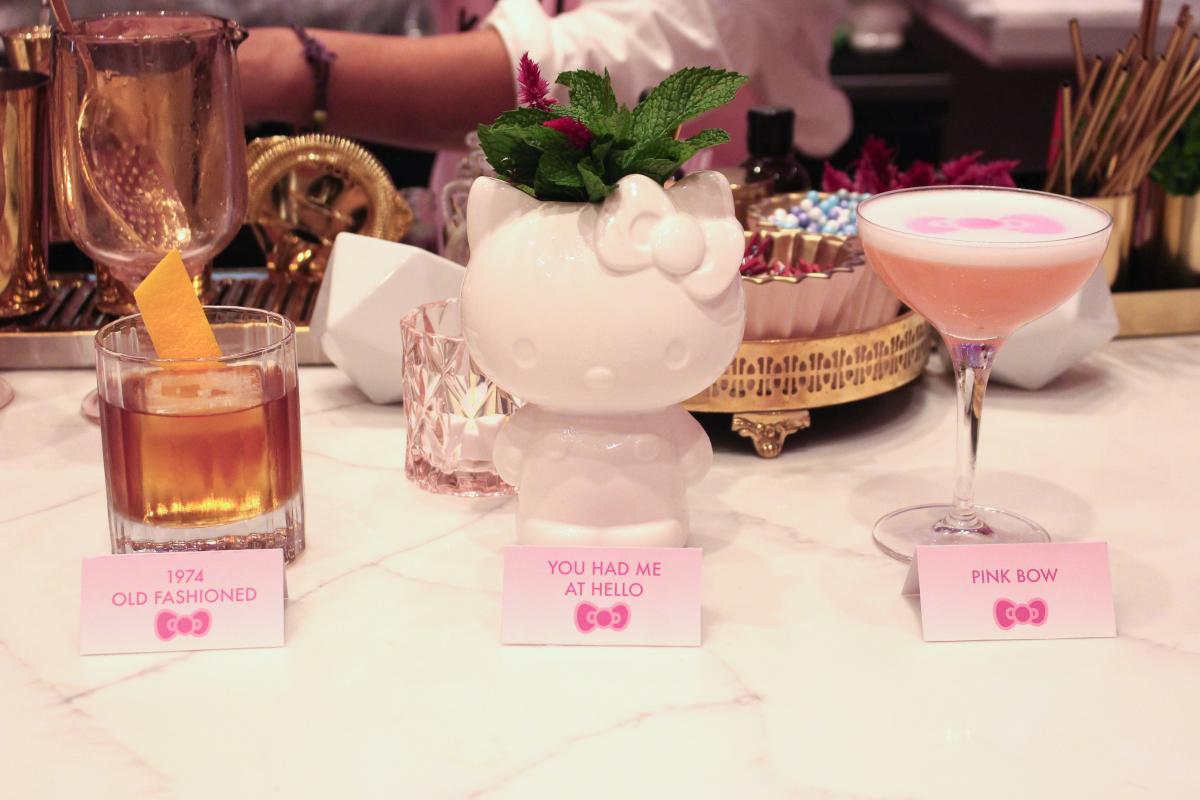 1974 Old Fashioned - your choice of an old fashioned whiskey, black walnut, bitters, or classic negroni - gin, cocci rosa, bitter bianco served with a Hello Kitty ice cube
You Had Me At Hello - cachaca, aperol, lemon, sherry, and pineapple
Pink Bow - gin, raspberry, lemon, liquor 43, aquafaba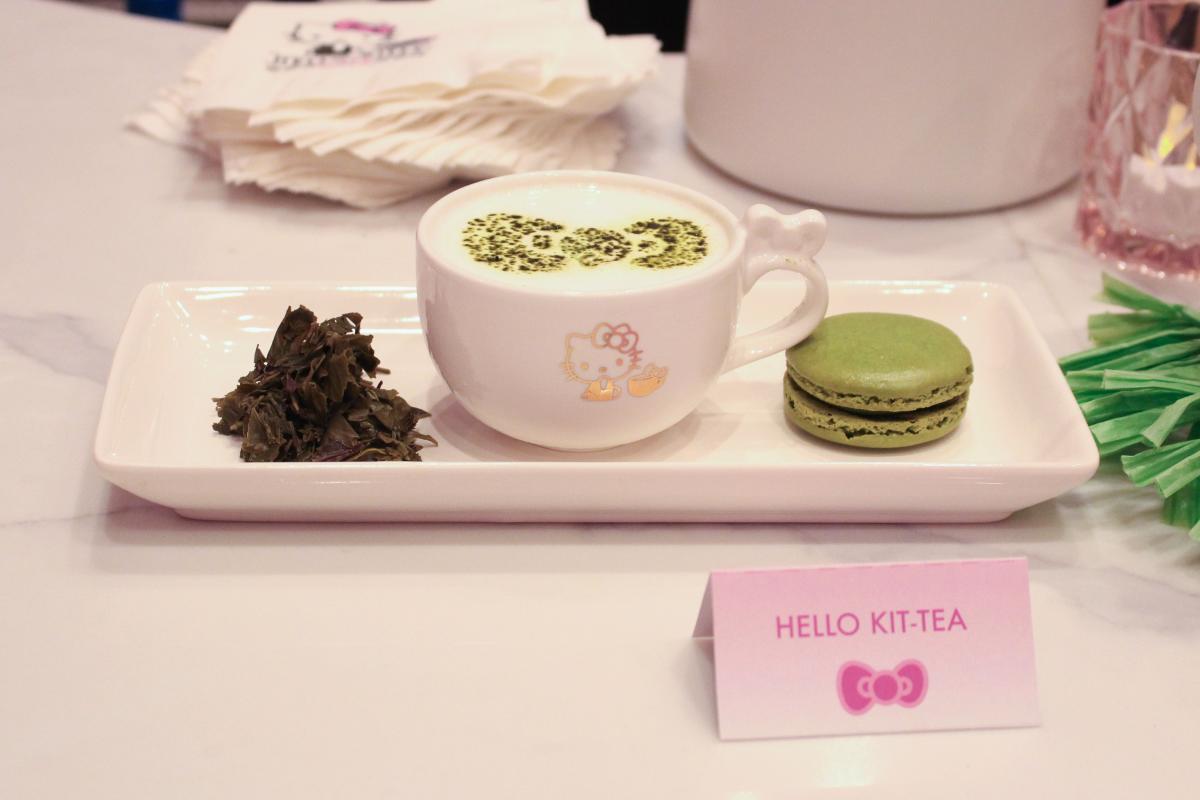 Hello Kit-Tea - Japanese whiskey, jasmine tea, lime, depaz syrup, yuzu, cream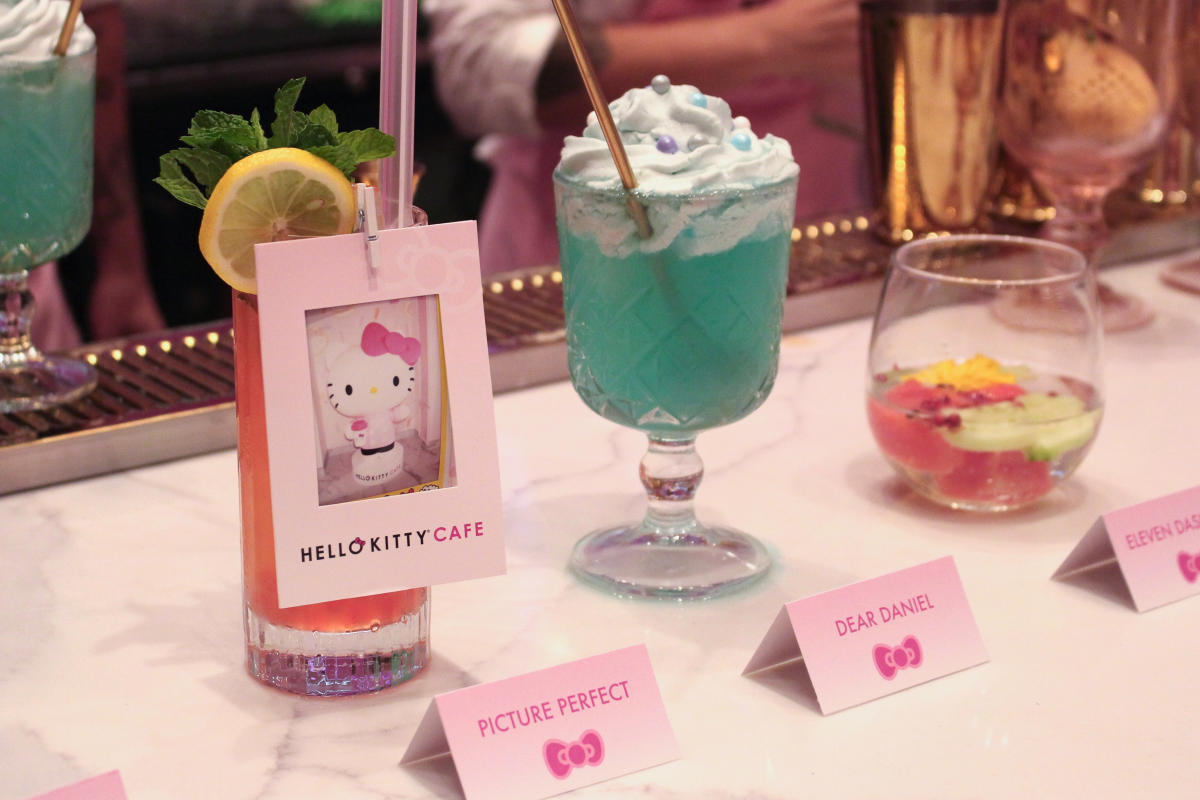 Picture Perfect - bison grass vodka, strawberry shrub, lemon, strawberry popping boba
Dear Daniel - mezcal, tequila, pineapple, lime, spiraling, salted coconut whip
Eleven Dash One - gin, tonic, cucumber, watermelon
Hello Kitty Grand Cafe
Monday - Thursday 11 am - 9 pm
Friday 11 am - 10:30 pm
Saturday 10 am - 10:30 pm
Sunday 10 am - 9 pm
Counter service with sweet treats, iced, and hot drinks. No reservations required.