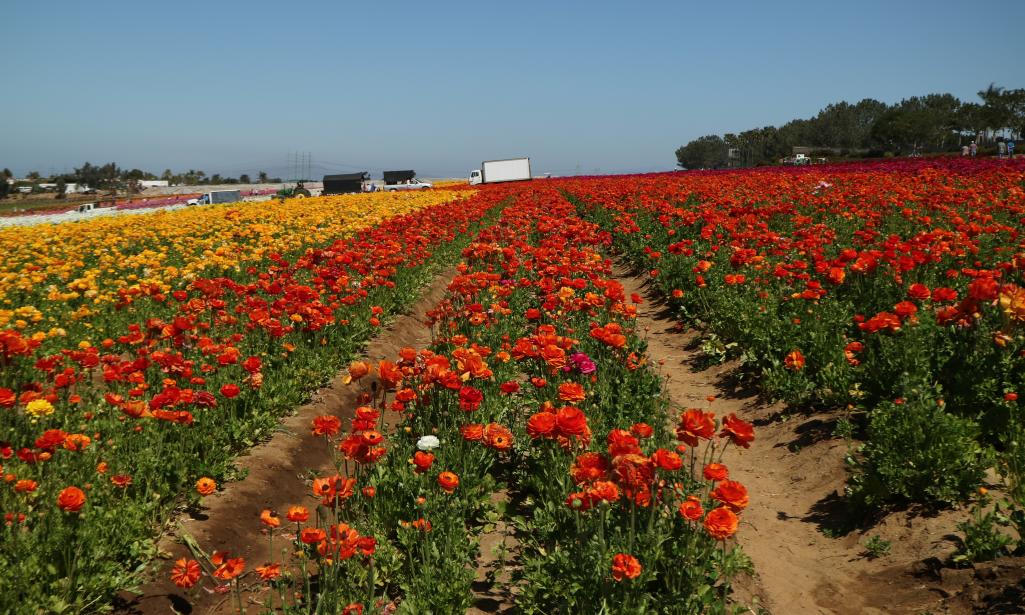 The Flower Fields at Carlsbad Ranch is about a 45 minute drive south of Irvine and worth the trek to get to see and experience the ranunculus covered hillsides. The season, the Flower Fields opened to the public in March and remains open for 10 weeks ending on May 14, 2017. 
You could spend hours on the 50 acres of blooming hillsides, nursery, gardens and more; which overlook the Pacific Ocean and Carlsbad Outlets. Come with family and friends and enjoy a day taking in the colorful ranunculus flowers which you can walk up to or take an antique tractor wagon ride around the fields to access the numerous rows of flowers. There are educational programs, workshops and exciting events; as well as an Arts & Crafts show, food vendors and live music entertainment during the weekends. If you'd like to take home fresh cut ranunculus blooms, stop by the Armstrong Garden Center Gift Shop on your way out. For ticket information, click here. 
TIPS
If you're visiting over the weekend, be sure to get here before or when the Flower Fields open to avoid long lines a the ticket booth and tractor rides. It'll also be less congested so you can move about the gardens and fields freely. 
You can take photos, but any professional equipment would need prior approval.
You can't step in between the rows of flowers, but there are inlets with small benches where you can take photos within the flowers, some inlets have a photographer assistant that can take photos for/of you. 
Wear sunscreen and any other sun protection necessary since you will be under direct sunlight.
Bring a light jacket or cover up as it can get windy
If you're planning on walking up to the fields instead of taking the tractor, be sure to wear comfortable shoes.
For FAQs, click here! 
You can purchase tickets online and avoid waiting in line to purchase tickets. 
The Flower Fields History 
Today, the fields are a direct result of over 85 years of floral cultivation that began when Luther Gage, an early settler and grower settled in the area in the early 1920's. Mr. Gage brought Ranunculus seeds to the area and began growing them in his fields next to Frank Frazee's small vegetable farm in South Oceanside. This started a business called "Luther Gage Giant Tecolote Ranunculus bulbs". The name "Tecolote" came from the owls that nested on his property. 
Read more about the Flower Fields History here. If you're not able to make it down to the Flower Fields at Carlsbad Ranch this season, check out this previous post on the wildflower bloom in Orange County!