The Irvine Spectrum Center has been known as a great shopping, dining, and entertainment destination for years and with the recent opening of The Ride 7D, it has now become a destination for thrills as well. Recently, my family had the chance to experience the "Los Banditos", "Gigamon", and "Zombies!" 7D rides and they had a blast experiencing these immersive and interactive attractions. After a brief tutorial the fun begins, and if you haven't experienced 7D you're in for a treat.  The 3D glasses bring the screen to life, while the motion, wind, interactivity, and scoring allow you to completely immerse yourself in the story.  Since I am weak-stomached individual who gets nauseated on carousels, I had to sit this one out but thankfully my husband, Paul,  provided the inside scoop on each of these attractions.
Los Banditos
Probably the most kid-friendly experience, "Los Banditos" is a story about an evil genius who has created an army of robots to rob a train.  You're in the Old West, and start your experience by hopping on a stagecoach and immediately shooting at the robots.  From there you jump on the train and continue to battle the robots while moving through different carriages and eventually to the top of the train.  During the chaos, the train flies off the rails and off a bridge into a fast moving river, but those robots are everywhere and you continue to fight while flowing down the river and going over waterfalls until you find yourself in an underground lair where you battle the boss.  The drops off the bridge and waterfalls were pretty intense and a lot of fun to experience, and knowing we would be getting the final scores at the end brought out our kid's competitive natures.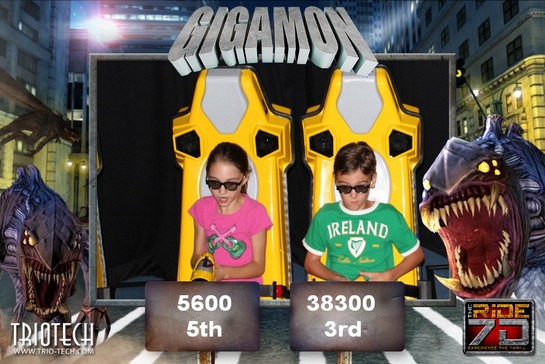 Gigamon
Who doesn't love a good monster battle in a major metropolitan city?  We start out in the subway when suddenly there's a huge crash.  Wanting to be the hero, you run up the stairs to street level where you immediately enter a world of chaos.  The Gigamon is a Godzilla-like creature who wreaks havoc on everything in sight, but he's not alone.  Everywhere you look there are mini-Gigamons both on the ground and flying who you continually battle while trying not to be crushed by crashing buildings, cars, or giants lizards.  Making your way from the back of a truck to a helicopter, you find yourself constantly moving across the city while fighting these seemingly innumerable monsters.  Things are going okay until your helicopter loses control, slides off the top of a building, and crashes to the ground where you're completely surrounded.  Fortunately with the help of your cohorts you eventually kill the Gigamon and all is well.
Zombies!
Let me start out by saying I love zombies, so choosing this ride was a "no brainer".
By far the scariest and most intense of the rides, "Zombies!" does a great job of setting the mood from the start.  It's dark, it's raining, there's creepy music, you're in the woods, and with the darkness in the theater and mist of cold air being blown on you, it feels very real.  From about thirty seconds in until the end of the experience you're surrounded by zombies.  These are not your slow moving, "Walking Dead", zombies, these guys are angry and will stop at nothing to make you their next meal.  You initially try escaping in your car, but after flying down a hill and into a tree you find yourself in a cemetery where you have to fight your way out while trying not to shoot the innocent civilians who are running for their lives.  This ride is a lot of fun and was my favorite of the three, but if you experience motion sickness think twice as I found it to be the most intense.
Tips:  If you plan on riding all three rides, we suggest riding "Los Banditos" first, then "Gigamon", and finally "Zombies!" as they will get progressively more intense.   There is a discount in pricing when three rides are chosen. If you have a young child who is intimidated by "Zombies!", a second ride on "Los Banditos" or "Gigamon" can be substituted. My husband found that being towards the center seat seemed to help with his aim.
Disclosure: My family received a complimentary 7D experience for the purposes of this feature. All opinions are my own.